Natural Disasters Abound: CA Fault Lines And The Area Around Yellowstone Are Shaking Like Crazy
Verse of the Day
Hebrews 12:26 Whose voice then shook the earth: but now he hath promised, saying, Yet once more I shake not the earth only, but also heaven.
Commentary
President Obama declared June, "Gay Month." So far there have been record floods in Texas, and massive fires and record heat in the West. Along with all of this are earthquakes that indicate building volcanic activity all along the West Coast. At some point, the sin and rebellion of America has to reach critical mass with the Lord.
I've posted many other articles as well, to keep you on the cutting edge of what is happening.
May the Holy God of Israel bless and protect you.
Hebrews 11:9-10 By faith he sojourned in the land of promise, as in a strange country, dwelling in tabernacles with Isaac and Jacob, the heirs with him of the same promise: For he looked for a city which hath foundations, whose builder and maker is God.
Earthquakes and Volcanoes
California Fault Lines And The Area Around Yellowstone Are Shaking Like Crazy 06/17/16  What is happening is that the magma chambers under the West Coast and Yellowstone Park are filling. The magma is moving toward the surface and this is causing earthquakes. This has alarmed scientists since this is what happens before major volcanic eruptions.
No one knows for sure if volcanoes are about to erupt in the West, but what is so concerning is that there are volcanoes erupting all along the Pacific Ring of Fire, of which California is part! This could be an ominous sign of what is coming. I will keep you posted if this continues to develop.
"The biggest was a magnitude 5.2 earthquake that hit an area northeast of San Diego on Friday. The following comes from NBC Los Angeles…

A magnitude-5.2 earthquake centered in the desert northeast of San Diego caused shaking early Friday morning across Southern California.

The earthquake occurred at about 1 a.m. northwest of Borrego Springs in San Diego County, according to the USGS. The earthquake was initially reported with a magnitude of 5.1 before it was revised to 5.2, according to the USGS.

But that earthquake was not the end of it by any means. It is being reported that this large quake was followed by at least 800 aftershocks.

Yes, we normally expect there to be aftershocks after a large quake, but to have that many is very, very unusual.

The quakes that have been striking farther north off the coast of northern California and Oregon are also of great concern as well. Just recently, I wrote about the fact that the federal government has been conducting drills that have attempted to simulate the response to a magnitude 9.0 Cascadia Subduction Zone earthquake. If such an earthquake were to strike at this moment, the damage caused would be incalculable.

And the USGS has confirmed that such an earthquake is very possible and that it "would likely trigger huge tsunami waves"…

The USGS has worryingly confirmed the same computer models show it is capable of producing an earthquake with a magnitude up to 9.3, which would likely trigger huge tsunami waves.

This would be more powerful than the magnitude 9 tsunami-causing quake that hit Japan in 2011, claiming thousands of lives and taking out nuclear reactors.

Worse still, many scientists say the US is not yet prepared to deal with such a natural disaster, and it could strike at an time."
Natural Disasters – Floods, Famines, Fires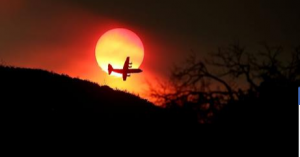 Fires rage across western United States 06/17/16  This month officially was proclaimed "Gay Month" by the President. We might see nasty disasters to the end of the month. Already one of the worst terrorist attacks to hit America has taken place.
"Firefighters struggled Thursday to contain infernos across the western United States as experts warned that drought-striken California should prepare for an unusually intense wildfire season.
Forest fires are a fact of life in much of California but have become far worse because of bone-dry conditions, with the Golden State gripped in its fifth year of drought.
A fire in the Los Padres National Forest had expanded to two square miles (five square kilometers) by Thursday, making it the "largest since 2009" in the area, a spokesman for the Santa Barbara County Information Center told AFP.
Strong winds were hampering efforts to contain the blaze, and the operation was expected to be hindered further by near-record temperatures over the weekend in the southern half of California.
Los Padres, which begins about two hours' drive northwest of downtown Los Angeles, is popular with hikers and campers, and evacuation orders were issued in at-risk parts of the forest."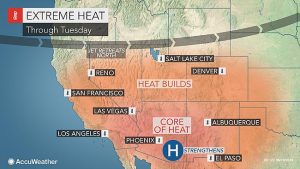 Oppressive heat to challenge all-time records across the southwestern US this weekend 06/17/16  Because America is in such rebellion against the Lord we have to watch nature because God uses it for blessings and curses. I have a sense that natural disasters are about to come from every angle.
Hosea 4:1-3 Hear the word of the LORD, ye children of Israel: for the LORD hath a controversy with the inhabitants of the land, because there is no truth, nor mercy, nor knowledge of God in the land. By swearing, and lying, and killing, and stealing, and committing adultery, they break out, and blood toucheth blood.
(3) Therefore shall the land mourn, and every one that dwelleth therein shall languish, with the beasts of the field, and with the fowls of heaven; yea, the fishes of the sea also shall be taken away.

"Extreme heat will persist for several days across the southwestern United States starting this weekend.

A strong ridge of high pressure will take control and strengthen into next week, sending temperatures to dangerous levels.

"When a ridge of high pressure like this one forms in the middle to late June, it can deliver some of the hottest weather possible to the Desert Southwest," AccuWeather Western U.S. Expert Ken Clark said.

Temperatures will run between 10 and 20 degrees Fahrenheit above average through the early part of next week.

"The peak of the heat in many areas will be on Monday, but Sunday and Tuesday will be no slouches either in the high heat department," Clark said.

Not only will it be hot compared to average, but temperatures will likely challenge daily record highs and all-time record highs."
Homosexuality/ Christian Apostasy

Christian rocker Trey Pearson reflects on life after coming out 06/16/16  It really does appear that God has given him over to this sin. He now is promoting it to seal others into it. If you speak out that homosexuality is sin, to him that is hate. He is hiding behind "hate" to protect this sin which has consumed him. He actually promotes the idea that one can be a homosexual and Christian at the same time!
1 Corinthians 6:9-11 Know ye not that the unrighteous shall not inherit the kingdom of God? Be not deceived: neither fornicators, nor idolaters, nor adulterers, nor effeminate, nor abusers of themselves with mankind, Nor thieves, nor covetous, nor drunkards, nor revilers, nor extortioners, shall inherit the kingdom of God. (11) And such were some of you: but ye are washed, but ye are sanctified, but ye are justified in the name of the Lord Jesus, and by the Spirit of our God.

"He continued, "The restoration me and my wife have been able to feel, for us being healthy, for our kids and just hoping we can help other people because I know there's people out there going through what I've gone through."
Pearson said he hopes people of all faiths and backgrounds will come together and "stop teaching hate" in light of the attack that took place at a gay nightclub in Orlando Sunday night. He has started a GoFundMe page to help the families of the victims.
"I know what it's like to live in that place of fear and it's sad, especially with the events that took place this last weekend. I think that the fundamentalist way that people have been teaching against homosexuality, whether you're Christian, Hindu, Jewish or Muslim, I think it's dangerous.
"You see someone mentally unstable that's been taught to hate, you see now what that can do. I think it's sad, and I think it's so important for us to tell our stories."
Hard Left – Sexual and Social Anarchy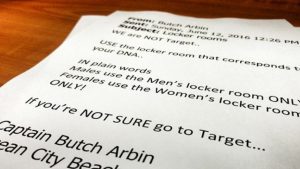 LGBT activists enraged over beach patrol bathroom email 06/17/16  It was so clear that this was going to happen. It appears that the feminist movement is now being reversed and women are heading for tough times. The sexual perversion agenda is now starting to destroy womanhood before out eyes!
Revelation 22:20  He which testifieth these things saith, Surely I come quickly. Amen. Even so, come, Lord Jesus.
"The Left has given common sense a great big swirly, America.
Consider the plight of Captain Butch Arbin, a 40-year veteran of the beach patrol in Ocean City, Md.
He's facing the wrath of City Hall and militant LGBT activists over his handling of a bathroom controversy involving male and female lifeguards.
Female lifeguards had complained that male lifeguards were using their dressing rooms. The male lifeguards are not transgender. They are presumed to be men who identify as men, which in PC parlance is called "cisgender."
Some of the guys were apparently using the ladies room out of convenience – seeing how there are more male lifeguards than female.
So Arbin fired off an email to set things straight by referencing a recent dustup over President Obama's decree that men who identify as women should be able to use the porta-potty of their choosing.
"WE are NOT Target," he wrote to the lifeguards. "USE the locker room that corresponds to your DNA…If You're NOT SURE go to Target."
Now, that right there is funny, folks. Target is the national retailer that set off a firestorm when it announced customers could pretty much use whatever bathroom suited them."
Israel and the Middle East War
Israel Goes Full Trump on Gaza: Massive Concrete Wall Above And Below Ground Along Entire Border 06/16/16  This article is the latest update from Israel.
"As the debate over Donald Trump's proposed wall along the U.S.-Mexico border continues to dominate the presidential race, Israel is reportedly planning to move ahead with a massive above and underground concrete barrier along the entire border with the Hamas-controlled Gaza Strip.
The barrier was revealed on Thursday in a story splashed across the cover of Yedioth Aharonot, Israel's largest daily newspaper. The story was published with the approval of the country's defense ministry."
Next war with Hamas will be its last,' senior defense source says 06/16/16  I think that the next war will be the final one with the Muslims. This is going to be an all-out war which will end Islam as a viable religion. This is going to be part of WW3.
Obadiah 1:15 For the day of the LORD is near upon all the heathen: as thou hast done (Israel), it shall be done unto thee: thy reward shall return upon thine own head. (18) And the house of Jacob shall be a fire, and the house of Joseph a flame, and the house of Esau for stubble, and they shall kindle in them, and devour them; and there shall not be any remaining of the house of Esau; for the LORD hath spoken it.

"The next war between Israel and Hamas in Gaza will be the last for the Islamist regime, a senior source in the Defense Ministry said on Wednesday, though he stressed that Israel will not be the side to initiate hostilities.
Israel has no desire to control the Gaza Strip, the source said, but it will not tolerate an endless "war of attrition" on the part of Hamas.
The next clash must be the last from the point of view of the Hamas regime. We [Israel] must not initiate war," he added, but said a future outbreak of hostilities is unavoidable."
Jerusalem – Temple Mount
The Growing Campaign of Temple Denial 06/17/16  The Temple Mount is ground zero for biblical prophecy. The Muslims live in a delusion, denying that there ever was a temple!
The delusion is going to be broken and Israel is going to build the temple.
Revelation 11:1-2 And there was given me a reed like unto a rod: and the angel stood, saying, Rise, and measure the temple of God, and the altar, and them that worship therein. But the court which is without the temple leave out, and measure it not; for it is given unto the Gentiles: and the holy city shall they tread under foot forty and two months.

"For Jews and Christians, there is no question that both Solomon and Herod's Temples were built on Mount Moriah, or what is today called the Temple Mount. Not only is the Bible clear about this, but archaeology confirms it.
Some of the archaeological finds include an engraved stone marking the southeast corner of the Mount where trumpets announced the beginning and the end of the Sabbath as described by the Jewish historian Josephus.
Another stone was discovered in 1871 along the northeastern corner of the Temple Mount, and is now housed in the Istanbul Archaeological Museum in Turkey, on which a Greek inscription warns Gentiles not to proceed past the wall that defined the court of the Gentiles in the Temple. There are a number of other significant finds that support the biblical history of the area.
But the Muslim world neither regards the Bible as accurate nor appreciates non-Islamic history. What is worse, they will destroy archaeological evidence that disagrees with their distorted historical account.
For the last 10 years, the Temple Mount Sifting Project has been recovering precious Temple artifacts that were discarded as debris during the construction of a mosque on the Temple Mount platform.
It is not surprising that UNESCO just adopted a resolution on safeguarding Palestinian heritage—proposed by several Muslim countries—that referred to the Temple Mount only by the Muslim name, Aqsa Mosque, or by the Arabic, Al-Haram Al-Sharif.
The resolution, which totally ignored the Jewish history of the area, was approved by 33 states, including France, Russia, Spain and Sweden. Seventeen countries abstained, while six voted against it: the United States, Estonia, Germany, Lithuania, the Netherlands and the United Kingdom.
This growing campaign of Temple Denial is considered a serious enough threat to Israel and the Jewish people that it was mentioned by Prime Minister Netanyahu in his speech on Israel's Holocaust Remembrance Day, Yom Hashoah. He knows that if a godless world can erase Jewish history from the Temple Mount and deny all of the biblical, historical and archaeological evidence to the contrary, then they will have erased the Jewish significance of Jerusalem itself."
Isaiah 17:5-7  And it shall be as when the harvestman gathereth the corn, and reapeth the ears with his arm; and it shall be as he that gathereth ears in the valley of Rephaim. Yet gleaning grapes shall be left in it, as the shaking of an olive tree, two or three berries in the top of the uppermost bough, four or five in the outmost fruitful branches thereof, saith the Lord God of Israel. At that day shall a man look to his Maker, and his eyes shall have respect to the Holy One of Israel.