NBC slammed for pushing claim Christian faith 'is used to defend white supremacy
Verse of the Day
Proverbs 27:20 Hell and destruction are never full; so the eyes of man are never satisfied.
Commentary
The Hard Left never stops as it is energized by hell. If NBC is talking about the KKK and trying to connect it with Christianity the KKK is not Christian. The KKK was the religious and military arm of the Dem political cult. It was started right after the Civil war in Tennessee by Confederate General Nathan Forrest.
THE KKK WAS THE DEMOCRATIC PARTY!
Nothing has changed because the Dem political cult is as dangerous now as it in the 1860s. How did this political party  survive the Civil War after all the carnage it caused with 100s of thousands dying and even more severally wounded?
Today its members take the high moral road and accuses us of what their political ancestors did! We have to stand up to these bullies and expose them for what they are. It is a dangerous political cult bent on destroying America as we know it.
May the Holy God of Israel bless and protect you.
Hebrews 12:1 Wherefore seeing we also are compassed about with so great a cloud of witnesses, let us lay aside every weight, and the sin which doth so easily beset us, and let us run with patience the race that is set before us, (2) Looking unto Jesus the author and finisher of our faith; who for the joy that was set before him endured the cross, despising the shame, and is set down at the right hand of the throne of God.
Hard Left : Attacking Christianity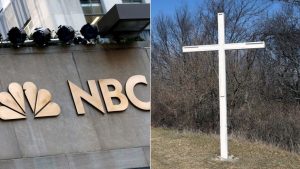 "NBC slammed for pushing claim Christian faith 'is used to defend white supremacy'"
"NBC News was bashed on Easter Sunday after the network promoted an opinion piece claiming that Christianity "is used to defend white supremacy."

The article, written by self-described "evangelical Christian" Jonathan Wilson-Hartgrove, was published on Easter morning and tweeted out on NBC News' main account in the afternoon.

"We who believe in love and justice in America this Easter must reclaim redemption from those who would use it to prop up white nationalism and bigotry," wrote Wilson-Hartgrove. "To fail to do so is … to reject the life and witness of the resurrected Jesus, whom Christians worship today."
American Christianity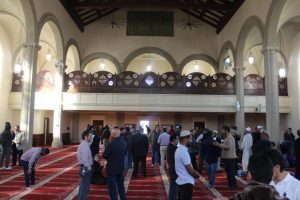 Connecticut: Historic Christian Church Converted Into a Mosque" This is sad but fitting. The counterfeit "church" in America is dying. It is really sad that so many of these "churches" are counterfeit but fitting it should be sold to the Muslims. This "church" and the Muslims are one in unbelief about the Bible and the truths from the Bible, so it is fitting. It is like an exchange.
Notice how Rev Sara was happy the Muslims are getting the building to show how the children of Abraham can work together. What nonsense because she should trying peddling this rhetoric in Mecca and see what happens.
The Muslims coming to America shows that the nation is under judgement.

Proverbs 28:5 Evil men understand not judgment: but they that seek the LORD understand all things.
""This is much bigger than a sale of a building. It's about healing wounds. It's about building peace. It's about making friends," the Rev. Sara Smith said at a press conference on Monday. "It is about showing a witness to the world that the children of Abraham and everybody else included can work together, can live together in respect and dignity. Isn't that what all of our faiths are about?"

Ahmed Ebrahim, who heads the Bridgeport Islamic Community Center, told WSJ that the two factors that led his organization to purchase the historic church building were that it's already zoned for religious use and has the space needed for the 1,000 Muslim families in the Bridgeport area that expect to worship and pray at the mosque.

"It's a perfect fit for our needs," Ebrahim explained, adding that the outgoing Christian congregation will help prepare the building by removing the cross from the altar."
Israel vs the United Nations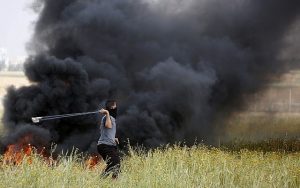 "UN calls emergency meeting on Gaza as Arab world slams Israel" No matter what Israel does the UN always condemns it, so why even pay attention to what the UN says!
The UN is a total waste of time.
Zechariah 12:3 And in that day will I make Jerusalem a burdensome stone for all people: all that burden themselves with it shall be cut in pieces, though all the people of the earth be gathered together against it.
"The UN Security Council will hold an emergency meeting on Gaza Friday night, after Palestinian officials said 15 Palestinians were killed and over 1,400 more injured in deadly clashes with Israeli troops during a massive border protest.

The meeting, to be held at the request of Kuwait, was to begin at 6:30 p.m. New York time, a diplomat said on condition of anonymity. It was to be held behind closed doors, meaning Israeli and Palestinian representatives would not be able to attend.

The move came as Palestinian Authority President Mahmoud Abbas said he had asked the United Nations to immediately work toward providing protection for the "defenseless" Palestinians."
Middle East War: Turkey vs Saudi Arabia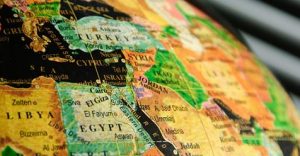 "Saudi Arabia has to face a pro-Iranian Turkey" It really is hard to conceive Turkey and Iran unified about anything, but the Middle East is really in flux now. If Iran and Turkey are unified, it won't be for long because of the hatred between the Sunni and Shiite Muslims.
Both Israel and the US can't let Saudi Arabia fall to Iran, so when war breaks out, it will be all-out dragging in many nations.
Revelation 22:20 He which testifieth these things saith, Surely I come quickly. Amen. Even so, come, Lord Jesus.

"The unpredictable Middle Eastern geopolitical landscape is heading toward new dynamics, where the Kingdom of Saudi Arabia is positioning itself against a Turkish-Iranian axis.

Since the consolidation of President Recep Tayyip Erdogan's power through a referendum in April 2017, Turkey is once again gearing up for the revival of Ottoman-era dominance in the Middle East. But this swift resurgence of Turkey is not being seen through the lens of admiration in the House of Saud.

The history of the confrontation between Arabs and Turks has never allowed the emergence of a comfortable rapprochement between Riyadh and Ankara, and the Qatar standoff has once again revealed the bitter rivalry between the Wahhabi stronghold in Riyadh and the Salafi Muslim Brotherhood power base in Ankara."
Middle East War: Turkey vs Israel
"Erdogan: Netanyahu is a terrorist, Israel a terror state" The rhetoric is red hot as Erdogan is attacking Israel. He is trying to show the Muslim world he is leading the attack against Israel.
In the end, he will attack Israel which will break the back of Turkey and I hope Islam.
Zechariah 12:6 In that day will I make the governors of Judah like an hearth of fire among the wood, and like a torch of fire in a sheaf; and they shall devour all the people round about, on the right hand and on the left: and Jerusalem shall be inhabited again in her own place, even in Jerusalem.
"Prime Minister Benjamin Netanyahu blasted Turkey's President Recep Tayyip Erdogan on Sunday for calling Israel's actions on the Gaza border "inhumane," saying this must be the way they celebrate April Fool's Day in Turkey.

"The most moral army in the world," Netanyahu said of the IDF, "will not be preached to from someone who for years has indiscriminately bombed civilian populations. Apparently this is the way they mark April Fool's Day in Ankara."

According to Turkey's Daily Sabah, Erdogan – speaking at a meeting of his ruling Justice and Development Party in the southern Adana province — said, "I do not need to tell the world how cruel the Israeli army is. We can see what this terror state is doing by looking at the situation in Gaza and Jerusalem."

Israel, he said, "has carried out a massacre in Gaza, and Netanyahu is a terrorist."
Standing with the President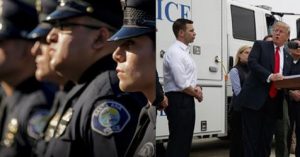 "380 Sheriffs in 40 States Just Issued Orders to Congress on Behalf of Pres. Trump" This was very encouraging and I hope the country galvanizes against the Hard Left and defends the Southern Border.
The Californian government must be broken.
"An announcement from a major group, however, makes it clear that the president isn't the only one who believes the southern wall is important — and the people who are urging Congress to secure the border know a few things about law enforcement.

Earlier this month, a stunning 380 sheriffs from 40 different states signed a joint letter calling on lawmakers to fund the U.S.-Mexico wall and finally secure America's borders.

"Without border security and immigration reform, more Americans will continue to be victims of crime. Now is the time to act," declared the letter, which was drafted by the National Sheriffs' Association.

That group is one of the largest law enforcement associations in the country, and is made up of over 20,000 members, 3,000 of whom serve as sheriffs.

"As elected Sheriffs, we have taken an oath to do everything in our power to keep our citizens and legal residents, our communities, and our nation safe," the letter stated."
Hard Left Deems: Destroying California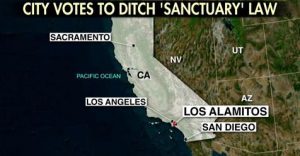 "Poor California — Democrats are turning the state into a major nightmare" This is a great article that reinforces everything I said about the Hard Left policies destroying the state. The article forces in on San Francisco, but this is spreading statewide. California is dying a slow pitiful due to the gross sin of the people and the rejection and mocking of God.
Soon California is going to look just like Mexico City and that is the way the Dems want it so they can be in complete control and rule over the poor.
Isaiah 1:4 Ah sinful nation, a people laden with iniquity, a seed of evildoers, children that are corrupters: they have forsaken the LORD, they have provoked the Holy One of Israel unto anger, they are gone away backward. (5) Why should ye be stricken any more? ye will revolt more and more: the whole head is sick, and the whole heart faint.
(6) From the sole of the foot even unto the head there is no soundness in it; but wounds, and bruises, and putrifying sores: they have not been closed, neither bound up, neither mollified with ointment.
(7) Your country is desolate, your cities are burned with fire: your land, strangers devour it in your presence, and it is desolate, as overthrown by strangers.

""Proposition 47 downgraded a variety of 'non-serious, nonviolent crimes' that had previously been considered felonies to misdemeanors…. A thief may now steal something under (a $950 limit) on a daily basis and it will never rise to felony status.… In the event that a perpetrator is pursued and apprehended, the consequence can be a small fine or a brief stay in jail. In reality, these repercussions are rare," reported National Review.

"Outrage in these circumstances is apolitical…. 'Every bicycle in our building has been stolen,' says Karen Burns, president of a San Francisco condo association. 'I've caught so many people stealing packages. They don't care. They know nothing will happen to them. It's crazy. It's horrible. I feel like these people need to go to jail.'"

Proposition 47 also downgraded personal use of illegal drugs to misdemeanor status. The result is the destruction of any semblance of safety and quality of life. In San Francisco, National Review notes: "Now more than ever, residents and merchants are living with a proliferation of addicts who roll up their sleeves, inject, and then nod off on the sidewalks or careen down the street and into traffic.… Why not shoot up wherever you want, leave bloody syringes in piles, steal, and deal when there are few if any consequences?"

With policy like this, it wasn't a surprise when the FBI reported in September that violent crime was up in California for the second straight year. Housing and wage crises are also gripping the used-to-be Golden State.

It's now undeniable that liberal policies have destroyed the quality of life in one of our most beautiful states. This isn't hyperbole, it's an objective assessment by US News and World Report's "Best States" ranking, which places California dead last in the "Quality of Life" category.

Not at all distracted by the dumpster fire their policies have created – including explosions in homelessness, drug abuse, crime, and criminal illegal immigrants enjoying state protection – California's Democrats have decided their next big mission is to sue the federal government over the citizenship question being included again on the U.S. census form."
Days of Noah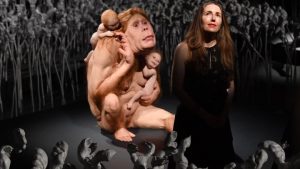 "GOMA opens largest Aussie exhibition with genetically modified human-pig hybrids" This is all part of satan's plan to use man to destroy himself and God's creation. This destruction of man being in the image of God will not stop until the Second Coming of Jesus Christ.
Genetically modified humans violates one of God's basic laws of his creation that everything is to reproduce after its kind.
Man is doing everything possible to alter or destroy God's creation.
Genesis 1:25 And God made the beast of the earth after his kind, and cattle after their kind, and every thing that creepeth upon the earth after his kind: and God saw that it was good.
"Genetically-modified human-pig hybrids have taken over the ground floor of Brisbane's Gallery of Modern Art, as part of the gallery's largest-ever exhibition by an Australian artist. This project addresses the rapidly accelerating interactions, overlaps and sometimes conflicts between human and non-human worlds and it stands, I think, as a provocation about possible futures, some of which have already arrived," he said.

"Patricia's ongoing concern is the social and moral impact of advanced technology on people, animals and our planet." Ms Piccinini said she hoped her work would provoke discussions about ethically-challenging ideas such as the creation of human-pig chimera embryos."
 Revelation 22:20 He which testifieth these things saith, Surely I come quickly. Amen. Even so, come, Lord Jesus.