New York passes bill allowing abortions up to birth, for any reason
Verse of the Day
Proverbs 1:23 Turn you at my reproof: behold, I will pour out my spirit unto you, I will make known my words unto you.
Commentary
This action of infanticide was conducted by mass action of those with reprobate minds. It took both voters and politicians along with the media to do this. These hardened hearts were actually cheering when the law passed! New York State is doomed for passing a law like this.
State by state, America is becoming totally reprobate and at total all-out war with God. How much longer will God allow such rebellion against him?
There is great sorrow in my heart after reading and posting this article. The Lord has to respond to this.
Hard Left Infanticide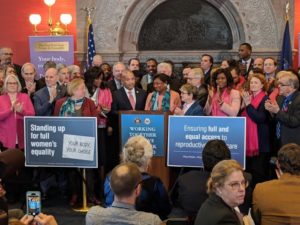 "New York passes bill allowing abortions up to birth, for any reason"
"After an intense debate for and against the proposal, the New York state Legislature passed a bill Tuesday that makes it legal for doctors and other health care professionals, such as midwives and physician assistants, to perform abortions up until birth for any reason in the state.

The so-called Reproductive Health Act that abortion advocates have been trying to get passed for 12 years and has been vehemently opposed by religious and conservative groups, passed with a 38-28 vote and thunderous applause in the state Senate chamber. The bill codifies federal abortion rights guaranteed under the 1973 Roe v. Wade Supreme Court decision and removes abortion from the state's criminal code.

"We have a president who's made it very, very clear that he wants to overturn Roe v. Wade," state Senate Majority Leader Andrea Stewart-Cousins said at a news conference ahead of the vote Tuesday, according to the Albany Times Union. "Today, here in New York, we are saying no. We are saying no, not here in New York. And we're not just saying no. We're saying that here in New York, women's health matters. We're saying here in New York, women's lives matter. We're saying here in New York, women's decisions matter."
Abba Father's International Fellowship – Tanzania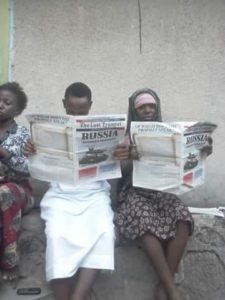 Three Young Moslems accepted Jesus Christ today through the message of healing the brokenhearted.  Down below is a picture of the young Moslems reading the Last trumpet Magazine. Pastor A

Revelation 22:20 He which testifieth these things saith, Surely I come quickly. Amen. Even so, come, Lord Jesus.
If you like our ministry, please consider making a donation to keep us going. May the Holy God of Israel bless you!