Newt Gingrich: Trump's State of the Union changed history on Tuesday night
Verse of the Day
2 Chronicles 7:14 If my people, which are called by my name, shall humble themselves, and pray, and seek my face, and turn from their wicked ways; then will I hear from heaven, and will forgive their sin, and will heal their land.
Commentary
Everyone I spoke with said it was the greatest speech they ever heard. I think we a shocked when a President speaks truth like Trump did.
There are a tremendous amount of people praying for the President. I think we all know that the life of the nation is at stake and he can't fail. We the people need to stand by him with real intercession prayer and support. He can't defend us alone, and we need to rise to the occasion and support him at all cost.
God truly loves America and saved us the destruction of the Republic and our freedoms if Hillary and her crime cartel had won!
The way he spoke about defending the babies could only be done by someone who knows the Lord.
God bless President Trump for standing for truth and not backing down from the onslaught of the deep state and DC swamp along with the rest of hell!
We have the leader, and now he must be backed by prayer and intercession; please don't let this blessing from the Lord pass you by because it is the last.
Looking for the Blessed Hope, Jesus Christ the Groom coming for the believers his bride:
Proverbs 1:23 Turn you at my reproof: behold, I will pour out my spirit unto you, I will make known my words unto you.
SOTU Speech: Prayer Supported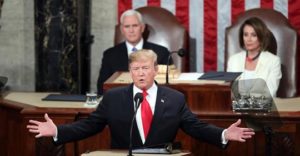 "Newt Gingrich: Trump's State of the Union changed history on Tuesday night – Here's what Pelosi must've felt"
"Every once in a while a speech is so effective and powerful it changes the trajectory of history. President Trump's 2019 State of the Union address was that kind of speech.

If you have not seen it, you should watch it online. Reading it will only convey 10 percent of its power. It was the interaction of the president with the members of Congress and the audience in the galleries that was so compelling.

The emotions of Tuesday night matched anything President Reagan achieved in his addresses to Congress. From the early mentions of people in the gallery – which were guaranteed to get even the Democrats to stand and applaud – to spontaneously singing "Happy Birthday" to a Holocaust and 2018 synagogue shooting survivor to chanting "USA! USA!," the total performance and interaction with the members of Congress was vastly more powerful than the words on paper.

Furthermore, the delivery was presidential. The president interacted with the Democrats in a positive and cheerful way, which bodes well for bipartisan legislative initiatives for the rest of this year. By one count, the president was interrupted 98 times with applause. Both the left-wing Democrats and the never Trump Republicans found themselves standing and applauding again and again."
SOTU Laughter
"Joshua Trump goes viral as he appears to fall asleep during SOTU"
This is very touching!
"The 11-year boy bullied for having the same last name as President Trump went viral in a cute moment after he appeared to fall asleep during Tuesday's State of the Union address.

Joshua Trump, who attended the event after being invited by first lady Melania Trump, sat next to childhood cancer survivor Grace Eline. That's when the young Trump won the hearts of social media after photographers caught a picture of him snoozing in the midst of the speech."
Trump vs Pelosi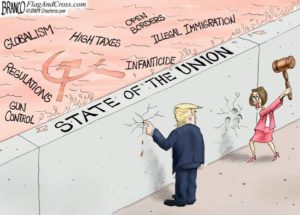 This meme is the perfect picture of the President who wants to bless America and Pelosi who wants to destroy it. Remember, the Hard Left reprobate mind is the MOST destructive force on earth. It is worse than Islam.
Presidential Prayer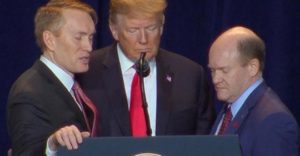 'Use Him for Your Kingdom's Sake': This Powerful Prayer Over President Trump Brought Democrats and Republicans Together" This was a wonderful event. The problem I have is if Senator Coons is a believer in the Lord, what is he doing in the Democrat Party with the demon-dems and their killing babies and homosexuality?
"At today's National Prayer Breakfast in Washington, event co-chairs Sen. James Lankford (R-OK) and Sen. Chris Coons (D-DE) joined together in a rare moment of unity to pray over President Donald Trump.

On the heels of the president's State of the Union Address and an especially divisive time in the nation's capital revolving around the government shutdown that could be about to happen all over again, Lankford and Coons prayed for Trump.

"Father, thank you for the way that you provide for us," Lankford began. "We pray that You would pour Your overwhelming blessing and wisdom on the president, on the vice president, his cabinet and his team. We pray that You would energize him, that You would give him wise counsel."

"In quiet moments, as he has a gap to be able to think, we pray that You would guide him in the way to go as he leads our nation," he continued. "Give him the insight that he needs. Give him joy in the task. And use him for Your kingdom's sake and for our nation and the world's sake. In the name of Jesus I ask."

Coons then prayed, "Heavenly Father we pray for all who are in positions of responsibility and authority, and all who seek a closer relationship with You. This morning we especially pray for President Trump and we ask that Your wisdom, Your blessing, and Your peace would be upon him and his family as they serve us, and that today You would touch his heart and all who have been with us here this morning at this National Prayer Breakfast. In Jesus' name we pray, amen."
Revival for Survival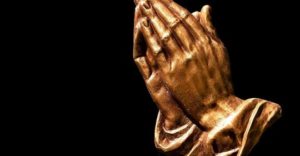 "Why many Americans are praying for Trump"The prayer is exactly what Americans need to do for the President and nation. This is uplifting to realize that so many are praying for the President. No wonder, the Hard Left has not be able to bring him down or even touch him with all their lies! He is Teflon Don: nothing sticks to him!
I have been praying for years for an outpouring of the Holy Spirit for America and throughout the world. All are welcome
"With the election of president Trump, prayer has made a striking comeback in the political arena. Everywhere I turn, I hear people asking fellow Americans to pray for our president. During a conference call, V.P. Mike Pence asked religious leaders to pray for president Trump.

President Trump humbly asked for our prayers. "Trump Prayer Warriors" is one of several Facebook groups advocating praying for our president. Christian leaders contributed prayers to a book titled Prayers for the President. Why are so many Americans feeling an urgent need to pray for our president and country?

Mainstream media seek to convince us that a majority of Americans embrace their anti-Christian anything-goes-sexually agenda. The truth is, millions of Americans are disturbed by our nation's cultural and moral decline. A growing number of TV commercials selling everything from milk to phone services interject homosexuality. I told my wife, "Next they will have men kissing." Thirty minutes later, a Diet Coke TV commercial featured two men kissing in a cab."
Standing for the Babies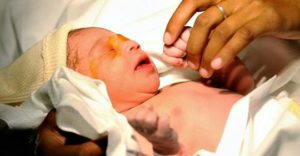 "Trump: 'All Children – Born and Unborn – Are Made in the Holy Image of God'" I know of no other politician who would use the term "are made in the Holy Image of God"! Wow, wow and wow! Only someone who knows the Lord would be bold enough and have the conviction to say this. I'm in awe of what he did during his SOTU speech.
May the Lord greatly bless and protect him, his family and because of him, the United States of America!
Psalm 144:15 Happy is that people, that is in such a case: yea, happy is that people, whose God is the LORD.

"President Donald Trump called upon Congress to pass legislation that would prohibit late-term abortion past the time when science has shown an unborn baby can feel pain.

"Let us work together to build a culture that cherishes innocent life," the president said during his State of the Union Address Tuesday evening. "And let us reaffirm a fundamental truth: all children — born and unborn — are made in the holy image of God."

Trump contrasted the "beautiful image of a mother holding her infant child" with the "chilling displays" of New York legislators after Democrat Gov. Andrew Cuomo signed into law a bill that denies "personhood" to unborn babies and makes abortion on demand a fundamental right.

"Lawmakers in New York cheered with delight upon the passage of legislation that would allow a baby to be ripped from the mother's womb moments before birth," the president said. "These are living, feeling, beautiful babies who will never get the chance to share their love and dreams with the world."

Similarly, Trump observed, "[W]e had the case of the Governor of Virginia where he stated he would execute a baby after birth."

The president referenced the Virginia bill known as the Repeal Act, introduced by Democrat Delegate Kathy Tran and supported by Democrat Gov. Ralph Northam. The legislation created a firestorm as it proposed to allow a woman to request an abortion even moments before giving birth."
Abba Father's International Fellowship – East Africa
 Dearest in the Christ;
Holy greetings. We pray for you always and we know our Lord He is Good un to us all. My mission was good ,we met many people and we shared the word of God through the Materials .Several came to Christ and the Lord helped to bring 81 New Christ. I gave out all Materials until other people began to complain why we have left them behind. I had to promise them that I will bring more Materials to them once I get them from you. We seen changing the lives of our Nation through your revelation that is the Last Trumpet, 666, Broken hearted tracks.
have some picture that have send to you so that you share with others.
God bless you as I anticipates to read from you.
  In Christ.
  Pastor. A

Revelation 22:20 He which testifieth these things saith, Surely I come quickly. Amen. Even so, come, Lord Jesus.

If you like our ministry, please consider making a donation to keep us going. May the Holy God of Israel bless you!