Nunes to send eight criminal referrals to DOJ concerning leaks, conspiracy amid Russia prob
Verse of the Day
Psalm 94:22 But the LORD is my defence; and my God is the rock of my refuge. (23) And he shall bring upon them their own iniquity, and shall cut them off in their own wickedness; yea, the LORD our God shall cut them off.
Commentary
This is wonderful news and a huge step that the tide has turned against the deep state. The President and real Republicans can now go in the offensive! I sense there is great wailing and gnashing a teeth about to hit the DC swamp.
This must be backed by your prayers to break this huge satanic stronghold over DC.
May the Holy God of Israel bless and protect you.
Hosea 4:1 Hear the word of the LORD, ye children of Israel: for the LORD hath a controversy with the inhabitants of the land, because there is no truth, nor mercy, nor knowledge of God in the land. (2) By swearing, and lying, and killing, and stealing, and committing adultery, they break out, and blood toucheth blood. (3) Therefore shall the land mourn, and every one that dwelleth therein shall languish, with the beasts of the field, and with the fowls of heaven; yea, the fishes of the sea also shall be taken away.
Draining the Deep State, Hard Left , DC Swamp !!!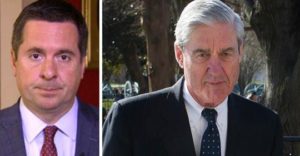 "Nunes to send eight criminal referrals to DOJ concerning leaks, conspiracy amid Russia probe"
"House Intelligence Committee ranking member Devin Nunes exclusively told Fox News' "Sunday Morning Futures" that he is preparing to send eight criminal referrals to the Department of Justice this week concerning alleged misconduct from "Watergate wannabes" during the Trump-Russia investigation, including the leaks of "highly classified material" and conspiracies to lie to Congress and the Foreign Intelligence Surveillance Act (FISA) court.

The dramatic step comes as Republicans have pushed for the release of key documents to uncover the origins of the now-discredited narrative that the Trump campaign colluded improperly with the Russian government. President Trump recently told Fox News he would release the entirety of the FISA applications used to surveil one of his top aides, and other related documents."
Power in the Name of Jesus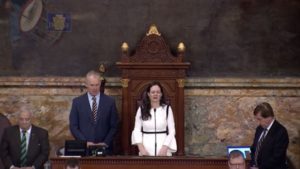 "Resolution Blasts Rep's 'Polarizing' Prayer Declaring Jesus as Nation's 'Only Hope' and 'Every Knee Will Bow'" Representative Borowicz's prayer is still shaking the Capital! There is power in the name of Jesus!
I'm from Pennsylvania and I intend to call the Rep who is harassing Rep Borowicz for her prayer. I intend to demand that no Muslim be allowed to use the Koran because it is anti Christian because it blatantly denies that Jesus Christ is the Son of God, the blessed Trinity, Jesus died on the cross and was resurrected.
If they want a religious war, these Hard Left anti God dems are going to get one.
Rep Borowicz needs our support. She can be reached at:
(717) 772-9925; (814) 353-8780 or (570) 748-5480.
Rep Kevin J. Boyle is leading the charge. He can be reached at: (717) 783-4944; (215) 695-1016 or (215) 331-2600.
Please see my teaching about the Koran attacking Christianity: "The Koran vs. The Bible: The Koran Directly Attacks Christianity." This will give you ammunition when you talk to this Rep, or anyone, about the Koran.
https://www.defendproclaimthefaith.org/koran_vs_bible.html
John 14:13 And whatsoever ye shall ask in my name, that will I do, that the Father may be glorified in the Son.
"In the meantime, some representatives continued to speak out against Borowicz's prayer, and Boyle crafted a resolution to both chastise the representative and urge lawmakers going forward to present prayers that are "crafted with the respect of all religious beliefs in mind."

"Representative Borowicz invoked Jesus, the Lord or God about a dozen times in her one-minute-forty-second prayer," he said in a statement." I cannot begin to imagine how uncomfortable that had to make Representative Johnson-Harrell and the 50 guests she had surrounded herself with that day from various religious backgrounds and beliefs."

"This is not your home where you can say whatever you want," Boyle asserted. "It is the Pennsylvania House of Representatives, where we show a common decency to one another." His resolution characterizes Borowicz's prayer as "[a] fire and brimstone prayer" that "epitomizes religious intolerance."

"Whereas, prayers offered before the House of Representatives in the daily order of business should reflect mutual respect and religious tolerance of our colleagues and constituents, and not intimidate, demean or degrade, therefore, be it resolved that members of the House of Representatives who have the opportunity to offer a prayer in the course of a legislative session are urged to follow the request of Speaker Turzai to 'craft a prayer that is respectful of all religious beliefs,'" the proposal reads."
Demon-Dems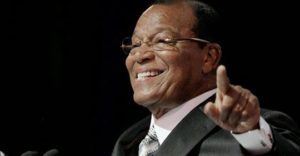 Farrakhan claims to be Jesus in 'Saviours' Day' address: 'I am the Messiah'" What Farrakhan said is not shocking. What is shocking how the demon-dems welcome his support! He seems to have a significant following among black people and the dems pander to him. It doesn't matter if he hates America and white people. It does not matter what he says about the Jews and Israel. They dems have no problem having their pictures taken with him for votes. They really are the demon-dems
Matthew 24:4,5 And Jesus answered and said unto them, Take heed that no man deceive you. For many shall come in my name, saying, I am Christ; and shall deceive many.
"The preacher of Islam then appeared to mock one of the most famous passages from the Bible, John 3:16: "God does not love this world. God never sent Jesus to die for this world. Jesus died because he was 2,000 years too soon to bring about the end of the civilization of the Jews. He never was on a cross, there was no Calvary for that Jesus," Farrakhan said.

Instead, he said, Jesus's name would live until the one that came that he was prefigured for.

"The real story is what I tried to tell you from the beginning. It didn't happen back there. It's happening right while you're alive looking at it," Farrakhan told the audience. "I represent the Messiah. I represent the Jesus and I am that Jesus. If I am not, take my life."
Demon-Dems Infanticide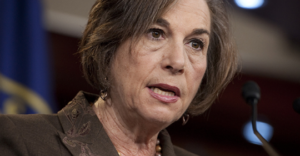 "Democrat Congresswoman Tired of Republicans Trying to Stop Infanticide: "Oh My God, They Just Will Not Quit" The dems just love to kill. They are like weasels in their desire to kill. Their lust to kill can be easily transferred to those they hate politically which, of course, is us. They really desire their "right" to kill babies in womb now include infanticide. They love to kill.
Proverbs 8:36 But he that sinneth against me wrongeth his own soul: all they that hate me love death.

"There are a lot of things in life to get exasperated about. The rude guy who cuts in front of you on the highway, a person who is loudly talking on the phone at a restaurant, or people who chew with their mouth open.

But Democrat congresswoman Jan Schakowsky is exasperated about the fact that Republicans continue to push for a vote on a bill to stop infanticide.

As LifeNews has reported, Democrats, led by Nancy Pelosi, have blocked a bill to protect babies who are born alive after abortions and provide them with appropriate medical Ccre and treatment a total of 28 times. Earlier this week, Republicans led an effort to to get petition signatures for a discharge petition to bring the bill to the floor."
Days of Noah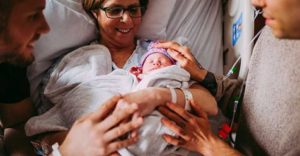 "61-Year-Old Mother Births Baby as Surrogate so Her Homosexual Son and His 'Husband' Can Have a Child" What a mockery of God's family structure. This was revolting to read.
"A 61-year-old woman has given birth after serving as a surrogate for her son, so he could have a child with his "husband."

According to reports, Matthew Eledge, 32, and Elliot Dougherty, 29, had talked about in vitro fertilization (IVF) as an option. When Eledge's mother, Cecile Eledge, then 59, offered to be the surrogate, they laughed at first.

"I told her, 'Mom, you're postmenopausal. … You can't do that. Right?'" Eledge told NBC News. "I thought if I could do it, I would do it," his mother told BuzzFeed. "It was kind of a no-brainer."

The elder Eledge went through a series of tests to see if she would be capable of carrying the child, including a stress test and Pap smear, and underwent estrogen treatments after being confirmed.

Dougherty's sister, Lea Yribe, now 26, donated eggs for the IVF and the eggs were fertilized with Matthew Eledge's sperm. The first implantation in Eledge's mother — one of three fertilized eggs that were thought to be among the most viable — was successful and she carried the child for nearly eight months."
More Hard Left Insanity
"Left-wing cities going LAWLESS as Boston orders police to stop arresting criminals for breaking and entering, destruction of property or shoplifting" You watch: the next step will be to prosecute anyone who uses a weapon in defense during these crimes. This is exactly the way the Europeans are. If you use the weapon against a criminal, you go to jail. The Hard Left mind is the same whether it is Europe or America.
"Leftist policies are reaching new levels of insanity in Massachusetts, as Suffolk County DA Rachael Rollins pushes her highly contested "no-prosecute" list into action.

The "list" gives a green light to a number of arrest-worthy offenses — including trespassing, shoplifting, disorderly conduct, and "wanton or malicious destruction of property." In other words, local law enforcement is being directed by the district attorney to stand idly by while miscreants steal and destroy property. The directive from Rollins also orders police to refuse to cooperate with ICE in the arresting of illegal immigrants at the courthouse — no matter the severity of their crimes. What could go wrong?
Disasters in America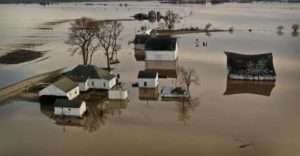 "Midwest Floods: Worst Agricultural Disaster in Modern U.S. History"
This devastating disaster received little attention, nut it isn't over with more on the way. Because of the magnitude of the disaster, food prices are about to rise and maybe dramatically.
"Three weeks ago, a highly unusual weather event hit the heart of America—an extremely rapid pressure drop that meteorologists call a "bomb cyclone." It swept through the central United States, from Minnesota to Texas. The hardest-hit states suffered fierce winds, heavy snow and rain.

After an especially cold winter, the earth was frozen and encased in snowpack. The ground was thus unable to absorb the moisture, so the rainfall swiftly turned into flooding. Unprecedented, catastrophic flooding.

Flood watches and warnings have been issued in parts of 15 states. Rising water levels breached levees all along the Missouri River. These have a cascading effect: Once one levee is breached, water surges to the next levee downstream, causing more breaches. The Spencer Dam in Boyd County, Nebraska, collapsed, sending an 11-foot wave strewn with large chunks of ice downstream, razing a house and smashing the county's main water line."
Abba Father's International Fellowship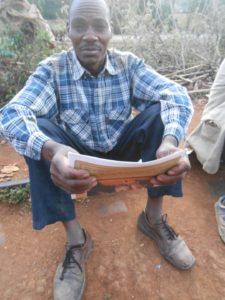 Greetings Pastor Dave & John, I am writing this email full of Gods joy of what the Lord has done to us through the Materials you just to us as the Church. We are experiencing the New Move of  the Holy Spirit in our Congregation as well the surrounding after sharing the Materials. Several Souls has come to the Kingdom of God, and Materials was taken away with people and it was not even enough to meet the needs. I have attached photos to you so that you how the Materials was used. also I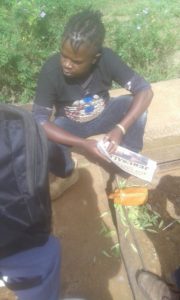 kindly require for you to send us more Box?
  In Christ Pastor M
  Blessings
Revelation 22:20 He which testifieth these things saith, Surely I come quickly. Amen. Even so, come, Lord Jesus.
If you like our ministry, please consider making a donation to keep us going. May the Holy God of Israel bless you!