NY Officials Remove Order to Re-admit Coronavirus Patients Back into Nursing Homes from State Website after 4,900 Deaths
Verse of the Day
Psalm 2:2,3 The kings of the earth set themselves, and the rulers take counsel together, against the LORD, and against his anointed, saying, Let us break their bands asunder, and cast away their cords from us. (4) He that sitteth in the heavens shall laugh: the Lord shall have them in derision. (5) Then shall he speak unto them in his wrath, and vex them in his sore displeasure.
Commentary
This governor lead the way to kill babies up to birth. He cheered when the bill was passed which shows he has a deep murdering spirit within him. So what is it to him, if passes a code to have sick elderly patients brought back to the nursing homes! Two days later he released 1800 prisoners back into the public. The question is: why did he have the sick elderly placed into the nursing homes? I hope AG Barr gets at the root of this.
May the Holy God of Israel bless and protect you!
Proverbs 6:16-18 These six things doth the LORD hate: yea, seven are an abomination unto him: A proud look, a lying tongue, and hands that shed innocent blood, An heart that deviseth wicked imaginations, feet that be swift in running to mischief, A false witness that speaketh lies, and he that soweth discord among brethren.
THIS WAS MURDER: NO ONE IS THIS STUPID
"At least 4,900 seniors have died in New York State nursing homes from the coronavirus so far this year. Around 20 percent of all New York state deaths were in nursing homes.Recently Republican Chele Farley called on Attorney General Bill Barr to investigate this state policy that led to so many deaths in New York state.
Recently the New York State Department of Health took down their state order demanding nursing homes welcome coronavirus patients. It didn't work out so well."
HARD LEFT KILLING ELDERLY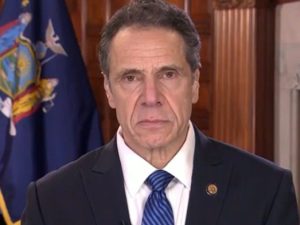 "Andrew Cuomo Scrambles to Change Nursing Home Virus Policies as Democrats Call for Independent Investigation"
Hopefully, this criminal is brought to justice for what he did in murdering all these elderly people. He had sick Coronavirus elderly people brought into the old age homes.
"Gov. Andrew M. Cuomo finds himself engulfed in scandal as a growing number of Democrats join state Republicans in demanding an independent investigation into his controversial policies and how questionable actions may might have contributed to the catastrophic outbreak of coronavirus in New York nursing homes.
More details have emerged in recent days raising major questions about potentially fatal decisions made under Cuomo's watch as the death toll in New York's nursing homes swells to over 5300 and continues to climb."
PLANNED KILLING OF ELDERLY?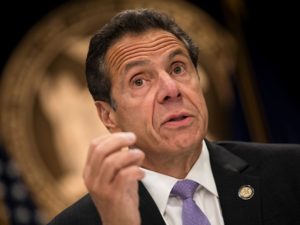 "Controversial Decisions by Governors in NY, NJ, and PA Criticized as Factors in High Level of COVID-19 Nursing Home Deaths"
More information about the Coronavirus killing the elderly in nursing homes. I reported my investigation of the total disrespect for the elderly in Pennsylvania. It was shocking how at all levels of government knew the law was broken but would not take steps to correct this. Now the elderly are dying by the thousands, but Pennsylvania, along with NY and NJ failed to protect them. It was like a slaughter.
I think this was done on purpose! Who in their right mind would send Coronavirus positive elderly back into the homes with the elderly. These three governors did! I think it was murder and these governors should all go to prison for manslaughter.
I'm not making this up. This is all out in the open by the newspapers which will be verified when you read this article. The governors are all Democrats along with many other governors across the country who are destroying the economy of the states and the Constitutional rights of the people.
This is plain ugly and happening right in front of our eyes. It totalitarianism growing in front our eyes. We the People have to stop this monster.
"The governors of New York, New Jersey, and Pennsylvania are under fire for controversial nursing home policy decisions that critics say fueled coronavirus deaths in those facilities.
Though not all 50 states are currently providing complete data, a huge percentage of the 83,231 COVID-19 deaths in the United States, as of 5 p.m. eastern on Tuesday, May 12, were among residents of nursing homes and long-term care facilities.
The Henry J. Kaiser Foundation has assembled nursing home/long-term care facility COVID-19 mortality data from the 33 states that report that data, and calculates that, as of May 7, nursing home and long term care facility residents accounted for 38 percent of the COVID-19 deaths in those states. The percentage of coronavirus deaths from nursing homes appears to be increasing as the pandemic drags on."
EVIDENCE OF CORONA VIRUS DEATHS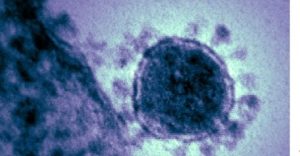 "German Autopsy Study Finds EVERY Coronavirus Victim had Previous Illness — All Had Cancer, Lung Disease, Were Heavy Smokers or Morbidly Obese"
From this study it shows who should be protected from the virus, but the entire nation shut down! This is a scam to gain power over the people and make billions from vaccines. It is time that many in the medical institutions go to jail for this. They are either stupid beyond measure or criminals.
"The Gateway Pundit was first to report back on March 16, 2020, that the WHO was pushing a completely inaccurate coronavirus mortality rate to frighten the masses.
The WHO Director, Tedros Adhanom Ghebreyesus, estimated on March 3, 2020 that the coronavirus mortality rate was 3.4% This was a completely inaccurate number that caused a global panic. In Switzerland children went back to school on Monday since researchers found that children rarely get virus or transmit it.Now a new study from Germany found that every single death was someone who had cancer, lung disease, was a heavy smoker or morbidly obese."
EXPOSING THE HARD LEFT HYPOCRITES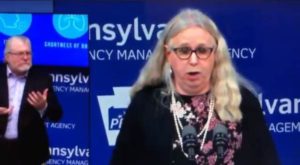 "PA Secretary Of Health Admits He Moved His Mother Out Of Senior Facility To A Hotel While Ordering Infected Patients Into Nursing Homes"
What can I say, but they are criminals. Coronavirus was killing the elderly in these homes, so he got his mother out. Why not move quickly to protect the elderly instead of letting them die!
"At least 28,100 residents and workers have died from the coronavirus at nursing homes and other long-term care facilities for older adults in the United States, according to a left-wing New York Times database. The virus so far has infected more than 153,000 at some 7,700 facilities.
Deaths from these places alone have accounted for 68.6 percent of all deaths in Pennsylvania as of Tuesday, according to state data.

Spotlight PA, a partnership between the Philadelphia Inquirer, the Pittsburgh Post-Gazette, and Harrisburg's PennLive, also found evidence the Pennsylvania Department of Health drafted a quick strike plan to protect nursing homes in March, but never fully implemented it. In the meantime, some facilities have become death traps.
While elderly people died from the Chinese Virus state's Health Secretary Dr. Rachel Levine admitted he moved his own mother out of a senior facility to a hotel while the Coronavirus was sweeping through nursing homes and killing elderly residents."
 OBAMA BEING HELD FOR HIS CRIMES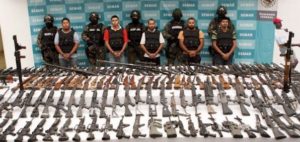 "

Mexico demands investigation of notorious Obama scheme

"
This is bonus on top of all the revelations about B. Hussein that are coming out. He orchestrated the attempted coup of President Trump which is sedition, and now he needs to be held accountable for all the murders connected with government sanctioned gun running to the Mexican drug cartels!
I hope President Trump releases all the details of what Obama did and how 100s died because of him and Attorney General Holder. What is happening now to the deep state is your birthday, 4th of July and Christmas all rolled into one!
Please keep praying because looks like a visitation from the Lord on the corruption in DC!
"The president of Mexico wants an apology and information from the United States regarding the Obama administration, gun-running program that put exotic weapons in the hands of Mexican drug cartels.
The plan was to trace the weapons to the cartels to bring charges. But the Obama administration operation lost track of most of the guns. The Blaze reported President Andres Manuel Lopez Obrador wants to prevent the same thing from happening again.
"What seems serious to me is that a violation of our sovereignty was carried out, a secret operation, and that Mexicans were killed with these weapons," Obrador said Friday. "How could this be? A government that invades in this way, that flagrantly violates sovereignty, international laws. We have to shine light on this so that an action of this type will never be carried out again."
MUSLIM CURE FOR VIRUS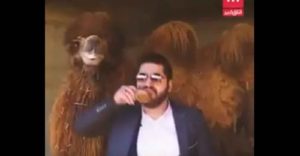 "Drinking Camel Urine for Coronavirus"
A cure for the Coronavirus from a Muslim's perspective. You will find this very interesting, but I don't recommend it.
"An "Islamic medicine specialist" and director of a religious-scientific institution in Iran recently called on his countrymen to drink camel urine as the "best cure" for coronavirus and other ailments.
Mehdi Sabili, who is affiliated with the Iranian regime, uploaded a video on his Instagram account extolling the virtues of dromedary urine on April 19. The video, which has since gone viral, also depicted him drinking a glass of freshly procured camel urine—which he enthused was best drunk "fresh and warm"—and calling on fellow Iranians to do the same three times a day for three days (i.e., nine full glasses)."
HARDENING OF THE POLICE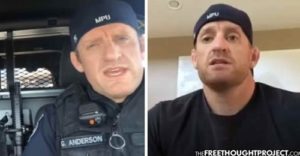 "This is the Problem: Good Cop Fired for Asking Fellow Cops to Respect the Rights of the People"
The national emergence has brought to light the tiny tyrants across the nation including the police. This is very dangerous because the police are being trained to obey decrees by tyrant governors and mayors. Also, this is very dangerous because the police are operating outside the Constitutions of both the state and federal government.
"Last week, TFTP brought you the story of Port of Seattle Police Officer Greg Anderson, who made a video calling out the bad cops throughout the country who are enforcing mandates in complete violation of the oaths they swore to uphold the Constitution. This put a target on his back and in the cross-hairs of authoritarians across the country. Now, proving the point that good cops are hard to find and the system is set up to purge them from the ranks, officer Anderson has been terminated.
As we reported last week, in the 8-minute video, Anderson says he's "seen officers nationwide enforcing these tyrannical orders.""Every time I turn on the TV I see people getting cited for going to church, for travelling on the roadways, for going surfing, opening their businesses, going to the park with their families, or doing nails out of their own house," Anderson laments."
VICTORY OVER TINY TYRANTS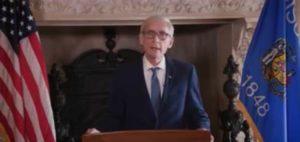 "Wisconsin Supreme Court Strikes Down Democrat Governor's Coronavirus Lockdown Order"
This is great news and lets hope that state by state the lockdown orders are reversed.
"The Wisconsin Supreme Court on Wednesday tossed out Democrat Governor Tony Evers's authoritarian Coronavirus lockdown order in a 4-3 decision, ruling it "unlawful" and "unenforceable."
Via the Milwaukee Journal Sentinel: The Wisconsin Supreme Court has struck down Gov. Tony Evers order shutting down daily life to limit the spread of coronavirus — marking the first time a statewide order of its kind has been knocked down by a court of last resort.The state's highest court sided with Republican lawmakers Wednesday in a decision that curbed Democratic Gov. Tony Evers' power to act unilaterally during public health emergencies."
DIRECT ATTACK ON BILL OF RIGHTS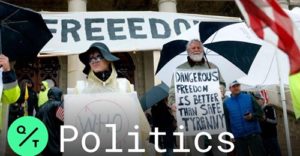 "Gov. Whitmer: Police 'Monitoring All Conversation' of Protestors"
We-the-People have Constitutional rights to protest the government, but not according the Hard Left. This governor had the state police monitor all the telephone calls of the people attending a protest of her actions! The Hard Left wants to take us down the path of the Stalin and Hitler! Everyday it is evident that these officials are enemies of the people, and THEY are taking the fight to us.
We have no choice, but we MUST stand against this tyranny!
"Uhh, can you say invasion of privacy? Michigan Governor Gretchen Whitmer told reporters on Thursday that state police are "monitoring all the conversations" of protestors who plan to show up at the capitol.
She began by answering a question asking what "proof" she has that the virus was spread around the state by protestors. "I saw one report— I don't have proof. I'm not following everybody home and taking their temperatures and watching them for two weeks," she said."
WE THE PEOPLE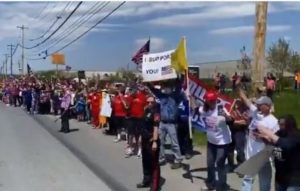 "Obviously, the People in Pennsylvania Are Finished with Social Distancing — Watch Amazing Video of Trump Reception on Thursday"
This is so exciting to watch. It was a spontaneous gathering to welcome the President to Pennsylvania for a speech! This is exhorting to watch! The video was taken down, but I found one. To watch, go to:
https://twitter.com/realDonaldTrump/status/1261373283536175104
"It appears Governor Wolf has lost his grasp on the people. Watch this amazing video of President Trump's reception on Thursday in Pennsylvania."
NATIONAL INSTITUTE OF HEALTH (NIH)
MEME: Dr. Fauci's Plan for America
I'm so glad President Trump is no longer taking advice from
Dr. Fauci. It evident the doctor's goal was to destroy America which the President is now undoing!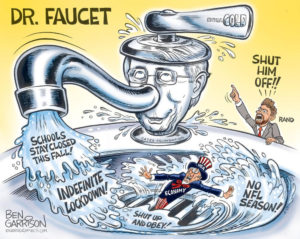 Abba Father's International Fellowship
Dearest in Christ Man of God Pastor Dave and John;

Greetings in the Precious mighty Name. He who abides at the most high

place of God shall abide at the shadow of the Most High God! It's

always good to under His perfect care. Our mission of serving him has

been so good when I was out reaching to many and speaking the Word of

God that is being recorded in the News letter. God healed many souls,

delivered some from the power of darkness when and about 44 new souls

came to the kingdom! Glory be to God!! May the Lord bless you for your

love and help towards this mission trip that has been so successful. I

have attached pictures to you, I hope you will encourage others

through the pictures. God bless you.

Pastor A

If you like our ministry, please consider making a

donation

to keep us going. May the Holy God of Israel bless you!
Revelation 22:20 He which testifieth these things saith, Surely I come quickly. Amen. Even so, come, Lord Jesus.