Palestinians say Obama's last-minute $221 million payout frozen
Verse of the Day
 Joel 3:19-20 Egypt shall be a desolation, and Edom shall be a desolate wilderness, for the violence against the children of Judah, because they have shed innocent blood in their land. But Judah shall dwell for ever, and Jerusalem from generation to generation.

Commentary
There is so much going on right now that I am trying to keep up with the best information for you. All the articles that I post have very important information that will keep you on the cutting edge of what is happening.
Right now it is clear to me that the Lord is using President Trump to judge the wicked. He is destroying their evil empire right before their eyes. God is so good to us, since what he is doing in America is beyond anything I thought would happen. He is destroying an evil empire which was growing in America!
The wicked, through their New World Order, had big plans to create their world, but in God's sovereign will he is going to bring about the end time events his way and not the devil's way. The Lord still has use for America, and it is clear that he wants Israel's back covered before the United Nations and the European Union. He may need the USA to help Israel in the coming war. 
Our God really does love us and has answered our prayers beyond anything would could image.
May the Holy God of Israel bless and protect you.
Psalm 122:6  Pray for the peace of Jerusalem: they shall prosper that love thee.
American Politics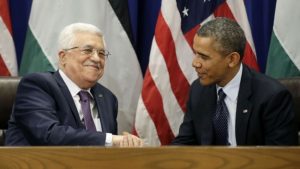 Palestinians say Obama's last-minute $221 million payout frozen 01/25/17  This is such good news because I thought PLO had received the funds. So let's hope that the man-of-sin, Obama, was thwarted.
"The Trump administration has informed the Palestinian Authority that it is freezing the transfer of $221 million which was quietly authorized by the Obama administration in its final hours on January 20, a senior Palestinian source has told The Times of Israel.
US officials conveyed to PA Prime Minister Rami Hamdallah on Tuesday that the funds were not expected to be handed over in the immediate future, said the source, who spoke on the condition of anonymity.
On Tuesday, the State Department said it was reviewing the last-minute decision by former secretary of state John Kerry to send the funds to the Palestinians despite objections to the transfer by congressional Republicans.
The department said it would look at the payment and might make adjustments to ensure it comports with the Trump administration's priorities."
American Politics/ Islam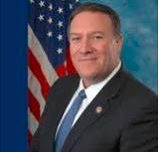 CIA Dir. Pompeo: 'Jesus Christ Our Savior Is Truly the Only Solution For Our World' 01/25/17
This is a short video but really good. The new CIA director is telling the truth about Islam and then states the only hope is faith in Jesus Christ!
Now if he keeps the faith in dealing with the CIA, then we will be blessed.
I hope that he can run that Hard Left element out of the CIA!
American Politics/ Israel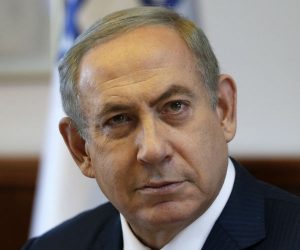 After 8 years of 'enormous pressure,' Netanyahu cheers Trump's 'change of approach' 01/23/17  This a wonderful way to start Trump's presidency! This is the exact relationship track that should be taken with Israel.
"Speaking to a meeting of his Likud faction a day after his first phone call with Trump, Netanyahu said the US president, like him, believes the Iran deal is "bad," and that peace with the Palestinians will only be achieved through direct talks. He also reiterated that the call was "very warm," and confirmed the two would meet in Washington early next month.
"After eight years in which I withstood enormous pressure on various issues, primarily Iran and the settlements, I certainly welcome the change of approach," Netanyahu said.
"President Trump believes that peace will only be achieved through direct negotiations. Does that sound familiar?" said Netanyahu. "He spoke to me at length about the threat from Iran. He also believes the nuclear deal with Iran is a bad deal. That certainly must ring a bell."
As the EU Has Done to Israel (Italy)
'Catastrophe' in central Italy on day of four big quakes 01/22/17  I was made aware of the connection between the pope meeting with Abbas to open the Palestinian embassy in Rome and the major earthquakes and avalanches hitting Italy. All of these earthquakes did shake Rome.
"01/16,17 The Italian Institute of Geophysics and Volcanology said it had recorded "some 200" tremors above magnitude 2 on Wednesday in Abruzzo and Lazio.
The first big quake struck at 10:25 (09:25 GMT) with a magnitude of around 5.3, followed at 11:14 with one of 5.4, followed some 11 minutes later by another of 5.3, the institute said (in Italian). At 14:33, a fourth quake measuring 5.1 occurred, the institute says.
The first three were around 9km (5.6 miles) in depth, meaning they were dangerously close to the surface, while the fourth was even shallower, at 6.9km deep, according to the US Geological Survey."

"Pope Francis meets with Palestinian president Mahmoud Abbas" 01/14/17
ProLife
Rep. Steve King Files Federal Pro-Life Heartbeat Bill: 'If a Heartbeat Is Detected, the Baby Is Protected' 01/25/17
Wow, it has not been one week since the inauguration, but so many great things have happened! This really is an exciting time. God is so good to us.
"Pro-life congressmen stood in front of the Capitol — along with Janet Porter, the Ohio woman who led the fight for passage of that state's "heartbeat bill" — all in support of Rep. Steve A. King (R.-Iowa) and his Heartbeat Protection Act of 2017, H.R. 490, which restores legal protection to unborn children once their pulse is detected.
"It is a profound religious and moral understanding that every human person has the right to life," said King, who was joined by Rep. Louie Gohmert (R.-Texas), Rep. Trent Franks (R.-Ariz.), Rep. Scott G. Perry (R.-Pa.), and Rep.Don Bacon R.-Neb.), along with other prolife supporters of the bill.
"The question that has hung before the courts, since 1973 is: 'When does life begin?'–we all know when that is," the congressman said."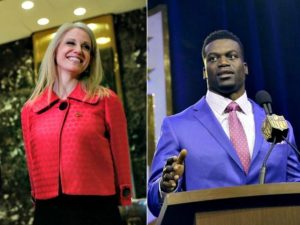 Trump Counselor Kellyanne Conway, NFL Star Ben Watson to Headline 44th Annual March for Life in Washington, D.C. 01/25/17
Defending the babies is something that is almost exclusively American, though Ireland and Poland do stand up for the babies. I believe the prayers and efforts of the pro-life movement, along with standing for Israel, has kept the Lord from destroying America.
Psalm 94:16  Who will rise up for me against the evildoers? or who will stand up for me against the workers of iniquity?

"The March for Life released its list of speakers:
Kellyanne Conway, the highest ranking White House official to ever speak at the March, will now be joined by Senator Joni Ernst (R-IA), Representative Mia Love (R-UT) and Representative Chris Smith (R-NJ), along with many other prominent pro-life figures – including Archbishop of New York Cardinal Timothy Dolan, Baltimore Ravens tight end Benjamin Watson, former Planned Parenthood Director and founder of 'And Then There Were None' Abby Johnson, Mexican Telenovela star Karyme Lozano, author and radio host Eric Metaxas, and Bishop Vincent Matthews of the Church of God in Christ, who advocates for adoption in the African-American community."
Islam/ Christianity
Somalians Face Rushed Beheadings for Suspicion of Conversion to Christianity 01/25/17  Please keep in mind that Obama took huge numbers, up to 100,000 of these Muslims, into America. They settled mainly in Minnesota. What is to prevent them from acting out Islam here in America? When they have power, they will.
"Converts to Christianity in the country have been facing massive problems and their killing is very common. Unlike in North Korea, on their discovery they would not last a day in a trial or ever get the chance to be sentenced to a labor camp," Dembele told CP.
"Instead, the mere suspicion leads to a rushed public beheading. Christians cannot raise their children according to their faith and would face severe problems if they attempted to celebrate Christian holidays. In a nutshell, to survive in the country Christians must pretend not to be Christians."
Dembele reflected on the account of a Somali convert to Christianity who fled the country, but stressed that details can not be shared due to security concerns.
"When his conversion became known, he faced hostility from his own family (except from his mother who protected him). Fearing for his life, he fled the country. But life is very challenging in his new home too," the law analyst explained.
"He feels he cannot attend worship at a normal church, since non-Somali Christians tend to automatically think he might have come to attack Christians. So this brother in Christ finds himself asking the very fundamental question: Where do I belong in this world?"
Christianity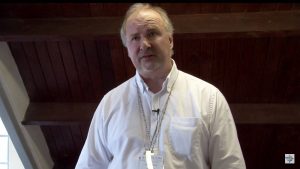 Reverend Gavin Ashenden and the collapse of Christianity 01/25/17 
This is a very important article showing how Christianity is melting before Islam. I firmly believe that Europe is beyond hope because the sheer numbers of Muslims have locked Europe into destruction. May God grant us his blessings, that the US will be spared from what is happening in Europe.
Proverbs 14:12  There is a way which seemeth right unto a man, but the end thereof are the ways of death.

"The section of the Quran that a Muslim student recited at the church service points out the Islamic belief that Jesus was not the Son of God. Even in today's Britain, this does not seem quite the view that leaders of the national church are supposed to propagate.
"The justification offered that it engages some kind of reciprocity founders on the understandable refusal of Islamic communities to read passages from the Gospel in Muslim prayers announcing the Lordship of Christ. It never happens…. apologies may be due to the Christians suffering dreadful persecution at the hands of Muslims in the Middle East and elsewhere. To have the core of a faith for which they have suffered deeply treated so casually by senior western clergy such as the Provost of Glasgow is unlikely to have a positive outcome." — Reverend Gavin Ashenden, The Times.
"I resigned in order to be able to speak more freely about the struggle that Christianity is facing in our culture. I had no idea that there were plans afoot by a Scottish Cathedral to 'reach out to Muslims' by scrapping a Bible reading from their worship on the Feast of the Epiphany (when Christ's Lordship is celebrated as the Light of the World) and replacing it with a part of the Koran that denied Jesus was the Son of God…. it represented one more step along a road, which if the Church continues to follow, will speed up the destruction of Christianity in our country." — Reverend Gavin Ashenden, The Times.
In a nation much in need of heroes, an Anglican Reverend has stepped forward, putting his sincere and serious beliefs ahead of the unserious and insincere pieties of our time. Everybody — secular or religious — has cause to feel enormous gratitude."

Micah 4:11  Now also many nations are gathered against thee, that say, Let her be defiled, and let our eye look upon Zion.