Pedophiles Rule the World
Verse of the Day
Psalm 49:6-7  They that trust in their wealth, and boast themselves in the multitude of their riches; None of them can by any means redeem his brother, nor give to God a ransom for him:
Commentary
There are more than a million children trafficked each year for sexual purposes; three years ago it was a 32 billion dollar "industry." Often these pedophile rings involve the elite, who ensure that their associates are protected criminally and in every other way, so that for the most part, only low level procurers are prosecuted. Those who speak publicly about their knowledge of the system, especially if they name names, have very short lives indeed. These rings go back for decades, and some only now are coming to light.

Not that these are the only deaths associated with elite pedophiles. Children (both boys and girls) are used in snuff films and sometimes are killed outright after being caged, hunted, subjected to torture and raped in sado/masochistic ways by wealthy elites and government officials. Recently, among others on the subject, we did a post that we'd urge you to revisit: "#PedoGate: Elite Government Pedophile Ring Exposed by Dr. Phil on Mainstream TV" just as we'd STRONGLY  urge you to watch the first two videos, below, where Paul Joseph Watson and others from Infowars tie together documented cases of horrific abuse by those at the highest levels.
We return to this subject frequently because there's nothing more important to pray about – for the safety, freedom and justice for the victims who are crying out, and for many prosecutions to end this evil and remove from society those who engage in this behavior. Most of those involved also are known and/or admitted Satanists, and the children involved are often ritual abuse sacrifice victims. Satan's methods don't change, just the faces and means he uses, and so, neither can ours. We first must go to God and then fight.

This is the equivalent of African slavery in earlier centuries and the fight against it is just as important. Although we may not have lived during that time period, the issue still is ours in which to become involved, although the way it now presents itself has changed. If we make this a matter of urgent, dedicated prayer and then do everything we can to spread the word and to fight this, our victory can equal that of William Wilberforce (Member of Parliament from Hull, 1780-1833) over the British slave trade, through the power of God – if we know what is going on and become involved. For more on Wilberforce and his fight, see the film, "Amazing Grace."

May the Holy God of Israel bless and protect you.
Psalm 62:10-11 Trust not in oppression, and become not vain in robbery: if riches increase, set not your heart upon them. God hath spoken once; twice have I heard this; that power belongeth unto God.
Pedophilia
Pedophiles Rule the World 04/06/17  Paul Joseph Watson is a great speaker and he ties together the facts of a world-wide pedophile ring that is protected. He goes into detail about many rings broken but prosecution of which went nowhere!
Remember that Islam allows pedophilia because Muhammad was sexually involved with a 9 year old girl. I can see the Hard Left merging with Islam over pedophilia.

You must listen to this because it will open your eyes. The church must make this a focus of prayer to destroy these rings and free the children.
Luke 17:2  It were better for him that a millstone were hanged about his neck, and he cast into the sea, than that he should offend one of these little ones.
Pedophile Rings Rule The World 04/23/14  This is an older video from Infowars about elite pedophile rings, and it is very good – it goes into the background of these rings, especially in areas like Bohemian Grove. This video may have been out for awhile but the information still is relevant and fresh because things only have gotten worse.
Matthew 18:6  But whoso shall offend one of these little ones which believe in me, it were better for him that a millstone were hanged about his neck, and that he were drowned in the depth of the sea.
World War 3
Kremlin tells U.S. it's 'one step from war' as Trump warns he will hit Syria AGAIN after his attack on Russia's ally Assad triggers fears of World War Three 04/07/17  This is an excellent article about the attack on Syria. The pictures and charts included are the best that I have seen. This article is well worth the read.
I believe that we are now in the prophetic time period that is leading to the total destruction of Damascus and Syria. This is to happen prior to the Second Coming of Jesus Christ.
Isaiah 17:1  The burden of Damascus. Behold, Damascus is taken away from being a city, and it shall be a ruinous heap.

"Russian Prime Minister Dmitry Medvedev denounced Donald Trump
In the first direct American raid on Bashar al Assad's forces, US President authorised the firing of 59 cruise missiles at military airfield
Officials said it was retaliation for Assad's use of chemical weapons
US ambassador to UN: 'We are prepared to do more but we hope that will not be necessary'
Vladimir Putin has now diverted warship the Admiral Grigorovich to protect the Syrian coast"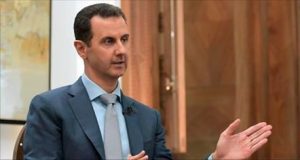 59 tons against Iran and North Korea 04/07/17  This is a very hard hitting article from Israel. It looks like the world was looking for leadership against evil and they found it in President Trump.
"Tonight President Trump delivered 59 Tomahawks holding one ton of explosives each directly against the Shiite/Aliwite Bashar al-Assad. Critically, President Trump gave the real message to the evil Iranians and the lunatic North Korean dictator. It is a tragedy that it is 6 years too late, that it needed elections for a new leader, President Trump, to make good on Iranian-stooge former-President Obama's red-line. We have now entered a new age where Iran will be defeated and defeated badly, and North Korea will realize its time is up.
President Trump is all action and no talk. President Trump is the anti-Obama. Obama was held hostage to some unknown hold on him by Iran either from his Hyde Park Fraud deal with Rezco, or some imagined "legacy" of an Iranian deal. President Trump is clearly not beholden to anyone or anything. He is going to act and act boldly. President Trump is not a "to-be-or-not-to-be" President. This is a President who may just save the United States and save the world from evil."
Jerusalem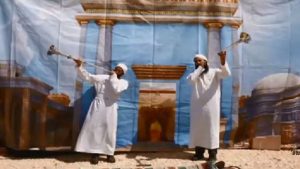 'Muslims—Clear the Temple Mount' 04/07/17  This is ground zero for Bible prophecy. The Muslims watch the Temple Mount very closely, and any attempt by the Israelis to sacrifice on it could start a jihad. The Muslims will not give up control of this site.
One thing is for sure, and this is that Israel is going to build this temple before the Second Coming of Jesus Christ.
Revelation 11:1-2  And there was given me a reed like unto a rod: and the angel stood, saying, Rise, and measure the temple of God, and the altar, and them that worship therein. But the court which is without the temple leave out, and measure it not; for it is given unto the Gentiles: and the holy city shall they tread under foot forty and two months.

"The Temple Mount Movement, which is working on building the third Jewish Temple, is asking Muslims not to come to the compound so as to allow Jews to sacrifice on the eve of Passover.
A video that will be published in the coming days by the Temple Mount Movement, which is working for the rights of Jews on the Temple Mount and aspires to build the third Jewish Temple, is asking Muslims to evacuate the compound this coming Monday to allow the performance of the Passover sacrifice."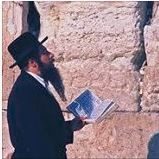 Russia recognizes West Jerusalem as Israel's capital 04/07/17  This recognition does not include the Temple Mount and Western Wall.
"Russia officially announced that it recognizes western Jerusalem as the capital of Israel in an unexpected announcement Thursday.
"We reaffirm our commitment to the UN-approved principles for a Palestinian-Israeli settlement, which include the status of East Jerusalem as the capital of the future Palestinian state. At the same time, we must state that in this context we view West Jerusalem as the capital of Israel," the Foreign Ministry in Moscow said in a statement."
North Korea
UN demands North Korea stop missile tests 04/07/17  North Korea just laughs at the UN. The UN is really useless and it is just is a tool of the One World group for social change. It is just a viper's nest against Israel and America.
Revelation 17:13  These have one mind, and shall give their power and strength unto the beast.

"The UN Security Council on Thursday strongly condemned North Korea's latest ballistic missile launch and demanded a halt to all missile tests, reports The Associated Press.
The Council said in a statement that North Korea's tests violate UN sanctions and "are significantly increasing tension in the region and beyond."
A press statement agreed to by all 15 members of the Council expresses "utmost concern" at North Korea's "highly destabilizing behavior and flagrant and provocative defiance of the Security Council" by conducting the latest launch less than three weeks after the previous test."
American Politics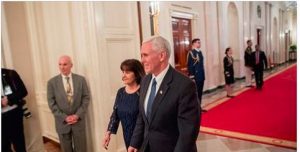 Shock over Vice President Pence's marriage shows Washington, media out of touch 04/07/17  He is a breath of fresh air in the Washington swamp. The Hard Left can't stand anyone living righteously for the Lord.
Proverbs 29:2  When the righteous are in authority, the people rejoice: but when the wicked beareth rule, the people mourn.

"Elites in Hollywood and the Beltway were shocked to learn that the vice president doesn't dine alone with women or attend parties where alcohol is served without his wife.
Tony Perkins, president of the Family Research Council, said the negative reaction to Mr. Pence's fidelity is further evidence of the cultural divide on display during the presidential race.
"If the worst thing people can say about Mike Pence is that he's a good husband, then he's accomplished something very few politicians have," Mr. Perkins wrote in his weekly "Washington Update" newsletter. "Unfortunately, we live in a day and age when marriage is rarely revered — in definition or practice — so the idea that the vice president would take intentional steps to protect his own has apparently come as a shock to some of the elitist media."
He said Americans have been "conditioned to expect sexual scandal in Washington."
Known as the Billy Graham Rule, the practice of married men and women avoiding being left alone with a member of another sex is not uncommon in Evangelical households, but was widely ridiculed as antiquated and even misogynistic by comedians and feminists."
American Politics/ Islam
Lawmakers protest Muslim imam's invocation 04/07/17  Two Imams were invited to lead prayer for the Delaware State legislature. Senator Dave Lawson refused to participate and rebuked the Senate for having the Imams lead in prayer! This is wonderful; finally a politician stands against Islam and speaks the truth!
This is what the Koran states about Christians:
Sura 9.30  And the Jews say: Uzair is the son of Allah; and the Christians say: The Messiah is the son of Allah; these are the words of their mouths; they imitate the saying of those who disbelieved before; may Allah destroy them; how they are turned away!

"Arguing the Quran calls for the death of non-Muslims, a Delaware state lawmaker chastised his colleagues from the floor of the state Senate for allowing two Muslims to give the invocation to their session Wednesday.
"We just heard from the Quran, which calls for our very demise," Lawson said, according to the News Journal daily in Dover, Delaware. "I fought for this country, not to be damned by someone that comes in here and prays to their God for our demise. I think that's despicable."
Lawson, who served in the Air Force and did a tour in Vietnam, was responding to a recitation from the Quran in Arabic by Tarek Ewis, imam of the Masjid Isa Ibn-e-Maryam mosque in Newark. Naveed Baqir, executive director of the Delaware Council on Global and Muslim Affairs, followed with an English interpretation of the imam's recitation then offered a prayer."
Islam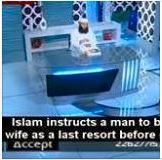 PA TV instructs how to use beatings for marital issues 04/07/17
It appears that leading Imams are now refining how Muslims can beat their wives, yes their wives. This includes how to beat her with the least amount of damage! Islam allows men up to 4 wives.
Look at the difference between the Holy God of Israel and allah.
Ephesians 5:25  Husbands, love your wives, even as Christ also loved the church, and gave himself for it;

Quran 4:34  "Men are superior to women on account of the qualities with which God has gifted the one above the other, and on account of the outlay they make from their substance for them. Virtuous women are obedient, careful, during the husband's absence, because God has of them been careful. But chide those for whose refractoriness you have cause to fear; remove them into beds apart, and scourge them: but if they are obedient to you, then seek not occasion against them: verily, God is High, Great!" (Rodwell's version of the Koran,)

"Palestinian Media Watch reports that official PA Television sanctioned domestic violence but advised those who "use beatings and violence to solve their marital problems to " read the Quranic verse again." adding that "there are solutions before giving beatings. If you have to, there are religious rules for beatings that must be obeyed. Guys, the goal of the beatings is rebuke in a way that does not cause injury. You can even go ask someone about it."
A mufti (religious leader) explained on PA Television how men should hit their wives when the previous steps of "warning them" and "separating from them in bed" have not worked: "Not hitting that will bring the police, and break her hand and cause bleeding, or hitting that makes the face ugly."

Hebrews 4:12  For the word of God is quick, and powerful, and sharper than any twoedged sword, piercing even to the dividing asunder of soul and spirit, and of the joints and marrow, and is a discerner of the thoughts and intents of the heart.