Planned Parenthood Billboards in Iowa: 'I Am Not Ashamed,' 'I Am Not Apologizing' for Abortion
Verse of the Day
1 Timothy 4:2 Speaking lies in hypocrisy; having their conscience seared with a hot iron;
Commentary
Abortion is the heart of the Hard Left's agenda. It seems their world revolves around abortion. Now women are going public bragging about having an abortion!
Looking for the Blessed Hope: Jesus Christ the Groom coming for his bride the believers!
Matthew 24:12 And because iniquity shall abound, the love of many shall wax cold.
Hardening of the Hard Left
"Planned Parenthood Billboards in Iowa: 'I Am Not Ashamed,' 'I Am Not Apologizing' for Abortion" 
To see the documentary about my victory over York, PA and PP go to: https://www.defendproclaimthefaith.org/york_pro_life.html

"Planned Parenthood of the Heartland has announced that it has launched a billboard campaign in an effort to put faces to women who have had an abortion and aren't sorry for it.

"I had an abortion, and I am not ashamed," "I had an abortion, and I am not apologizing for it" and "I had an abortion, and it was just health care" the billboards read, and feature the faces of three women who ended the life of their unborn child."
Science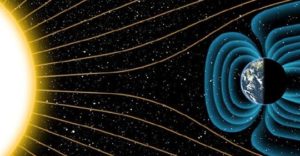 "Earth's magnetic pole is on the move, fast. And we don't know why" This is very interesting. There has been a huge increase in earthquakes and I was wondering if these two could be connected.
Isaiah 24:20 The earth shall reel to and fro like a drunkard, and shall be removed like a cottage; and the transgression thereof shall be heavy upon it; and it shall fall, and not rise again.

"Planet Earth is alive. Deep beneath its skin, its life blood — rivers of molten iron — pulse around its core. And this mobile iron is what generates the magnetic field that causes auroras — and keeps us alive.

But, according to the science journal Nature, something strange is going on deep down below. It's causing the magnetic North Pole to 'skitter' away from Canada, towards Siberia.

"The magnetic pole is moving so quickly that it has forced the world's geomagnetism experts into a rare move," Nature reports. The World Magnetic Model — which governs modern navigation systems — will soon undergo an urgent update.
Earthquake and Volcano Update

Earthquake Update — West Coast USA to Midwest + Central America direct hit"This is Dutchsinse's weekly update. He continues to be very accurate warning of the locations of earthquakes and their magnitudes.
Psalm 104:32 He looketh on the earth, and it trembleth: he toucheth the hills, and they smoke.
Hard Left Lunacy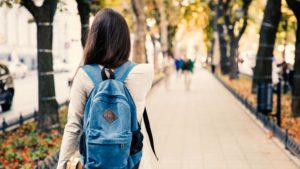 "'Daughters Come Home with Mustaches, Breasts Removed': Moms Sound Alarm over Shocking New Trend"This is really sad as weak minded college students get caught up in this crazy fad and end up doing serious damage to their body and mind!
"As society continues to evolve – and some critics might argue 'devolve' – into a more progressive understanding of gender and sexuality, the stakes couldn't be higher. To the dismay of many parents, this societal tug-of-war over transgenderism is playing out on today's college campuses like never before – and is hitting young women particularly hard.

One mother, Katherine Cave, recently called attention to the issue, telling The College Fix, "I am writing to you on behalf of parents who have lost their kids at college to the transgender craze."

"Many liberal colleges have significant percentages of students suddenly identifying as transgender," Cave writes. "And as you may know, all it takes is a simple visit to an informed consent clinic where girls get testosterone injections to help them look like males."
Hard Left Dems Against Israel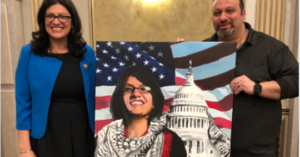 "Democrat Rep. Rashida Tlaib Photographed with pro-Hezbollah Activist"
I fully expect the Israeli/American hating dems to takeover the party and soon. They are a curse on America as the people voted them in! We are rushing towards a civil war.
Matthew 12:25 And Jesus knew their thoughts, and said unto them, Every kingdom divided against itself is brought to desolation; and every city or house divided against itself shall not stand:

"Freshman Rep. Rashida Tlaib, D-Mich., was photographed with a Palestinian activist who praised the terrorist group Hezbollah, said Israel did not have the right to exist, and has called for Israeli "Zionist terrorist" Jews to return to Poland, where roughly three million Jews were killed during the Holocaust.

Tlaib has been celebrated by Democrats and the media as one of the first Muslim women to be elected to Congress and touted as a testament to the diversity of the freshman class. Though she received a lot of national attention due to the silly controversy over her profane remark about impeaching President Trump, she's quickly compiling a record of promoting anti-Semitism.

Over the weekend, Abbas Hamideh tweeted out of photo of himself with a smiling Tlaib, writing, "I was honored to be at Congresswoman @RashidaTlaib swearing in ceremony in #Detroit and private dinner afterward with the entire family, friends and activists across the country."
Hard Left Lunacy at Full Speed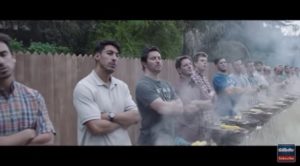 "P&G Urges Men to Lose Their 'Toxic Masculinity' in Gillette Razor Ad" I just posted on this a few days ago when some phony study was released about masculinity! It literally was just a few days!
The Hard Left is making a full court press to force its agenda on America. I believe most men will think this is funny, but the reprobates mean business. This is just the start of their madness.
The first thing needed is putting Gillette out of business.
1 John 2:17 And the world passeth away, and the lust thereof: but he that doeth the will of God abideth for ever.

"Proctor & Gamble is urging men to shave their "toxic masculinity" in a new ad for Gillette razors. The ad shows men fighting, cooking barbecue, and verbally harassing women, interspersed with news reports about the #MeToo movement.

In a comment to the Wall Street Journal, Pankaj Bhalla, Gillette's brand director, said that the advertisement is a meditation on the changes that men must make in America. "This is an important conversation happening, and as a company that encourages men to be their best, we feel compelled to both address it and take action of our own," Bhalla said. "We are taking a realistic look at what's happening today, and aiming to inspire change by acknowledging that the old saying 'Boys Will Be Boys' is not an excuse.

We want to hold ourselves to a higher standard, and hope all the men we serve will come along on that journey to find our 'best' together."
Real Islam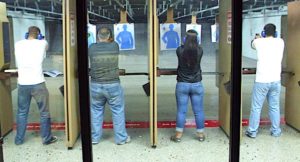 "'Muslim-free' gun range fights to exclude members of terror-linked group" I hope they win against this CAIR connected Muslim.
"Does an American gun range have the right to exclude Muslims who are members of the Council on American-Islamic Relations because of the group's ties to terrorism?

That question could soon have a legal answer as a Muslim has filed a discrimination suit against the owners of a gun range in Oklahoma.

A federal court dismissed the discrimination complaint by Raja'ee Fatihah against Chad and Nicole Neal, owners of Save Yourself Survival and Tactical Gun Range in Oktaha, Oklahoma. But the judge set a trial to resolve conflicting accusations.

Fatihah claims the range owners banned him because of his religion. But the Neals claim he was banned from the range on Oct. 23, 2015, because after telling Nicole Neal he was Muslim, Fatihah "took a threatening stance, revealing his handgun to her, and recklessly created a controversy and disturbance."
Abba Father's International Fellowship-East Africa
Dearest in the Lord Dave;
Greetings of our Lord Jesus Christ?. Its my prayer that this finds you fine and still prospering in the things of our Lord. I am fine with my family and we are  still praising the Name of Jesus who is our Lord and Savior. My mission was good,the Lord helped me to reach to many and i saw the hand of God touching hearts of People. On my mission i found one woman who was very sick and when we shared the Word of God and prayed for her the Lord healed her instantly and she began to praise the Name of the Lord.After speaking and preaching the teachings that are recorded in the Newsletter in a village, 12 men and three women also came to Christ and they took the Materials to go and read by themselves. Have attached Pictures of what our Lord Jesus Christ Performed. God bless you as you share too.
  in Christ.
  Pastor B  Blessings.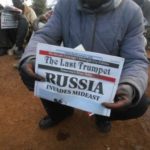 Revelation 22:20 He which testifieth these things saith, Surely I come quickly. Amen. Even so, come, Lord Jesus.
If you like our ministry, please consider making a donation to keep us going. May the Holy God of Israel bless you!