Remake of USA
Verse of the Day
Matthew 12:25 And Jesus knew their thoughts, and said unto them, Every kingdom divided against itself is brought to desolation; and every city or house divided against itself shall not stand:
Commentary
This is wonderful news because we can isolate the corrupt demon-dem cities and strip them of their power. Soon these cities will be totally ungovernable and beg to come under the control of a state. Under the control of the crazed Hard Left, Communists, these cities will be just like third world cities.
All we need is one state like Oregon to start the ball rolling and many other states will divide and in the case of Texas secession. America is no longer one nation under God.
"Five Oregon counties to vote on leaving state, escaping to 'Greater Idaho' Five Oregon counties will ask voters in the next election whether they want to detach from the deep-blue state and join neighboring red-state Idaho.
Move Oregon's Border, also known as Greater Idaho, confirmed Tuesday that the initiative to move swaths of largely rural eastern and southern Oregon into Idaho qualified for the May 18 special election ballot in five counties: Baker, Grant, Lake, Malheur and Sherman.
In Baker County, organizers far exceeded the 496 signatures required by submitting 746, with the clerk reporting that 630 were accepted. The county population is about 16,000."
HARD LEFT CONTROLLED AMERICA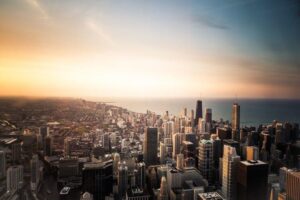 "Chicago Has Become A Rotting, Decaying, Crime-Ridden Hellhole – Will The Rest Of America Soon Follow?"
The answer is yes. Whether the reprobate mind controls a city or nation the result is the same.
"I don't know why anyone would want to live in Chicago at this point. According to the latest estimate that I could find, "over 117,000 gang members" currently live in the city, and there is so much violence that it regularly makes headlines all over the globe. Some of the wealthy areas of Chicago still look nice, but many communities have been transformed into something straight out of a war zone.
Large churches, hospitals and factories that were once so beautiful are now rotting and decaying all over the city, and a vibrant open air drug market scares customers away from local businesses. Sadly, the truth is that the entire country is going down the exact same path that Chicago has gone."
US MILITARY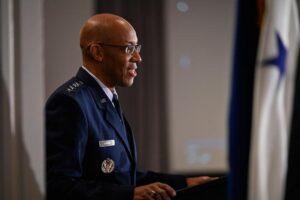 "No Longer 'Asleep at the Wheel:' Air Force to Roll Out New Electronic Warfare Strategy"
When reading this article, I was thinking what good is the military when our government is totally corrupt? If the military becomes like Congress, the Supreme Court of Sin and the White House, it will end up being used against us!
"The U.S. Air Force is finalizing the decision on where to host its new electromagnetic spectrum, or EMS, warfare wing and will debut a comprehensive electronic warfare strategy in the spring, according to the service's top general.
Chief of Staff Gen. Charles "CQ" Brown said the efforts are a fresh start for the service, which has "been asleep at the wheel for the past 25 to 30 years" when it comes to offensive measures and protecting its equipment across the electromagnetic spectrum."
AMERICAN PATRIOTS (Video)
"One of the leaders of the group, Arizona Sheriff Mark Lamb, says 'we want to be able to stand up for the rule of law in this country' and 'fight against bad policies and orders,' including those on immigration."
If the blog is taken down, you can go to my conference room where I will keep you updated. The number is 717 409 5553. I will be on all week at 9:00 PM EST and Tuesday and Thursday at 10:00 AM EST. If you like our ministry, please consider making a donation to keep us going. May the Holy God of Israel bless you!
Revelation 22:20 He which testifieth these things saith, Surely I come quickly. Amen. Even so, come, Lord Jesus.