Sanders To Dearborn Muslims: Israel's Existence To Blame For Mideast 'Hatred And Warfare'
     Verse of the Day
Zechariah 12:9 And it shall come to pass in that day, that I will seek to destroy all the nations that come against Jerusalem.
Commentary
The Hard Left in America are starting to really come together against Israel. It looks like Bernie Sanders is up front about it, while Hillary Clinton is camouflaged. I will keep you on the cutting edge of what the candidates are saying about Israel and what their positions are.
May the Holy God of Israel bless and protect you.
Malachi 3:16 Then they that feared the LORD spake often one to another: and the LORD hearkened, and heard it, and a book of remembrance was written before him for them that feared the LORD, and that thought upon his name. (17) And they shall be mine, saith the LORD of hosts, in that day when I make up my jewels; and I will spare them, as a man spareth his own son that serveth him.
Hard Left/ American Politics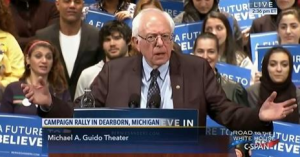 Sanders To Dearborn Muslims: Israel's Existence To Blame For Mideast 'Hatred And Warfare' 03/08/16  In Bernie Sanders, who is a Jew, we see the perfect merging of the Hard Left and Muslims against Israel. The Hard Left is coalescing around him. Hillary is right with him, so the Democratic Party is now full of Hard Left Israeli-haters.
"Indirectly invoking the left-wing and Islamic narrative of Israel's existence as the cause of political dysfunction in the Middle East, Senator Bernie Sanders implied to supporters at a campaign rally on Monday in Dearborn, Michigan – home of one of the nation's largest Arab and Muslim communities – that "hatred and warfare" in the Middle east region were the fault of Israel.


Praising former Democrat presidents Jimmy Carter and Bill Clinton for their presumably good faith-endeavors to resolve the Israeli-Arab conflict, Sanders implied that America unjustifiably treated the various parties unequally.

In other words, allegedly favorable treatment of Israel at the expense of its Arab enemies needed to change.

Moral relativism was also deployed via implication, declaring all sides as entitled to equal treatment.


Attributing regional conflict to Israel's existence by conflating Israel with the entirety of the Middle East, Sanders neglected to comment on the roles of Muslim and Arab social and cultural pathologies driving the "hatred and warfare" of the region.


Approximating the modern state of Israel's age – sixty-seven years – Sanders pushed via implication the narrative framing peace between Jews and Arabs in and around Israel as the master key to regional utopia, asserting, "We cannot continue to have for another sixty years the kind of hatred and conflict that exists in the Middle East."
Hard Left

Methodists Restarting BDS War Against Israel 03/09/16  First the Presbyterian "Church" and now the Methodists. God is really exposing the hearts of these people before judgment. It is time for all believers who love the Lord to come out of this denomination, as they are apostates and are at war with God.
Revelation 18:4  And I heard another voice from heaven, saying, Come out of her, my people, that ye be not partakers of her sins, and that ye receive not of her plagues
"The United Methodist Church is following in the footsteps of the Presbyterian Church (USA), the United Church of Christ and the United Church of Canada, who all passed resolutions boycotting and divesting from the State of Israel.

In a sort of blundering naiveté, the United Methodist Church is ignoring what is surely inevitable: the very divestment they ostensibly imagine will stop the conflict between Israel and the Palestinians may actually serve to exacerbate it.

"Not all is lost. Many of the delegates to the General Conference come from Africa. They have witnessed jihad up close and personal and will likely have a much more sympathetic view of Israel's predicament than many of the delegates who live in the relative safety of the United States." — Dexter Van Zile, Christian media analyst.

"The BDS Movement has already fulfilled part of its potential – as a stalking horse for those seeking to destroy Israel by other means. … It's committed not to peace but to a piecemeal elimination of Israel." — Dr. Harold Brackman, Simon Wiesenthal Center."
American Politics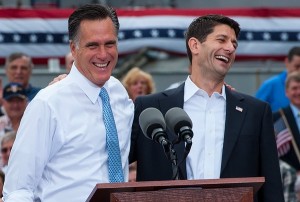 Romney and Ryan Registered For Presidential Run!!!  They both registered on January 20, 2016! This election is getting into the realm of bizarre.
1. ROMNEY FOR PRESIDENT, INC.
C/O RED CURVE SOLUTIONS, LLC
138 CONANT STREET, 2ND FLOOR
BEVERLY, MA 01915
NOTE: Address is different than previously reported
Email: [email protected]

2. Date: 01/30/2016

3. FEC Committee ID #: C00431171 This committee is a Principal Campaign Committee. Candidate: MITT ROMNEY / PAUL D. RYAN

Party: Republican Party

Office Sought: President
State is in District:
Affiliated Committees/Organizations

ROMNEY VICTORY, INC.
C/O RED CURVE SOLUTIONS, LLC
138 CONANT STREET, 2ND FLOOR
BEVERLY, Massachusetts 01915
Affiliated Relationship Code: Joint Fundraising Representative
Islam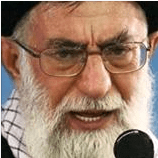 Iran's secret Christian movement grows, with help from abroad 03/08/16  I have the "Jesus Came to Heal the Brokenhearted" brochure translated into the Iranian Farsi language. If anyone can use this brochure, please contact me.
It really does appear that the hour of God's visitation is now upon many Muslim nations, including Iran. It appears that God's visitation is happening before the final judgment on Islam.
"The number of Muslim converts who are risking prison or death by secretly worshipping as Christians in Iran's house church movement has grown to as many as 1 million people, according to watchdog groups.


The London-based Pars Theological Center is training at least 200 Iranian Christians to become the next generation of Iran's church leaders, the Christian Post reported.


The persecution of Christians has persisted in Iran since the 1979 rise of the country's theocratic Shiite Muslim government — with Christians facing the threat of death, lashing and torture. About 100 Christians currently remain imprisoned under Iranian President Hassan Rouhani's rule.


In 2010, Iranian Supreme Leader Ayatollah Ali Khamenei said the country's underground house churches "threaten the Islamic faith and deceive young Muslims."
Financial Armageddon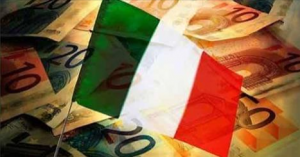 Collapse Of Italy's Banks Could Plunge The European Financial System Into Chaos 03/08/16  This article is about the collapse of the Italian banks, and how Europe is on the way to an economic meltdown. This is keeping you are leading edge of the world economy.
James 5:1  Go to now, ye rich men, weep and howl for your miseries that shall come upon you. (2) Your riches are corrupted, and your garments are motheaten. (3) Your gold and silver is cankered; and the rust of them shall be a witness against you, and shall eat your flesh as it were fire. Ye have heaped treasure together for the last days.
"On Monday, shares of Monte dei Paschi were down 4.7 percent, and they have now plummeted 56 percent since the start of the year. Shares of Carige were down 8 percent, and they have now plunged a total of 58 percent since the start of the year.

This is what a financial crisis looks like, and just like we are seeing in South America, the problems in Italy appear to be significantly accelerating.

Well, we all saw how difficult it was for the rest of Europe to come up with a plan to rescue Greece. But Greece is relatively small they only have the 44th largest economy in the world.

The Italian economy is far larger. Italy has the 8th largest economy in the world, and their government debt to GDP ratio is currently sitting at about 132 percent.

There is no way that Europe has the resources or the ability to handle a full meltdown of the Italian financial system. Unfortunately, that is precisely what is happening.

Italian banks are absolutely drowning in non-performing loans, and as Jeffrey Moore has noted, this potentially represents "the greatest threat to the worlds already burdened financial system"…

Shares of Italy's largest financial institutions have plummeted in the opening months of 2016 as piles of bad debt on their balance sheets become too high to ignore.

Amid all of the risks facing EU members in 2016, the risk of contagion from Italys troubled banks poses the greatest threat to the worlds already burdened financial system."
Mark 13:35-37  Watch ye therefore: for ye know not when the master of the house cometh, at even, or at midnight, or at the cockcrowing, or in the morning: Lest coming suddenly he find you sleeping. And what I say unto you I say unto all, Watch.