SARA CARTER: Deep State is "Terrified" of the Second Anti-Trump Dossier that's Coming Out
Verse of the Day
Isaiah 9:6,7 For unto us a child is born, unto us a son is given: and the government shall be upon his shoulder: and his name shall be called Wonderful, Counsellor, The mighty God, The everlasting Father, The Prince of Peace.
Commentary
I have been following Sara Carter's political analyzing for a long time. She has great sources of information and her information is very reliable. This memo she mentioned came out today. I believe that the days are now numbered for the Clinton Crime Cartel and just today B. Hussein officially joined this cartel as he was linked through FBI text messages!
There is no doubt that we are going to see incredible revelations about the depth and width of DC corruption. I believe it is so bad that military tribunals are going to be created to deal with this. This was treason throughout the government by Hard Left operatives trying to overthrow the election of President Trump. Notice that no matter how hard they tried, they could not prevent his election nor remove him from office!
May the Holy God of Israel bless and protect you.
Isaiah 9:7 Of the increase of his government and peace there shall be no end, upon the throne of David, and upon his kingdom, to order it, and to establish it with judgment and with justice from henceforth even for ever.
SARA CARTER: Deep State is "Terrified" of the Second Anti-Trump Dossier that's Coming Out (VIDEO) 02/04/18
1Thessalonians 5:23  And the very God of peace sanctify you wholly; and I pray God your whole spirit and soul and body be preserved blameless unto the coming of our Lord Jesus Christ.

"Sara Carter: The second memo that the House Intelligence Committee is putting together. We're still waiting for the Inspector General's report that is going to be coming out. That's going to be directed at Andrew McCabe, now former director Andrew McCabe, and others. And I think they're terrified what's going to come out here.
Here's what we know. There was a second dossier that was put together by a person named Cody Shearer. He is a very controversial activist, a former reporter who worked with the Clintons in the past. And the FBI was also using this second dossier as part of what they were doing to back up the other dossier by Christopher Steele, an unverified dossier. And we believe Chistopher Steele was also sending information to the State Department in bits and snippets. But I think the most important thing here and one of the things they are going to be looking at very closely are the leaks. There were a number of leaks out unverified information by possibly senior members of the Obama administration."
EVERY BOGUS 2016 FISA REQUEST to Spy on Trump was Signed by Obama's AG Loretta Lynch 02/04/18  Lynch is one of the main DC swamp critters that has to go to the big house.
Revelation 22:20  He which testifieth these things saith, Surely I come quickly. Amen. Even so, come, Lord Jesus.

"On March 7th, 2017, the Gateway Pundit reported – Only 1 in 10,000 FISA Requests Was Denied in 6 Years — Obama's First Request to Wiretap Trump Denied in 2016.
We now know that the FISA requests to spy on Carter Page were based on the discredited and bogus fake Trump dossier created by Fusion GPS and that the dossier's origin was not reported to the court.
We also know that all of these requests were signed off on by the Obama Administration's Attorney General Loretta Lynch and that the first request to spy on Trump was denied by the FISA Court."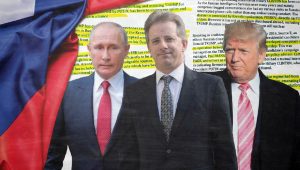 Dossier author Steele wrote another anti-Trump memo; was fed info by Clinton-connected contact, Obama State Department 02/06/18  The scope of the Clinton/Obama Crime Cartel is widening as the State Department is being brought in! I am very serious about this, that the DC swamp corruption is so massive and entrenched, President Trump might need a military tribunal. These crimes involve treason, and he has the authority to call a tribunal.
"A newly released document from the Senate Judiciary Committee says Christopher Steele, the former British spy who compiled the Trump dossier, wrote an additional memo on the subject of Donald Trump and Russia that was not among those published by BuzzFeed in January 2017.
The newly released document is an unclassified and heavily redacted version of the criminal referral targeting Steele filed on Jan. 4 by Republican Sens. Chuck Grassley of Iowa and Lindsey Graham of South Carolina. It appears to confirm some level of coordination between the extended Clinton circle and the Obama administration in the effort to seek damaging information about then-candidate Trump."
FLASHBACK: Adam Schiff Appears on Russian TV, Calls For More FISA Transparency 02/05/18  Oh my! This hypocrite made this statement on Russian TV of ALL places! There is no end to the hypocrisy of the these people! To everyone, except those with a Hard Left mind, they are now a laughingstock! This is becoming a carnival act.
John 8:44  Ye are of your father the devil, and the lusts of your father ye will do. He was a murderer from the beginning, and abode not in the truth, because there is no truth in him. When he speaketh a lie, he speaketh of his own: for he is a liar, and the father of it.

"During a 2013 appearance on Kremlin-owned Russian TV network RT, Congressman Adam Schiff robustly argued for more FISA transparency and for more decisions of FISA judges to be declassified.
Schiff appeared on RT to discuss the scope of the NSA's surveillance program of American citizens following Edward Snowden's revelations.
The California lawmaker said he was working on reforms to "make the FISA court more transparent so the American people can understand what's being done in their name, in the name of national security."
He added that FISA transparency was vital to produce a "more informed debate about the balance between privacy and security," while also calling for more opinions from FISA judges to be declassified so Americans could see how the law was being interpreted."
American Politics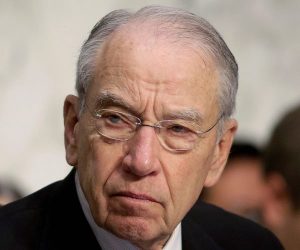 Grassley: FBI Blotting Out Details on Trump Dossier Author 02/05/18  The FBI is obviously desperate to hinder the investigation because they are out in the open with NO defense.
I'm sad that this is happening to the FBI, Department of Justice, and now I understand the investigation is moving into the Department of State. But, it has to be done because the Hard Left has a political death grip on the nation.
This Crime Cartel is under the judgment of the Lord, and it is going down very hard. This cartel was so arrogant that  they laid out their tracts with no way to erase them! It is all a big paper trial with lots of witnesses. Many of their crimes bring long jail sentences, so many of them will "sing like canaries" to get a good deal with jail time. The investigation is heading directly to Hillary and Obama!
Proverbs 29:6  In the transgression of an evil man there is a snare: but the righteous doth sing and rejoice.

"Senate Judiciary Chairman Chuck Grassley said the FBI is blocking release of key portions of a memo he wrote calling for a criminal investigation of Christopher Steele, the former British spy who compiled a dossier of unverified allegations on Donald Trump.
"Seeking transparency and cooperation should not be this challenging," Grassley said in a statement after posting a heavily redacted version of the criminal referral that he and GOP Senator Lindsey Graham of South Carolina sent to the Justice Department last month. "The government should not be blotting out information that it admits isn't secret."
Hard Left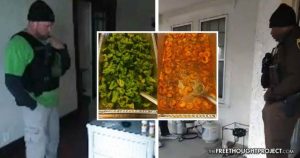 Cops Raid Licensed Chef's Home, Steal His Cooking Equipment—for Feeding the Homeless 02/05/18  Look at what the Hard Left will do to crush anyone who won't submit to their laws and control! This is both shocking and hilarious to see the lengths to which these people will go to crush someone cooking food for the poor.
"A kind and loving local chef woke up Tuesday morning to a dozen cops and health department officials raiding his home. Khemuel "Chef" Sanders had his business shut down, all of his equipment stolen by the state, and his life ruined because he made food in his home to give to the homeless.
Unfortunately, in the land of the free, it is against the law to help others or try to make a dollar without first paying the government for the privilege of doing so. While the state will claim this is for the safety of others who may consume the food, the reality is that it is a revenue generation scheme.
To be clear, Sanders is a licensed food handler. He paid the government for the privilege to handle food, however, he was doing it in a manner which they disapproved.
"I have my food handlers license. Expires at the end of this month. I was in a restaurant but the owner got in some trouble and shut everything down. It was out of my control that's the only reason why I was cooking out of my home," Sanders explained."
Science: 666 Surveillance System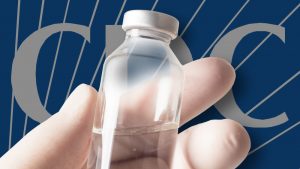 The CDC is developing a nationwide "medical police state" program to track vaccine compliance; may lead to "medical kidnapping" of children 02/05/18  This is amazing, as everything you can think of is brought under control for monitoring the people.
"The Centers for Disease Control (CDC) is essentially the vaccine compliance and enforcement division of the pharmaceutical industry. Their newly developed program, Immunization Information Systems (IIS), is part of the roll out of a kind of "medical police state" which would allow the government to monitor and track the mandatory vaccine compliance of every citizen.
This data is collected automatically; there is no consent. The database tracks your personal and family health decisions, even when you say NO to a vaccine. The database will identify areas of "under vaccination" and track citizens who are not in compliance with the current childhood and adult vaccine schedules."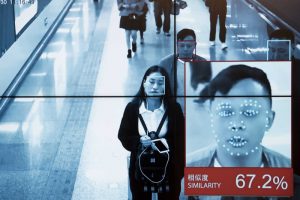 Today's "Planet Earth Report" –China's Terrifying, Emerging Surveillance State 02/06/18  I have warned for years that this would happen, and now it looks like the day almost has arrived. This is all part of a system that will totally control all aspects of society. This will go way beyond what the Bible states will be control over buying and selling. Everything will be under the control of this system.
This system will be ruthless and will crush anyone who defies it. The 666 Surveillance System is rapidly closing around an unsuspecting world, who are like sheep to the slaughter. We are to live looking for the coming of the Lord Jesus.
Titus 2:13  Looking for that blessed hope, and the glorious appearing of the great God and our Saviour Jesus Christ;

"China is perfecting a vast network of digital espionage as a means of social control—with implications for democracies worldwide. Imagine a society in which you are rated by the government on your trustworthiness. Your "citizen score" follows you wherever you go. A high score allows you access to faster internet service or a fast-tracked visa to Europe. If you make political posts online without a permit, or question or contradict the government's official narrative on current events, however, your score decreases. To calculate the score, private companies working with your government constantly trawl through vast amounts of your social media and online shopping data.
When you step outside your door, reports The Atlantic, your actions in the physical world are also swept into the dragnet: The government gathers an enormous collection of information through the video cameras placed on your street and all over your city. If you commit a crime—or simply jaywalk—facial recognition algorithms will match video footage of your face to your photo in a national ID database. It won't be long before the police show up at your door."
Christianity
Porn is the Spiritual ISIS of America' : Christian Group Invades Sex Industry, Exposes Its Threat to Nation 02/06/18What a wonderful idea to go right into the heart of the pornography beast and win the lost! Porn saps the spiritual life right out of men. It is one of the main reasons why the church has so little power and fire in the belly. We need an outpouring of the Holy Spirit to burn this sin out of the believers and infuse us with power from on high.

Luke 14:23  And the lord said unto the servant, Go out into the highways and hedges, and compel them to come in, that my house may be filled.

"A Christian ministry's display is the last thing you'd expect to see at an international adult film conference in Las Vegas, but for Victor Marx it's the perfect place to reach those trapped in one of the darkest industries.
Marx founded All Things Possible Ministries (ATP), which helps broken, troubled, and trafficked youth around the world. He's even rescued children in ISIS-torn Iraq and Syria.
"We decided to buy a booth here and present our organization as a trauma-based organization helping kids who were affected by ISIS," he told CBN News. "But we found out here, many of the actors and people in this is industry, many young gals have been sexually abused," Marx said.
The team gave away the ministry's movies, books, and powerful stories of redemption for free.
"There's been no shortage of people who, not only come here, but end up taking pictures with us. We're talking key people in the industry from producers, to actors and actresses, to their fan base. It's been pretty amazing," he said."
Israel/ The Coming Middle East War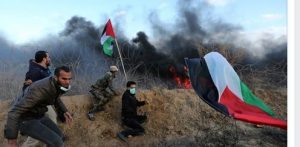 IDF sounds alarm on Gaza 02/06/18  This is a wild article that states Israel will have to support Gaza to keep it from collapsing because the collapse would lead to war!
"The winds of war buffeting the Gaza Strip increased on the morning of Feb. 4 when Lt. Gen. Gadi Eizenkot, Israel Defense Forces (IDF) chief of staff, made an appearance at the weekly Cabinet meeting. Eizenkot warned that Gaza is on the verge of collapse and susceptible to a severe humanitarian crisis.
Any further deterioration would likely lead to a military confrontation between Israel and Hamas this year, although neither side is interested in war. Eizenkot added that significant steps by Israel are required to avert Gaza's collapse."

1 Peter 2:2-3  As newborn babes, desire the sincere milk of the word, that ye may grow thereby: If so be ye have tasted that the Lord is gracious.