Scandinavian Women Murdered in Morocco Were Victims of the Left
Verse of the Day
2 Thessalonians 2:10 And with all deceivableness of unrighteousness in them that perish; because they received not the love of the truth, that they might be saved. (11) And for this cause God shall send them

strong delusion

, that they should believe a lie:
The insane delusion of the left by not facing the reality of Islam towards the infidel, but especially women sent these two to their deaths. Because they did not live in reality, they were blinded to real Islam and just how dangerous it was travel in this area. At a minimum, they could expect to be raped. Look what the Muslims are doing to the infidel women in Europe, but these young wome

n were blinded to what is real Islam! The result was they were raped and murdered in the most gruesome manner.
The murderers even sent the women's families an email video of the murders!
Looking for the Blessed Hope:
1 Thessalonians 5:23 And the very God of peace sanctify you wholly; and I pray God your whole spirit and soul and body be preserved blameless unto the coming of our Lord Jesus Christ.
Deadly Hard Left Delusions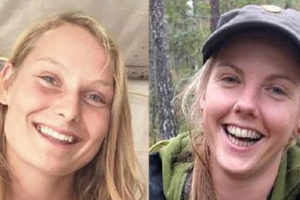 "Scandinavian Women Murdered in Morocco Were Victims of the Left"
"The story couldn't possibly be more horrifying: a young woman from Denmark, Louisa Vesterager Jespersen, 24, and another from Norway, Maren Ueland, 28, were knifed and beheaded by Islamic jihadists while camping in the Atlas Mountains in Morocco. The jihadis, mad with bloodlust, videoed their beheading of one of the women and had the savage cruelty to send the video to her mother.

The world is justly sickened by this animal barbarity on the part of the three Islamic State jihad murderers who were arrested shortly thereafter. However, it must also be noted that Jespersen and Ueland are not just victims of the Islamic State (ISIS). They are also the latest casualties of the Left's fantasy world. The responsibility for their deaths lies not just with ISIS, and their deaths are not simply a result of their own poor judgment.

The deaths of Louisa Jespersen and Maren Ueland are also a consequence of the Leftist world in which they moved and lived. Leftist leaders constructed this fantasy world, because Leftist ideas are dead on the drawing board without it."
Hard Left Hatred of Jesus Christ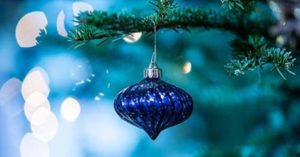 "Franklin Graham: It's Not Just a War on Christmas, It's an Attack on Jesus Christ" Once again Franklin Graham is right on target. The reprobate mind hates anything to do with God and especially Jesus Christ. Of course, this also means us!
Romans 8:7 Because the carnal mind is enmity against God: for it is not subject to the law of God, neither indeed can be.

"Franklin Graham tells Starnes Country that secularists are on a mission this Christmas season to destroy the name of Jesus Christ.
"These are more than just an attack on Christmas. This is an attack on Jesus Christ," Graham said on my Fox Nation television program.

"The secularists want to do everything they can to take Christ out of everything in this country – even his birthday," he said on Starnes Country. "The secularists want to destroy not only the name of Christ but take him out of our society completely."
Real Islam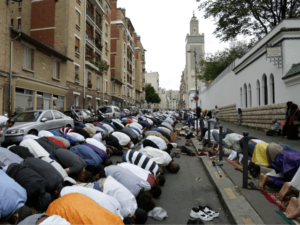 "Muslims in Europe Becoming Less Secular, More Radical" Europe has already collapsed before soft Islam what are they going to do with the real Islam in huge numbers in their midst? There is no future for Europe but strife and civil war with the Muslims.
"Professor emeritus of the University of Louvain, Felice Dassetto, has claimed the number of secular Muslims in Europe is in steep decline and more are becoming radicalised.

Professor Dassetto said the secular world and its values are becoming less attractive to contemporary Islam and that Muslims are turning toward more reactionary forms of the faith, Il Giornale reports."
Israel vs Turkey
"Enough Is Enough: Israeli Prime Minister Netanyahu Trolls "The Anti-Semitic Dictator Erdogan" I love it when Israel stands up to these Islamic dictators. Turkey is going to meet its doom when it tries to destroy Israel and take Jerusalem.
Erdogan is obsessed with taking Jerusalem and making it the capital of a revived Ottoman Empire.
Zechariah 12:6 In that day will I make the governors of Judah like an hearth of fire among the wood, and like a torch of fire in a sheaf; and they shall devour all the people round about, on the right hand and on the left: and Jerusalem shall be inhabited again in her own place, even in Jerusalem.

"Netanyahu had enough of Erdogan's attacks. Prime Minister Netanyahu: I was just exposed to the daily trolling of the anti-Semitic dictator Erdogan. He is obsessed with Israel. He knows what a moral army is and he knows what a genuine democracy is, as opposed to an army that massacres women and children in Kurdish villages and a state which, to my regret, is becoming more dictatorial day by day.

He is obsessed with Israel. But there has been an improvement. Erdogan used to attack me every two hours and now it is every six hours."
Hard Left Loves Islam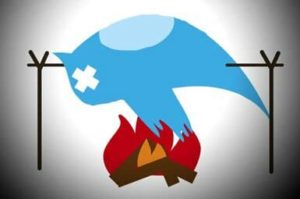 "Twitter Legal Warns TGP's Cristina Laila – Her 'Burka Tweet' Violates "Pakistan's Blasphemy Laws" – Which Are Punishable by Prison or Death"
You can see where Twitter wants to go with this. They want to submit us to Sharia Law and cleanse Twitter of anything that exposes Islam for it truly is! This is wild!
"The email from Twitter legal read: Hello, We are writing to inform you that Twitter has received official correspondence regarding your Twitter account, @CristinaLaila1.

The correspondence claims that the following content is in violation of Pakistan law: Section 37 of PECA-2016, Section 295 B and Section 295 C of the Pakistan penal code

@cristinalaila1 Twitter has not taken any action on the reported content at this time. We are only writing to inform you that content posted to your account has been mentioned in a complaint."
Hard Left Poisoned Mind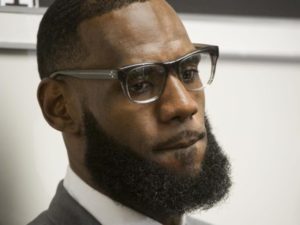 "LeBron James: 'Old White' NFL Owners Have 'Slave Mentality'" What this shows is a poisoned Hard Left mind that is ungrateful and a victim. Right away he brings race into it, and then complains that team owners have the right to fire millionaires who do obey the rules!
He really is in a delusion to compare multi millionaires as being slaves. The problem is he does not want to obey authority. He has no concept that it is the fans who play his salary, and if they don't watch, he's out of a job.
What a baby that needs to grow up, but the Hard Left is filled with millions of people who think like this.
"On his HBO Sports series The Shop, L.A. Lakers forward LeBron James called the NFL's owners as a bunch of "old white men" and accused them of acting like slave masters. James made his accusation on an episode of The Shop, which aired on Friday on HBO, the Washington Post reported.

"In the NFL they got a bunch of old white men owning teams and they got that slave mentality," James said kicking off the conversation. "And it's like, 'This is my team. You do what the f— I tell y'all to do. Or we get rid of y'all.'"
War Against Christianity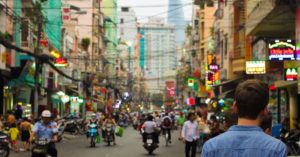 "China Tells Police: Arrest Christians or Get Fired" The Chinese Hard Left Communists are playing with fire by harming God's people. God only will allow this to go so far, and then he will intervene.
Remember, this is exactly what the Hard Left in America want to do with us. They have the exact spirit in them as the Communist Chinese.
We need revival for survival.
Proverbs 1:23 Turn you at my reproof: behold, I will pour out my spirit unto you, I will make known my words unto you.
"Chinese authorities are setting quotas on the number of Christians that must be arrested and are threatening police officers with dismissal if they don't meet the minimum standards, according to a magazine that monitors religious freedom in the country.

The magazine, Bitter Winter, reported that the National Security Bureau in Liaoning's Dalian city sets the standards, which are based on a "100-point evaluation system." Bitter Winter interviewed a police officer from the city.

"If the assigned quarterly arrest quotas are not met, the station chief faces losing his job," Bitter Winter reported. "To fulfill the quotas, police stations distributed a list of previously arrested believers to local communities and building managers to keep an eye on such persons and report to the police if they notice suspicious activities."
Funny Stuff
I chuckled at this one.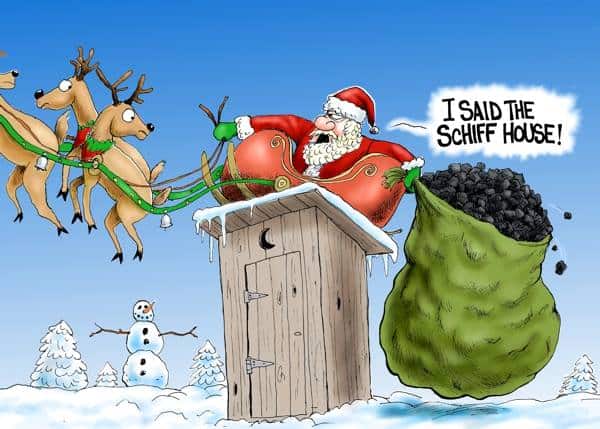 Abba Father's Fellowship- India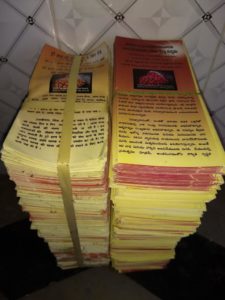 A note from Pastor D in India
Dear Brother John,
With the funds that I have from my end, we have about 2000 brochures of Jesus Christ Came to Heal the broken hearted and Jesus sets you free books ready to be mailed to more than 1300 prison of India on the eve of this Christmas.
Please find picture attachments.

We need about another $1300 to mail out Jesus Christ Came to Heal the Broken hearted Brochures and Jesus

sets you free books to 1300 prisons of India. Please pray and support as you are able.

Praying and looking forward to hear from you.

In Christ, D , India
Revelation 22:20 He which testifieth these things saith, Surely I come quickly. Amen. Even so, come, Lord Jesus.
If you like our ministry, please consider making a donation to keep us going. May the Holy God of Israel bless you!