Silent No More: Barack Obama Urges Community Organizing in Response to Donald Trump
Verse of the Day
1 John 4:4-5 Ye are of God, little children, and have overcome them: because greater is he that is in you, than he that is in the world. They are of the world: therefore speak they of the world, and the world heareth them.

Commentary
If you have followed my posts, you might recall that I said Obama would lead the movement to overthrow the US government. He has a ready and willing group in the anarchists, Black Lives Matter, open borders, Muslims and brain dead college students. It only took him about a week to start it.
Obama is a very dangerous man who hates America and Christians. He did his best to destroy America and advance Islam. We have not heard the last of him, if he is "married" to George Soros.
May the Holy God of Israel bless and protect you.
Revelation 22:17 And the Spirit and the bride say, Come. And let him that heareth say, Come. And let him that is athirst come. And whosoever will, let him take the water of life freely.
American Politics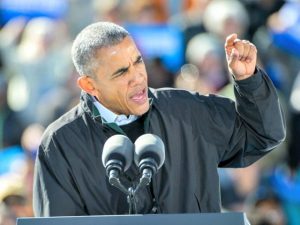 Silent No More: Barack Obama Urges Community Organizing in Response to Donald Trump 01/30/17
"Former President Barack Obama issued a statement reacting to President Donald Trump's executive order to restrict immigration from high-risk countries in the Middle East, urging Americans to organize against the president.
"President Barack Obama is heartened by the level of engagement taking place in communities around the country," Obama's spokesman Kevin Lewis said in a statement to reporters.
Through his spokesman, Obama also opposed discrimination against people because of their faith or religion, although he did not say that Trump's actions did so.
"With regard to comparisons to President Obama's foreign policy decisions, as we've heard before," Lewis said. "The president fundamentally disagrees with the notion of discriminating against individuals because of their faith or religion."
Hard Left
Left-Wing Journalist: Violence Against "Racists" to Stop Trump Should be Tolerated 02/01/17  Always, always, always remember one key thought from me, and that is the Hard Left hates us as much as the Nazis hated the Jews. These are extremely dangerous people full of anger, and they will explode into violence. Think of them as having a pent-up spirit of the French Revolution just waiting to explode out of them.
You have to understand what it means when they call us racists. In their mind, it is one of the worst things to be called and it means the discussion if over. With them, it is sort of a defensive mechanism. They don't have to face reality and can hide from the truth once they label you this way. Picture the Hard Left now as a wounded vicious animal that is ready to attack. There is no way to stop President Trump's agenda, so as he advances the agenda, they become more irrational and dangerous.
Their entire delusional world is collapsing around them, and they are being forced to face the truth. They have lived with and promoted lies most of their lives, so the truth is bitter to them. We can't stand it when the reprobate mind uses lies to advance their agenda, well this is exactly how they feel when we confront them with the truth.
2 Thessalonians 2:10-12 And with all deceivableness of unrighteousness in them that perish; because they received not the love of the truth, that they might be saved. (11,12) And for this cause God shall send them strong delusion, that they should believe a lie: That they all might be damned who believed not the truth, but had pleasure in unrighteousness.

"A video commentary published by the London Guardian makes the argument that violence against "racists" should be tolerated in order to stop Donald Trump.
The video features Nesrine Malik, a Sudanese journalist living in London, arguing that physical attacks on Trump supporters should not be condemned because his voters are bigots.
Physical violence to advance a political goal – more commonly known as terrorism – has been embraced by segments of the left in the aftermath of Richard Spencer – a leading "alt-right" figure – being punched in the face by an Antifa protester during the the inauguration last month in Washington DC.
"When they go low, going high is not enough," argues Malik, adding, "When Richard Spencer was punched in the street, it was a cathartic moment for many."
American Politics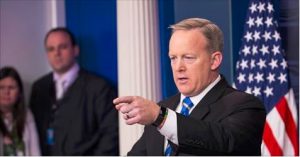 About 900 State Department officials sign protest memo: source 02/01/17  This article shows the magnitude and depth of the swamp in the State Department! They all have to go because they can't be trusted.
It is very irritating when I hear that President Trump's Executive Order, "runs counter to core Amerindian values." What utter nonsense, which shows the arrogance of these people. Their core value is to destroy the integrity of America and turn it into a Hard Left, one-world state.
Revelation 22:20  He which testifieth these things saith, Surely I come quickly. Amen. Even so, come, Lord Jesus.

"About 900 U.S. State Department officials signed an internal dissent memo protesting a travel ban by U.S. President Donald Trump on refugees and travelers from seven Muslim-majority countries, a source familiar with the document said on Tuesday, in a rebellion against the new president's policies.
A senior State Department official confirmed the memorandum had been submitted to acting Secretary of State Tom Shannon through the department's "dissent channel," a process in which officials can express unhappiness over policy (http://bit.ly/2jOYW0y).
White House spokesman Sean Spicer said on Monday he was aware of the memo but warned career diplomats that they should either "get with the program or they can go."
A draft of the dissent memo seen by Reuters argued that the executive order would sour relations with affected countries, inflame anti-American sentiment and hurt those who sought to visit the United Spates for humanitarian reasons.
It said the policy "runs counter to core American values of non-discrimination, fair play and extending a warm welcome to foreign visitors and immigrants."
Israel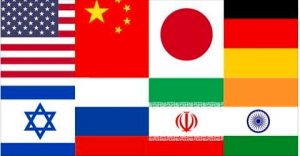 The Eight Great Powers of 2017 01/31/17  This another article about just how powerful Israel has become, to the point that it is now the 8th most powerful country in the world. This is in spite of how small the nation and the population are! In time Israel is going to become extremely wealthy! The great last days battle will be triggered by the wealth of Israel and the nations of the world coming to take it!
Ezekiel 38:11-13  And thou shalt say, I will go up to the land of unwalled villages; I will go to them that are at rest, that dwell safely, all of them dwelling without walls, and having neither bars nor gates, To take a spoil, and to take a prey; to turn thine hand upon the desolate places that are now inhabited, and upon the people that are gathered out of the nations, which have gotten cattle and goods, that dwell in the midst of the land. (13) Sheba, and Dedan, and the merchants of Tarshish, with all the young lions thereof, shall say unto thee, Art thou come to take a spoil? hast thou gathered thy company to take a prey? to carry away silver and gold, to take away cattle and goods, to take a great spoil?

"Three factors are powering Israel's rise: economic developments, the regional crisis, and diplomatic ingenuity. Looking closely at these tells us something about how power works in the contemporary world.
The economic developments behind Israel's new stature are partly the result of luck and location, and partly the result of smart choices. As to the luck and location factor, large, off-shore discoveries of natural gas and oil are turning Israel into an energy exporter. Energy self-sufficiency is a boost to Israel's economy; energy exports boost Israel's foreign policy clout. In 2016 Erdogan's Turkey turned on most of its NATO and Western allies; ties with Israel strengthened. Turkey's Islamist ruler wants gas, and he wants to limit Turkey's dependence on Russia. Israel is part of the answer.
But beyond luck, Israel's newfound clout on the world stage comes from the rise of industrial sectors and technologies that good Israeli schools, smart Israeli policies and talented Israeli thinkers and entrepreneurs have built up over many years. In particular, Israel's decision to support the rise of a domestic cybersecurity and infotech economy has put Israel at the center of the ongoing revolution in military power based on the importance of information control and management to 21st century states.
It is not just that private investors all over the world look to invest in Israel's tech startups; access to Israeli technology (like the technology behind the Iron Dome missile system) matters to more and more countries. It's not just America; India, China and Russia all want a piece of Israeli tech wizardry."
Israel/ The Coming Middle East War
Why Israel has the most technologically advanced military on Earth 01/31/17  This is a great article showing how Israel has become a technological military powerhouse, on of the top in the world.
Zechariah 12:6  In that day will I make the governors of Judah like an hearth of fire among the wood, and like a torch of fire in a sheaf; and they shall devour all the people round about, on the right hand and on the left: and Jerusalem shall be inhabited again in her own place, even in Jerusalem.

"Since 1985, for example, Israel is the world's largest exporter of drones, responsible for about 60 percent of the global market, trailed by the US, whose market share is under 25 percent. Its customers are everywhere — Russia, South Korea, Australia, France, Germany and Brazil.
In 2010, for example, five NATO countries were flying Israeli drones in Afghanistan. How did this happen? How did Israel, a country not yet even 70 years old, become a superpower with one of the most technologically advanced militaries in the world that is changing the way modern wars are fought?
The answer, I believe, is a combination of a number of national characteristics unique to Israel."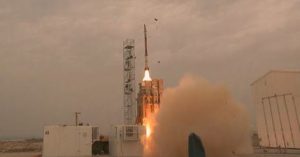 David's Sling nearing operational readiness 01/31/17  All of a sudden there are a rash of articles about the Israeli military getting ready for war.
Jeremiah 51:20  Thou art my battle axe and weapons of war: for with thee will I break in pieces the nations, and with thee will I destroy kingdoms;

"The joint Israeli-US missile defense system known as David's Sling—part of Israel's multi-layered missile defense program—is nearing operational readiness and has been cleared to be presented to potential customers abroad, such as Poland.

David's Sling is part of Israel's anti-missile defense program, and is meant to intercept tactical ballistic missiles, medium- to long-range rockets, and cruise missiles fired at ranges of 40km to 300km."
Israeli Home Front preparing for thousands of rockets 01/31/17  All signs are war! Remember, this coming war is not Armageddon, but it will be the watch that lights the fuse to Armageddon.
"The IDF Home Front Command is preparing for the thousands of rockets expected to strike Israel during the next war, investing hundreds of millions of shekels over the past two years on defensive measures and strengthening strategic capabilities.
The IDF considers Hezbollah the most substantial threat, with at least 120,000 rockets aimed at Israel, many of them able to strike anywhere in the country. While most have a range of just 45 kilometers, the army has said that it expects a bombardment of over 1,000 rockets in the course of just one day."
Science:  Image of Beast/ The Days of Noah
Scientists take first step in growing human stem cells in animals 02/01/17  Satan is using godless scientists to try and destroy man being created in the image and likeness of God.
Genesis 1:27  So God created man in his own image, in the image of God created he him; male and female created he them.
Man's DNA is what ties us back to Adam who was created in God's image as the son of God.
Luke 3:38  Which was the son of Enos, which was the son of Seth, which was the son of Adam, which was the son of God.
This is a sure sign of the soon Second Coming of Jesus Christ to judge this corruption and put an end to it. God will only allow the tampering of man's integrity to go so far, then he has to move to end it.
Matthew 24:37  But as the days of Noe were, so shall also the coming of the Son of man be.
"The chimeras would be generated by implanting human stem cells into an early pig embryo, resulting in an animal composed of mixed pig and human cells.
For the first time, biologists have succeeded in growing human stem cells in pig embryos, shifting from science fiction to the realm of the possible the idea of developing human organs in animals for later transplant.
The approach involves generating stem cells from a patient's skin, growing the desired new organ in a large animal like a pig, and then harvesting the organ for transplant into a patient. Because the organ would be made of a patient's own cells, there would be little risk of immune rejection.
The human-organ-growing pigs would be examples of chimeras, animals composed of two different genomes. They would be generated by implanting human stem cells into an early pig embryo, resulting in an animal composed of mixed pig and human cells."
Prophecy/ Science: 666 System
Pentagon Pursues "LOCUST" Drone Swarm Technology – Precursor To Revelation 9? 02/01/17  At this point, I don't think that these drones are the "locusts" of Revelation 9, but the technology reported in the article is worth reading.
Revelation 9:2-5  And he opened the bottomless pit; and there arose a smoke out of the pit, as the smoke of a great furnace; and the sun and the air were darkened by reason of the smoke of the pit.
(3) And there came out of the smoke locusts upon the earth: and unto them was given power, as the scorpions of the earth have power. (4) And it was commanded them that they should not hurt the grass of the earth, neither any green thing, neither any tree; but only those men which have not the seal of God in their foreheads. (5) And to them it was given that they should not kill them, but that they should be tormented five months: and their torment was as the torment of a scorpion, when he striketh a man.

"The Pentagon continued it's quest to unleash a 21st-century version of locusts on its adversaries this week after another successful test of drone swarm technology was completed using 103 Perdix micro-drones.
This large scale drone army is made possible by advancements in artificial intelligence, which allows groups of robots to act together to demonstrate advanced swarm behaviors such as collective decision-making, adaptive formation flying and self-healing.
"Perdix are not pre-programmed synchronized individuals, they are a collective organism, sharing one distributed brain for decision-making and adapting to each other like swarms in nature," said William Roper, director of the Pentagon's Strategic Capabilities Office.
"Because every Perdix communicates and collaborates with every other Perdix, the swarm has no leader and can gracefully adapt to drones entering or exiting the team."
Health and Nutrition
Turmeric— The Spice of Life 02/01/17  This is a fantastic spice that you should incorporate into your diet. You also can take it as a capsule.
3 John 1:2  Beloved, I wish above all things that thou mayest prosper and be in health, even as thy soul prospereth.

"Turmeric is a yellow-pigmented curry spice that is often used in Indian cuisine. But this spice is far more than a cooking staple. It also has a long history of medicinal use in traditional Chinese medicine (TCM) as well as Ayurvedic medicine.
Traditional medicinal uses include the treatment of liver disease, skin problems, respiratory and gastrointestinal ailments, sprained muscles, joint pains, and general wound healing.
Its benefits have since been well documented in the medical literature, and curcumin—one of the most well-studied1,2 bioactive ingredients in turmeric— has been found to promote health and protect against a wide array of health conditions.
It actually exhibits over 150 potentially therapeutic activities, including anti-inflammatory and antimicrobial activity, as well as potent anti-cancer properties that have been intensely studied."