Spirit of America: Conservative Grassroots Leaders Plan Massive Pro-Trump Demonstrations Nationwide
                           Verse of the Day
Ephesians 5:11 And have no fellowship with the unfruitful works of darkness, but rather reprove them.

Commentary
We all need to get behind this as the darkness is uniting against everything the nation stands for.

May the Holy God of Israel bless and protect you.
Revelation 1:5 And from Jesus Christ, who is the faithful witness, and the first begotten of the dead, and the prince of the kings of the earth. Unto him that loved us, and washed us from our sins in his own blood,
American Politics
The Spirit of America: Conservative Grassroots Leaders Plan Massive Pro-Trump Demonstrations Nationwide 02/10/17
"Conservative grassroots leaders are planning a series of massive pro-President Donald Trump rallies nationwide, Breitbart News has learned exclusively.
On Feb. 27 and March 4, the rallies—dubbed the Spirit of America Rallies—will spring up nationwide in cities and towns across America.
"These rallies are inclusive, non-partisan, and open to anyone supporting President Trump in his efforts to bring back manufacturing jobs to America, put the security of our nation ahead of political correctness, improve our infrastructure, revitalize the inner cities and secure our nation's borders," Debbie Dooley, a national co-founder of the Tea Party movement and a key organizer of the Spirit of America rallies, says in a press release obtained by Breitbart News ahead of its public release."
American Politics/ Islam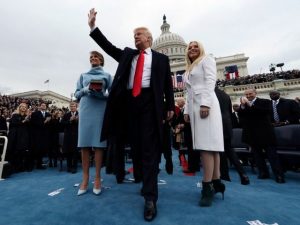 Media miss major policy shift in Trump's immigration order 02/10/17  It really does appear that the President is going to block must Muslims from entering America. He is going to use Sharia law against the them. The Hard Left are going to howl, but we must stand boldly with the President.
"Hostile political ideology'
Thomas said the first line in the Trump executive order is evidence that it "isn't something they put together in a week; this is evidence of their entire thinking on Islam and the defence of the west."
"They're going to treat Islam as a hostile political ideology. That is what has been needed for decades. It is the reversal of the 'Islam is a religion of peace' doctrine set in place by Bush on September 17, 2001."
He said the statement that the United States "must ensure that those admitted to this country do not bear hostile attitudes toward it and its founding principles" should "strike terror into the hearts of anyone looking to promote Islamic law above the United States' existing constitution."
That intention is made even more explicit with the next sentence: "The United States cannot, and should not, admit those who do not support the Constitution, or those who would place violent ideologies over American law."
Thomas noted it would apply to a communist overthrow of the United States,"but the only real threat on the global stage today is the ideology of Islamic supremacy."
The order also spotlights Islam by specifying the U.S. should not admit those who "engage in acts of bigotry or hatred (including 'honor' killings, other forms of violence against women, or the persecution of those who practice religions different from their own) or those who would oppress Americans of any race, gender, or sexual orientation."
New World Order – World Government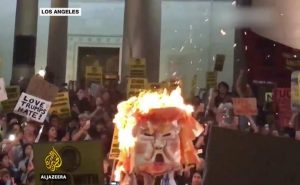 The surprising real reason for the hate against Donald Trump 02/09/17  This is a very good article laying out how President Trump is a direct threat to the NWO, who are not hiding that they want to take over the world. Their plans are out in the open for all to see, but the President is blowing it all up right in their faces! Wow what a battle.
"All the people in the various elements of this New World Order movement fully expected that Hillary Clinton's election would lead to the implementation of the final stages of their plans. Under Barack Obama and the powerful influence of the European Union, UN and other elites, everything had been rapidly moving towards their gaining powers they have long sought. With that power they were set to radically transform international society, take full control of the economies of all nations, eliminate national sovereignties and impose dramatic social changes and extreme de-population measures on the world.
The election of Donald Trump and a majority of Republicans to the Senate, Congress, governorships and other positions, have left the One-Worlders reeling. To them it has been like a giant earthquake upending their world and their evil plans. They are enraged and hysterical that their expectations of a dizzying final achievement of the total power of man as god has been smashed. That is their ultimate goal – replacing God with man – the great sin of pride of Adam."
Islam
Quebec Imam prays for the annihilation of the Jews 02/09/17  This is from the religion of peace. They are getting really bold now in Canada. This man is going to bring a tremendous curse down on himself and all of his followers. His curse for the Jews is exactly what is going to happen to him and the Muslims.
Obadiah 1:15  For the day of the LORD is near upon all the heathen: as thou hast done (to Israel), it shall be done unto thee: thy reward shall return upon thine own head.

"O Allah, give them victory over their enemy
O Allah, destroy the accursed Jews
O Allah, show us the black day you inflict on them
O Allah, show us the wonders of your power and ability inflicted on them, O the most Merciful
O Allah, show us how you do to them what you did to [the peoples] of ʿĀd and Thamud [ancient peoples that perished by Allah because they didn't heed the warnings of the prophets]
O Allah, show us how you do them what you did to [the people] of ʿĀd and Thamud
O Allah, rain down on them rain of stones made of Sigil stones, O Lord of the Worlds
O Allah, rain down on them rain of stones made of Sigil stones, O the most Merciful
O Allah, make their children orphans and their women widows"
Hard Left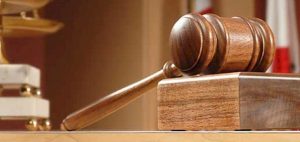 It's 'coup d'etat' by 9th Circuit: Answer should be 'arrest judges and put them in jail when they violate constitutional authority' 02/10/17  Take the time to read this article because it really lays out what the Federal Court just did by ruling against the President. It is like part of an attempted coup!
"He continued, "The 9th Circuit's ruling Thursday throws open a huge door to examinations of the entire lives of political officials whose motives may be relevant to legal questions."
At Fox, Hans von Spakovsky wrote simply the 9th Circuit "gets it wrong."
"Neither the judge in Washington state nor the court has offered anything approaching a detailed sicussion [sic] of 8 U.S.C Paragraph 1182 (f), the law which specifically gives the president authority to suspend the entry of any aliens into the U.S. if he believes their entyr [sic] would be 'detrimental to the interests of the United States.'"
He said, "It is just another example of arrogant federal courts grabbing power from the legislative and executive branches in violation of basic separation-of-powers principles."
"No Regrets" Organizer calls for more militant protests 02/09/17  They laid out their plans for open warfare in America. What is ironic is that they might burn down the colleges that created them. Listen to her arrogance and how full of lies she is. She just declares that everyone is a fascist and a white racist to justify everything that her group is doing.
"Yvette Felarca with the group "By Any Means Necessary" defends violence at UC Berkeley protest – says it should be the model for how the movement needs to take things in the future."
World War 3/ North Korea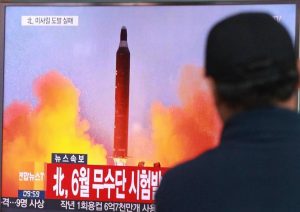 Should U.S. be preparing for a North Korean nuclear strike on the West Coast? 02/10/17  With the level of sin in the large West Coast cities, it is a distinct possibility that NK might be God's tool of judgment against America.
The number of babies killed, the promotion of the homosexual agenda and the mocking of God surely have reached judgment level. These are wicked cities which hate anything connected with the Lord. God's examples of judgment are given clearly in the Bible:
2 Peter 2:6  And turning the cities of Sodom and Gomorrha into ashes condemned them with an overthrow, making them an ensample unto those that after should live ungodly;

"After listening to experts describe the threat posed by North Korea and its nuclear arsenal, U.S. Rep. Brad Sherman, a California Democrat, paused amid a Capitol Hill hearing earlier this week and made a suggestion.
"We ought to have civil defense in this country," said Sherman during a hearing of the House Foreign Affairs Committee. "Some of us are old enough to remember when we had civil defense and we were under our desks."
The congressman wasn't calling for an immediate return to the "duck and cover" days of the Cold War. But his statement reflects heightened alarm among members of Congress – especially those from the West Coast – over North Korea's continuing nuclear tests and advances in missile technology.
In the last year alone, North Korea has conducted 20 missile tests and two nuclear tests. That's a marked annual increase from the 42 missile tests and two nuclear tests of the previous seven years, according to Victor Cha, a Korea specialist with the Center for Strategic and International Studies in Washington."
World War 3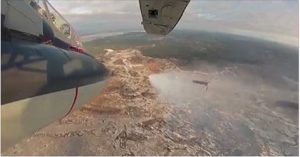 Ready to engage: Russian Air Force releases amazing pilot's-eye footage of its Top Guns in action as Putin tells his troops to 'prepare for war' 02/09/17   Once again Russia is conducting war games, getting ready for the real thing.
"The newly released footage follows the announcement on Tuesday that Russia is readying itself for war – the latest in a series of drills amid tensions with the West.
Defense Minister Sergei Shoigu said that the drills will check the air force's readiness and its ability to repel an enemy aggression.
Shoigu told military officials that special emphasis will be given to practicing the deployment of air defense systems.
The manoeuvres are the latest in a steady series of war games intended to strengthen the troops' readiness.
Russian news agency Tass revealed today that air defence units in Moscow and Russia's Central Industrial District have been put on high alert.
A Russian MOD statement said: 'As the combat crews of radar stations and antiaircraft missile systems detect unidentified aerial targets, air defence patrol fighter jets will be scrambled to classify them or notionally destroy them.'"
Earthquakes/ Floods, Famines, Fires
Is California overdue for biblical, catastrophic flooding? History says it could be 02/10/17  I think that California is prime for every disaster you can think of. I firmly believe that if a disaster like this hits, it will coincide with some sinful event like promoting baby killing or the homosexual agenda. California just suffered from the severe drought and now the floods! No doubt, earthquakes and volcanoes are on the way.
"With this recent cavalcade of rainstorms, there's been renewed interest in a 2011 USGS study on the so-called "ARkStorm." In it, the USGS lays out a case for a hypothetical "megastorm," one that could cause up to $725 billion in damage and impact a quarter of California's homes.
The ARkStorm would bring with it catastrophic rains, hurricane-force winds and hundreds of landslides. Central Valley flooding alone is projected to span 300 miles.
If that sounds far-fetched, there's historic precedent: Geological evidence indicates that California endures massive flooding caused by atmospheric rivers every 100-200 years. And settlers who moved to California after the Gold Rush soon found what the native population had known for centuries: Northern California is prime flooding territory.
The most prominent example is the Great Flood of 1862, a natural disaster that still ranks as the largest flood in the history of the American West. Between Dec. 1861 and Jan. 1862, the West Coast received a near-constant deluge of rain. Sacramento received a stunning 23 inches in that period, turning the city into a watery ghost town."
ProLife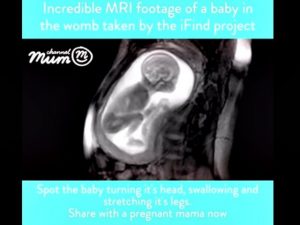 MRI Shows Detailed Images of 20-Week Unborn Babies 02/09/17  Make sure that you see the video of the 20 week old baby moving in the womb.
Psalm 139:14  I will praise thee; for I am fearfully and wonderfully made: marvellous are thy works; and that my soul knoweth right well.

"A newly developed MRI scan allows parents to see detailed images of the beating heart of even a 20-week unborn baby, as well as clear pictures of the baby stretching its legs and even swallowing in the womb.
The new scan, developed by a London-based team of medical researchers, could replace the somewhat grainy ultrasound images parents are more accustomed to viewing during pregnancy."

Psalm 29:2  Give unto the Lord the glory due unto his name; worship the Lord in the beauty of holiness.