Stephen Colbert: Feeling Good About Being a White (Christian) Male is a 'Dark Feeling
Verse of the Day
Revelation 5:9 And they sung a new song, saying, Thou art worthy to take the book, and to open the seals thereof: for thou wast slain, and hast redeemed us to God by thy blood out of every kindred, and tongue, and people, and nation;
Commentary
This is the breakthrough I've been waiting for which is not good. The attack by the reprobates has been against white males in general, but this focuses on "White Christian Males" of which I am one.
The Hard Left is trying to blame every "evil" in history on us. This gives them excuse to both hate and target us just like the Nazis did to the Jews. It is the same loathing, and I think it is going to be worse because we are not passive like the Jews were. We are aggressive and not backing down. In fact, we are exposing them for what they are and the lies they promote and believe. We are not letting them live comfortably in their delusions and sin which enrages them.
All of this is leading to an awful confrontation with them. It has to happen because they hate, loathe plus despise God, and we represent him and believe his word. At the very root, this is a spiritual battle. At their core is a murdering spirit which is proved by how they promote and protect the killing of babies in the womb.
They are going to bring the fight to us, and they will not stop because they are energized by hell. This is beyond defeating them politically just as it was impossible to defeat the Nazis politically. The Nazis were energized by hell and would continue until they were crushed, so it is with the Hard Left in America. This is now way beyond politics. I expect the attacks on white Christian males to intensify and become more focused.
In this writing, I focused on the battle between the white Christian males and the reprobates that hate God. In the end, if you are a white female, black or anyone else, who stands for God and his word, you will be drawn into this battle. It is like the Gentiles who help the Jews from the Nazis. They were treated like the Jews and killed.
We need revival for survival and NOW!
May the Holy God of Israel bless and protect you.
Revelation 7:9 After this I beheld, and, lo, a great multitude, which no man could number, of all nations, and kindreds, and people, and tongues, stood before the throne, and before the Lamb, clothed with white robes, and palms in their hands;
Urgent: Hard Left Attack on White Christian Males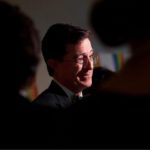 "Stephen Colbert: Feeling Good About Being a White (Christian) Male is a 'Dark Feeling'"
Psalm 94:16 Who will rise up for me against the evildoers? or who will stand up for me against the workers of iniquity?
"In an extensive Rolling Stone interview published Wednesday, CBS late-night host Stephen Colbert talks at length about the guilt he feels about being a privileged white male in America, the #MeToo movement, and the "fantasy world" he says President Donald Trump lives in.

Among Stephen Colbert's hottest takes is that it is a "dark feeling" to feel good about being "white male Christian, American, straight."

In the interview, Colbert was asked, "You once said that The Colbert Report was a 10-year confession. Could you elaborate on that idea a little more?"
The Draining of the Deep State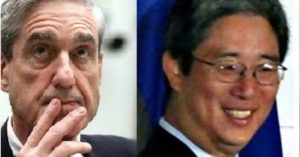 HUGE DEVELOPMENT SHOULD KILL MUELLER INVESTIGATION: Bruce Ohr Testimony Reveals Massive DOJ Corruption (VIDEO)" This is so exciting because the DOJ/FBI corruption has been traced directly into the Mueller investigation. I have a feeling the hunter (Mueller) is about to become the hunted! I can feel the tide turning against the deep state.
This is very exciting and also dangerous. The critters in the swamp are killers and therefore the President needs tremendous prayer.
Isaiah 45:3 And I will give thee the treasures of darkness (the deep state?), and hidden riches of secret places (Hillary's stash!), that thou mayest know that I, the LORD, which call thee by thy name, am the God of Israel. (4) For Jacob my servant's sake, and Israel mine elect, I have even called thee by thy name: I have surnamed thee, though thou hast not known me. (5) I am the LORD, and there is none else, there is no God beside me: I girded thee, though thou hast not known me:

"The sources said Ohr's outreach about the dossier – as well as its author, ex-British spy Christopher Steele; the opposition research firm behind it, Glenn Simpson's Fusion GPS; and his wife Nellie Ohr's work for Fusion – occurred before and after the FBI fired Steele as a source over his media contacts. Ohr's network of contacts on the dossier included: former FBI agent Peter Strzok; former FBI lawyer Lisa Page; former deputy director Andrew McCabe; Weissmann and at least one other DOJ official; and a current FBI agent who worked with Strzok on the Russia case.

Weissmann was kept "in the loop" on the dossier, a source said, while he was chief of the criminal fraud division. He is now assigned to Special Counsel Mueller's team.

The list includes several figures who have since attracted the scorn of President Trump as he decries the Russia probe and those involved in its early stages. Trump has been particularly tough on Ohr, given his wife Nellie's past work for Fusion GPS, as the president alleges bias against him inside the department. Just Thursday morning, Trump complained on Twitter about Nellie Ohr's Fusion work and exclaimed, "Bruce was a boss at the Department of Justice and is, unbelievably, still there!"
President Trump About to Move Against the Swamp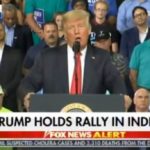 "TRUMP Threatens DOJ-FBI: "They Need to Do Their Job and Do It Right.. Or I Will Get Involved!" (VIDEO) This is the second time the President has said this. I hope he is about to quickly move and go right after the deep state and destroy it. This is exciting because he is not bluffing.
Isaiah 45:1 Thus saith the LORD to his anointed, to Cyrus, whose right hand I have holden, to subdue nations before him; and I will loose the loins of kings, to open before him the two leaved gates; and the gates shall not be shut; (2) I will go before thee, and make the crooked places straight: I will break in pieces the gates of brass, and cut in sunder the bars of iron:

"President Trump then took a shot at the Jeff Sessions' DOJ and Chris Wray FBI.

President Trump: Our Justice Department and our FBI have to start doing their job and doing it right and doing it now. Because people are angry. People are angry. What's happening is a disgrace. And at some point, I wanted to stay out, but at some point if it doesn't straighten out properly, I want them to do their job, I will get involved and I'll get in there if I have to."
Victory in Jesus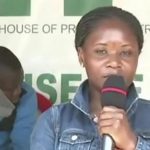 "'I Am Forgiven and Forever Set Free': Global LGBT Activist Abandons Lifestyle, Surrenders to Jesus" This is great news that she was set free from this sin and now is serving the Lord!
The reprobates will ignore her.
John 8:36 If the Son therefore shall make you free, ye shall be free indeed.
"Internationally renowned LGBT activist Val Kalende has publicly denounced her lesbian lifestyle and says God completely transformed her with his love. Kalende was once a global champion for LGBT rights and frequently called out Christians and politicians for their support of traditional marriage. Today, she says God has forgiven her for what she calls the "sin of same-sex."

Kalende grew up as a preacher's kid in a Pentecostal household in Uganda, but left behind her family and career as a journalist to become an LGBT activist in 2007. She traveled the globe speaking on gay rights issues and spearheaded the Sexual Minorities of Uganda (SMUG), an umbrella body for LGBT organizations in the country."
Hard Left Loves Killing Babies
"Presbyterian Pastor: If Christians "Truly Value Women" They Will Support Abortion" These people seem to love the killing of babies. It is deep in them because they hate God. It doesn't matter what religion she clothes herself with. Deep inside she is a high priestess of Moloch: the pagan God whom they sacrificed children to.
Proverbs 8:36 But he that sinneth against me wrongeth his own soul: all they that hate me love death.
"Christians need to trust women to make their own choices, Presbyterian minister and professor Rebecca Todd Peters argued in her new book, "Trust Women: A Progressive Christian Argument for Reproductive Justice."

Though seemingly reasonable at first, Peters' argument basically asserts that women should have the power to choose life or death for their own children through abortion – an authority that is supposed to be God's alone.

Paula Rinehart, author, therapist and Presbyterian church elder, responded to Peters' radical assertions in a column this week at The Federalist.

"What's unique here is not her argument, which has been around a long time, but her attempts to wring actual Christian virtue out of the traumatic act of ending life in the womb," Rinehart wrote."
Hard Left Killing Babies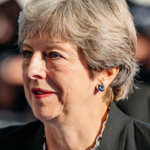 "British Prime Minister Theresa May Pledges £200 Million to Promote Abortion Worldwide" Notice how the British women are having few babies while the Muslim women are having many. The Muslims are judgment on the British, and one of the reasons is they wholesale abort their babies.
Psalm 127:3 Lo, children are an heritage of the LORD: and the fruit of the womb is his reward.
 "Continuing the UK Government's policy of spending vast sums of aid money on pushing contraception and abortion on developing nations, Theresa May, the Prime Minister, has announced a new initiative which will see £200 million spent on family planning in Africa and Asia.

The Prime Minister announced the creation of the Women's Integrated Sexual Health (WISH) programme during a visit to Kenya. It will "target women and girls in rural and poor communities who have traditionally been hardest to reach, will provide mobile clinics and contraceptive materials such as pills, condoms and implants."
Revelation 22:20 He which testifieth these things saith, Surely I come quickly. Amen. Even so, come, Lord Jesus.