Strongest Storm Ever on Record Headed to US Mainland
Verse of the Day
Numbers 35:33  So ye shall not pollute the land wherein ye are: for blood it defileth the land: and the land cannot be cleansed of the blood that is shed therein, but by the blood of him that shed it.
 Commentary
This hurricane has the potential to damage not only Florida, but Georgia and South Carolina. It does appear that the Lord's anger is kindled against America. We have greatly offended the Lord's holiness. The nation defiled marriage and the genders. The homosexual agenda has taken it over. We have aborted 60 million of his babies. The Lord can only allow this to go so far.

Where is his Church? It is AWOL in this battle. If the Church won't stand, the Lord will move to defend his creation. He will destroy us to stop the attack on his institution of marriage. If he applies his justice to America, upwards of 60 million could die!
If the storm does not turn but destroys Florida, then know that the Lord is in the final phase of destroying America. He has to because of his holiness and to defend his institution of marriage and stop the killing of the babies. The lack of the fear of God in the Church has allowed America to be in this condition. God has warned and warned but the Church has ignored the warnings.
I have listed dozens of these warnings in my book, "As America Has Done to Israel."
(Editor's note: Please pray for the safety of John's son, who is in south Florida and is being evacuated. Thank you all.)
Luke 8:25  And he said unto them, Where is your faith? And they being afraid wondered, saying one to another, What manner of man is this! for he commandeth even the winds and water, and they obey him.
Floods, Famines, Fires/ God's Final Warning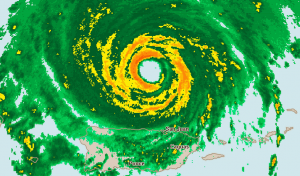 Hurricane Irma an Extreme Storm Surge Threat to the U.S. and Bahamas 09/07/17
"Depending on Irma's track, hurricane conditions could extend well inland, as well as northward along the length of the peninsula. The entire Florida peninsula is within the five-day cone of uncertainty in the official NHC forecast, and all residents of these areas should pay close attention to the progress of Irma, especially along Florida's East Coast. NHC may issue Hurricane Watches for parts of South Florida and the Keys on Thursday.
Irma's intensity will likely undergo fluctuations over the next couple of days, but intensity models show only gradual weakening, and NHC maintains Irma as a Cat 5 storm through Friday. Wind shear is predicted to remain low to moderate along Irma's path until Saturday, and Irma will be passing over waters that are as warm or slightly warmer than its current environment (see discussion in our Tuesday PM post). Land interaction with Cuba could weaken Irma somewhat, but we must assume that Irma will be at least a Category 4 as it nears South Florida on Sunday, as predicted by NHC."
Hurricane Irma has the potential of affecting every major city in Florida 09/07/16  There is little time left for God's mercy. This storm could destroy the entire state! God is about to deal with America's sin like he did with Sodom!
President Trump was called by the Lord to bless Israel and not divide the land. He is involved with the "peace process" and he has no business involving the USA in this. Every president since Bush Sr did this, causing devastating judgments on America, but these hurricanes are by far the worst.
God has taken his judgments to a new level. These are the type that the area might never recover from!
We are praying and crying out to Lord tonight on my YouTube show. I will post the link later.
Jonah 1:4  But the Lord sent out a great wind on the sea, and there was a mighty tempest on the sea, so that the ship was about to be broken up.

" Hurricane Irma poses the most significant threat to Florida in memory — and "this is the kind of storm that you read about in the history books," said Bryan Norcross, senior hurricane specialist at The Weather Channel.
"This has the possibility of running up the peninsula and affecting every major city in the state. It's not certain that that's what's going to happen, but it certainly is a possibility," Norcross said Wednesday.
"We don't know what is going to happen exactly. But we know what the range of possibilities is — and this is a situation where the top of that range is extraordinarily extreme," he said. "This is the kind of storm that I always pictured when I read the history books about the great Florida hurricanes of the past and imagined how they would impact the modern state."
As America Has Done to Israel
Hurricane Irma Just Pounded Donald Trump's Caribbean Home, And Is Heading for Mar-A-Lago 09/07/17  There is a possibility that Trump's home on the island of St. Martin was heavily damaged, with it maybe being totally destroyed. Now Hurricane Irma is heading toward the East coast of Florida where his home at Mar-A-Lago is located.
He is fooling around with creating a Palestinian State and dividing the land of Israel, while these hurricanes are hitting the US and him personally!
"However the Post report cites French government officials as reporting "serious damage" to the area.
"We know that the four most solid buildings on the island have been destroyed, which means that more rustic structures have probably been completely or partially destroyed," according to French Interior Minister Gerard Collomb.
Now the storm is headed for South Florida, where it could potentially pummel Trump's famous Mar-A-Lago club and three golf courses he owns in the region — in Doral, West Palm Beach, and Jupiter."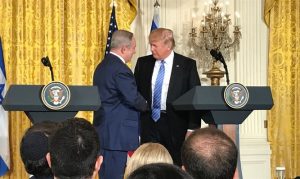 Trump to meet both Netanyahu and Abbas 09/07/17  Hurricane Irma is bearing down on Florida as a Category 5 and now the headlines are that President Trump is going to meet with Netanyahu and Abbas at the UN on September 17th!
Hurricane Harvey hit while the President's envoy was in Israel meeting with Abbas. These meetings are all for dividing the land of Israel, which is contrary to the Bible! What I also noticed was that Netanyahu is in political trouble (including his wife) while these negotiations to divide the land are taking place.
It really does appear that the Lord is out of patience with America interfering with his prophetic plan for Israel. Is there any way we can get this warning to President Trump to get him to back away from dividing Israel and Jerusalem?
Joel 3:2  I will also gather all nations, and will bring them down into the valley of Jehoshaphat, and will plead with them there for my people and for my heritage Israel, whom they have scattered among the nations, and parted my land.

"U.S. President Donald Trump is expected to meet with both Prime Minister Binyamin Netanyahu and Palestinian Authority (PA) chairman Mahmoud Abbas on the sidelines of the UN General Assembly in two weeks, senior Israeli and PA officials told Haaretz on Tuesday night.
The President is expected to discuss his planned peace initiative with Netanyahu and Abbas. These would be Trump's first meetings with them since his visit to Israel and the PA in May.
A senior White House official told Haaretz Trump plans to meet with a long list of world leaders on a wide range of issues during the General Assembly session in New York, and a complete list will be published once his schedule is finalized.
He added that talks with Netanyahu and Abbas about Trump's peace initiative will take place before the General Assembly and will continue afterwards.
Senior Israeli and PA officials, who asked to remain anonymous, said discussions are now being held about the exact dates of the meetings, which will apparently take place between September 17 and 19."

1 Chronicles 16:14  He is the Lord our God; his judgments are in all the earth.