Study Finds Link Between Brain Damage and Religious Fundamentalism
Verse of the Day
Philippians 2:5 Let this mind be in you, which was also in Christ Jesus:

Commentary
Anything that attacks real Christians the Hard Left believes. This "research" is very dangerous because it can be used against us the way the Nazis and Communists used it to destroy people. They could build on this "research" and then use it to take our children away from us or just throw us in prison because we are dangerous. The Hard Left are extremely dangerous people and will use anything they can to try and destroy us, the way the Nazis did the Jews.

If you come across anything like this, please forward it to me because I want to keep on top of this. Always remember, these people are extremely dangerous and they will attempt to use psychiatry against us.
May the Holy God of Israel bless and protect you.
1 Corinthians 2:16 For who hath known the mind of the Lord, that he may instruct him? But we have the mind of Christ.
Hard Left: Fake Science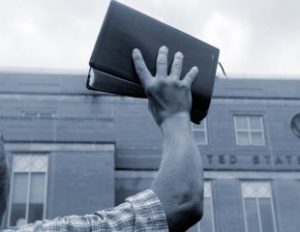 Study Finds Link Between Brain Damage and Religious Fundamentalism 05/21/17
"A new study published in the journal Neuropsychologia has shown that religious fundamentalism is, in part, the result of a functional impairment in a brain region known as the prefrontal cortex. The findings suggest that damage to particular areas of the prefrontal cortex indirectly promotes religious fundamentalism by diminishing cognitive flexibility and openness—a psychology term that describes a personality trait which involves dimensions like curiosity, creativity, and open-mindedness.
Religious beliefs can be thought of as socially transmitted mental representations that consist of supernatural events and entities assumed to be real. Religious beliefs differ from empirical beliefs, which are based on how the world appears to be and are updated as new evidence accumulates or when new theories with better predictive power emerge.
On the other hand, religious beliefs are not usually updated in response to new evidence or scientific explanations, and are therefore strongly associated with conservatism. They are fixed and rigid, which helps promote predictability and coherence to the rules of society among individuals within the group."
As America Has Done to Israel
Trump receives royal welcome, honors from Saudi leader: King Salman bestows US president with country's highest civilian medal as entourage is greeted with pomp and circumstance 05/20/21  This is quite a change from Obama's visit, when he bowed and scraped before Saudi royalty.
I watched about one hour of President Trump in Saudi Arabia, and it greatly disturbed me. There was tremendous pomp and pageantry that was really spectacular. Then there were tremendous business deals mounting in the hundreds of billions of dollars, including a huge arms deal.
There are two things at play here. The first is that President Trump called for an Arab NATO. Allegedly, the purpose was anti-terror, but when you examine the details of the military deal, it is aimed at Iran. (See: Trump wants to create an 'Arab NATO' in the Middle East)  What is on the horizon is a Muslim civil war, and America is backing the Arab Sunnis against Shiite Iran. These weapons will be used against Iran.
The second thing is Israel. Will part of this huge business deal be the betrayal of Israel? Will he fail to recognize Jerusalem as Israel's capital? Will he pressure Israel to divide the land for "peace?" These could be the demands of the Saudi Arabians! I hope that the President keeps his word regarding Israel, because if he doesn't a huge curse is coming on him and the nation.
President Trump has a strong hand with the Arabs. They need America in the coming war with Iran. They might also need Israel, and they are already in meetings with Israel over Iran. This might force them to back down over Jerusalem and dividing the land. There is so much at stake in President Trump's meeting with the Israelis. This really has my attention.
Obadiah 1:15  For the day of the LORD is near upon all the heathen: as thou hast done (to Israel), it shall be done unto thee: thy reward shall return upon thine own head.

"President Donald Trump received Saudi Arabia's highest civilian honor from Saudi King Salman Saturday and was greeted with a royal welcome by the Arab nation's ruler, as he began his first trip abroad.
Saudi Arabia offered Trump an elaborate welcome ahead of his two-day stay. Billboards featuring images of Trump and the king dotted the highways of Riyadh, emblazoned with the motto "Together we prevail." Trump's luxury hotel was bathed in red, white and blue lights and, at times, an image of the president's face.
Trump and the king met briefly in the airport terminal for a coffee ceremony before the president headed to his hotel before the day's other meetings. White House Chief of Staff Reince Priebus told reporters on Air Force One that Trump spent the flight meeting with staff, working on his upcoming speech to the Muslim world and getting a little sleep."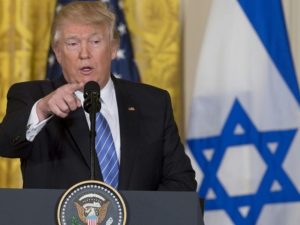 Five Things To Watch For During Trump's Israel Trip 05/21/17  These are five great issues to watch, seeing what President Trump does while he is in Israel. The key is: what is he going to do with Jerusalem? He had better be on God's side or America is in trouble with the Lord.
Zechariah 12:6  In that day will I make the governors of Judah like an hearth of fire among the wood, and like a torch of fire in a sheaf; and they shall devour all the people round about, on the right hand and on the left: and Jerusalem shall be inhabited again in her own place, even in Jerusalem.

"On Monday, President Donald Trump will arrive here in Israel for a jam-packed 24-hour visit that will include meetings with Israeli Prime Minister Netanyahu and Palestinian Authority President Mahmoud Abbas, as well as visits to Jerusalem's Western Wall, the Yad Vashem Holocaust memorial and the Israel Museum.
Here are five major things to look out for during Trump's trip:
1 – Will Trump keep his campaign pledge and move the U.S. embassy from Tel Aviv to Israel's capital, Jerusalem?
U.S. law requires the relocation of the embassy to Jerusalem. However, President Obama signed successive waivers delaying the move. The current waiver expires on June 1.
Numerous reports in recent days cited White House officials saying that Trump is not expected to use the visit to announce an embassy move. Still, that prognosis is subject to change. "The president has not made a decision yet and is still reviewing that," White House spokeswoman Sarah Huckabee Sanders said last week.
Even if Trump does not announce an embassy move, there are half measures that could be put into place, including the possibility of David Friedman, the U.S. ambassador to Israel, setting up shop at the U.S. consulate in Jerusalem instead of the beachfront embassy building in Tel Aviv.
2 – Will Trump make policy declarations regarding the status of Jerusalem?
It is not lost on observers that Trump will be in Jerusalem on Jerusalem Day, a national holiday here that marks Israel's reunification of Jerusalem after the 1967 Six Day War and the establishment of Israeli sovereignty over the eastern sections of the city, which include the Old City, Western Wall and Temple Mount.
Israel officially annexed Jerusalem in 1980 in a move not recognized by the international community because the Palestinians claim eastern sections of the city for a future Palestinian capital despite their never having had a state or entity in those areas.
Current U.S. law does not officially recognize Israeli control over the eastern sections of the city, going so far as to prevent American citizens born in Jerusalem from listing "Israel" as their country of birth. All eyes will be on Trump to see if he makes any declarations regarding Israel's status in Jerusalem."
American Politics/ Islam
In Saudi Arabia: Trump Tells Muslim Leaders to Confront 'the Crisis of Islamic Extremism' 05/22/17  I was delighted that President Trump in his speech used the words "Islamic terror" and "Islamic extremism." What I was very concerned about is whether he would say the God of the Bible is the same as allah or something similar. In my reading, I found no statement like this. I have been very busy and unable to follow closely the events in Saudi Arabia. If anyone has knowledge of the President linking the Lord with allah, please forward it to me. Thanks.
Isaiah 43:3  For I am the LORD thy God, the Holy One of Israel, thy Saviour:

"President Trump presented the world's top Muslim leaders Sunday with a message that was both reassuring and direct, offering "closer bonds of friendship, security, culture and commerce" but also challenging them to "drive out" of their societies those who claim inspiration from Islam as they commit terror around the world.
Addressing an unprecedented U.S.-Arab-Islamic gathering in Riyadh, Trump did not shy away from using terms eschewed by his predecessor such as "Islamic terror" and "Islamic extremism," and he painted "Islamists" as part of the threat.
But he also made clear that he does not consider Muslim terrorists to be representing the religion of Islam as they wreak havoc that affects people of all faiths, including their own."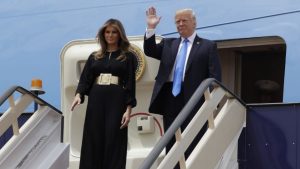 Donald Trump brings God into the negotiation room 05/22/17  President Trump did not say that the Lord and allah were the same, but apparently he wants good people of all faiths to unite against the evil. This not going to work and is DOA. When it comes to Islam, there are not good people unless they renounce following the Koran.
In Saudi Arabia they kill apostates and promote Sharia law. Are Muslims going to give up Sharia law? I think not. This is really nonsense and the Muslims will just play Trump on this.
There is not much time since war with Iran is getting closer. There will be no peace, but instead there will be war. The winner of the Sunni – Shiite civil war will unite against Israel to take Jerusalem. This is the end Islam: Jerusalem.
This is the time to prepare for war because Iran and its surrogates are preparing. It looks like the Psalm 83 war is dead ahead.
"It is somewhat ironic, therefore, that Donald Trump, a former real estate magnate, is the one seemingly departing from the position that this conflict is merely about competing claims to a piece of land.
Instead, he appears eager to effect a paradigm shift: Rather than approaching Israel/Palestine as a property that a good negotiator can convince both parties to divide, he approaches the issue, at least initially, as a conflict of good versus evil that could easily be solved if only the good people of all religions would unite against those abusing faith for their wicked ends.
"This is a battle between barbaric criminals who seek to obliterate human life, and decent people of all religions who seek to protect it," Trump said Sunday in Saudi Arabia, referring to the fight against terrorism. "This is a battle between good and evil."
Addressing political leaders from Arab and Muslim countries, Trump mentioned "God" a whopping nine times. The theme of his speech was the joint need to combat terrorism, but it was infused with a spiritual message. "Religious leaders must make this absolutely clear: Barbarism will deliver you no glory — piety to evil will bring you no dignity," he warned. "If you choose the path of terror, your life will be empty, your life will be brief, and your soul will be condemned."
American Politics/ Hard Left
BREAKING: Mass Nationwide Anti-Trump Riots Planned For July 2nd (Video) 05/20/17  There is no doubt that the Hard Left protestors are getting more violent. They just might have organized riots to try and paralyze the nation. What is ironic is that the rioting might be in the major Hard Left cities! The beasts that the Hard Left created might devour them: how ironic!
Matthew 12:25  And Jesus knew their thoughts, and said unto them, Every kingdom divided against itself is brought to desolation; and every city or house divided against itself shall not stand:

"Militant anti-Trump Antifa leftists are planning huge RIOTS on July 2nd.
The establishment media is fanning the flames by portraying Trump as illegitimate. This could be the flashpoint that brings about a violent coup in America."
Earthquakes/ Miscellaneous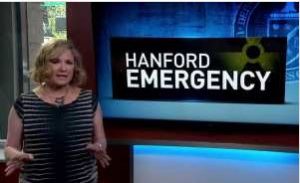 Emergency at US Nuclear Site: "Unusually high" radiation levels reported — Worker: "Everybody's freaked, shocked, surprised" — Governor: "Alarming incident" — TV: "Major event… Sign the plant is falling apart" 05/22/17  This could be very serious since it is the second incident after earthquakes hit the area!
"Another Hanford emergency: signs of another leaking tank… The U.S. Department of Energy is scrambling to deal with the second emergency at the nuclear site in 10 days' time. Signs have emerged that a massive underground double shell nuclear waste holding tank may be leaking… Now it has been holding hot, boiling radioactive and chemically contaminated waste for 41 years. KING 5 has learned that a… radiation specialist on the crew detected higher than expected readings… Detection equipment was then used to check for contamination that might have become airborne… They found radioactive material on one worker in three spots… "Everybody was freaked, shocked, surprised," said a veteran worker and KING 5 Hanford source who is in direct contact with crew members… Thursday night's incident means this could be the second double shell tank to fail. "We are of course concerned it might be a leak,"
World War 3/ North Korea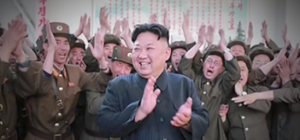 North Korea Launches 11th Missile This Year, Calls For It To Be 'Mass Produced' 05/22/17  NK continues to fires missiles preparing for war. This is the latest update.
"In its 11th missile test launch this year – which is the second test in just one week, North Korea deployed a medium-range ballistics missile (MRBM) Pukkuksong-2 over the weekend, which the country is touting as yet another success, according to reports.
The MRBM launched on Sunday from Pukchang county in South Pyongan province and landed in the Sea of Japan, going about 500 kilometers (or approximately 310 miles), according to reports. This is the second launch of a North Korean ballistics missile since South Korean President Moon Jae-in was inaugurated."
Hard Left/ Christianity
Texas Attorney General Moves to Intervene in Lawsuit Against Judge Sued Over Chaplain-Presented Prayers 05/20/17  It is wonderful to see the Attorney General come to the defense of this judge. This case is over opening the court with prayer!
"The attorney general of Texas has filed a motion to intervene in a lawsuit against a judge who was sued by a prominent professing atheist organization over his practice of opening court with a chaplain-presented prayer.
"The lawsuit against Judge Mack is an affront to religious liberty and yet another attempt to push religious expression from public life," Ken Paxton said in a statement on Wednesday. "The Commission's prayer practice, like Judge Mack's courtroom prayer, is completely consistent with our nation's history of protecting religious expression."
Paxton's motion was filed on behalf of the Texas Commission on Law Enforcement."
Texas pastors getting 'sermon protection act' 05/20/17  This is a tremendous victory for Christians. It protects pastors from the government using their sermons against them for political reasons! This sounds like budding Nazism that was snipped in the bud! You can see the powerful forces of darkness lurking in America ready to move against the Church. It is by God's grace that he has kept these forces at bay.
"Three years ago, Christian pastors in Houston were in a pitched battle with their mayor, lesbian Annise Parker, who had forced her "open bathrooms" agenda through the city council. The pastors wanted the city's residents to vote on the measure, and she was doing everything she could to prevent that.
WND broke the story when she went nuclear on the pastors, ordering the city's legal staff to issue subpoenas for their sermons to find out what they had been telling their congregations about homosexuality, transgenderism and the issue of men using women's bathrooms in city facilities.
The resulting nationwide public outrage, including a description of her actions by talk radio icon Rush Limbaugh as "vile," caused her to back down almost immediately.
The law, adopted by the state legislature as SB 24, prohibits a government entity from compelling "the production or disclosure of a written copy or audio or video recording of a sermon delivered by a religious leader during religious worship of a religious organization or compel the religious leader to testify regarding the sermon."
The pastors' group said the subpoenas issued against the pastors "shocked the nation and produced a massive national outcry against the infringement into the freedom of pulpits, and SB 24 was filed to clarify in state law what the courts have held to be clear First Amendment rights."
"SB24 will give pastors critical protection from forced testimony and shield sermons from government subpoena power," Patrick said of the project."

Romans 8:31-32  What shall we then say to these things? If God be for us, who can be against us? He that spared not his own Son, but delivered him up for us all, how shall he not with him also freely give us all things?