Tensions in Middle East: Israel vs Iran
Verse of the Day
Revelation 16:14 For they are the spirits of devils, working miracles, which go forth unto the kings of the earth and of the whole world, to gather them to the battle of that great day of God Almighty. (16) And he gathered them together into a place called in the Hebrew tongue Armageddon.
Commentary
All of a sudden events quieted down with China and Russia, but tensions flared between Israel and Iran.
Iran is starting to feel pain from all of Israeli attacks in Syria and now on the shipping. If Iran broadens the war, Israel will match it which escalate quickly into a major war. Israel wants a war now before Iran obtains a nuclear weapon.
MIDDLE EAST WAR: ISRAEL VS IRAN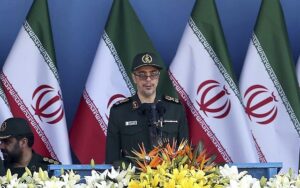 "Iran army chief threatens to 'teach Israel a good lesson' after tanker targeted"
Iran is starting to feel pain from all of Israeli attacks in Syria and now on the shipping. If Iran broadens the war, Israel will match it which escalate quickly into a major war. Israel wants a war now before Iran obtains a nuclear weapon.
"Iran's Armed Forces chief Mohammad Bagheri on Sunday threatened to "teach Israel a very good lesson," appearing to hint the Jewish state was behind a reported attack on an Iranian tanker off Syria's coast over the weekend, but stopping short of blaming Jerusalem directly for the incident.

Bagheri told reporters: "We don't announce anything about the incidents that happened recently, nor do we know who did it, but the Resistance Front will teach Israel a very good lesson," according to several Iranian journalists. "Israelis think they can keep hitting Syria and making mischievous moves elsewhere and in the seas and not receive any response," said Bagheri, according to tweets by Iranian journalists Reza Khaasteh and Abas Aslani."
BIDEN AND IRAN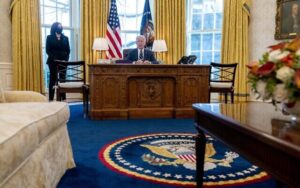 "White House says Israeli delegation will not change US position on Iran deal"
Israel also has said if Biden cuts a deal with Iran that allows them to obtain a nuclear weapon, Israel will attack Iran.
"Israel's delegation to Washington DC will not change the United States position on rejoining the 2015 nuclear deal with Iran, the White House press secretary said in a briefing Friday.
On Monday, a high-level Israeli delegation will travel to Washington to voice objection to the US return to the Iran nuclear deal, but not to hold talks on the details. It will be headed by Mossad chief Yossi Cohen and National Security Adviser Meir Ben-Shabbat."
MIDDLE EAST WAR: IRAN VS ISRAEL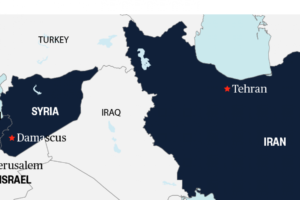 "UPDATED! Iran Gets GREEN LIGHT to Return Fire from Syria, against Israel"
Latest update about the fighting in Jerusalem. It appears Iran wants to send masses of people to support the fighting!
"Moscow informs Tel Aviv that Damascus has become fed up with the air attacks on its territory and that it has given the green light to the Iranians to respond from within its territory.
Most importantly, Tehran has informed Moscow that the Iranian "Marches" are on their way to enter the confrontation with Tel Aviv, with the approval of Damascus.
The "marches" referred to above SEEM to have meant gigantic PROTREST MARCHES now taking place in multiple cities inside Israel. Huge crowds have gathered in several Israeli cities protesting; with violent clashes against police, Molotov cocktails setting vehicles and structures ablaze."
ISRAEL: WAR WITH HEZBOLLAH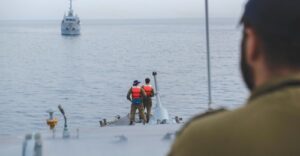 "Israel's Navy ready to attack Hezbollah from the sea like never before"
This is a look at the Israeli Navy which is ready for war.
"Operations carried out by the Israel Navy in what is dubbed the "war between wars" have been kept in the shadows, until recently.

But a series of leaks to the media, and reports on Iranian attacks against Israeli-owned civilian cargo ships, revealed the intensity of the ongoing shadow war between Jerusalem and Tehran in the areas of the Red Sea and the Persian Gulf, as well as the role of the Israeli Navy in that war."
JERUSALEM JERUSALEM JERUSALEM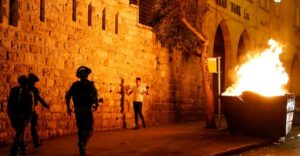 "Escalation over Jerusalem is how wars start – analysis"
An update about what is happening in Jerusalem!
"The recent string of events leading to greater clashes in Jerusalem and rocket fire from Gaza is part of the cycle that has led to conflicts in the past.

The recent Jerusalem escalation coincided with Ramadan and TikTok videos of Orthodox Jews being attacked. Numerous arrests were made, but that didn't calm tensions. A massive far-right rally this past Thursday then led to further tensions, including early-Saturday morning rocket fire from the Gaza Strip."
JERUSALEM JERUSALEM JERUSALEM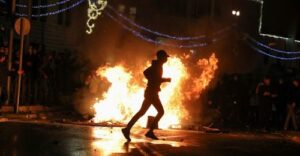 "Chaos In Jerusalem After Jewish Settler Groups Chant "Death To Arabs" During Ramadan"
Anything like this connected to Jerusalem could erupt into a major conflict.
"Violence has erupted in and around the walled 'old city' section of Jerusalem during Muslim holidays after on Thursday night far-right Jewish groups staged a large demonstration at the Damascus Gate where they loudly chanted "death to Arabs".
Counter-protests by Palestinian youth quickly broke into fights between the two groups and clashes with police, as security services attempted to disperse rioters. Reuters reports on Friday that "After a night of violence in Jerusalem, Israeli police made over 50 arrests and Palestinian medics said 100 were injured during Ramadan clashes in the contested city at the core of the Israeli-Palestinian conflict."
ISRAEL UPDATE (Video)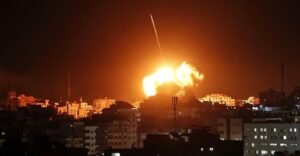 "BREAKING: Israel Hit By Gaza Rocket Barrage; Plus, Iran Oil Tanker Attacked?"
It appears there is an update in warfare between Israel and Hamas along with violence in Jerusalem. Also, an Iranian oil tanker was attacked off the coast of Israel.
THE SPECIAL SIN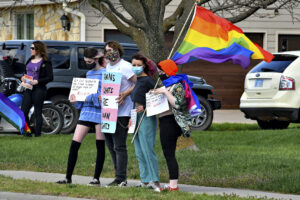 "Christian college sues Biden administration to keep transgender students out of dorms" This is a wonderful article because the school used Scriptures about sexual sin as religious freedom under the First Amendment. It will be so good for those Hard Left to read these verses!
"The complaint says that the school teaches "that sex as determined at birth is a person's God-given, objective gender, whether or not it differs from their internal sense of 'gender identity,' and it bases this teaching on such Biblical passages as Genesis 1:27, Leviticus 18:22, Matthew 19:4, Romans 1:26–27, and 1 Corinthians 6:9–10."
According to its code of conduct, "The College understands that misuses of God's gift of human sexuality, and therefore violations of its code of conduct, include, but are not limited to, gender expression inconsistent with sex determined at birth (transgender expression), gender transition, sexual abuse, sexual harassment, sexual assault, heterosexual misconduct, homosexual conduct, or possession of pornographic materials."
The college says that its free speech, which it defines to include its student housing policies, is being restricted and that it is being prevented from expressing its "religiously-based understanding of the nature of the human person and the characteristics of marriage and the family."
THE SPECIAL SIN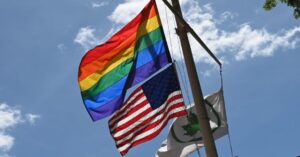 "Biden Admin Blanket Authorization Will See Rainbow LGBT Banner Flown from Same Pole as US Flag at Embassies Around the World"
This shows the heart and loyalty of the American reprobates. They love this sin and are in full rebellion against God and his word. When the Supreme Court of Sin in 2014 and there was no outcry and repentance from the church, God turned America over to the reprobate mind for judgment.
"While mass protests are rocking the homeland and our enemies continue to size up the new president, the Biden administration is laser-focused on how woke the country looks.
In a diplomatic cable reviewed by Foreign Policy, Secretary of State Antony Blinken issued a blanket authorization for U.S. embassies and consulates across the globe to fly the Pride flag, and on the same pole as Old Glory, no less. How did we allow woke optics to drive our country this far?"
MODERN HARD LEFT MATH THINKING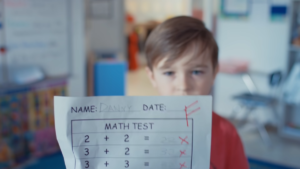 "Is this the best short film ever about 'woke' arithmetic?" (Video)
This is an excellent short video showing the stupidity of modern math. It is well done.
"Comedy is the most effective way to skewer idiocy. Alternative Math depicts a nightmarish student who refuses to accept that 2+2=4. And since Little Johnny must always be right, the teacher's confrontation with him gets escalated to the school board, with calamitous consequences. It's terribly unfair, exaggerated all out of proportion … and very funny."
If you like our ministry, please consider making a donation to keep us going. May the Holy God of Israel bless you!
Revelation 22:20 He which testifieth these things saith, Surely I come quickly. Amen. Even so, come, Lord Jesus.