The Hard Left has a suicidal death wish
                            Verse of the Day
Romans 1:22 Professing themselves to be wise, they became fools,
Commentary
I've posted an amazing article about the European mindset in which women think it is because of Western culture that Muslim men are raping them! I see this as widespread across Europe and to a lesser extent across America. They are defeated in their minds and huge numbers are ready to surrender to the Muslims. The men are no longer men, but mere shells of what a real man is supposed to be, as they were created in God's image.
In the 1930s, the Nazis proclaimed the superiority of the white race and they tried to conquer most of the world. In 2016, the white race is now so beaten down that they think they are evil and the cause of all the world's problems. To these people, the source of all evil is the white European/American culture. The Muslims are just victims of white culture.
This is a serious, self-destructive delusion that now has taken over huge numbers of those in Western culture. The West is surrendering to Islam and to the homosexual agenda. Whatever is against Western culture, which was rooted in Christianity, is good to these people. They are just looking for the antichrist to fill this cultural void. These people are being stripped to nothing and the antichrist will fill the void.
This all is happening on such a massive scale that it is hard to wrap your mind around but nonetheless, there it is before our eyes.
May the Holy God of Israel bless and protect you.
Proverbs 14:12 There is a way which seemeth right unto a man, but the end thereof are the ways of death.
Hard Left – Death Wish
Woman welcomes Muslim 'refugee' into home, gets raped 'Left has suicidal death wish' 05/31/16  You can see how the reprobate mind drives people insane. It really does appear that, for the most part, Europe has a death wish. It is suicide-by-Muslims, and they are perfectly willing to fulfill this death wish.
This death wish also is here in America with the "sanctuary cities" that legally protect alien criminals. Of course, the Hard Left wants the mass Muslim invasion of America because they have the same death wish.
We can see how satan is ruling their minds since they are acting out his will in death and destruction. Wow!!!
Proverbs 8:36  But he that sinneth against me wrongeth his own soul: all they that hate me love death.
"A 24-year-old spokeswoman for the socialist "Linksjugend Solid" ("Left Youth Solid"), identified only as "Selin G." was attacked and gang-raped in a parking lot in February. She reported the crime but two weeks later in a fit of guilt said she identified with her rapists as "victims" of German and Western culture, U.S. Herald reported.
The woman posted an apology on her Facebook page to the three men who raped her, blaming their actions on the "racist" atmosphere and "sexist society" in Germany, beginning the post with, "Dear male refugees, I am so sorry!"
A Norwegian man who is an activist in support of the anti-racist "Welcoming" cause was anally raped earlier this year by a Somali migrant and expressed guilt and remorse that the rapist had been deported back to Somalia. Karsten Nordal Hauken, a member of the Norwegian Socialist Left Party who described himself as an ardent "feminist and anti-racist," confessed to a documentary team about his despair at seeing the man deported, Breitbart reported.
The left's 'suicidal death wish'
Daniel Greenfield, a Shillman fellow at the David Horowitz Freedom Center, explored the leftist mentality toward rape at the hands of Muslim migrants in an interview with Jaimie Glazov last month titled "Avoiding Rape is White Privelege." In that interview, Greenfield said progressives believe it's impossible for an "oppressed" class of people such as Muslims to commit rape against a white person. They are merely lashing out in violence against those they see as oppressing them.
For this reason, many of the rapes of women volunteering as aid workers in the Palestinian territories and in refugee camps across Europe are never reported or quietly reported without media coverage.
Glazov calls it a "suicidal death wish of the left."
"This reflects and manifests very much the whole narrative of fellow travelers, of leftists and communists, who are very willing to sacrifice others including themselves on the altar of utopian ideals," Glazov said."
Hard Left – Obama/ Homosexuality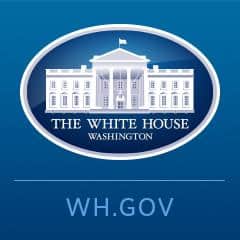 Presidential Proclamation — LGBT Pride Month, 2016 05/31/16  Obama wants to promote sexual sins all over the world. He is now America's "ambassador of sin" to the world.
He is an embarrassment before God and all who support him. God's Word has not changed about what happens to nations that promote sin and make it an ordinance.
See my teaching on Homosexuality vs God's Holiness
Jude 1:7  Even as Sodom and Gomorrha, and the cities about them in like manner, giving themselves over to fornication, and going after strange flesh, are set forth for an example, suffering the vengeance of eternal fire.

"Despite the extraordinary progress of the past few years, LGBT Americans still face discrimination simply for being who they are. I signed an Executive Order in 2014 that prohibits discrimination against Federal employees and contractors on the basis of sexual orientation or gender identity.
I urge the Congress to enact legislation that builds upon the progress we have made, because no one should live in fear of losing their job simply because of who they are or who they love. And our commitment to combatting discrimination against the LGBT community does not stop at our borders: Advancing the fair treatment of all people has long been a cornerstone of American diplomacy, and we have made defending and promoting the human rights of LGBT individuals a priority in our engagement across the globe.
In line with America's commitment to the notion that all people should be treated fairly and with respect, champions of this cause at home and abroad are upholding the simple truth that LGBT rights are human rights."
Hard Left – Sexual Sin
Groups Boycott Tenn. Over Therapist Freedom-of-Conscience Law 05/31/16  What I see happening is the dividing of America. The Hard Left areas will be totally hostile to anyone who stands against the homosexual agenda. In fact, it will be dangerous to live there.
America is in the process of shattering because God is no longer a part of the glue of the nation. The reprobates are taking over, with a loathing for God and anyone who believes in Him.
"Several groups have cancelled scheduled events in Nashville, Tennessee in protest over a new state freedom of conscience law that allows mental health counselors and therapists in private practice to refuse service to some clients.
However, groups such as the Human Rights Campaign (HRC) and the American Counseling Association (ACA) are calling the law "needless and mean-spirited" and "a 'hate bill' against gay and transgender people," according to the Tennessean.
The cancelled events include the HRC Foundation's "Time to THRIVE" conference for educators and counselors promoting the "safety, inclusion and well-being of LGBTQ youth"; a Centers for Spiritual Living conference, and ACA's 2017 conference and expo.
In a video statement, Richard Yep, ACA's chief executive officer, called the bill a "discriminatory religious freedom law" and said it "targets gay, lesbian, bisexual, and transgender Americans."
"Of all the state legislation impacting counseling during my 30 years with ACA, the new Tennessee law … is the worst," Yep said.
In addition to these cancellations, the mayor of Washington, D.C. and the mayor of Philadelphia have banned publicly-funded travel to Tennessee in response to the new law.
On the other hand, the Family Action Council of Tennessee (FACT) praises the law on their website:
"The ACA wants counselors to 'bracket' or suspend their personal values that are not in line with the goals of the client," FACT states. "A counselor 'bracketing' their values is much less likely to adequately treat a client than one who fully supports and personally believes in the client's desired outcome. … A client deserves to be treated by a counselor who not only sympathizes with their issues, but is also experienced and competent to offer effective treatment."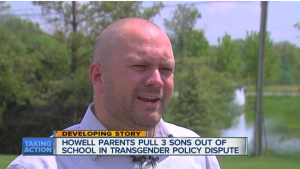 Dad pulls kids out of Howell school so they don't have to share restroom with transgender classmate 05/30/16  Children at a young age can be very confused about gender. I think the parents of this young girl should be arrested for child abuse, along with the school psychologist.
"It is a story that started when one dad asked his three sons who attend Southwest Elementary School in Howell a routine question: How was school today?
"My son informed me there was a girl in the bathroom with him and the other kids in his class," said Matt Stewart.
He called the school. He asked why he wasn't given notice of the school's policy for transgender students and their use of facilities, why parents didn't have a say on school policy, and what the options were to protect the privacy of his son.
Stewart didn't like the answers. He and his wife then decided to pull their three sons out of school.
"As parents, we decided we were not going to force our children to make the decision between confusion, humiliation, and embarrassment," said Stewart."
Israel and the Middle East War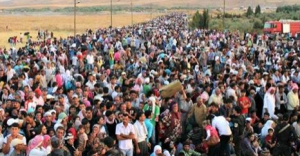 Syrian Refugees Spreading Flesh-Eating Disease, Polio, Measles, Tuberculosis, Hepatitis 06/01/16  It appears that the mouth of hell has opened over Syria because nasty diseases are now overtaking this country and spreading throughout the Middle East. How long will it be before it comes to America, because in fact, immigrants already are bringing diseases to America. It seems like no one cares.
Could these diseases erupting in Syria be part of the end times pestilence that the Bible states will cover the earth and kill huge numbers of people? Notice how the war in Syria has created famine and now pestilences! This is what the Bible states is going to happen on a massive scale, as we approach the Second Coming of Jesus Christ.
Matthew 24:6  And ye shall hear of wars and rumours of wars: see that ye be not troubled: for all these things must come to pass, but the end is not yet. (7) For nation shall rise against nation, and kingdom against kingdom: and there shall be famines, and pestilences, and earthquakes, in divers places.

"The Syrian refugee crisis has precipitated a "catastrophic outbreak" of a flesh-eating disease that is spreading across the Middle East and North Africa, according to research published on Thursday in the scientific journal PLOS.
Largely missing from news media coverage is that the same news-making scientific report warned the ongoing violence in Syria has "created a setting in which we have seen the re-emergence of polio and measles, as well as tuberculosis, hepatitis A, and other infections in Syria and among displaced Syrian refugees."
Indeed, in 2013 the World Health Organization documented new cases of vaccine-preventable diseases such as measles, reporting that year alone the number of confirmed measles cases in Syria reached 139, as compared to no documented cases in 2010 and 2011.
The WHO reported that 2013 saw Syria's first outbreak of polio since 1999. According to an April 2015 WHO report, 35 children were subsequently paralysed by polio before the start of a new vaccine campaign.
In November, 2014 PLOS documented the spread of measles from among the Syrian refugee population:
Measles has swept through Syria, including Aleppo and the northern regions, with over 7,000 confirmed cases. This epidemic has not spared refugees in neighboring countries, even among highly vaccinated populations. In Jordan, 24 cases of measles were reported in 2012, while over 200 cases were reported in 2013. In Lebanon, nine reported cases of measles in 2012 increased to 1,760 cases in 2013, only 13.2% of which were among Syrian refugees.
Regarding the flesh-eating disease, leishmaniasis, PLOP warned in its latest report, "We may be witnessing an epidemic of historic and unprecedented proportions, but it has largely been hidden due to lack of specific information."
The PLOP journal reported leishmaniasis is now affecting hundreds of thousands of refugees and has spread to Iraq, Lebanon, Jordan, Libya and Yemen. In Yemen alone, 10,000 new cases have been reported annually, the journal reported.
"Additionally, the number of cases of CL (cutaneous leishmaniasis) has most likely been severely underreported" due in part to constraints on collecting data from violence-torn regions, PLOP warned."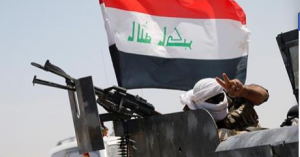 With Washington looking the other way, Iran fills a void in Iraq 06/01/16  This needs to be watched because Iran is moving to take over parts of Northern Iraq. Obama is so weak-minded that Iran can do whatever it wants without and fear of the US.
Remember, Israel cannot let Iran extend its control all the way to Syria. This is very dangerous and this sounds very strange, but ISIS is a buffer between Iran and Syria. If Iran unites with Syria, this could trigger a huge war in the Middle East.
"Iraq's elite forces who are leading the fight have been trained by U.S. advisers, but many others on the battlefield were trained or supplied by Iran. It's the latest example of how Washington has looked the other way as Iran deepened its military involvement in Iraq over the past two years.
In recent weeks, thousands of Iraqi soldiers and Shi'ite militia members supported by Iran assembled on the outskirts of Falluja for the expected attack on the Sunni city. In the lead-up to the assault, General Qassem Soleimani, commander of the Quds Force, the special operations branch of Iran's Revolutionary Guards, met with leaders of the Iraqi coalition of Shi'ite militias known as the Popular Mobilization Forces.
Sunni politicians in Iraq condemned the involvement of Soleimani and other Iranian advisers in the battlefield preparations, saying it could fuel sectarian tension and unleash a new round of Sunni-Shi'ite bloodletting.
They also cast doubt on the Iraqi government's assurances that the offensive is purely an Iraqi-led effort to defeat Islamic State. "Soleimani's presence is cause for concern," said an Iraqi member of parliament from Falluja. "He is absolutely not welcome in the area."
Leaders of the Shi'ite militias have pledged that they will not take part in the main offensive on the city, and will instead help secure nearby towns and lay siege to Islamic State fighters. But the battle over Falluja highlights Iran's growing military and political influence over Iraq, a country wracked by a complex civil war that leaves it open to outside manipulation.
If there is one regional player that gained the most from America's gamble in Iraq, it is Iran. With its invasion in 2003, the United States ousted Tehran's sworn enemy, Saddam Hussein, from power. Then Washington helped install a Shi'ite government for the first time in Iraq's modern history. As U.S. troops became mired in fighting an insurgency and containing a civil war, Iran extended its influence over all of Iraq's major Shi'ite factions."
Kurdistan: Iranian Missile Base under Construction 05/30/16  If this is true, then Israel will most likely move against it. One of the main goals of Iran is the destruction of Israel. This base will move Iran's military hundreds of miles closer to Israel.
"Exposing regional plans of Iran, a Kurdish official revealed that the Iranian regime has launched its construction of the largest missile and Islamic Revolutionary Guard Corps (IRGC) base. The center is being established near Sayed Sadiq which belongs to the Sulaymaniyah Governorate located in the Iraqi Kurdistan.
The IRGC are considered Iran's elite Revolutionary Guard which is intended to protect the country's Supreme Leader's agenda, and answer to no one else but Iranian current spiritual Supreme Leader Ali Khamenei. The IRGC have reportedly announced their mission bent on protecting the religious borders of Iran even on foreign grounds.
The official further revealed that the number of IRGC commanders and officers frequently visiting the location and supervising the construction are being present on a daily basis. Quds Force division had deployed a large number of unit400 members who are assigned with monitoring and dealing with Iran-backed Kurdish forces to the area.
Commanded by notorious Major General Qassem Soleimani, the Quds Force division acts as the IRGC's special operations force, employing the crème de la crème of Iranian intelligence and acting as a nomad-styled force. The unit is exclusively responsible for their extraterritorial operations."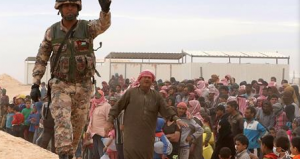 Jordan Border Defense Against ISIS Enters Final Phase 05/30/16  This is exactly what we need on the US border with Mexico!
They never will be able to stop ISIS. Right now the battle is a stalemate with ISIS, but I fully expect this to turn into a full-scale Muslim war. Jordan could turn overnight for ISIS.
"A US-funded partnership between Jordan and Raytheon is entering the final phase of a nearly $100 million program to guard the Hashemite Kingdom against infiltrators from the Islamic State group and other extremist organizations operating beyond its border with Syria and Iraq.
Fiscally supported by the Pentagon's Defense Threat Reduction Agency (DTRA), the Jordan Border Security Project is now operational along a 160-mile stretch bordering Syria and another 115-mile demarcation line with Iraq.
Come August, the Raytheon-Jordanian industry team will start transitioning full sustainment operations to the Jordanian Armed Forces, according to US and Jordanian industry executives.
Once the transition is complete, the Jordanian military will assume full responsibility for patrolling the borders with rapid response vehicles, manning stationary watchtowers and running an operational command center to be supported by the firm's in-country company headquarters."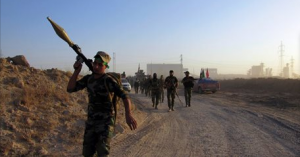 Iran-Led Push to Retake Falluja From ISIS Worries U.S. 05/31/16  This is full of danger because Iran is moving west to link up with Syria. This would create a corridor from Tehran to the Mediterranean Sea, and this is exactly what Iran wants to do.
Iran then can move its army west and set up close to Israel, if not right on the border! Israel can't let this happen, so once again Iran is pushing Israel toward war.
It also is bringing alarm to Saudi Arabia and Turkey. This is now an all-out press by Iran for domination of the Middle East.
"American commandos are on the front lines in Syria in a new push toward the Islamic State's de facto capital in Raqqa, but in Iraq it is an entirely different story: Iran, not the United States, has become the face of an operation to retake the jihadist stronghold of Falluja from the militant group.
On the outskirts of Falluja, tens of thousands of Iraqi soldiers, police officers and Shiite militiamen backed by Iran are preparing for an assault on the Sunni city, raising fears of a sectarian blood bath. Iran has placed advisers, including its top spymaster, Qassim Suleimani, on the ground to assist in the operation.
The battle over Falluja has evolved into yet another example of how United States and Iranian interests seemingly converge and clash at the same time in Iraq. Both want to defeat the Islamic State, also known as ISIS or ISIL. But the United States has long believed that Iran's role, which relies on militias accused of sectarian abuses, can make matters worse by angering Sunnis and making them more sympathetic to the militants.
While the battle against the Islamic State straddles the borders of Iraq and Syria, the United States has approached it as two separate fights. In Syria, where the government of Bashar al-Assad is an enemy, America's ally is the Kurds.
But in Iraq, where the United States backs the central government, and trains and advises the Iraqi Army, it has been limited by the role of Iran, the most powerful foreign power inside the country.
That United States dilemma is on full display in Falluja as the fighting intensifies."
2 Chronicles 13:12  And, behold, God himself is with us for our captain, and his priests with sounding trumpets to cry alarm against you. O children of Israel, fight ye not against the Lord God of your fathers; for ye shall not prosper.