THE LEFT'S NEXT STEP: REDEFINING 'HATE SPEECH' AS VIOLENCE
Verse of the Day
Romans 1:18  For the wrath of God is revealed from heaven against all ungodliness and unrighteousness of men, who hold the truth in unrighteousness;
Commentary
This is a move to restrict freedom of speech and the 1st Amendment. The are saying that "hate speech" is violence and needs to be censored. Of course, they will be the ones who decide what is hate speech. Please take this very serious because like Islam, the Hard Left has to block the truth to survive. It is built on lies, so the truth must be destroyed.
May the Holy God of Israel bless and protect you.
Philippians 3:20,21 For our conversation is in heaven; from whence also we look for the Saviour, the Lord Jesus Christ: Who shall change our vile body, that it may be fashioned like unto his glorious body, according to the working whereby he is able even to subdue all things unto himself.
Hard Left/ American Fascism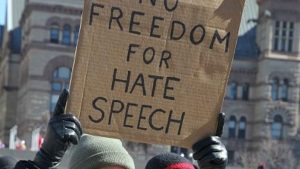 THE LEFT'S NEXT STEP: REDEFINING 'HATE SPEECH' AS VIOLENCE 07/24/17
Romans 1:18 For the wrath of God is revealed from heaven against all ungodliness and unrighteousness of men, who hold the truth in unrighteousness;

"An article in the Sunday Review section of the July 16 New York Times posed a question which, once upon a more innocent time, would have been considered nonsensical: "When Is Speech Violence?" The response of any person who cares about the clarity of language would properly be "Never," but Lisa Feldman Barrett, a professor of psychology at Northeastern University, asserts in the Times piece that the science is settled: "speech that bullies and torments" is "literally a form of violence."
It might seem obvious, Barrett begins, that "violence is physically damaging; verbal statements aren't." Yes, that should be obvious to anyone except illiberals, who know that whoever controls the language controls minds. So they are hell-bent on weaponizing words to advance their totalitarian agenda.
The left has spent decades successfully normalizing the intentionally vague term "hate speech" in the culture, even going so far as to insist that it should not be protected by the First Amendment. But what is "hate speech"? It's anything the left wants it to be, of course.
When the media elites of CNN or HBO or The View or late night talk shows openly bash Christians or the traditional values of flyover Americans, it is never, ever condemned as hate speech; but those same elites leap to denounce virtually everything the right says as such. It is a brilliantly effective way to delegitimize conservatives and their ideas, and to exclude them from the public sphere."
Paganism/ Homosexuality
Satanic Temple Founder Says Over Half of Members Could Be LGBTQ 07/25/17  This is a turning back to paganism, which was ripe with sexual licentiousness. When I was helping to save babies at the abortion centers, it was shocking to see the number of homosexuals supporting that killing, along with the atheists. All of those in deep rebellion against God flock to things like the satanic temple and abortion centers.
Revelation 9:20-21 And the rest of the men which were not killed by these plagues yet repented not of the works of their hands, that they should not worship devils, and idols of gold, and silver, and brass, and stone, and of wood: which neither can see, nor hear, nor walk: Neither repented they of their murders, nor of their sorceries, nor of their fornication, nor of their thefts.

"The co-founder of the Satanic Temple said that he would "not be surprised" if over half of the group's members identify as LGBTQ because of its "radically-inclusive space."
"We don't have strict separations or definitions of our gay membership, our trans membership, or anybody else," Lucien Greaves said in an article for Vice published on Monday. Still, Greaves offered that "he wouldn't be surprised if more than half identify as such."
Vice described the Satanic Temple as a "platform for LGBTQ members to celebrate their identities," and suggested that they are drawn by the "radically-inclusive space for people who identify in all sorts of ways."
Greaves explained in previous interviews that the Satanic Temple's members do not believe in Satan and God as literal beings, but view Satan as a "metaphorical construct" of rebellion."
Islam/ Jerusalem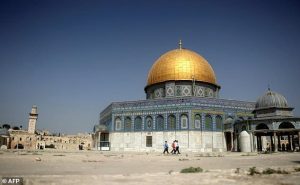 Erdogan urges all Muslims to 'visit' and 'protect' Jerusalem 07/25/17  The Muslims just can't let Jerusalem go. They are going to push about the Temple Mount until there is a war, and this war over Jerusalem is going to break the back of Islam.
Joel 3:16  The LORD also shall roar out of Zion, and utter his voice from Jerusalem; and the heavens and the earth shall shake: but the LORD will be the hope of his people, and the strength of the children of Israel.

"Turkish President Recep Tayyip Erdogan on Tuesday urged all Muslims to visit and protect Jerusalem after violence broke out over metal detectors that Israel installed and later removed from a sensitive holy site in the city.
"From here I make a call to all Muslims. Anyone who has the opportunity should visit Jerusalem, Al-Aqsa mosque," Erdogan said in Ankara. "Come, let's all protect Jerusalem." He was referring to the site, known to Jews as the Temple Mount, which is central to the Israeli-Palestinian conflict.
Israel installed metal detectors at entrances to the site, which also includes the Dome of the Rock, following an attack on July 14 that killed two Israeli police officers. Palestinians viewed the security measures as Israel asserting further control over the site and deadly clashes erupted during protests.
"They are attempting to take the mosque from Muslim hands on the pretext of fighting terrorism. There is no other explanation," Erdogan said in a speech to ruling Justice and Development Party (AKP) lawmakers in parliament."
California Imam Prays for Allah to 'Annihilate' Jews in Public Sermon 07/25/17  God is bringing to light what really is in the Koran and Hadiths. The Muslims try and hide the truth, but it is coming out. Islam is a very dangerous religion and ISIS is following what Muhammad did.
Micah 4:2  And many nations shall come, and say, Come, and let us go up to the mountain of the LORD, and to the house of the God of Jacob; and he will teach us of his ways, and we will walk in his paths: for the law shall go forth of Zion, and the word of the LORD from Jerusalem.

"Imam Ammar Shahin of the Islamic Center of Davis in California delivered a sermon on Friday in which he quoted an antisemitic hadith and prayed for Allah to "annihilate" Jews "down to the very last one."
The topic of the sermon was the ongoing controversy at the Temple Mount in Jerusalem, where the Israeli government installed metal detectors at access points to the Al-Aqsa Mosque after a terrorist shot and killed two Druze Israeli soldiers earlier this month.
Jewish visitors to the nearby Western Wall have had to pass through metal detectors for decades, due to the security threat of terrorism. Nevertheless, the new metal detectors for Muslim worshippers have been whipped into a source of outrage among Palestinians and throughout the Muslim world.
In his sermon at the Islamic Center, Shahin quoted, in Arabic, one of the most notorious antisemitic hadiths (teachings of Muhammad) — one quoted by the Hamas charter — in which Muslims are called upon to kill the Jews to bring about Judgment Day, and in which Muhammad is said to prophesy that the Jews will try to hide behind rocks and trees, which will call out to Muslims to kill them."
Christian Apostasy/ Jerusalem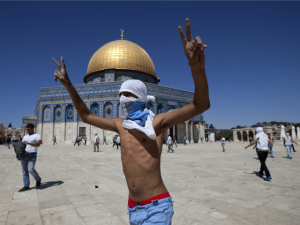 World Council of Churches Sends Message of Support For Palestinian 'Campaign For Jerusalem' 07/24/17  The WCC is an apostate group that is pro-Muslim. They never side with Israel, so this is not surprising. They are lined up with the Muslims, so they will receive the same judgment. Because of the terror attack, Israel wants to permanently keep metal detectors and security cameras, while the WCC uses lies to attack Israel! There is no truth in these people.
Zechariah 8:8  And I will bring them, and they shall dwell in the midst of Jerusalem: and they shall be my people, and I will be their God, in truth and in righteousness.

"The World Council of Churches (WCC) officially endorsed the Palestinian "campaign for Jerusalem," saying that Israel's recent move installing additional security measures at the Temple Mount following a terror attack there was a "corrosive act in the midst of an already-fragile peace."
"Keeping the historical status quo and supporting equal rights for Christians, Muslims and Jews at these holy sites is vitally important to maintaining peace and de-escalating violence," said Fr. Ioan Sauca, acting general secretary of the WCC.
"Denying access to holy sites for thousands of people who have traveled far to pray is not only a violation of the rights of those individuals, but also a corrosive act in the midst of an already-fragile peace," Fr. Sauca said."
Jerusalem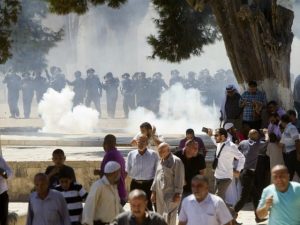 Two Dozen Palestinians Wounded in Fresh Clashes Over Temple Mount 07/24/17  The latest update.
"The Times of Israel reports: More than two dozen Palestinians were wounded in fresh clashes that broke out on Sunday night in Jerusalem and the West Bank as Palestinians continued to protest against new security measures at the entrance to Jerusalem's Temple Mount.
The continued violence comes after three Palestinians were killed in clashes with Israeli forces on Friday during riots over the Temple Mount metal detectors, and two more died Saturday, including one who died when a petrol bomb he was planning to throw at Israeli security forces exploded prematurely."

 Science: 666 Surveillance System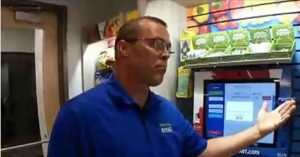 Wisconsin Company to Implant Microchips In Employees 07/24/17  This is right out of Revelation 13 from the Bible! They are getting ready to mass produce chips to put into the hand for buying and selling!
I think the young are ready for this technology and will fall for it. When this technology is combined with cashless buying, it is easy to see how everything can be controlled by the government!
Revelation 13:16-18  And he causeth all, both small and great, rich and poor, free and bond, to receive a mark in their right hand, or in their foreheads: And that no man might buy or sell, save he that had the mark, or the name of the beast, or the number of his name. Here is wisdom. Let him that hath understanding count the number of the beast: for it is the number of a man; and his number is Six hundred threescore and six.

"A Wisconsin company is about to become the first in the U.S. to offer microchip implants to its employees. Yes, you read that right. Microchip implants. "It's the next thing that's inevitably going to happen, and we want to be a part of it," Three Square Market Chief Executive Officer Todd Westby said. Just as people are able to purchase items at the market using phones, Westby wants to do the same thing using a microchip implanted inside a person's hand. "We'll come up, scan the item," he explained, while showing how the process will work at an actual break room market kiosk. "We'll hit pay with a credit card, and it's asking to swipe my proximity payment now. I'll hold my hand up, just like my cell phone, and it'll pay for my product."
Health and Nutrition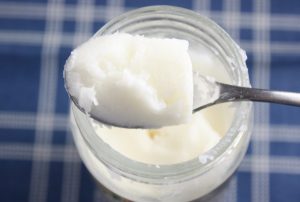 Big Food starts anti-coconut oil campaign again, despite studies showing its great for your health 07/24/17  More lies from the Babylonian health system! They love money and could care less about your health. They are despicable.
"Coconut oil is highly regarded for its wide array of uses: From moisturizing skin and clearing up acne to cooking your favorite foods, there's plenty of reasons why people love coconut oil. But, as you may have noticed, this versatile fat has been getting a lot of bad press lately. For example, the United Kingdom's Telegraph recently published a hit piece that declared the saturated fat in coconut oil makes it bad for you.
Now, the logic here actually has little to do with the actual composition of coconut oil. When making the claim that coconut oil is bad for you, the Telegraph falls back on the American Heart Association's general stance on saturated fat as a whole. The argument against saturated fat has been highly contested — and when it comes to coconut oil specifically, this generalization falls short. Why? In addition to the fact that saturated fat is not the enemy it has been made out to be, coconut oil also features a highly beneficial type of saturated fats, called medium-chain fatty acids."

Psalm 51:12  Restore unto me the joy of thy salvation; and uphold me with thy free spirit.