THE NEW WAR ON CONSERVATIVE MEDIA
Verse of the Day
 1 John 4:5 They are of the world: therefore speak they of the world, and the world heareth them.

Commentary
The Hard Left now realizes that the people don't need them, and we see through their propaganda. Like the totalitarians they are, they must crush all opposition which means the free internet. The battle is far from over as the reprobates are energized by hell and will never give up until they are destroyed by Christ at his Second Coming.
We need: "Eternal vigilance is the price of liberty." Thomas Jefferson.
May the Holy God of Israel bless and protect you.
Hebrews 11:8-10 By faith Abraham, when he was called to go out into a place which he should after receive for an inheritance, obeyed; and he went out, not knowing whither he went. By faith he sojourned in the land of promise, as in a strange country, dwelling in tabernacles with Isaac and Jacob, the heirs with him of the same promise: For he looked for a city which hath foundations, whose builder and maker is God.
Hard Left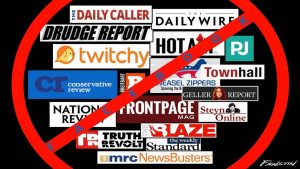 THE NEW WAR ON CONSERVATIVE MEDIA 11/125/16  
"The war on conservative media is being conducted under the guise of banishing "fake news" from Facebook. But the fake news devil is in the details. Fake news can mean satire sites like the Onion or the Daily Currant. It can mean foreign clickbait sites that invent fake news. But it can also mean sites from outside the mainstream media whose stories are contested by the left for partisan reason.
The war on fake news is a smoke screen for a campaign against conservative media. And it's easy to see that it's conservative sites that are the real target of the Facebook book burners.
Buzzfeed, which depends heavily on Facebook traffic , has fed the "fake news" hysteria. Its list of "fake news" sites includes "hyperpartisan" sites. Its story contrasting "legitimate" mainstream media outlets, a category that somehow includes the Huffington Post, with a variety of right-leaning sites is a major piece of supporting evidence used in the fake news crusade."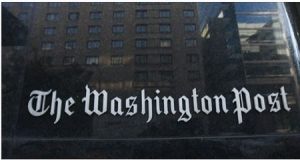 Washington Post Disgracefully Promotes a McCarthyite Blacklist From a New, Hidden, and Very Shady Group 11/27/16  I have not posted all that much about what has happened since Trump was elected. I don't want to spend time on routine events. What I really am focused on is what the Hard Left is doing to overthrow Trump's win and the nation in general. The Hard Left are ruthless totalitarians that are determined to bring down America and create a one world government with them in charge.
What they are in the process of doing right now is attacking all media but theirs and calling us "fake news" under the control of Russia! They are trying to look like the good guys who are pro-America while we are agents of Putin promoting lies! Right now they are very weak. Most of the police hate them because they supported the groups who want to kill the police. When Trump is in power, he can purge the Obamaites out of the military. It is most important that he does this ASAP.
The Hard Left needs the police and army to takeover, so right now they are weak. They also need the mass of the people to go along with them, but right now the masses sees what liars they are.
I will follow Obama when he leaves office, because I can see him uniting all of the Hard Left behind him and creating a "fifth column". There is no doubt that Obama and Soros will do everything they can to create a revolution in America.
The core of their "Brown Shirts" will be Black Lives Matter, Muslim groups like CAIR, homosexual groups, hard core Planned Parenthood types, illegal aliens and anarchists. Whoever hates God will flock to the revolution. Obama will find fertile ground in the colleges, so watch for the colleges to be the source of this revolution. Right now Obama and the Hard Left are reorganizing. They are not fully beaten.
"The Washington Post on Thursday night promoted the claims of a new, shadowy organization that smears dozens of U.S. news sites that are critical of U.S. foreign policy as being "routine peddlers of Russian propaganda." The article by reporter Craig Timberg — headlined "Russian propaganda effort helped spread 'fake news' during election, experts say" — cites a report by an anonymous website calling itself PropOrNot, which claims that millions of Americans have been deceived this year in a massive Russian "misinformation campaign."
The group's list of Russian disinformation outlets includes WikiLeaks and the Drudge Report, as well as Clinton-critical left-wing websites such as Truthout, Black Agenda Report, Truthdig, and Naked Capitalism, as well as libertarian venues such as Antiwar.com and the Ron Paul Institute.
This Post report was one of the most widely circulated political news articles on social media over the last 48 hours, with dozens, perhaps hundreds, of U.S. journalists and pundits with large platforms hailing it as an earth-shattering exposé. It was the most-read piece on the entire Post website on Friday after it was published."
As France Has Done to Israel
France on the Verge of Total Collapse 11/27/16  There appears to be no hope for France. The French government is determined to lead the way against Israel and divide Jerusalem. They are getting worse against Israel with no let-up.
Now look at the condition of France as it falls under the awesome judgment of the Holy God of Israel. There is no doubt that God is using Islam to break France and bring it under Islam. France is a dying society that now is being eaten by Islam.
Psalm 9:17  The wicked shall be turned into hell, and all the nations that forget God.

"France did not perceive it at the time, but it placed itself in a trap, and the trap is now closing.
In the 1970s, the Palestinians began to use international terrorism, and France chose to accept this terrorism so long as France was not affected. At the same time, France welcomed mass-immigration from the Arab-Muslim world, evidently as part of a Muslim wish to expand Islam. France's Muslim population has since grown in numbers while failing to assimilate.
Polls show that one-third of French Muslims want the full application of Islamic sharia law. They also show that the overwhelming majority of French Muslims support jihad, and especially jihad against Israel, a country they would like to see erased from the face of earth.
"It is better to leave than flee." — Sammy Ghozlan, President of the National Bureau of Vigilance against Anti-Semitism. He was later mugged, and his car was torched. He left.
Villiers also mentions the presence in "no-go zones" of thousands of weapons of war. He adds that weapons will probably not even have to be used; the Islamists have already won.
Originally, France's dreams might have been of displacing America as a world power, accessing inexpensive oil, business deals with oil-rich Islamic states, and the prayer of no domestic terrorism."
Israel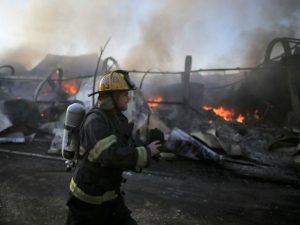 Arab Social Media Hate Rages On: 'Allah, Make Sure Petrol Falls On Israel Instead Of Rain' 11/25/16  Now the terrorism against Israel is with arson. The day is coming for the all-out war between Israel and the Arabs. Israel can't make peace with them, because Hamas is part of the PLO. They don't want peace, they want the destruction of Israel.
"Two of the most popular hashtags currently trending on Arab social media are #Zionist_entity_burns and #Israel_on_fire, as a significant volume of users rejoiced in the wake of a string of forest fires striking Israel this week, some of which were reportedly sparked by arsonists.
Some social media users claimed the blazes were divine punishment for a bill that was recently deliberated in the Knesset seeking to impose noise restrictions on houses or worship, legislation that could impact the notoriously loud Muslim calls for prayer.
Other users announced that despite the drought in the region, whoever prays for rain in Israel is a traitor.
Bahar Ibrahim recalled that Thursday was the anniversary of the death of Abdullah Azzam, a Palestinian militant from the northern West Bank who was an influence on Osama bin Laden during his sojourn in Afghanistan.
"#Zionist_entity_burns on the anniversary of the martyrdom, on 24 November 1989, of Sheikh Abdullah Azzam. Is there a greater avenger than Allah?"
Earthquakes/ Israel
New Zealand warning 11/25/16  This is a very interesting article about the recent 7.2 earthquake hitting New Zealand and John Kerry there with the distinct possibility he is trying to get New Zealand's support in the UN to divide Israel.
There is fear that before Obama leaves office, he will move in the UN to divide Israel.
Islam/ American Politics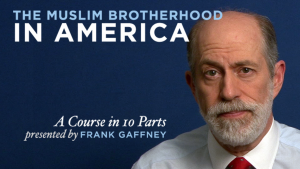 BAD NEWS FOR THE BROTHERHOOD: FRANK GAFFNEY ADVISING TRUMP TEAM 11/27/16  This is great news because Gaffney is an expert on real Islam and will tell Trump the truth. He is exactly who we need advising Trump.
"He's made fighting the Muslim Brotherhood into a major priority. And the Brotherhood is a bigger threat than ISIS. And he would be one of the experts who makes the Brotherhood's American bases very nervous indeed.
Gaffney said one of Trump's most important tasks will be "stopping, designating, rolling up the Muslim Brotherhood in America as the terrorist organization it is."
"It's going to be vital to everything else he's trying to do. We've got to stop taking counsel from them, direction from them, and allowing them to operate in our midst subversively, and that's what's been going on for some fifty years now," he said."
Islam
Time to confront Arab sexual terrorism against Jewish girls 11/27/16  Wherever Muslim men interact with non-Muslim women there is trouble. The problem is the life of Muhammad and Islamic teachings about non-Muslim women. This problem is happening all over the world, and as the Muslims are getting more aggressive, sexual assaults go with it.
"If we're talking about women's rights and sexual harassment, the natural place to deal with the issue is in this committee, regardless of who chairs the committee."
According to Malinovsky the number of women reporting harassment and assaults in mixed cities has spiked recently, yet little to nothing has been done to deal with the troubling trend. The girls are helpless, they're getting no assistance."
"No one really deals with the issue, ignoring them because it's not politically correct to talk about it."
The Yisrael Beytenu MK says she and her staff have met with between 20 and 30 women who shared their own stories of sexual assault and harassment.
"When we started to talk to these women, we saw that this was a pattern repeating itself in Upper Nazareth, Ramleh-Lod, and Jerusalem. They [the Arab attackers] tried to catch them in the dark; one tried to steal a woman's dog so they could shove her into a car; [in another case] they spit on a female soldier in Upper Nazareth; at the entrances to buildings they try to grope [women] in all kinds of intimate places."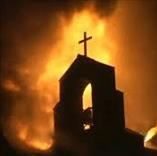 Islam's Jihad on the Christian Cross 11/27/16 
1 Corinthians 1:18  For the preaching of the cross is to them that perish foolishness; but unto us which are saved it is the power of God.

"What more evidence is needed to prove that Islam is at war with Christianity than its well documented hatred for the quintessential symbol of Christianity: the cross?
This recently occurred to me as I was surfing Arabic-language videos and websites discussing Christianity – only to encounter one hostile video, fatwa, or sermon after another against the cross.
Only one seemingly spoke well of the cross – though for a reason that again demonstrated Islam's hostility for Christians. According to Al Azhar professor Dr. Salim Abdul Galil, Muslims can be tolerant of the cross – they can even wear and pray before it – but only when in need of deceiving Christians, whom the learned cleric portrayed as the natural enemies of Muslims.
The most telling talk show featured Sheikh Abdul Aziz al-Tarifi, a Saudi expert on Islamic law. Asked about Islam's ruling on whether any person – in this case, Christians – is permitted to wear or pray before the cross, the learned Muslim explained: "Under no circumstances is a human permitted to wear the cross" nor "is anyone permitted to pray to the cross." The reason? "Because the prophet – peace and blessings on him – commanded the breaking of it [the cross]."
The Coming Middle East War
Russia and Hezbollah 'officially' working together in Syria 11/25/16  This could lead to a confrontation with Israel. Russia is really pushing Israel sonce Hezbollah is Israel's enemy and can only let cooperation with Russia go so far. If Russia transfers weapons to Hezbollah, this could cross the red line with Israel.
"Russia and Hezbollah have begun "official" military coordination in Syria at the behest of Moscow, according to a report published Thursday on a pro-Hezbollah news site.
The pro-Hezbollah Lebanese website al-Akhbar reported that Hezbollah officials met with "senior" Russian officers in the embattled city of Aleppo last week in the "first official and direct" meeting between the two sides since the start of Moscow's year-long military involvement in the Syrian civil war.
Russia is especially interested in coordinating with Hezbollah's infantry on the ground in Aleppo, where airstrikes are less effective in the densely packed city, the report said.
The Iranian-backed militia is estimated to have 6,000-8,000 fighters in Syria, but some analysts think the number could be higher.
There has already been clear coordination between Hezbollah and Russia, and between Russia and other Shiite militias in Syria as well, said Michael Horowitz, director of Intelligence at Prime Source, a Middle East-based geopolitical consultancy, adding that he wasn't surprised by the report."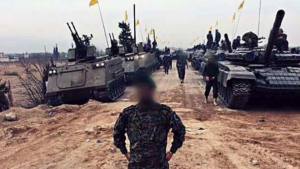 HEZBOLLAH'S BRAZEN DISPLAY 11/27/16  As Iran grows stronger, Hezbollah grows bolder against Israel. The day is coming when Iran, Syria, Hezbollah and Lebanon will coordinate an attack against Israel. Russia also may be part of it. They all will be destroyed and this event will change the face of the Middle East, with Israel left standing.
"Last week the Shia terrorist organization and Iranian proxy, Hezbollah, held a military parade in the city of Al-Qusayr, located in western Syria. The venue was likely chosen for its symbolism. In 2013, it was the site of fierce battles between the Free Syrian Army and Hezbollah. Though it suffered heavy casualties, the Shia terror group eventually gained the upper hand over the rebels and succeeded in ejecting them from the city and surrounding region.
The parade featured a wide assortment of Russian weapons including laser guided AT-14 Kornet anti-tank missiles, T-72 tanks equipped with reactive armor and R-330P electronic warfare vehicles. But among the weapons displayed, one stood out as a curiosity – the American made M-113 armored personnel carrier. The Hezbollah configuration mounts a twin 23mm anti-aircraft cannon that could also be used in an infantry support role."
Earthquakes
Large M7.2 earthquake strikes Central America — Hurricane directly over location 11/25/16  This is a great update by Dutch Sinse. The Lord has blessed him with great insight to earthquakes and what causes them.
2 Timothy 3:12-13  Yea, and all that will live godly in Christ Jesus shall suffer persecution.
But evil men and seducers shall wax worse and worse, deceiving, and being deceived.