The Texas Church Shooting
Verse of the Day
Revelation 2:10 Fear none of those things which thou shalt suffer: behold, the devil shall cast some of you into prison, that ye may be tried; and ye shall have tribulation ten days: be thou faithful unto death, and I will give thee a crown of life. (11) He that hath an ear, let him hear what the Spirit saith unto the churches; He that overcometh shall not be hurt of the second death.
Commentary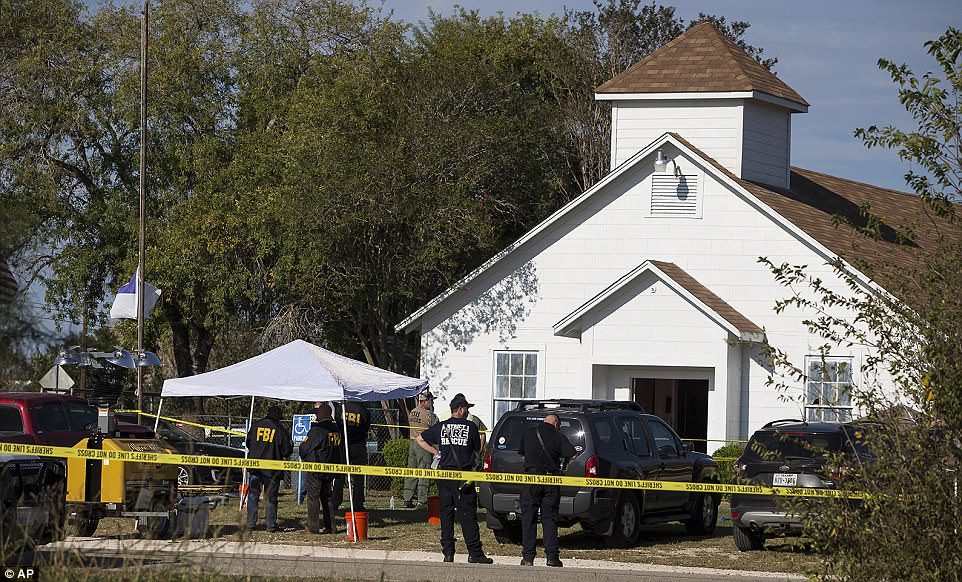 It was very emotional to follow the shooting at this church. I had tears in my eyes. What a contrast between evil and good. It could not be any clearer.
My take on this is to tie it with the Las Vagus shooting, and we have to recognize that a vicious murdering spirit is now loosed on America. As the level of sin in America increases, so does violence and murder. Because of this, churches across the nation must take steps to protect the people attending services. This is NOT an option. I have warned for several years that pastors need to protect the people. A mass shooting at a church was unheard of years back, but now with the spiritual state of America it is a reality. If you attend a church, please check with the pastor about what safety plan he has. If there is not one, this must be addressed as failing to attack is the sign of hireling and not a true pastor.
Proverbs 27:12 A prudent man foreseeth the evil, and hideth himself; but the simple pass on, and are punished. 
TEXAS CHURCH SHOOTING
The following email was sent to me regarding Pastor Frank Pomeroy, who lead the Sutherland Springs Baptist Church. He warned his church of coming persecution and was strong pro life.

The email: "Regarding the tragic shooting at the small Baptist church in Texas, I listened to several sermons given by Pastor Frank Pomeroy that are posted on You Tube. His topics are direct and significant regarding life issues, that is why I am sending this. In recent weeks, he has come out strongly against abortion. He relates it to witchcraft, which he exposes as ungodly.

He seems to be a kind, plain-spoken man who speaks fundamental biblical truths. He gave useful suggestions on how to present the Gospel message in loving ways to those who practice witchcraft, which is so commonplace now. He preached that Christians in America are being persecuted and violence is being perpetrated against them. He said that to be Christian means we have to anticipate persecution.

In last Sunday's homily, he emphasized trusting God no matter what and leaning into God, not relying on our own understanding. He mentioned his precious daughter by name several times, emphasizing the closeness of their relationship. He brought his own Harley motorcycle in and placed it before the pulpit to make his homily practical and down to earth. He was speaking clearly about biblical Christian truth to his congregation. Just one week later, his daughter was killed, along with half the congregation. The other half are wounded.

They are "ordinary, salt of the earth" people who could be any one of us, our friends and neighbors. He speaks truth with clarity that anyone can understand, even young children. He has pastored the family-oriented church for 15 years. The members know each other well, embrace each other as extended family in the tiny, tight-knit community of 500 people. Let's continue in prayer support for them all. Also for discernment and courage in how we can speak truth plainly in these challenging times.

(These are merely my personal observations and perspective from being "in the trenches" on life issues and opposing witchcraft, as well as based on the limited information available less than 24 hours after the tragedy.)"
"Sutherland Springs Pastor Finally Speaks Out" 11/07/17 (Video) This is very touching and please pray for the Lord's comfort for them and the entire town.
1Thess 4:16,17 For the Lord himself shall descend from heaven with a shout, with the voice of the archangel, and with the trump of God: and the dead in Christ shall rise first: Then we which are alive and remain shall be caught up together with them in the clouds, to meet the Lord in the air: and so shall we ever be with the Lord. (18) Wherefore comfort one another with these words.

From the article: "Frank Pomeroy and his wife, Sherri, were out of town on Sunday when a gunman took their little church by storm, opened fire and killed 26 people, including their 14-year-old daughter. "We had a long night with our children and grandbabies we have left," Frank said, tears choking his voice."
Proverbs 28:1 The wicked flee when no man pursueth: but the righteous are bold as a lion.

From the article: ""I'm no hero. I'm not," Stephen Willeford told 40/29 News reporter Joshua Cole in a video interview on Monday. "I think my God, my Lord, protected me and gave me the skills I needed to do what needed to be done."
"I just wish I could have gotten there faster," Willeford said in an emotional interview. "I didn't know. I didn't know what was happening." Willeford told Cole the experience was surreal. "I was scared," he said. "It was surreal to me — it couldn't be happening."

After hearing the "pop pop pop pop' sound that was all too familiar to a former NRA instructor, Willeford said he grabbed his rifle and quickly loaded rounds into his magazine. When he stepped out onto the street, he saw a man wearing all black, a tactical helmet, and a ballistic vest."I kept hearing the shots, one after another, very rapid shots – just 'pop pop pop pop' and I knew every one of those shots represented someone, that it was aimed at someone, that they weren't just random shots," Willeford explained. "He saw me and I saw him." He said he took cover and did what he had to do.

Texas officials reported in a press conference Monday night that Devin Patrick Kelley, the killer of 26 people in the First Baptist Church of Sutherland Springs, was struck by Willeford's gun fire two times — once in the torso and once in the leg." He then dropped his rifle, got in his car, and fled the scene before he could shoot any other people who were outside the church.
Willeford then stopped a passing neighbor and asked for help. "That guy just shot up the Baptist church," he told the driver. He climbed in the car and together, they took off in pursuit of the deranged killer. They eventually caught up to Kelley's SUV shortly before he crashed into a road sign. They later learned Kelley shot himself in the head after calling his father."
BACKGROUND TEXAS CHURCH SHOOTING
The shooter received a dishonorable Discharge from the Air Force which was never reported to the federal data base for background checks. Because of this, he cleared the background check when he purchased the weapons! If the Air Force had followed the law, he would have been blocked and the feds notified of his attempt, which is a felony!
From the article: " Devin Patrick Kelley had a violent history and a disturbing history of dating teen girls
In 2012, Kelley was court-martialed for abusing his then wife Tessa Kelley and his infant stepson

A former Air Force chief prosecutor said that Kelley admitted to beating his son so severely that the boy's skull fractured

Kelley was sentenced to 12 months confinement and was reduced to the lowest rank possible

Soon after being released, he remarried to 19-year-old Danielle Lee Shields

The two moved to Colorado that year, when Kelley was arrested for beating their pet pit bull puppy

Authorities said Monday that the couple had become estranged sometime after moving in with Kelley's parents in New Braunfels, Texas earlier this year

He was also on bad terms with his wife's mother, Michelle Shields, who attended First Baptist Church in Sutherland Springs, Texas. His mother-in-law was not at the church at the time of the massacre, but her mother was and died"
Psalm 116:15 Precious in the sight of the LORD is the death of his saints.