There is no such thing as Israel's "pre-1967 borders"
Verse of the Day
Zechariah 14:1-2 Behold, the day of the LORD cometh, and thy spoil shall be divided in the midst of thee. For I will gather all nations against Jerusalem to battle…
Commentary
I am very sorry that I was not able to update you about what is going on with Obama/UN attacking Israel. What we are seeing is spiritual war in the heavens spill over into the physical!
Notice how God has his man Donald Trump in place to help Israel and watch Israel's back! Do you see God's timing in all of this!!! Amazing to watch this unfold.
This all tells me that huge wars are coming in 2017, and the center of it just might be Jerusalem. God will move to defend his everlasting covenant with Abraham and the Jewish people.
What Obama did was energize the enemies of Israel and position them to attack Israel in a vicious war. Israel is going to defend itself and destroy these enemies. This could result in a fight to the finish. America is very important in all this as support for Israel because it has no friends in the world. This very well might be the Obadiah/Psalm 83 war that I often write is coming.
Fasten  your seat belts because 2017 is going to be a rough ride. It looks more and more that Trump is God's man of the hour just as in 1947/48 President Harry Truman was God's man of the hour when Israel became a nation.
May the Holy God of Israel bless and protect you.
Exodus 15:3  The LORD is a man of war: the LORD is his name.
Israel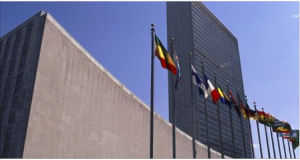 There is no such thing as Israel's "pre-1967 borders" 12/27/16  This is a great article that gives you some history about the pre-1967 borders of Israel. What the UN and Obama just did was set up Israel for destruction, but the Israelis are not going to roll over and die for the UN.
I can see a fierce war coming between the PLO/Hamas/Hezbollah against Israel. They are not going to win, but Israel is going to be victorious because or the everlasting covenant God with Abraham and the Jewish people.
Genesis 17:7 And I will establish my covenant between me and thee and thy seed after thee in their generations for an everlasting covenant, to be a God unto thee, and to thy seed after thee. (8) And I will give unto thee, and to thy seed after thee, the land wherein thou art a stranger, all the land of Canaan, for an everlasting possession; and I will be their God.

"The "pre-1967 borders" do not exist and never did. They are simply 1949 ceasefire lines and post Six Day War UN Resolution 242 made it clear that Israel was not expected to move back to those 1949 armistice lines.
The armistice line was created solely because that's Israeli and Arab forces stopped fighting at the end of the War of Independence (with some added adjustments in certain sectors). Therefore that 1949 line, that people call 1967 border is really only a military line.In fact, 1949 Armistice Agreement with the Jordanians explicitly specified that the line that was designated did not compromise any future territorial claims of the two parties, since it had been "dictated by exclusively by military considerations."
Of course the Jordanian rationale for that clause was to allow them to claim territory inside the armistice line for their very own."
Israeli envoy: Obama gave Palestinians ammunition for diplomatic war on Israel 12/27/16  The European Union is just waiting to assist the PLO with its attack against Israel. War clouds are gathering over the Middle East and Europe.
"The Israeli ambassador to the United States, Ron Dermer, said Monday that US President Barack Obama has given the Palestinians ammunition for waging a multi-pronged war on Israel by refusing to wield the US's veto power at the United Nations Security Council where a resolution condemning Israeli settlements was passed last week, sparking a diplomatic war of words between Jerusalem and Washington.
Infuriated, Israel launched a scathing attack on the Obama administration, accusing the US government of pushing for the resolution after it was withdrawn Thursday by Egypt (which drafted it), of abandoning and ambushing its closest Mideast ally, and of cooperating with the United Nations against Israel."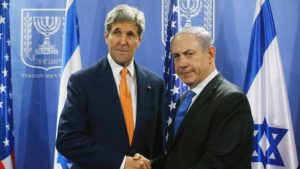 Israel Fears American, French Initiative in Paris Conference Before Obama Leaves Office 12/26/16  I believe that what Obama is doing is now personal between him and the Lord. He is like Haman in the book of Ester, who planned on destroying the Jews.
This is not going to turn out good for Obama. He is directly in the Lord's face and challenging God's prophetic plan for Israel. There is no doubt that he conspired to do this with other Israel-hating nations like France.
I sense a dread over me concerning Obama.
Esther 7:10 So they hanged Haman on the gallows that he had prepared for Mordecai. Then was the king's wrath pacified.

"Israel fears that the United States and France want to advance another move on the Israeli-Palestinian issue before the Obama administration wraps up its term.
A senior official in Jerusalem said that during Sunday's security cabinet meeting, ministers were presented with an assessment that during the international foreign ministers' meeting scheduled for January 15 in Paris as part of the French peace initiative, a series of decisions on the peace process will be made. These will immediately be brought to the UN Security Council for a vote and will be adopted there before January 20."
Israel/ The Coming Middle East War
Fatah thanks UN members for giving it 'permission' to kill Jews 12/26/16  After what happened in the UN, I expect an explosion of violence against Israel. Everything has changed now with what Obama just did. I think Obama has more evil coming, right up to January 20, when he leaves office.
"Fatah's official Facebook page posted a picture of "Palestine" last week. The picture includes the entirety of Israel painted in the colors of the PLO flag, being used to stab the word "settlement," Palestinian Media Watch (PMW) reported.
After the UN Security Council unanimously voted to adopt a resolution condemning any and all Jewish presence over the 1949 armistice lines, Fatah published an updated version of the same picture, this time with the words "thank you" added above the names of the 14 countries which voted in favor of the resolution. A puddle of blood was also added to the bottom of the picture.
According to PMW, the image shows that "Fatah is saying more Israelis will pay with their lives as a result of the UN resolution."
As the World Has Done to Israel
Abbas hopes Paris summit ends settlements" 12/27/16  The huge war starting in the Middle East must be close! The tension is growing by the day. It appears that this is an all-out attack by the world against Israel.
They must sense that Trump is going to back Israel and they are trying to do as much damage as possible. Watch as Jerusalem will be the center of all this trouble. God's time for judgment is near.
"The Palestinian Authority President said Tuesday that he hopes the upcoming Mideast conference in France will set a timetable to end settlements, as Israel moves ahead with new housing unit construction in eastern Jerusalem, despite the recent UN Security Council resolution condemning construction there.
The developments came just days after the United States broke with past practice and allowed the UN Security Council to condemn Israeli settlements in the West Bank and eastern Jerusalem as a "flagrant violation" of international law.
"The decision lays the foundation for any future serious negotiation … and it paves the way for the international peace conference slated to be held in Paris next month and we hope this conference comes up with a mechanism and timetable to end the occupation," Abbas told a meeting of his Fatah party. "The (resolution) proves that the world rejects the settlements, as they are illegal, in our occupied land including East Jerusalem."
As the EU Has Done to Israel
Israel urges Jews to leave France as Benajmin Netanyahu continues to lash out after UN vote 12/27/16  It is time for the Jews not only to get out of France but all of Europe. As the attacks increase on Israel, it will become very dangerous for the Jews in Europe.
"Israel's defence minister has urged Jews to leave France and move to the Jewish state as the Israeli government continued to lash out at the international community in the wake of a UN resolution criticising its settlements in the occupied West Bank.
Four days after the US allowed the UN Security Council to censure Israeli settlement building, Israel's government is on a heated rhetorical campaign against the 14 countries that voted against it.
It has cut aid programmes, summoned ambassadors for angry admonishing and Benjamin Netanyahu, the Israeli prime minister, has apparently decided to snub Theresa May at next month's Davos meeting in retaliation for Britain's vote."
New World Order – World Government
The UN Declares War on Judeo-Christian Civilization 12/27/16  It is really the time for the US and Israel to stand up to the UN and call it what it is. It is a platform for the Hard Left and the Muslims to advance their agendas. We need to defund it ASAP and get out of it.
"How is it that Western jurisprudence, created after the Second World War to prevent more crimes against humanity, is now being used to perpetuate more crimes and against democracies?
It is a dreadful manipulation to try erase all Jewish and Christian history, to make believe that all the world was originally and forever only Islamic. That is what a jihad looks like. It is not just orange jumpsuits, beheadings and slavery. If one can erase and rewrite history, one can redirect the future.
If Palestinian men beat their wives, it's Israel's fault, argued UN expert Dubravka Simonovic with a straight face.
Last month, the President of the UN General Assembly sported the famous keffiyah scarf, a symbol of the "Palestinian resistance" (read terrorism). This is simply the continuation of the cultural obliteration of Israel, which is supposed to justify next its physical obliteration.
The UN's war on the Israel's Jews is, at heart, a war against the West. The UN and its backers are briskly paving the way for the European Caliphate."
Hard Left/ Islam
ABC News Worries Hate Hoaxes 'Discredit' Muslims 12/27/16  Amazing, the depth that the main media goes through to protect Muslims. There really is a deep bond between the Hard Left reprobate mind and Muslims.
I think it is there hatred of God and the Bible which is the bond between these two. What else could it be?
"Following a wave of hate crime hoaxes generally reported to make President-Elect Donald Trump supporters look deplorable, ABC News is now highlighting the hardships of the fake claims on Muslims.
In a piece which states that hate hoaxes by Muslim-Americans "discredit" Muslims altogether, ABC News interviewed Islamic followers to shed pity for the Muslim community after a New York City Muslim woman hoaxed an attack by Trump supporters:
After two reports of anti-Muslim hate crimes were determined to be fake by authorities this month, the Muslim community is concerned that these "few false reports" are going to "unfairly discredit and delegitimize the dozens of real anti-Muslim hate crimes and instances Islamophobia out there," according to the Muslim Public Affairs Council (MPAC)."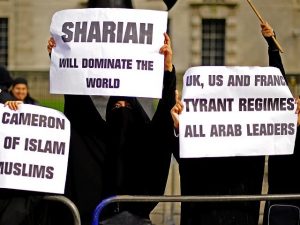 Harvard University Launches Fellowships in Islamic Law to Influence U.S. Policy" 12/26/16  Notice that this is coming from Harvard. It figures because this is the center of the Hard Left thinking. They can commit suicide by Islam, but I don't want them to bring America down with them. I think part of this is from Arab oil money flowing into the school.
"Harvard Law School has announced the launch of a series of paid fellowships for research on issues of Islamic law during the 2017-2018 academic year, aimed at influencing public discourse and U.S. policy on Sharia.
According to a recent email sent by the director of Harvard's Islamic Legal Studies Program, Intisar Rabb, the launch of the new program comes "just in time" for the beginning of the Trump administration and has the goal of "building a community of Islamic law scholars in the academy" as well as informing "policy and media discourse about Islamic law."
The West's Politically Correct Dictatorship: It Has Blinded Us to the Real Danger: Radical Islam 12/26/16  There is no doubt that the Hard Left has a worldwide move on to protect Islam at all cost and to suppress truth. We can see the attempt to put a noose around our necks and slowly pull it tighter and tighter.
We know what they are trying to do, and now we need resolve from Washington to break it. I hope that Trump will break this hold.
"The brave work of the artist Mimsy was removed from London's Mall Galleries after the British police defined it "inflammatory."
In France, schools teach children that Westerners are Crusaders, colonizers and "bad." In their efforts to justify the repudiation of France and its Judeo-Christian culture, schools have fertilized the soil in which Islamic extremism develops and flourishes unimpeded.
No one can deny that France is under Islamist siege. Last week, France's intelligence service discovered another terror plot. But what is the priority of the Socialist government? Restricting freedom of expression for pro-life "militants."
Under this politically correct dictatorship, Western culture has established two principles. First, freedom of speech can be restricted any time someone claims that an opinion is an "insult." Second, there is a vicious double standard: minorities, especially Muslims, can freely say whatever they want against Jews and Christians.
There is no better ally of Islamic extremism than this sanctimony of liberal censorship: both, in fact, want to suppress any criticism of Islam, as well as any proud defense of the Western Enlightenment or Judeo-Christian culture.
Twitter, one of the vehicles of this new intolerance, even formed a "Trust and Safety Council." It brings to mind Saudi Arabia's "Council for the Promotion of Virtue and Prevention of Vice."

Exodus 16:35  And the children of Israel did eat manna forty years, until they came to a land inhabited; they did eat manna, until they came unto the borders of the land of Canaan.