"THIS Should Scare the Hell Out of Every American: Democrats Promise to Persecute Trump Supporters if They Take White House
Verse of the Day
2 Timothy 3:13  But evil men and seducers shall wax worse and worse, deceiving, and being deceived.
Commentary
They continually bring the fight to us. The Hard Left are ruthless, vicious, real Fascists who are beyond reasoning with. I don't say they are real Fascists as hyperbole, but describing what they are by their words and action.
May the Holy God of Israel bless and protect you.
1 John 3:12  Not as Cain, who was of that wicked one, and slew his brother. And wherefore slew he him? Because his own works were evil, and his brother's righteous. 
HARD WAR ON AMERICAN PATRIOTS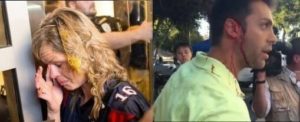 "THIS Should Scare the Hell Out of Every American: Democrats Promise to Persecute Trump Supporters if They Take White House… AND THEY MEAN IT" 
"Far left Senator Elizabeth Warren (D-MA) unveiled a new campaign plan Tuesday. She must have come up with this idea while sitting through hours of sham impeachment testimony in the US Senate.

Warren's plan calls for the creation of a Justice Department task force to investigate and prosecute corruption and immigration "violations" committed by the Trump administration. This plan is hatched while the Democrats/media excuse the Biden corruption entirely. Warren threw red meat to her fascist followers. She is promising to persecute Trump officials."
THE 666 SURVEILLANCE SYSTEM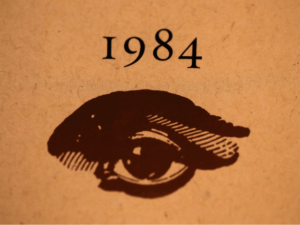 "Democrats Kill Amendment Protecting Americans from Credit Discrimination Based on Politics, Religion"We need to be extremely diligent, as the deep state in America want to force the Chinese Communist control systems on Americans!
"Democrats in the House of Representatives voted on Wednesday against an amendment to a proposed bill that would prevent the Consumer Financial Protection Bureau (CFPB) from forcing credit reporting agencies to evaluate Americans based on political opinions or religious beliefs.
Without such an amendment, Republicans warn, the powerful CFPB would have the legal authority to make nearly any criteria mandatory for a private credit evaluation company to take into consideration, paving the way for a system in which the federal government has the power to assign numerical scores to individuals based on their loyalty to a certain political party, membership in civil society groups that the government approves or disapproves of, or other private behaviors.

The system, they say, would mirror the newly minted "social credit system" in place in China, which bans citizens from key social services like public transportation if they lose too many points behaving in a way the Communist Party disapproves of."
SOMETHING STIRRING IN AMERICANS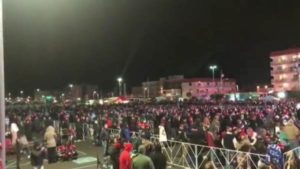 "Trump Rocks Wildwood: Thousands of Cheering Supporters Line Street for Motorcade and Watch Rally Outside of Packed Jersey Shore Arena (Videos)"The article has a series of short videos. I recommend watching all of them. They are very edifying to see the numbers of people and the enthusiasm they brought to the event. America was almost killed by the dems, but God is using President Trump to bring us back to life. Something big is happening among the American people.
We need to be thankful to the Lord for this.
"Thousands of supporters lined the streets of Wildwood, New Jersey Tuesday night, loudly cheering President Trump as his motorcade drove to the Wildwood Convention Center for a campaign rally where thousands more watched on a Jumbotron outside of the 'sold out' rally at the 7,500 seat venue. Nearly 160,000 ticket requests for the rally were received by the campaign, according to statistics released Tuesday night by campaign manager Brad Parscale. Wildwood was swamped for days with Trump supporters."
IOWA TRUMP RALLY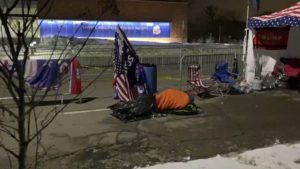 With all the President Trump rallies, people come a day or more ahead to make sure they can get seated! I can understand this in the warmer weather, but people are coming way ahead of time in cold weather!
There is something stirring in the American people. I sense that the spirit of Americanism was well on the way of dying, but it seems that the Lord is using the President to almost raise the nation from the dead! The Lord still has plans to use America.
The following picture is of people camping out for the Iowa rally in 20 degree weather! This is truly amazing what is happening in America. What we need now is a real, deep, outpouring of the Holy Spirit to change the nation and beat back the spirit of antichrist!
Proverbs 1:23 Turn you at my reproof: behold, I will pour out my spirit unto you, I will make known my words unto you.
HARD LEFT DANGERS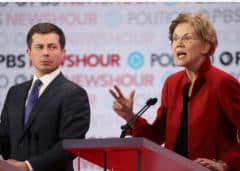 "Warren Whacks Christian Schools With 'Anti-LGBTQ+ Policies'—Such as Making Boys Use The Boys Room" Sin has driven them insane. These now are very dangerous people. If they have the power, they will move against us. Look how they are aiming at the children! We are one election away from them ruling over us.
"Sen. Elizabeth Warren (D.-Mass.) on Sunday tweeted out a Huffington Post story that attacks Christian schools that engage in what Warren characterized as "anti-LGBTQ+ policies" such as making students use the restrooms and locker rooms that are consistent with their biological sex."
HARD LEFT WAR ON 1ST AMENDMENT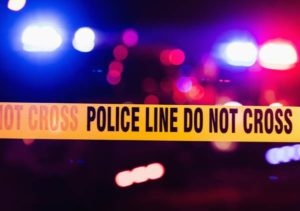 "Dem Lawmakers in CT Propose New Police Dept. Specifically for Fighting 'Far Right Extremism' — Says Freedom of Speech is 'Unfortunate'" This is where the demon-dems are heading towards a thought police state. You agree with the Hard Left or there is a special police department to investigate you! This is exactly Communist China is doing right now. The Hard Left is dangerous, and the future looks very bleak with government in the hands of these people.
'Democrat state senators in Connecticut have proposed creating a new department in the State Police specifically for combatting "far-right extremism" — without any mention of Antifa or radical leftists.

Senate President Pro Tem Martin Looney said that the department won't be used for political persecution, which he believes is "unfortunate," since a person's views are protected under the First Amendment. The extremely biased proposal was part of the senate Democrats "A Just Connecticut" agenda that was unveiled last week. Their official press release about the proposal says that they want "to finance and create a new department at the Connecticut State Police which will specialize in investigating far right extremist groups and individuals."

They went on to claim that their desire for a new department targeting the right is "a result of the increase in far-right extremism." They added that they think the federal government is "unwilling to protect different communities of Connecticut", so "the state should fund a new department at the Connecticut State Police which will specialize in investigating far right extremist groups and individuals."
HARD LEFT PROMOTING CHILD SIN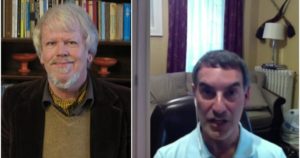 "'Pederastic Intimacy': University Professor Lays Academic Ground Work for Legalization of Child Rape"
These people are predators against children. They reprobates and trying to get the academic world to agree with them, so they can go public.
We need revival for survival, or we will be overrun by pedophiles!
Proverbs 1:23 Turn you at my reproof: behold, I will pour out my spirit unto you, I will make known my words unto you.

"Hubbard is far from alone in the academic world with his pedo advocacy. A movement of sympathy toward minor-attracted persons (MAPs) and so-called virtuous pedophiles has developed in recent years, bolstered by the advocacy of self-proclaimed proud Jewish homosexual Dr. James Cantor.

"Many of us have worked with a group of such non-offending pedophiles, also known as anti-contact MAPs (Minor-Attracted Persons), in a peer support network called Virtuous Pedophiles (@virpeds), as well as in other support networks," wrote Cantor, who is director of the Toronto Sexuality Centre, in a letter to Twitter urging them to allow pedophiles to discuss man-boy love on their platform."
HARD LEFT VS THE GOSPEL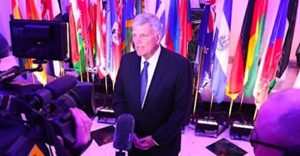 "Franklin Graham event canceled because he views gay marriage a 'sin'" For Great Britain this is beyond serious. This is a rejection of the word of God for the special sin. This is the hardening of GB against the word of God which means judgment.
The Hard Left in America wants to do the same here. The loath the Bible and us for believing in the word. Right now President Trump has them at bay which is such a great blessing.
"The Rev. Franklin Graham, an evangelist and the son of the late preacher Billy Graham, was slated to speak this summer at a venue in Liverpool. That stop, though, will no longer take place.

Graham's event, to be held at ACC Liverpool, was part of a larger tour through the United Kingdom. Officials at the venue, however, announced Friday the event would be scrubbed from the schedule because Graham's views — particularly his biblical interpretation of marriage as a union between one man and one woman — are "incompatible with our values."
Abba Father's International Fellowship
Abba Father's International Fellowship
Dear Pastor Dave & Chaplain John, Mighty greetings to you in Jesus Mighty name. We are doing good in the Lord and we thank God for giving us the opportunity to serve him.We appreciate your prayers and your support, i pray that the Lord will always give you the strength to move on and on. We traveled to Jua kali last weekend . We were invited by Pastor Norah reach and share the word of God. We were with him in Kisii when i was invited with Pastor Nelson. He heard me when i was preaching and teaching the word of God about the end time and was touched which inspired him to invite me to his church to preach the same word of God and also to distribute the newsletters, when he invited me on Saturday, the holy spirit led me to speak that Jesus came to heal the broken hearts. We read the book of Luke 4:18. I decided to give the newsletters so that people can follow how i am teaching. Many people were
touched with the teachings that God gave Pst. John McTernan.
People were really blessed, we had some young using drugs and they decided to give their lives to Jesus. they were around 12. people really appreciated and were very happy for them. The newsletters have been of blessings to many people. When i departed from the place, one man call me through phone and he said that he was really blessed with that message. These newsletters has been helpful in terms of spiritual growth. Christians are very much lightened and many are giving their lives to Christ after reading this newsletters, many don't want to

be left out in the journey to heaven in this last days. Keep up the good work of the Lord and the Lord will truly continue blessing you in Jesus Mighty name. I distributed the newsletters though they remained half of box people were not many. I decided to carry the rest. I have receive a call from my best friend Pastor
who is serving in Mbakalu Life line church. They want me to go there minister and distribute newsletters on Saturday this week It is my humble request for you to support me with $75 so that i manage to go there, teach and distribute newsletters. God bless you for keeping in touch and for your networking and for your support. May our Heavenly father bless you so much and expand your territories. Extend my greetings to your entire team. I love the work you are doing.
Your brother because of Jesus Christ,
Pastor. N S
The last Trumpet in Kenya.
If you like our ministry, please consider making a

donation

to keep us going. May the Holy God of Israel bless you!
Revelation 22:20 He which testifieth these things saith, Surely I come quickly. Amen. Even so, come, Lord Jesus.