Trump Relocating the US Embassy in Israel to Jerusalem Could Upturn Global Foreign Policy
Verse of the Day
Ezekiel 5:5  Thus saith the Lord GOD; This is Jerusalem: I have set it in the midst of the nations and countries that are round about her.

Commentary
From now on out, watch the events surrounding Jerusalem. There is no doubt from the Bible that the last battle will revolve around Jerusalem and will trigger the Second Coming of Jesus Christ. But, before this battle I believe there is another battle which will be triggered by Muslims trying to destroy Israel and take Jerusalem. This battle will destroy Islam as we know it, and will set the stage for the antichrist and all the end time events.
May the Holy God of Israel bless and protect you.
Hebrews 12:22-23 But ye are come unto mount Sion, and unto the city of the living God, the heavenly Jerusalem, and to an innumerable company of angels, To the general assembly and church of the firstborn, which are written in heaven, and to God the Judge of all, and to the spirits of just men made perfect,
Jerusalem/ Israel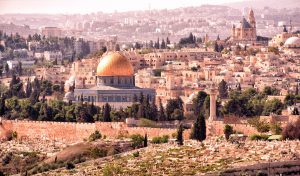 Trump Relocating the US Embassy in Israel to Jerusalem Could Upturn Global Foreign Policy 01/18/17  There is something I want to point out to you. In the second paragraph, the writer mentions that Jerusalem is sacred to Muslims because Muhammad ascended into heaven from there. This is nonsense because Muhammad was never in Jerusalem, and this is never said in the Koran.
The Muslims did not conquer Jerusalem until 637, while Muhammad died 5 years before in 632! This is all made up by the Muslims. It is smoke and mirrors to try and make Islam equal to Judaism and Christianity in its claim to Jerusalem. Their entire claim on Jerusalem is bogus.
"In the ongoing brouhaha over the US president-elect Donald Trump's approach to foreign policy, the weight of his post-victory rhetoric fell precisely on Jerusalem – a sacred but contested site that is holy to all the three Abrahamic faiths.
From the start of his election campaign until his victory, Trump has been pushing for the relocation of the US embassy in Israel from Tel Aviv to Jerusalem.
Contestations over Jerusalem
Jerusalem has its own symbolic power. While for Jews it is the site where Abraham offered up Isaac, for Christians the place signifies the crucifixion of Christ and for Muslims it is the place from where the Prophet Muhammad ascended to heaven. Revered by Jews, Christians and Muslims, Jerusalem is both religiously celebrated and politically contested. It occupies a distinct place in the history of three religions as well as being on the list of World Heritage Cities.
The entanglement of religion with politics has led to conflicting, often violent, contestations, more pronouncedly between the Jews and the Muslims. This has been manifested in the revanchist [the political manifestation of the will to reverse territorial losses incurred by a country, often following a war or social movement] history of the Israel-Palestine conflict."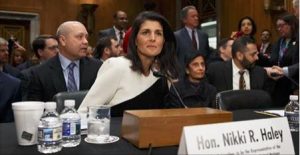 Haley supports moving US embassy in Israel to Jerusalem 01/19/17  What a powerful pro-Israel team President Trump is putting together. I can't wait to hear Haley tell the truth to the liars in the United Nations. They might have a meltdown when they hear the truth and find that the US is 100% with Israel!
Zechariah 14:12  And this shall be the plague wherewith the LORD will smite all the people that have fought against Jerusalem; Their flesh shall consume away while they stand upon their feet, and their eyes shall consume away in their holes, and their tongue shall consume away in their mouth.
"South Carolina Gov. Nikki Haley declared her support for moving the U.S. Embassy in Israel from Tel Aviv to Jerusalem, a shift firmly endorsed by Donald Trump but one that could trigger increased violence in the Middle East.
Haley, Trump's pick to be the U.S. ambassador to the United Nations, told the Senate Foreign Relations Committee on Wednesday that she "absolutely" backs the embassy move because that's what Israel and congressional Republicans want. But a spokesman for Jordan's government recently told The Associated Press that the embassy move would be a "red line" for Amman and "inflame the Islamic and Arab streets."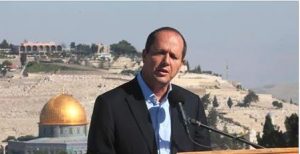 In rebuke against Obama, Jerusalem mayor urges Israelis to support Trump 01/19/17  I think that the Israelis are starting to wake up to just how deep President Trump's support is for Israel and Jerusalem.
"Barkat sent the email with hopes of gaining letters of support for a national pro-Trump campaign.
"My fellow citizens," Barkat says in Hebrew during the one-minute clip, "during the last eight years the Obama Administration has pushed for a building settlement freeze. He has surrendered to the Iranian's and radical Islam, and has abandoned Israel to a hostile UN resolution."
"This week, President Donald Trump enters the White House," he continued. "Let's all welcome him together as our friend, thereby conveying a clear message to the world: Jerusalem is Israel's undivided capital!"
The video then cuts to a previous Trump speech, where he states: "We will move the American Embassy to Jerusalem – to the eternal capital of the Jewish People."
Barkat concludes by asking Israelis to "join me, and sign a letter supporting President Trump's decision to move the US Embassy to Jerusalem, and his decision to support the State of Israel. Let's make the US and Israel's relationship great again!"
Israel/ The Coming Middle East War
Israel deploys 'Star Wars' missile killer system 01/18/17
"Israel's upgraded ballistic missile shield became operational on Wednesday, in a "Star Wars"-like extension of its capabilities to outer space where incoming missiles can be safely destroyed.
The Defence Ministry said the U.S.-funded Arrow 3 system, jointly developed by state-owned Israel Aerospace Industries and U.S. firm Boeing Co. , was handed over the Israeli Air Force.
The Arrow 3, together with the Arrow 2, which has been operational since 2000, would "significantly reduce the possibilities of ballistic missiles" hitting Israel, the ministry said in a statement.
The Arrow 2 is designed to intercept projectiles high and low within the atmosphere. Arrow 3 missiles will fly into space, where their warheads detach to become "kamikaze" satellites that track and slam into their targets."
As France Has Done to Israel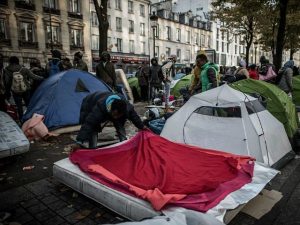 Tourists Flee 'Nightmare' Paris Amidst Rising Theft, Assaults, Terror 01/18/17  As the French lead the charge to divide Jerusalem, look what is happening to Paris! The French capital city is being turned into a hell hole! This is all happening in real time before our eyes! What a vivid picture of God's curse settling over France and Paris.
As France continues to lead the attack on Israel, this curse is only going to deepen until Paris becomes a third world city.
Obadiah 1:15  For the day of the LORD is near upon all the heathen: as thou hast done (to Israel,) it shall be done unto thee: thy reward shall return upon thine own head.
"In 2016, there were 1.6 million Chinese tourists compared to 2.2 million in 2015. The number of Japanese tourists dropped 39 per cent, and Koreans 27 per cent. Our tourists have turned to Russia, which is less attractive but at least it is a safe country. For Putin, it is an economic windfall", he told Le Parisien.
Rising violence and aggression account for the drop, according to Mr. Zhou, who said: "For a number of Chinese tourists, the dream of visiting France and Paris has turned into a nightmare.
"[Chinese tourists] are robbed in the palace of Versailles, at the foot of the Eiffel Tower, in front of their hotel, as they leave the coaches … In high season, not a day goes by without tourists being assaulted."
Violent incidents in France have "sparked panic" on social media in Chinese, Mr. Zhou said, recalling one in which an 80-year-old man was seriously injured as he tried to resist thieves, and he reported how female tourists have been pushed to the ground while criminals steal bags containing all their papers.
Having lived in France for 25 years, Mr. Zhou said he has borne witness to the country's deteriorating security situation over the decades, which has resulted in Paris ranking "number one in Europe in terms of the upsurge in delinquency"
American Politics
Horowitz to Lou Dobbs: Trump Will Undo 200 Obama Executive Orders 01/19/17  This is so wonderful that we are getting our country back and under the rule of law! I feel like today is Christmas, July 4th, Thanksgiving, and my birthday all rolled into one!
Proverbs 29:2  When the righteous are in authority, the people rejoice: but when the wicked beareth rule, the people mourn.

"President-elect Donald Trump will "come out smoking" as soon as he takes over the Oval Office, bestselling author David Horowitz told Lou Dobbs on Fox Business News Wednesday night.
"He's going to undo the 200 executive orders," Horowitz said. "He's going to take care of the borders, unravel Obamacare."
Horowitz's new book "The Big Agenda: President Trump's Plan to Save America," released just this week, reveals Trump's "first 100 days strategy" to roll back Obama's legislative and executive record.
Horowitz told Dobbs that Trump, who takes the oath of office on Friday, is "our not-so-secret weapon."
"If Chuck Schumer tries this too much, he's going to get a million tweets," he added, referring to the Democratic New York senator's efforts to stall confirmation hearings on several of Trump's Cabinet picks.
"Trump has already changed the Republican Party," Horowitz told Dobbs. "It's going to take a longer effort by being a leader, being a fighter."
Hard Left
America, liberals have come down with a bad case of TDS (Trump Derangement Syndrome) 01/19/17  God is smoking out these minds for us to see. Their delusions are being smashed, and they are having trouble facing and living in reality. Remember, when their delusions are broken, they become extremely dangerous.
Notice how these people will believe anything except the truth. The truth is awful to them, and they will fight the truth to the bitter end.Their minds remind me of King Nebuchadnezzar's, when he was told the truth by the Prophet Daniel.
Daniel 4:33  The same hour was the thing fulfilled upon Nebuchadnezzar: and he was driven from men, and did eat grass as oxen, and his body was wet with the dew of heaven, till his hairs were grown like eagles' feathers, and his nails like birds' claws.
God had mercy on the King, and in the end his mind was resorted to him.
"An epidemic of biblical proportion is spreading across the fruited plain at this very hour.
The Centers for Disease Control has yet to identify the malady — but it seems to be an isolated outbreak impacting liberals, millennials, fashion designers, Hollywood celebrities and the entire primetime lineup at CNN.
The affliction is called Trump Derangement Syndrome (TDS). Symptoms include delusional ranting and a feverish flop sweat.
I write extensively about the epidemic in my new book, "The Deplorables' Guide to Making America Great Again." Liberals say it's the most deplorable book in America.
Congressional Democrats have become so incapacitated by the illness that dozens will be unable to attend president-elect Trump's inauguration.
Georgia Congressman John Lewis was stricken with a rare strain of the disease that caused him to foam at the mouth while muttering about Trump being an illegitimate president. Based upon his unintelligible ramblings, I'm afraid the congressman's cheese has done slid off his cracker.
Meanwhile, a number of Radio City Music Hall Rockettes were also infected – causing some to weep uncontrollably after they learned they would be performing for the new president."
Hard Left/ Christianity
Trump's inaugural pastor getting blasted by 'very strong' hate 01/18/17  I think that Bishop Jackson is a good man and God will honor his prayers.
Psalm 144:15  Happy is that people, that is in such a case: yea, happy is that people, whose God is the LORD.

"Jackson, who will be doing the benediction during the inaugural, explained his purpose for being there:
"My job is a job to represent, first of all, the Bible, the followings and the teachings of Jesus Christ. It's not about Democrats, it's not about Republicans. It's about making sure that I do what Jesus says. And that is that we're supposed to love everyone. That's the message Jesus brought. And my position as a minister to be asked to pray at the highest ceremony of our country – it gets no higher than that – I do what I do because I'm called to do it."
"It's two minutes, and we're going to be praying for unity in our nation, praying for our president and also the vice president that God would give them wisdom to lead this country. It's not over for America, America has a great future ahead of her."
Hard Left/ Homosexuality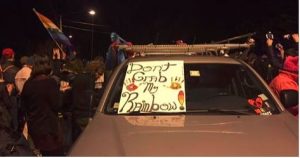 Party at Pence's: LGBT activists host dance party outside VP-elect's Chevy Chase rental 01/19/17  Are the homosexuals getting too close to what happened at Lot's house in Sodom? They are extremely bold with their sin and driven by a powerful lust. Events like this remind me of what was going on in Sodom prior to it being destroyed by the Lord. It is the flaunting and boldness that links this to Sodom.
Genesis 19:4-7  But before they lay down, the men of the city, even the men of Sodom, compassed the house round, both old and young, all the people from every quarter: And they called unto Lot, and said unto him, Where are the men which came in to thee this night? bring them out unto us, that we may know them.
And Lot went out at the door unto them, and shut the door after him, (7) And said, I pray you, brethren, do not so wickedly.

"Brandishing rainbow flags and signs that read "Queer Love" and "Trans Power," scores of activists marched Wednesday night toward Vice President-elect Mike Pence's rental home in Northwest Washington, D.C.
Days before Donald Trump's administration is expected to take over the White House, activists planned what they described as the "Queer Dance Party at Mike Pence's House." They met around 6 p.m. ET outside the Friendship Heights Metro Station, where video footage showed them chanting slogans and holding LGBT pride flags as they made their way to the neighborhood where Pence and his wife, Karen, moved after the November election.
Pence, a former senator and the governor of Indiana, believes marriage should be between a man and a woman.
In 2014, the governor's chief counsel wrote in a letter that Indiana would not recognize several hundred same-sex marriages that took place after a federal judge overturned Indiana's law banning it.
Pence drew ire from the LGBT and business communities in 2015 when he signed the Religious Freedom Restoration Act, a law that allowed business owners to refuse certain services that conflicted with their religious beliefs (like, let's say, a Christian baker approached by a same-sex couple looking for a wedding cake).
And, although Pence has never explicitly advocated for gay and lesbian conversion therapy, he said during the 2000 congressional campaign that public dollars should go toward the practice (It appears on his 2000 campaign website, where he also stated he would oppose any effort to give same-sex relationships equal legal status as heterosexual marriages.)"
666 Surveillance System
Police worldwide eye Baltimore's vast surveillance complex (SEE video) 01/18/17  This is a good article showing the magnitude of the growing surveillance state. It can't be stopped. Make sure that you watch the video.
"Baltimore is at the leading edge of deploying surveillance technologies. Even though its practices have raised questions about civil liberties and privacy, law enforcement agencies around the world see it as a test bed for the future of policing."