Trump's RNC Speech Text Revealed…And It's Actually Brilliant
Verse of the Day
Titus 2:12-14  Teaching us that, denying ungodliness and worldly lusts, we should live soberly, righteously, and godly, in this present world;
Looking for that blessed hope, and the glorious appearing of the great God and our Saviour Jesus Christ;
Who gave himself for us, that he might redeem us from all iniquity, and purify unto himself a peculiar people, zealous of good works.

Commentary
It appears that God may be answering the prayers of the remnant for more time in which to try and influence the culture, return to common sense and stave off disaster. Truth is being exposed, as those who love Christ work tirelessly to bring it forth, even though the mainstream media shies away from reporting the facts. The more we turn from sin and seek God, the more time we may have to reach the lost before judgment falls. It is incumbent on us to pray for another Great Awakening to sweep the nation with the power of the Holy Spirit.
There's no guarantee; it's dependent on the prayers of God's people, and on their willingness to look to Him alone for redemption as they're led by the Spirit. While no politician can save us, it may be that God will work through this election to give us one more chance and a bit more time. If not, we'll continue on the downward spiral.
What we've been seeing lately is both encouraging (in terms of the election and the revealing of truth) and disconcerting, with the sabre rattling coming from Russia, China, North Korea and the Middle East. Ultimately though, God is sovereign, and this phase of history will not conclude until He decrees it. We need to spend as much time on our knees as anywhere else, knowing that our prayers have an influence. Pray for the safety and wisdom of those who are running, and for the conviction to make right decisions for those currently in power. And pray that the principles and rights enshrined in our Constitution will not be lost. We pray for the nation each Tuesday and Thursday from 9-11 pm EST. Please join us.

Psalm 8:16-18  By me princes rule, and nobles, even all the judges of the earth. I love them that love me; and those that seek me early shall find me. Riches and honour are with me; yea, durable riches and righteousness.
American Politics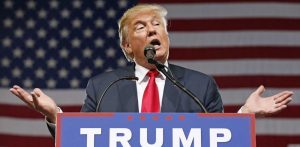 BREAKING: Trump's RNC Speech Text Revealed…And It's Actually Brilliant 07/21/16  This is an interesting article for a couple of reasons. First, it gives sections of the actual speech interspersed with the commentary so you can see for yourself why it was so good. Next, the article was written by Ben Shapiro, who was an outspoken Trump critic and part of the "never Trump" movement. It appears that this speech has won over someone as adamantly against him as Shapiro! Because this speech is so good and so much actually is quoted, we'd strongly urge you to check out this article.
"Hours before Donald Trump's schedule nomination acceptance speech at the Republican National Convention, the press released a full copy of the text of his speech. That speech was powerfully written and wide-ranging in its critique of America's problems – it touched on virtually all the victims of the left's political dominance for the past several decades.
The speech text is, in fact, quite brilliant…
Trump leaned heavily on a crucial theme: law and order. This is smart politicking – the best way for Republicans to win in blue areas is to run against the high-crime policies of Democrats (see Rudy Giuliani and Richard Riordan, for example). "Together," Trump's speech began, "we will lead our party back to the White House, and we will lead our country back to safety, prosperity, and peace. We will be a country of generosity and warmth. But we will also be a country of law and order."
Then he dinged Hillary for her failures to grasp the real risks of the moment: threat to life and limb thanks to attacks on police officers and jihadist attacks in the heart of the country:
'Our Convention occurs at a moment of crisis for our nation. The attacks on our police, and the terrorism in our cities, threaten our very way of life. Any politician who does not grasp this danger is not fit to lead our country.
Americans watching this address tonight have seen the recent images of violence in our streets and the chaos in our communities. Many have witnessed this violence personally, some have even been its victims.
I have a message for all of you: the crime and violence that today afflicts our nation will soon come to an end. Beginning on January 20th 2017, safety will be restored.
The most basic duty of government is to defend the lives of its own citizens. Any government that fails to do so is a government unworthy to lead.'"
Dinesh Dsouza's Hillary's America Leaked 07/20/16  Dinesh Dsouza's new movie is out and we'd urge everyone to see it this week. This interview with Alex Jones discusses what the film is about, and notes that if it makes a big enough splash during this week, it will be shown in theaters across the country. But its distribution depends on how many choose to see it now. Here's the link to find theaters in your area where and when it will be showing.
http://hillarysamericathemovie.com/ It covers the history of the Democratic party as well as Hillary's role in making it what it is today. Trailers are available on YouTube and are worth watching if you're on the fence about whether to see the film.
American Politics/ Hard Left
Virginia Supreme Court kills McAuliffe's felon-voting scheme 07/22/16  We're already seeing the schemes to stuff ballot boxes begin, in an attempt to ensure that Hillary is elected. Fortunately, the Virginia Supreme Court struck this one down, but this is a sign of things to come. These people have no honor and value nothing but power.
"A huge vote bump expected by the Hillary Clinton campaign in the state of Virginia just vanished, thanks to that state's Supreme Court, which Friday struck down the controversial executive order by Democrat Gov. Terry McAuliffe allowing hundreds of thousands of convicted felons to vote in November. Approximately 206,000 Virginia felons were affected by his April 22 order.
But McAuliffe's order is unconstitutional, the court ruled 4-3, ordering that the Virginia Department of Elections "cancel the registration of all felons who have been invalidly registered" since McAuliffe issued his order.
Aug. 25 is the deadline for cancelling all of the unconstitutional felon voter registrations, the majority ruled. Before the high court's decision, some 11,662 felons had registered to vote following McAuliffe's executive order, according to the Richmond Times-Dispatch.
Earlier this month, McAuliffe, noting the thousands of felons who had registered under his order, said on Twitter: "This is why Virginia is the greatest democracy in the world and I thank you folks for signing up. Let's keep it going."
McAuliffe is a long-time member of the Clinton inner circle. His background includes service as chairman of Bill Clinton's presidential campaign, then serving as a fundraiser and national co-chairman of Clinton's reelection campaign, and later becoming campaign chairman for Hillary Clinton's first run at the White House. In 2000, McAuliffe also served as chairman of the Democratic National Committee, holding that position for five years.
McAuliffe's executive order to restore voting rights to 206,000 felons was expected by Democrats to have a dramatic impact on the presidential election, as WND previously reported. Hillary Clinton acknowledged the potential impact via a Twitter post, saying: "Proud of my friend (Terry McAuliffe) for continuing to break down barriers to voting." Statistically, most felons vote for Democrat."
The Coming Middle East War
Hezbollah's Massive Arms Build-up in Lebanese Civilian Areas 07/19/16  This article is about the build-up of arms by Hezbollah and the UN's refusal to take the issue seriously, which is priming the Middle East for war. With the number of rockets that are stockpiled, the next outbreak of war between them and Israel is certain to be extremely deadly. As usual, the Obama administration is blaming Israel for building settlements instead of acknowledging the role Iran is playing in providing the arms.
"Every calendar quarter the United Nations Security Council holds an extensive debate on the Israeli-Palestinian "situation." The Israeli and Palestinian UN representatives make speeches following the Secretary General's report on the current status, which are normally predictable restatements of their respective positions. This time, however, Israel's ambassador Danny Danon, addressing the Security Council at its July 12th meeting, presented new graphic evidence of Hezbollah's alarming arsenal of rockets and missiles located in civilian areas of southern Lebanon.
Ten years ago, when Security Council Resolution 1701 was adopted, ending the war that had broken out between Israel and Hezbollah, the terrorist group was estimated to have had about 7000 rockets. The resolution called for Hezbollah and other armed groups not officially a part of the Lebanese government's armed forces to relinquish their weapons. Instead, precisely the opposite has happened. Hezbollah never stopped its arms build-up, which has been funded and supplied principally from the world's leading state sponsor of terror, Iran.
Hezbollah now has approximately 120,000 rockets and missiles aimed at Israeli civilian population centers. By way of comparison, Ambassador Danon said that "more missiles are hidden underground in 10,000 square kilometers [of Lebanon] than the above-ground 4 million square kilometers" of the European North Atlantic Treaty Organization countries.
Referring to aerial satellite imagery, based on the latest Israeli intelligence, Ambassador Danon demonstrated to the members of the Security Council the location of rocket launchers and arms depots that Hezbollah had placed in civilian areas. "The village of Shaqra has been turned into a Hezbollah stronghold with one out of three buildings used for terror activities, including rocket launchers and arms depots," Ambassador Danon said. "Hezbollah has placed these positions next to schools and other public institutions putting innocent civilians in great danger."
Hezbollah, aided and abetted by Iran, was "committing double war crimes," the Israeli ambassador charged. "They are attacking civilians, and using Lebanese civilians as human shields," he said. "We demand the removal of Hezbollah terrorists from southern Lebanon."
Israel
'First sovereignty in Ma'ale Adumim, then all Judea and Samaria' 07/18/16  Israel is forging ahead with plans to annex the "settlements" in Judea and Samaria. The repercussions of this around the world can be imagined easily, though they have every right to do so.
"The campaign to annex Ma'ale Adumim and apply full Israeli law in the Jerusalem suburb, led by the Land of Israel lobby headed by MKs Yoav Kish (Likud) and Betzalel Smotrich (Jewish Home), moved into active mode today (Monday).
Ma'ale Adumim is a large Jewish suburb located just east of Jerusalem, and is classified as part of Judea and Samaria.
The bill was presented to the Knesset speaker in a special session today, and will be brought before the Ministerial Committee for legislation.
The new law would dictate that "the laws and administrative principles of the State of Israel will be applied in the territory of Ma'ale Adumim…"
MK Smotrich, the other Chariman of the lobby, stated that "this move is supposed to reflect a broader shift towards promoting solutions that are based on unifying the land. Whoever wants to bring about peace and coexistence, must abandon ideas of dividing the land and move towards uniting the land. Today we start with Ma'ale Adumim, and later we'll get to talking about all of Judea and Samaria."
Israel/ Homosexuality
'I'm not going to apologize for the Torah' 07/18/16  This rabbi has the courage to stand up for God's word without apology, something more pastors and Christians should be doing.
"Chief Rabbi of Tzfat and member of the Chief Rabbinate Council, Rabbi Shmuel Eliyahu, defended on Monday controversial comments made by Rabbi Yigal Levinstein, head of the pre-army academy in Eli, after he claimed labelled homosexuals "deviants".
Speaking to Army Radio, Rabbi Eliyahu emphasized that while he disagreed with the use of the term "deviants", he defended Rabbi Levinstein's right to do so.
"I don't call gays 'deviants'," said Rabbi Eliyahu, "but its Rabbi Levinstein's right to call them as he believes he should."
Rabbi Eliyahu added that homosexuals should be shown love, not hatred…
Distinguishing between the sexual act and people identifying as homosexuals, Rabbi Eliyahu noted the Torah's condemnation of homosexuality as "an abomination", but said that was not a reason to spew hatred homosexuals themselves.
"The Torah calls it an 'abomination', and I don't intend to apologize for what's written in the Torah. If God decided that, then he knows better than anyone else."
Islam – Jihad
Saudi government funded extremism in U.S. mosques and charities: report 07/21/16  Both the Democrat and Republican establishment love Saudi Arabia and protected it through all that happened during 9/11.
They all are traitors and we need a political purge.
"Saudi Arabia was funding Muslim radicalism in mosques and charities at the time the Sept. 11, 2001, hijackers were gathering in the United States and making contacts with Saudi nationals, according to a declassified intelligence document.
To jihad watchers, the paper confirms their charges that the Saudi government and its wealthy citizens fund extremist teachings in America. To this day, the kingdom is pressing its harsh Wahhabi Sunni Islam on American Muslims as it seeks to spread Islam around the world, they say.
In the document, one Saudi who was receiving money from Prince Bandar bin Sultan, Riyadh's ambassador to the U.S. at the time, made a startling statement to an FBI informant. The man, who had ties to some of the hijackers, told agents that it would do the U.S. no good to limit entry visas because a sufficient number of Muslims were already in the country to destroy it and create an Islamic state.
The disclosure was tucked in the "28 pages" — a long-secret chapter in a 2002 report by the House and Senate intelligence committees after an investigation in the immediate aftermath of the al Qaeda attacks on the World Trade Center in New York and on the Pentagon. Of the 19 who hijacked four airliners, 15 were Saudis.
The report section, referred to as "Part 4," deals mainly with one topic: suspected Saudi government support for the Sept. 11 plot. The George W. Bush administration insisted that the section remain classified. Under pressure, the Obama administration released the pages last week."

Psalm 14:1  The fool hath said in his heart, There is no God. They are corrupt, they have done abominable works, there is none that doeth good.