University of London Panel Calls for Annihilation of Israel as Solution to Global Antisemitism
                         Verse of the Day
 Genesis 12:3 And I will bless them that bless thee, and curse him that curseth thee: and in thee shall all families of the earth be blessed.

Commentary
I've reported here on the judgment of the Lord hitting both Great Britain and Venezuela for coming  against Israel. Great Britain wants Israel to create a Palestinian state with Jerusalem as its capital. What is so interesting is that London now has a Muslim mayor, while 40 percent of the city is Muslim! What the British have tried to force on Israel has happened to them! God is turning Britain over to Islam for judgment.
Venezuela supports Iran against Israel, and now look at the condition of this nation! I've reported how this country has descended into utter poverty and now it has mass starvation with food riots! The curse of the Lord is coming upon all the nations that come against his prophetic plan for Israel.
May the Holy God of Israel bless and protect you.
Psalm 122:6 Pray for the peace of Jerusalem: they shall prosper that love thee.
As Great Britain Has Done to Israel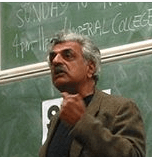 University of London Panel Calls for Annihilation of Israel as Solution to Global Antisemitism 05/14/16  They actually called for genocide and the total destruction of Israel! This took place in London. There is really nothing left to this nation as it is slipping into hell.
We can follow the destruction of Great Britain as the Lord has turned this nation over to Islam for judgment. I think that so many British have hardened hearts against the Lord, they would join Islam to help destroy Israel and the Jews!
Great Britain is heading down the same road as Venezuela.
"Speakers at a Wednesday evening University of London Student Union (ULSU)-sponsored panel called for the destruction of Israel as a solution to ridding the world of antisemitism, The Algemeiner has learned from a British watchdog group.
According to a UK Media Watch report, several panelists issued the calls during an event centered on the theme of antisemitism in the Labour Party and how the current scandal is being used to silence critics of Israel and bring down party leader Jeremy Corbyn. A leaflet handed out at the beginning of the panel, titled "Labour Jews Assert," stated, "some people…are wielding 'antisemitism' allegations as a stick to beat the Corbyn leadership."
Speaker Tariq Ali — a British Pakistani writer, journalist and filmmaker, who is an outspoken supporter of Hamas — said the annihilation of Israel would greatly benefit both Palestinians and Israelis. Antisemitism, according to Ali, is a result of the creation of a Jewish state, and once Israel is wiped off the map, antisemitism will disappear. Ali's calls for a one-state solution were seconded by fellow speaker John Rose, a notorious anti-Israel and anti-Zionist author."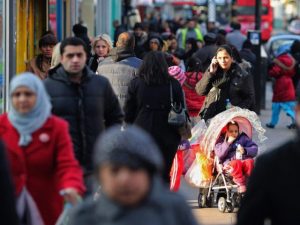 London's East End 'Like Baghdad', As Cockney Culture Dies Out 05/14/16  As Britain turned from God and came against Israel, God turned it over to Islam as judgment. Now entire areas of London are under the control of Muslims and watch this grow into entire swaths.
London is a dying city just as the British wanted Jerusalem to die under Islam. It is really amazing to watch London turn into what the British wanted to happen with Jerusalem!
God's judgment is playing out right in front of your eyes. His judgment on Europe was very slow, but now you can God's end game, and it is getting very close.
I see Great Britain as rotten fruit ready to fall into the hands of the Muslims.
Obadiah 1:15  For the day of the LORD is near upon all the heathen: as thou hast done (to Israel), it shall be done unto thee: thy reward shall return upon thine own head.

"London's Cockney culture is being driven out of one of its last remaining bastions, Newham in East London, which has seen its white population halved in the last 15 years. The area now has the lowest white population in London leading to pubs and working men's clubs are closing down and a loss of Christian traditions.
The borough of Newham lies just five miles east of the City of London, banking capital of the world, but locals say it now looks less like a British city, more like Baghdad.
The area was once characterised by its white working class population, mostly cockneys who moved in during the 1800s as dockworkers during an era of unprecedented global trade. But now ethnic minorities make up 76 percent of the borough's population, making it the most multicultural place in Britain.
"People who haven't been for many years come out of Upton Park Station and say: 'I can't believe what's happened here, it could be Baghdad,'" says Peter Bell manager of the East Ham Working Men's Club."
As the World Has Done to Israel – Venezuela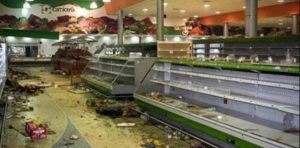 Scenes From The Venezuela Apocalypse: "Countless Wounded" After 5,000 Loot Supermarket Looking For Food 05/14/16  Under Hugo Chauvez, this nation led the charge against Israel and actually worked with Iran! I wrote then that disaster was going to overwhelm Venezuela for working with Israel's enemies in an attempt to destroy Israel.
After Chauvez died, the nation continued his course and now the final judgment has arrived. I would not be surprised if millions died of starvation and civil war.
This is a lesson for the EU as it continues down the road to divide and weaken Israel.
Revelation 16:7 And I heard another out of the altar say, Even so, Lord God Almighty, true and righteous are thy judgments.
"Over the last several years we have documented with clockwork regularity Venezuela's collapse into failed state status, which was cemented several weeks ago when news hit that "Venezuela had officially run out of money to print new money."
At that point the best one could do was merely to step back and watch as local society and civilization turned on itself, unleashing what would ultimately turn into Venezuela's own, sad apocalypse.
As we wrote then these are simply hungry Venezuelans protesting that their children are dying from lack of food and medicine and that they do not have enough water or electricity. As AgainstCronyCapitalism added, this is a country with more oil than Saudi Arabia, and the government has stolen all the money and now they bottleneck peaceful protesters and threaten them with bombs (or haul them to prison and torture them).
As pure desperation has set in, crime has becomes inevitable. A man accused of mugging people in the streets of Caracas was surrounded by a mob of onlookers, beaten and set on fire, who published a pixeled-out but still graphic video of the man burning as mob justice is now the supreme arbiter of who lives and who dies:"
Economic Armageddon
You Won't Believe What We Saw In Socialist Venezuela  This video from WeAreChange was posted in an article detailing the collapse of the country: Is THIS The Chaos Coming To America? 'You Won't Believe What We Saw In Socialist Venezuela' – Want To Know What 'Economic Armageddon' Looks Like? and it's well worth watching to see what may eventually come to this country if we continue on our present course.
American Politics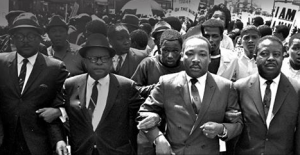 Black Pastors Slam Obama Admin's Equivalence of Gender Identity Ideology with Black Civil Rights 05/15/16  Finally, pastors have stood up to the lies coming out of Washington! May the Lord bless these black pastors for standing
up and giving leadership. May they grow in an army full of prayer
against this monstrous federal government.
Psalm 94:16  Who will rise up for me against the evildoers? or who will stand up for me against the workers of iniquity?

"The president of the Coalition of African-American Pastors (CAAP) says that the Obama administration's assertion that single-sex bathrooms are discriminating against gender-confused individuals in much the same way that blacks experienced discrimination in the United States is a "gross insult" to all who fought for equality for African-Americans.
"There is simply no relation between the struggles that Black Americans have faced and the desire of a tiny minority group to violate the dignity and privacy of women and girls," said Rev. Bill Owens in a statement sent to Breitbart News. "To suggest some sort of equivalence is a gross insult to all of those who marched with Dr. King and faced fire hoses and hatred in the name of equality."
Owens reacted Friday to the Obama administration's imposition of gender ideology on the United States. In the wake of a new North Carolina law that protects the privacy and safety of women and children in public rest rooms, the Department of Justice (DOJ) announced a lawsuit against North Carolina alleging the law violates the civil rights of gay and transgender individuals to use the bathrooms of their choice."
Israel and the Middle East War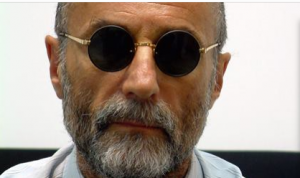 Shadow Wars: In Missions Stretching From Iran To Syria, Israel's Unit 8200 Can Be (Not) Seen 05/14/16  A very interesting article about Israeli military intelligence and high technology.
Zechariah 12:6  In that day will I make the governors of Judah like an hearth of fire among the wood, and like a torch of fire in a sheaf; and they shall devour all the people round about, on the right hand and on the left: and Jerusalem shall be inhabited again in her own place, even in Jerusalem.
"Whenever there is a significant or very risky intelligence operation, all the projectors of the Israeli intelligence community are focusing on the operational arena. Even days or weeks before the actual operation taking place. There is a not a single major Israeli intelligence operation in which Unit 8200 is not involved.
Even if you send just a patrol to lay ambush beyond enemy lines, 8200 is involved — because of its huge and sophisticated technological capabilities, which in Israeli terms are unmatched among all its intelligence and security agencies. Any big operation would involve 8200 in some way, including operations of sabotage.
"They are involved in every single military operation far from the border, providing the intelligence coverage. They are the eyes and the ears of the operation, to see if enemies have noticed soldiers, or if enemy forces are on the move. 8200′s role is to listen and see, so to speak, and to warn our forces if there is a danger. And it's not just bugging or listening from land bases in Israel.
They have naval units attached to boats and aerial units. They send equipment and skilled listeners and analysts aboard planes flying on missions. There is always a command center on such operations. In the air, in the sea, and on land."
 Islam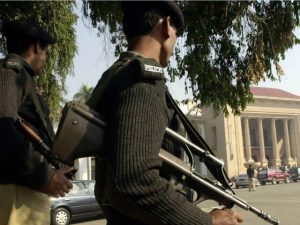 Pakistan: Christian Condemned to Death for Watching Anti-Muslim Video 05/13/16  Do we want this in America? This is what happens when the Muslims are in power. What happened is not by a single kook, but by thousands and with religious leaders.
For the most part, Muslims do not act like this when they are weak in a society; however, when they are in power, as in Pakistan, this behavior becomes normal.
The more America mocks God, the more He allows Muslims into America with a future like that of Pakistan.
"A 25-year-old Christian named Imran Masih, from the Punjab province of Pakistan, has been charged with "blasphemy" for allegedly watching anti-Islamic lectures on his smartphone.

Masih has already been beaten severely by a mob in Pakistan and forced into hiding. Now he is on the run, as the local imams issued a fatwa calling for his murder by immolation.

When the Christians of his village refused to hand him over, they were told they had a choice between forced conversion to Islam or exile from the village."
 Hard Left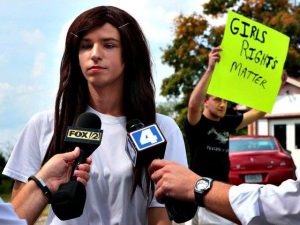 Obama Admin Rule Forces Hospitals, Doctors Accepting Federal Funds to Provide Gender Transition Services and Abortions 05/14/16  Can a man be so driven to promote this agenda without being one himself?
Whatever is evil this man rallies to and promotes it. I think his legacy will be trying to force males into the female bathrooms and showers. I really do think that "Bathroom Barry" is a nickname that should stick with him.
He really does want to bring America under perversion, and exalt perversion over God ordained sex and male-female interaction.
Ephesians 4:18,19 Having the understanding darkened, being alienated from the life of God through the ignorance that is in them, because of the blindness of their heart: Who being past feeling have given themselves over unto lasciviousness, to work all uncleanness with greediness.
"President Barack Obama's new transgender plan for K-12 schools recommends parents be secretly excluded from any decisive role when their children experiment with sexual "gender identities" as male or female.
The exclusion of parents from their children's life-and-death, prosperity-or-suicide, teenage development is explicitly approved by Obama's Democratic Party aides in a nine-page, May 13 legal directive, dubbed a "Dear colleague" letter.
The Departments interpret Title IX [law] to require that when a student or the student's parent or guardian, as appropriate, notifies the school administration that the student will assert a [unusual] gender identity that differs from previous representations or records, the school will begin treating the student consistent with the student's gender identity."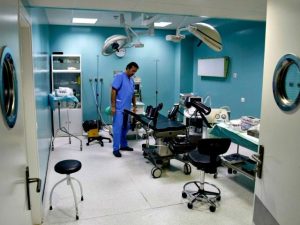 Obama Admin Rule Forces Hospitals, Doctors Accepting Federal Funds to Provide Gender Transition Services and Abortions 05/14/16  As I said before, Obama, "a-man-of-sin" promotes evil in every way he can. Now it is killing babies in the womb! He is just like one of the wicked kings of Israel, "that did evil in the sight of the Lord!"
He is lining America up for a horrific judgment from the Lord. He is doing everything to provoke God's righteous judgment upon the nation. Obama and his entire administration are manifesting reprobate minds and promoting their ungodly agenda to the entire nation.
This is all on top of the Supreme Court's decision last year to promote "homosexual marriage." Right in front of our eyes, sexual perversion is being codified, which brings God's righteous judgment on any nation that does this. What is the Church going to do about this?
"The Obama administration is capping off a week of forcing Americans to accept gender ideology as normal with a final rule on Obamacare's nondiscrimination policies in healthcare.
The rule will require physicians, hospitals, insurers, and other healthcare entities that receive federal funds — such as Medicare and Medicaid — to include gender transition treatments and even abortion among their services for the alleged sake of "equity."
The Department of Health and Human Services (HHS) issued the final rule on Obamacare's (Affordable Care Act's) Section 1557 Friday, stating it will "help to advance equity and reduce health disparities by protecting some of the populations that have been most vulnerable to discrimination in the health care context."
HHS states the rule covers:
Any health program or activity, any part of which receives funding from HHS (such as hospitals that accept Medicare or doctors who accept Medicaid);
Any health program that HHS itself administers;
Health Insurance Marketplaces and issuers that participate in those Marketplaces.
The Obama administration claims its new rule "builds on" prior federal civil rights laws to prohibit sex discrimination in health care."

Deuteronomy 1:17  Ye shall not respect persons in judgment; but ye shall hear the small as well as the great; ye shall not be afraid of the face of man; for the judgment is God's: and the cause that is too hard for you, bring it unto me, and I will hear it.