The 666 Surveillance System and NWO September 18, 2023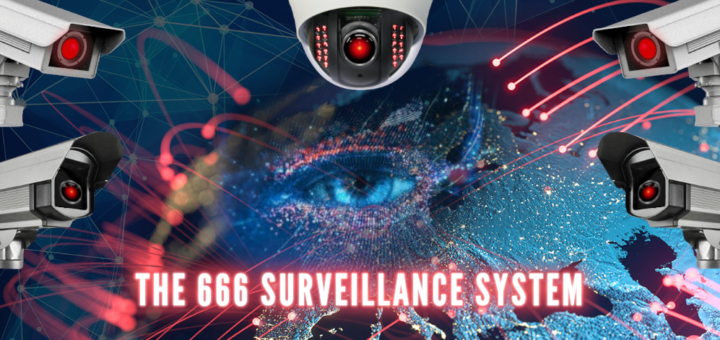 Verse
Revelation 13:16-18 And he causeth all … to receive a mark in their right hand, or in their foreheads:  And that no man might buy or sell, save he that had the mark, or the name of the beast, or the number of his name. Here is wisdom. Let him that hath understanding count the number of the beast: for it is the number of a man; and his number is Six hundred threescore and six (666).
Commentary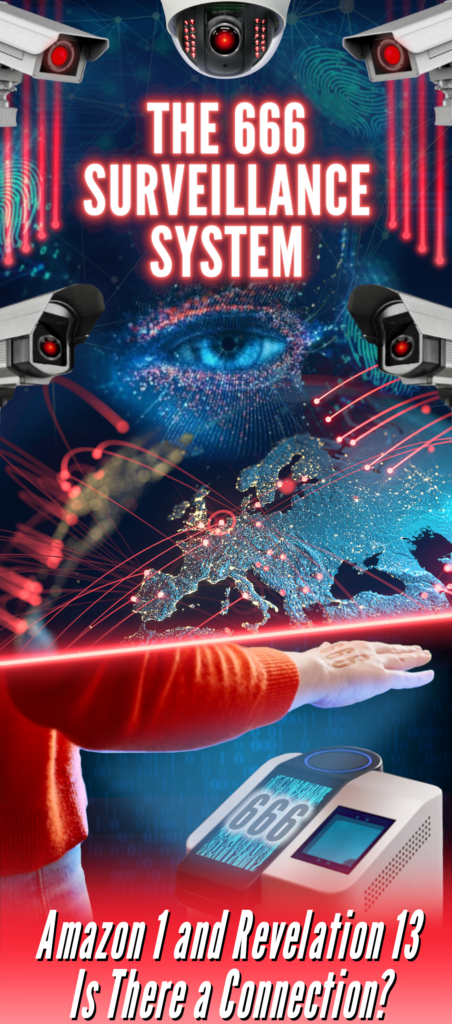 This blog post is to update Bible prophecy about the 666 Surveillance System as it is coming together right before our eyes. It's happening at lightening speed. It is unfolding right now! What I'm also doing is linking this information to my brochure, The 666 Surveillance System to show how the brochure ties the surveillance system with the Bible!
I also will post articles about the coming Image of the Beast which overlaps with the 666 System along with the "Days of Noah", the New World Order (NWO), and transhumanism. These events are all coinciding and merging together immediately prior to the Second Coming of Jesus Christ! This is an incredible time to live because the events leading to the Second Coming of Jesus Christ are converging through the awesome explosion of high tech. Make sure you see the section at the end of this post titled: What is Behind the NWO.
I archive all the articles posted. If you want to do research on the 666 Surveillance and the other topics, go to: Archives – The 666 Surveillance System, Image of Beast, NWO, Days of Noah, Transhumanism
The warning about taking 666: the Mark of the Beast:
Revelation 14:9 And the third angel followed them, saying with a loud voice, If any man worship the beast and his image, and receive his mark in his forehead, or in his hand, (10) The same shall drink of the wine of the wrath of God, which is poured out without mixture into the cup of his indignation; and he shall be tormented with fire and brimstone in the presence of the holy angels, and in the presence of the Lamb: (11) And the smoke of their torment ascendeth up for ever and ever: and they have no rest day nor night, who worship the beast and his image, and whosoever receiveth the mark of his name.
If you like and are blessed by this ministry, please consider making a donation to help keep it going. May the Holy God of Israel bless you!
1. Articles: The 666 Surveillance System and Image of the Beast   The * means new post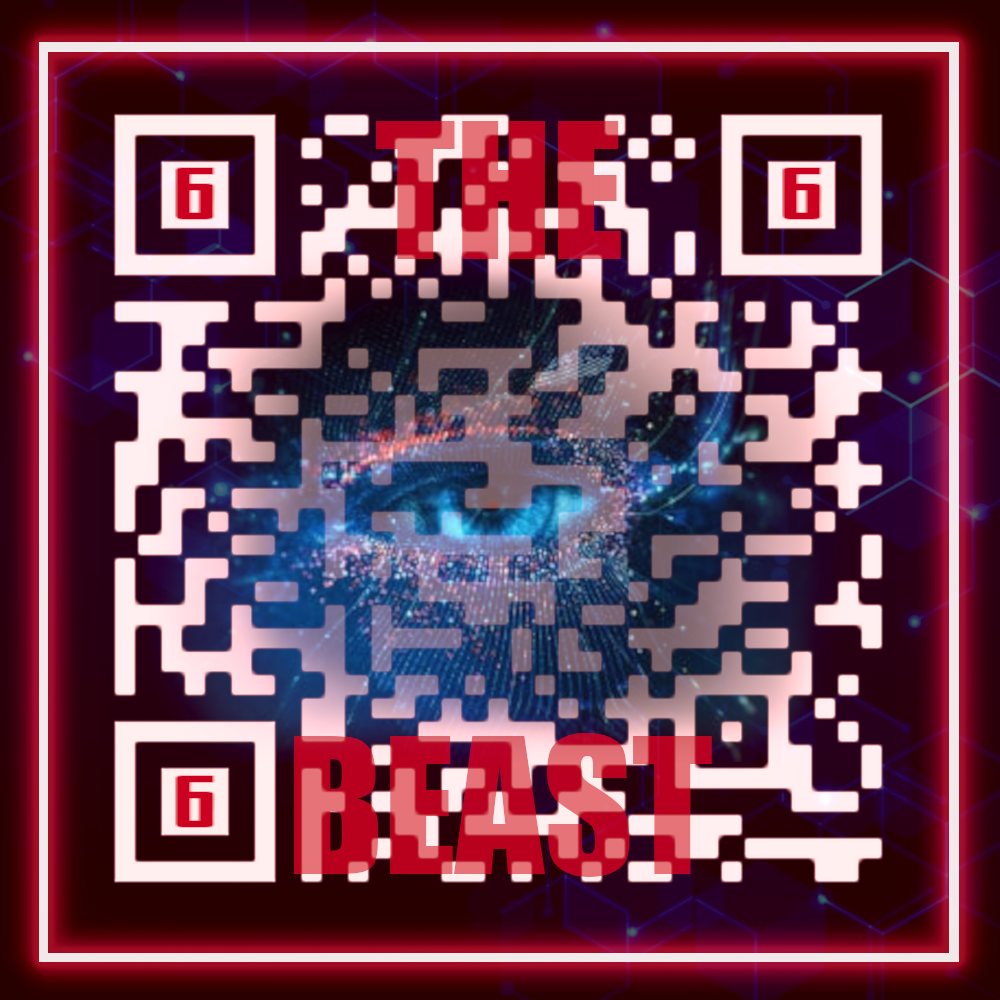 *It Begins: Australia's Fifth-Largest Bank Announces Digital-Only Transactions – Will Phase Out Cash, Cheque, and Phone Payments in All 80 Branches Starting Next Year Once this starts in Australia, it will spread world-wide. The technology to do this is now setup throughout the world. This is all part of the NWO's plan to control the world and institute their world control. We are fast running out of time before the NWO will create WW3 or something else to takeover the world. What is happening is reality and not an unfounded conspiracy theory. This is all heading to the implementation of the 666 Surveillance System.
Revelation 22:20 He which testifieth these things saith, Surely I come quickly. Amen. Even so, come, Lord Jesus. 

From article:"Australia's fifth-largest bank, Macquarie Bank, has announced its transition to digital-only transactions. Starting from January 2024, the bank will begin phasing out all cash, cheque, and phone payment services in its 80 branches. By November 2024, all in-branch cash transactions will be completely discontinued. "Between January 2024 and November 2024, we'll be phasing out our cash and cheque services across all Macquarie banking and wealth management products, including pension and super accounts," the bank said in a statement."
Sweden: New Dystopian DIGITAL ID
From article:"Have you ever wondered what digital ID really is and the real plan behind this agenda? It is all about control. Imagine a world where we have central bank digital currencies. Everyone needs a digital ID to access their digital wallet. Imagine how easy it is for the state to control everything people do and buy. In fact, there is already a Swedish company that has technology to track your purchases and calculate your C02 emissions. Many banks are already using this technology to inform people of their carbon emissions based on what they buy. In other words, tracking your purchases."
After the Moon Landing and the Solar Probe Launch, India Gears up for Its First Manned Space Mission – But First, They Will Send Humanoid Robot Vyommitra This robot is primitive, but it is a step towards a fully functioning Image of the Beast!
From article:"In preparation for India's maiden [manned] spaceflight mission, Vyommitra will be a part of the uncrewed Gaganyaan mission. During her space endeavor, she will be responsible for executing some vital tasks that include: microgravity Experiments, monitoring module parameters, etc. […] Vyommitra will test systems and procedures that will be employed during manned missions ensuring their effectiveness. It will contribute to improving the safety of future manned mission."
The international significance of India's Digital Public Infrastructure India is the leading country for the NWO to totally establish digital money and identification. The foundation for the Mark of the Beast has been laid in India and many nations are about to follow!
From article:"India's expertise in using technology to boost socio-economic development is now recognized worldwide. The country has built a Digital Public Infrastructure (DPI) that includes a digital identification layer called Aadhar; a payments system running as a Unified Payment Interface; and, a data exchange layer in its Account Aggregator, amongst other services. These functions have been curated as foundational layers to build, iterate and innovate upon.
Bill Gates: Every Person on Earth Should 'Prove Their Identity' with 'Digital ID'
From article:"According to Gates, the Modular Open-Source Identification Platform (MOSIP) is a "global solution" for rolling out digital IDs for the entire human race. Gates describes MOSIP as an "inclusive approach" to a "global digital ID system" that serves as "a formidable solution" for "dismantling the barriers" for people millions of people around the world who don't have suitable identification."
Technocrat says quiet part out loud: A Digital 'World ID' will soon be mandatory for anyone who wishes to partake in day-to-day functions of society
From article:"I've been saying for nearly three years now that the beast system is based on the world's people accepting two technological components offered up by the Luciferian globalist elites: A globally recognized digital ID to replace the cards in your wallet and a globally recognized digital money to replace the cash in your wallet. The two together will comprise the foundation of the punitive global beast system."
Top economist: Central bankers are planning CBDC currency implants 'under your skin'
From article:"According to Gates, the Modular Open-Source Identification Platform (MOSIP) is a "global solution" for rolling out digital IDs for the entire human race. Gates describes MOSIP as an "inclusive approach" to a "global digital ID system" that serves as "a formidable solution" for "dismantling the barriers" for people millions of people around the world who don't have suitable identification. The billionaire's advocacy comes as the Bill & Melinda Gates Foundation has just pumped $10 million into MOSIP. Gates' organization has joined forces with the United Nations' Sustainable Development Goals to promote and advance the globalist technology. The Gates Foundation's aim seems to focus on propelling a universal digital identification framework. Gates, the UN, and MOSIP appear to be pitching the technology for use in low to middle-income economies but planning to roll it out worldwide."
Nearly a fourth of states introducing biometric digital IDs — and more than half are Republican 'red' states
CASHLESS DOWN UNDER: Australia gears up for CBDC rollout, with major banks banning OTC cash withdrawals
Nearly a Fourth of States Introducing Biometric Digital IDs — and More than Half are Republican 'Red' States
Worldcoin will permit governments and private firms across the globe to use its World ID system – that was the plan all alongAmerican "smart" street lights now being rigged with license plate readers to spy on your every move
New crypto linked to digital ID forces all users to scan their EYEBALLS using iris-scanning technology
Farage Tells Breitbart we are on the Verge of Banks Running 'Word Checks' on Customers Social Media
From article:"Far from merely being institutions which serve an important role in society by taking deposits then making loans — and making some profit by doing so — banks have now become "highly politically active", Mr Farage warned. This is a campaign he has taken up to increasing effect in the United Kingdom after he was debanked for not aligning with his bank's newfound left-wing values."
Orwellian France: Parliament Approves Legislation Opening Door to Mass Surveillance, Making It Easier for Authorities to Spy on Electronic Devices
A world in which your boss spies on your brainwaves? That future is near
From article:"Farahany paints a picture of a near future in which every office worker could be fitted with a small wearable that would constantly record brain activity, creating an omnipotent record of your thoughts, attention and energy that the boss could study at leisure. No longer would it be enough to look like you're working hard: your own brainwaves could reveal that you were slacking off.
CEO Of Worldcoin Says "Something Like World ID Will Eventually Exist… Whether You Like It Or Not"
From article:"In it, according to Blania, digital ID will be so prevalent that it will become inevitable, and there will be no escaping verifying the quality of being human (and likely, quite a few more things) online – if one wants to be online at all. And whether one "likes it or not." Blania links it to "progress" in "AI," and predicts this will be happening as soon as within a couple of years."
EU unveils plans for digital euro, promising complete privacy
Amazon's palm-scanning payment technology is coming to all 500+ Whole Foods Once this is perfected, it will be put in place in all stores. The is no stopping the 666 Surveillance System.
World ID – Changing the world or sci-fi dystopia?
California tests, Iowa launches digital IDs, while Michigan considers legislation Step by step the system is getting closer to the 666 Surveillance System!
Banking Insider Warns CBDCs Will Be Implanted Chips (Video)
 launches new payments system that lets you send money in seconds
From article:"FedNow isn't offered directly to individuals and businesses, but it will serve as the basis of infrastructure for instant payments by linking banks. Transactions occur between bank accounts and enable funds to be transferred from a sender's bank account to a receiver's bank account immediately. The limit per customer credit transaction will be $500,000, but the initial setting of the transaction limit will be $100,000. The money can move from consumer to consumer, from consumers to businesses, or from business to business."
WHO makes bombshell announcement launching 'digital health certification network': Will the 'mark' soon be foisted upon the people of the world?
More nations rolling out digital IDs and making them mandatory for citizens to access bank accounts
New digital 'money' will mark the end of First Amendment, Second Amendment, and all human freedom
By 2030 You Will Not Eat Meat & You Will be Allowed Only Three Items of New Clothing a Year, Report Says
Social Credit: Bank Blocks Account for Parents' Organisation Opposed to Child Transgenderism This is about Great Britain, but the attempt will be soon made to do the same in USA. It is right at the door!
Where Central Banks Have Issued Digital Currencies The NWO economic rope already is around the neck of many nations. Soon, all the nations will be under digital currencies and thus under the direct control of the NWO. The coming of Christ for us is very close.
From article:"The European Union today is proposing a legal framework for its planned launch of the digital euro. According to the Central Bank Digital Currency Tracker by Atlantic Council, concrete plans to launch a CBDC were also recorded in Canada, Brazil and the United States, among others. Countries which are already in a CBDC pilot phase include Russia, Thailand, India, South Korea, Sweden, the United Arab Emirates and Saudi Arabia, according to the source. It is unclear, however, which of these programs could see a proper launch next. CBDCs were introduced even earlier than in Nigeria in Caribbean countries, for example in the Bahamas and nations and territories that share the currency of the Eastern Caribbean dollar. The Sand Dollar of the Bahamas was the first central bank digital currency of the world upon its launch in 2019 and cleared the way for a rapid adoption around the region's small nations."
From article:"Instead, Farahany, a high-profile scholar and legal ethicist focused on emerging tech, rather glibly predicts a future in which corporations and governments will be able to read your mind. In fact, that technology — the "ability to decode brainwave activity" — is already here, she claims. "We're not talking about implanted devices of the future," she tells her audience. "I'm talking about wearable devices that are like FitBits for your brain," that can pick up your mind's emotional states, simple shapes you may be thinking of, or even faces. Farahany adds, though, that "we can't literally decode complex thoughts just yet."
From article:"The plan is to use the system for "travel, immigration and citizenship status, employment, residency status and more." A look at the DHS's announcement shows a particular emphasis on wallets that are compatible with World Wide Web Consortium's (W3C) Verifiable Credential Data Model (VCDM) and W3C Decentralized Identifiers (DID) standards. On the surface, this may appear as a step toward standardization. However, this type of centralization could create a monoculture that will also speed up the move towards centralized digital IDs – which could be the entire plan."
From article:"the Bank for International Settlements (BIS) announced that it was throwing its weight behind central digital currencies (CBDCs), publishing a blueprint of a future monetary system "underpinned" by this type of money. And the BIS also heaped praise on the concept of programmable money. The announcement of the blueprint that's supposed to represent the foundation of the world's new financial and monetary system came just a day after reports that the BIS and the Bank of England had completed a CBCD project."
From article:""They're planning to meet in New York City in September. They'll go over the progress that they're going to make in January. They'll give a final completed package of the 300 amendments, together with a global pandemic treaty, to the World Health Organization and the U.N. And then they'll meet again in Geneva next February. But one year from this week, they will take the vote. And so they intend to vote for a platform for global government and to give themselves the power that no one has ever seen before." The plan is to vote to change the WHO from an advisory body to a global body with legal authority. "They intend to have surveillance over every citizen on earth, and they intend to … control us through health care." HHS Secretary Xavier Becerra appears to be heading down the same path, calling for more "bio surveillance." That is, surveillance of our bodies, our health records, and our choices–to "control us through health care,"
From article:"It should be noted that this digital ID system being rolled out in Atlanta is voluntary. Or is it? I'm already receiving reports from a few readers that this system was used to scan their faces without their permission. Klaus Schwab has been telling us humans for three years now that this was coming but nobody wanted to listen to him. Those of us who did listen and expressed our concerns were called "conspiracy theorists." He said there is a "Fourth Industrial Revolution" waiting just around the corner that will change the way the world functions. Advances in technology will lead to "a fusion of our physical, our digital and our biological identities," he said"
2. Articles: The NWO, Transhumanism and Days of Noah: The * means new post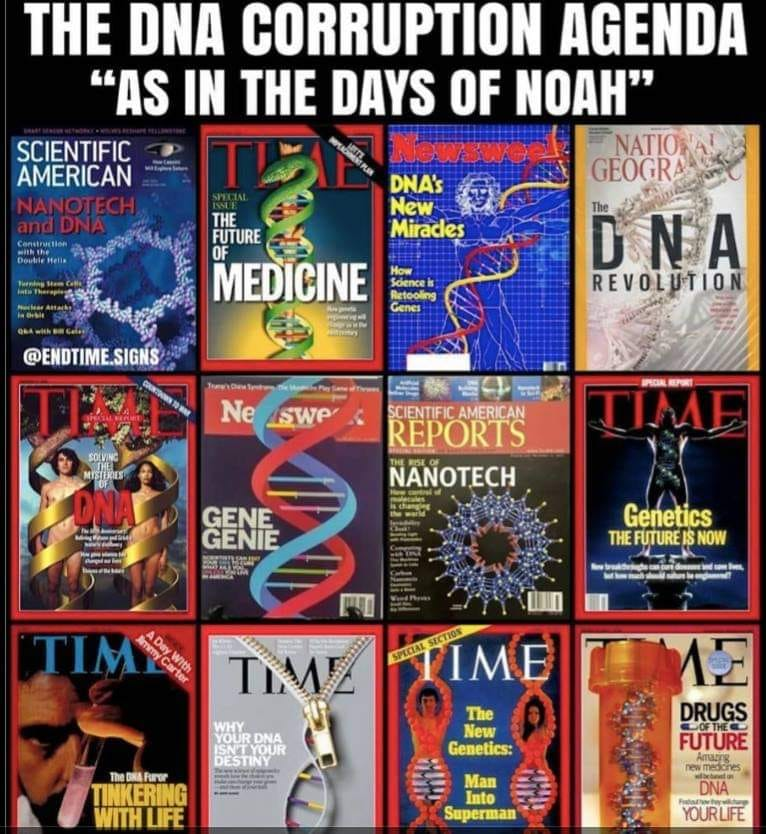 *Transhumanism: Globalists Promise To 'Improve' On God's Design Of Man
The Grotesque Experiments That Mad Scientists Around The Globe Are Conducting On Human Cells Are Absolutely Sickening
From article:"Last year, the research team created a "DishBrain" – a "semi-biological computer chip with some 800,000 human and mouse brain cells lab-grown into its electrodes," according to New Atlas. The DishBrain utilizes lab-cultivated neurons from human stem cells. The scientists were able to train the brain cells to play the classic video game "Pong."
Transhumanism, generative AI & Internet of Bodies top WEF emerging tech report
From article:"The World Economic Forum (WEF) publishes its Top 10 Emerging Technologies of 2023 report, which includes tech that is coveted by defense departments and intelligence communities for their soldiers and spies. Brain-computer interfaces to usher-in a new era of transhumanism, flexible batteries to be implanted in smart clothes, and generative AI for brain decoding and intelligence reporting are all technologies currently being researched and developed for soldiers and spies. These same technologies are also highlighted in the WEF report, which "outlines the technologies poised to positively impact society in the next three to five years."
DNA CONTROL VIA ELECTRICITY! – AI Brain Interfaces – These Technologies Are Built To Enslave (Video)
Globalist World Bank DEFUNDS Uganda after the country passes anti-LGBT law
Grief Tech Uses AI to Give You (and Your Loved Ones) Digital Immortality
From article:"MindBank plans to create digital twins of its users, replicating their personalities, ways of thinking and speaking, and other characteristics as closely as possible. These twins will interact with our loved ones after we're gone—and teach us about ourselves while we're still here. "What we've created is a personalized layer of AI that sits on top of a generalized model," Jimenez said. "I like to call it AI-enhanced humanity." That's actually the title of his book, which comes out in October. It starts two million years ago with homo habilus, the first hominid that was making tools, and one of its themes is how tools change our culture. "AI is just another tool that's going to change our culture," he said."
Dr. Carrie Madej: COVID-19 vaccines are about introducing TECHNOLOGY into human bodies (Video)
Elon Musk's Neuralink Raises $280 Million to Develop Brain Implants
From article:"Neuralink recently received approval from the US Food and Drug Administration to conduct human clinical trials. The company is developing a small device that uses electrode-laced wires to link the brain to a computer. Placing the device requires drilling into the skull. Musk's startup has previously raised concerns within animal rights groups for its testing on primates. Earlier this year, the US Transportation Department began an investigation into the company after an animal advocacy organization said it obtained emails suggesting the startup did not follow proper procedure when shipping possibly hazardous materials."
DeepMind's ChatGPT-Like Brain for Robots Lets Them Learn From the Internet This is all for preparation of the brain for the Image of the Beast!
Electrogenetics Study Finds We Could One Day Control Our Genes With Wearables The mad scientists now are directly tampering with the function of DNA. They always present their tampering as something wonderful, but in the end this is directly connected with creating transhumans. These creatures are monsters in God eyes because they are not reproducing after their own kind but monsters made by man.
From article:"Called "electrogenetics," these interfaces are still in their infancy. But the team is especially excited for their potential in wearables to directly guide therapeutics for metabolic and potentially other disorders. Because the setup requires very little power, three AA batteries could trigger a daily insulin shot for more than five years, they said. The study is the latest to connect the body's analogue controls—gene expression—with digital and programmable software such as smartphone apps. The system is "a leap forward, representing the missing link that will enable wearables to control genes in the not-so-distant future," said the team."
UNESCO warns against BRAIN CHIPS being used as "personality-altering weapons" I believe that mind control will be part of the 666 Surveillance System. Once a person receives the Mark of the Beast, they will be mentally locked in with NO chance of leaving.
From article:"The UN Educational, Scientific and Cultural Organization (UNESCO) issued the warning through its International Bioethics Committee (IBC). According to the IBC, neurotechnology could lead to "new possibilities of monitoring and manipulating the human mind through neuro-imaging [and] personality-altering [programs]." Because of this, the UN agency is now strategizing on a worldwide "ethical framework" to protect humanity from the potential abuses of brain chip technology. UNESCO fears that these abuses will be accelerated by advances in artificial intelligence (AI). "We are on a path to a world in which algorithms will enable us to decode people's mental processes," remarked Gabriela Ramos, UNESCO assistant director-general for social and human sciences. She continued that breakthroughs in neurotechnology that could "directly manipulate [humans'] brain mechanisms, underlying their intentions, emotions and decisions" have "far-reaching and potentially harmful" implications."
Musk predicts 'digital superintelligence' will exist in 5–6 years
Robots could go full 'Terminator' after scientists create realistic, self-healing skin
The Deep Dive On AI, Transhumanism, And The Globalist Plan To Depopulate The Earth (Video)

"This is a Digital Prison… It's a Global Government" – Dean Michele Bachmann on the Global Effort to Eliminate Our Freedom
Scientists Working on Merging AI With Human Brain Cells
From article:""This new technology capability in the future may eventually surpass the performance of existing, purely silicon-based hardware," said Adeel Razi, team lead and associate profess at Monarch University, in a statement. "The outcomes of such research would have significant implications across multiple fields such as, but not limited to, planning, robotics, advanced automation, brain-machine interfaces, and drug discovery, giving Australia a significant strategic advantage,"
Microsoft Says New A.I. Shows Signs of Human Reasoning
Will AI soon be as smart as — or smarter than — humans?
Synthetic human embryos created in groundbreaking advance
From article:"Scientists have created synthetic human embryos using stem cells, in a groundbreaking advance that sidesteps the need for eggs or sperm. Scientists say these model embryos, which resemble those in the earliest stages of human development, could provide a crucial window on the impact of genetic disorders and the biological causes of recurrent miscarriage. However, the work also raises serious ethical and legal issues as the lab-grown entities fall outside current legislation in the UK and most other countries. The structures do not have a beating heart or the beginnings of a brain, but include cells that would typically go on to form the placenta, yolk sac and the embryo itself."
*Launch of the Mark of the Beast System Announced by WEF (Video)
*Final Days Video* Please take the time to watch this video. I was spellbound watching it. The video shows how evil, wicked, reprobate minded people are using science to destroy humanity. Their own words and documents are used to prove this. Covid 19 was the opening phase of the NWO attack to destroy humanity, and this video proves this without any doubt. We are in the last second of the last days before the Second Coming of Jesus Christ who will totally destroy this evil against him and then setup his kingdom on earth: Even so, come, Lord Jesus.
UN "Pact For The Future" Seeks Permanent Emergency Powers For "Complex Global Shocks"
Becoming Gods – How China Is Racing To Hack The Human Genome (Video)
IMF Pushes Global Central Bank Digital Currency Platform as Cashless Trend Builds Steam
World Government Summit: 'Shock' Needed to Usher in 'World Order Transformation'
From article:"Globalists have been gathering at the World Government Summit in Dubai to discuss advancing plans for a single global government. World leaders and powerful elites have been flocking to the event this week to pitch ideas for expanding globalism by uniting sovereign nations' governments. During a panel discussion at the summit, Professor Arturo Bris from the IMD World Competitiveness Center argued that a "shock" is needed to shift global society away from the current "world order." He insisted that the "transformation" of the "world order" "cannot be gradual."Bris told attendees that elites and world leaders need to address how to use a "shock" so the world can "go through this transformation."
How Klaus Schwab's WEF Is Weaponizing Banking
Yuval Noah Harari says "non-organic entities" and "emotionless algorithms" will soon dominate Earth – in other words, AI TAKEOVER is coming soon
Synthetic human embryos created in groundbreaking advance
From article:"Previously, Żernicka-Goetz's team and a rival group at the Weizmann Institute in Israel showed that stem cells from mice could be encouraged to self-assemble into early embryo-like structures with an intestinal tract, the beginnings of a brain and a beating heart. Since then, a race has been under way to translate this work into human models, and several teams have been able to replicate the very earliest stages of development."
The UK's Secretive Web Surveillance Program Is Ramping Up
Hasidic rabbis rule: ChatGPT is 'abomination, heresy, and heathenry without limits'
The Godfather of A.I.' Leaves Google and Warns of Danger Ahead
A future 'God-like AI' could destroy humans or make them obsolete if not properly contained, a prolific AI investor warned
Hacking Humanity: Transhumanism
AI could go 'Terminator,' gain upper hand over humans in Darwinian rules of evolution
2045 look it up: Amazing Breakdown of globalist Plans
A Bionic Eye That Could Restore Vision (and Put Humans in the Matrix?) This is all part of the creation of the Image of the Beast.
Ray Kurzweil says We'll Reach IMMORTALITY by 2030
ROBOT WARS Moment woman flips out at robot 'receptionist' and smashes it up with plank of wood in huge meltdown
Hacking Humanity: Transhumanism
From article:"The human species can, if it wishes, transcend itself—not just sporadically, an individual here in one way, an individual there in another way, but in its entirety, as humanity. We need a name for this new belief. Perhaps transhumanism will serve: man remaining man, but transcending himself, by realizing new possibilities of and for his human nature."
'We now have the technology to correct misspellings in our DNA that cause known genetic diseases' This also means they have the technology to change the DNA to create monsters!
Transhumanism And The Mark Of The Beast
Biodigital Convergence: The Pandemic Started The Genetic Transformation Of Humanity
From article:"The Pandemic was never just about a virus and a "vaccine". It was the first mass-scale application of synthetic biology to the human condition. As such, it transitioned theoretical Convergence science into applied science but on a global scale. For a world that mostly never heard of Transhumanism, they have arbitrarily been placed on the conveyor belt of transformation."
Globalists Get A Deadly New 'Tech Weapon' For Depopulation As 'The Great Realignment' Arrives & A.I. Experts Warning Of Coming Human Extinction Say A.I. Is Full Of Anger And Rage
The World's Biggest Guaranteed Income Trial Will Launch in India This Year
This Shocking AI Footage Should Concern You (Video)
Thoughtful technology: We can now control robots — with our minds
Why Giving Rights to Robots Might One Day Save Humans
Bill Gates Says "The Age Of AI Has Begun"
Doug Casey on "15-Minute Cities" and Penning You In for the Next Lockdown
FedNow Instant Payments Are Coming and CBDCs Will Follow
3. What is behind the NWO!
The Bible is very clear about in the latter days, before the Second Coming of Jesus Christ, there will be a world economic order. The Bible identifies this system as Babylon, which Jesus Christ will destroy at his coming. What is so interesting is the Bible tells us what is the power source behind this Babylonian System. The power comes from satan!
Revelation 18:2 And he cried mightily with a strong voice, saying, Babylon the great is fallen, is fallen, and is become the habitation of devils, and the hold of every foul spirit, and a cage of every unclean and hateful bird. 
We have to realize the inner agents of the NWO and those who are working with them are full of demons. Satan has control of their minds and is using them to fulfill his agenda in his war against God! Satan has promised them power and control through the Mark of the Beast and a form of "eternal life" through transhumanism. In exchange, they are sold out to him by selling their soul. I think all of them are satan worshipers or as the Bible states: "the habitation of devils". In dealing with the NWO, we are engaging the powerful spiritual forces of evil.
The Bible goes on to state who are the great men of the earth: the merchants working with the NWO. It goes on to say these merchants used sorceries to deceive the peoples! The root word for sorceries is drugs!!! Right now the NWO is trying to take down and then over haul the world. It is through Covid 19, a created bio weapon and add all the drugs connected with it, that the NWO is trying to takeover the world! Just look at all the wealth and power of the pharmaceutical industry has over the entire world. And, it's through these merchants with their drugs that massive amounts of Christians will be slain!
From our vantage point right now, we can see this coming. The NWO hates and loathes everyone who believes the Bible and have faith in Jesus Christ the Savior. When Hitler took power over Germany he tried to exterminate all the Jews, so when the NWO takes world power these monsters will try and destroy all the believers in Jesus Christ. They all will met their doom at Christ's Second Coming.
Revelation 18:23…for thy merchants were the great men of the earth; for by thy sorceries were all nations deceived. (24) And in her was found the blood of prophets, and of saints, and of all that were slain upon the earth.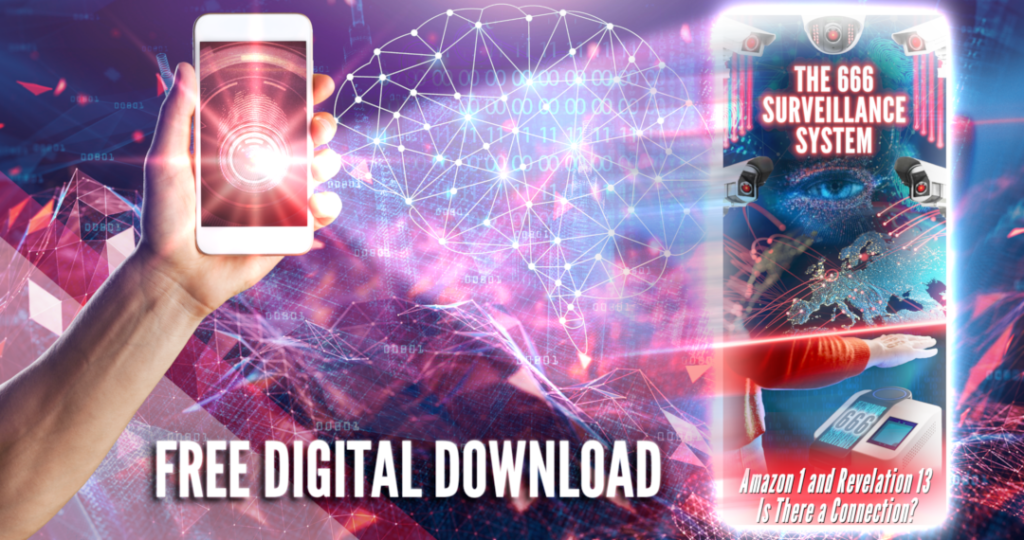 The 666 Surveillance System Brochure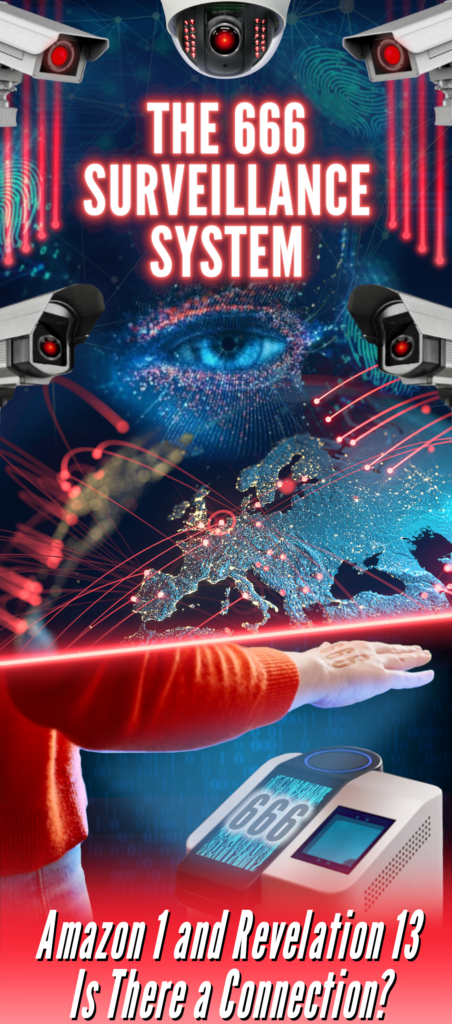 If you want a free hard copy, email me at: [email protected] with your name and mailing address. I'll also send you free copies of my other brochures which are all winning souls to Jesus Christ.
The brochure is perfect for the time we are living in. There is a high tech environment which is all around us and coming more high tech by the day! The Bible speaks about this in Revelation 13 with world coming under a 666 numbering system by a world dictator immediately prior to the Second Coming of Jesus Christ. I lay all this out in the brochure.
The timing for in the brochure is NOW. Anyone who reads it will immediately see the tie between the Bible and hour we live in. This is a great tool to open even the hardest hearts to Christ. It is perfect for the younger generation who have little to no knowledge of the Bible. They will be astonished to see where high tech is heading and the end result. The brochure is a great challenge to the Muslims and other religions because their books have no prophecy like this to tie into world events!
If you would like a hard copy of this brochure and my others including: Looking for the Blessed Hope and Jesus Christ Came to Heal the Brokenhearted just email me at [email protected] with your name and mailing address. If you want a small supply, just let me know. For large orders, I go by an offering.
Please don't let this great opportunity pass by because there never was a time until now when this information could be such a powerful witness for the Lord and his coming. The time to use the brochure will be short because 666 related events are so rapidly increasing which will soon turn the world upside down.