URGENT: Antifa Preparing For War With America November 4
Verse of the Day
Luke 21:9 But when ye shall hear of wars and commotions (civil unrest), be not terrified: for these things must first come to pass; but the end is not by and by.
Commentary
Antifa is laying its plans out right before the nation. The Demoncrats are supporting them, along with several Republicans like John McCain. Have you heard any establishment Republicans denounce Antifa? They only denounce President Trump!
Dealing with Antifa is like dealing with the Muslim terrorists. We have to define what Antifa is and then attack it. This group also is like the KKK of the 1870s Democratic Party. Once again, the Democrat Party is reverting to terrorism against those who were against them. It is like history is in a big circle of 160 years going back to the Civil War.
Remember, the Democrats are taking the fight to us and Antifa is their new KKK.
May the Holy God of Israel bless and protect you.
Hosea 4:6  My people are destroyed for lack of knowledge: because thou hast rejected knowledge, I will also reject thee, that thou shalt be no priest to me: seeing thou hast forgotten the law of thy God, I will also forget thy children.
Anarchy – Civil War/ Hard Left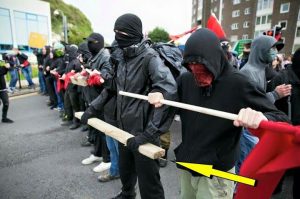 War: Antifa Plans Nationwide Terror Attacks For November 4, 2017 08/21/17
"Each and every time Antifa groups organize, whether it is to protest the presidential election and President Trump's inauguration, or a free speech event they claim is "racist," or claims of "fascist cops," or a conservative lecture at a college, whatever the event they "oppose" is, they organize, they bus people to the event, they attack as you see in the video above, they perpetrate violence, they destroy property, then they leave the town to pick up the pieces so they can plan their next "counter-protest," where the same pattern plays out.
NATIONWIDE ANTIFA TERROR ATTACK PLANNED FOR NOVEMBER 4, 2017 Multiple Antifa groups are now planning not just one event, but according to their announcement, it will be a nationwide terror attack on Americans, scheduled for November 4, 2017, and already being organized, with fliers, being announced on their websites and social media accounts, telling their followers to "take to the streets and public squares in cities and towns across the country continuing day after day and night after night—not stopping—until our DEMAND is met."
What is their demand? "The Trump/Pence Regime Must Go!"
On August 19, 2017, they held "regional conferences" in New York, Chicago, Los Angeles, San Francisco, and Austin, to plan the nationwide terror attacks, with the conferences being hosted by Refuse Fascism Org.
In their own words: We will gather in the streets and public squares of cities and towns across this country, at first many thousands declaring that this whole regime is illegitimate and that we will not stop until our single demand is met: This Nightmare Must End: the Trump/Pence Regime Must Go!
Our protest must grow day after day and night after night—thousands becoming hundreds of thousands, and then millions—determined to act to put a stop to the grave danger that the Trump/Pence Regime poses to the world by demanding that this whole regime be removed from power."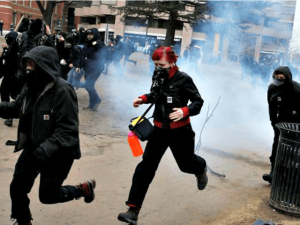 White House Petition Calls on Trump to Officially Recognize 'Antifa' as a Terrorist Organization 08/20/17  There will be no place to hide. The Hard Left is bringing the fight to us. You need to be prepared both spiritually and physically for the darkness that is rapidly descending over America. Unless the Lord intercedes, serious times of troubles are upon us.
"Terrorism is defined as "the use of violence and intimidation in pursuit of political aims". This definition is the same definition used to declare ISIS and other groups, as terrorist organizations. AntiFa has earned this title due to its violent actions in multiple cities and their influence in the killings of multiple police officers throughout the United States. It is time for the pentagon to be consistent in its actions – and just as they rightfully declared ISIS a terror group, they must declare AntiFa a terror group – on the grounds of principle, integrity, morality, and safety."
In Their Own Words: The Stated Goals of 'Anti-Fasciast' 08/18/17  This is the group that attacked the Nazis and look at what their goal is! It is to destroy the government of the USA. Yet they are now the "good guys" supported by several GOP senators! We really are seeing who the traitors are! It is very clear.
"In the days since violent clashes at a white nationalist rally in Charlottesville culminated in a neo-Nazi sympathizer driving his car into a crowd of counter-protesters, journalists have mainstreamed the self-described "anti-fascists" (or "antifa") at the rally — largely ignoring their involvement in the escalating political violence in this country.
Many establishment political figures insisted the far-left actors were just like American soldiers on D-Day. But these "anti-fascists'" own statements show they're nothing like American soldiers on D-Day.
They aren't interested in protecting America's system of government, according to their own statements — they're interested in destroying it.
From the very start of the Trump administration, far-left actors declared their intention to use massive demonstrations to disrupt the American political process as much as possible.
A common mantra among far-left groups beginning shortly before the inauguration: make America "ungovernable." We need to make this country ungovernable," declared a female leader for Refuse Fascism shortly after the inauguration. "We need to do what the German people should have done when Hitler was elected."
Hard Left/ Islam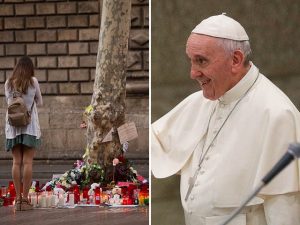 Pope Francis: Rights of Migrants Trump National Security Concerns 08/21/17  The reason I am posting this is because it shows the real Hard Left mentality. No matter how much damage the Muslims are inflicting on Europe, the Left wants more of them.
The Pope commands huge numbers of Catholics, who will go along with whatever he says. This is all part of the death of Europe. It is dying a slow painful death with no way to stop it.
Psalm 9:17  The wicked shall be turned into hell, and all the nations that forget God.

"Pope Francis on Monday urged countries to greatly improve their welcome to migrants and stop collective expulsions, saying migrants' dignity and right to protection trumps national security concerns.
Francis' politically pointed message was made in view of the Catholic Church's 2018 world refugee day, celebrated Jan. 14. It comes amid mounting anti-immigrant sentiment in Europe and beyond following waves of migrant arrivals and Islamic extremist attacks.
In the message, Francis demanded governments welcome, protect, promote and integrate migrants, saying Jesus' message of love is rooted in welcoming the "rejected strangers of every age."
He demanded a simplified process of granting humanitarian and temporary visas and rejected arbitrary and collective expulsions as "unsuitable." He said the principle of ensuring each person's dignity "obliges us to always prioritize personal safety over national security."
When Feminists Join Islamist Terrorists 08/20/17  Right before our eyes, we see the Lord turning those that mock him and his word over to Islam. The Hard Left can't stop it because they are under judgment.
Those that hate Him and Israel are being turned over to the Muslims to receive the judgment they are trying to impose on Israel. We have the privilege to see God's word playing out in judgment on those that mock him and come against his word!
Revelation 16:7  And I heard another out of the altar say, Even so, Lord God Almighty, true and righteous are thy judgments.

"The fact is that these supposed feminists not only turn a blind eye to those atrocities, but their presence at these events actively endorses and legitimizes the rule of these dictators.
When the subject turns to the specific cases of millions of oppressed women around the world — such as Asia Bibi, a Christian mother on death row in Pakistan for seven years for taking a drink of water; or the 19-year-old who, this year, was raped by her cousin at gunpoint and then sentenced to death by stoning for "adultery"; or women who were forced to marry their rapists; or child marriages at 12,000 a day; or women who are beaten by their husbands or who have acid thrown in their faces; or women used as suicide bombers.
When Mogherini smiles in her hijab in Iran, she is delivering a strong blow to women rights movements that attempt to remove the compulsion of the obligatory hijab and grant women equal autonomy, education and freedom. She is empowering suppression."
Islam
Following attack, Barcelona's chief rabbi says his community is doomed 08/19/17  It is so clear that the Jews should get out of Europe. The huge numbers of Muslims are proof that there is no hope for Europe. They could get trapped in Europe and suffer greatly. The hunters are now after them.
Jeremiah 16:15  But, The LORD liveth, that brought up the children of Israel from the land of the north, and from all the lands whither he had driven them: and I will bring them again into their land that I gave unto their fathers. Behold, I will send for many fishers, saith the LORD, and they shall fish them; and after will I send for many hunters, and they shall hunt them from every mountain, and from every hill, and out of the holes of the rocks.

"The Jewish community in Barcelona is "doomed," because authorities in Spain do not want to confront radical Islam, the chief rabbi of Barcelona warned on Friday, a day after the deadly car-ramming attack in the city.
Rabbi Meir Bar-Hen has been encouraging his congregants to leave Spain, which he called during an interview with JTA a "hub of Islamist terror for all of Europe," for years before the attacks Thursday and Friday, he said. At least 14 victims and five suspected terrorists were killed in Barcelona and the resort town of Cambrils, 75 miles south of the city.
To Bar-Hen, whose community on Friday resumed activities that it had suspended briefly following the Barcelona attack, "Jews are not here permanently," he said of the city and region. "I tell my congregants: Don't think we're here for good. And I encourage them to buy property in Israel. This place is lost. Don't repeat the mistake of Algerian Jews, of Venezuelan Jews. Better [get out] early than late."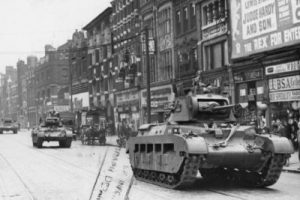 Armed forces will patrol streets in armoured vehicles 08/21/17  The Hard Left can't even define who they are fighting but the Brits are calling the military up! This is insanity as the Europeans refuse to stand against the Muslims who are invading. No matter how much terror the Muslims inflict, the Europeans refuse to stand. They are defeated.
Revelation 22:20  He which testifieth these things saith, Surely I come quickly. Amen. Even so, come, Lord Jesus.

"This is war, but unlike any other war in history. The genocidal ideology and doctrine is never spoken of, and if it is, it must be spoke of with respect and deference. Enemies of the genocidal ideology are targeted for smear and defamation. Adherents to the ideology are given special class status and protections from phantoms and bogeymen that have been created out of whole cloth.
Tanks in the streets is war. Against whom? Against what? Stay quiet!
'Stay quiet and you'll be OK,' Muhammad Atta told passengers on the hihacked plane on 9/11
It because they "stayed quiet" and silenced any candid discussion of Islam that the war is in the streets and in their homes. It is because they have banned me from the UK (and Robert Spencer as well) that the war is in the homeland. It is because they have welcomed immigrants from jihad regions that the war is in their streets and in their homes."
Hard Left in the Military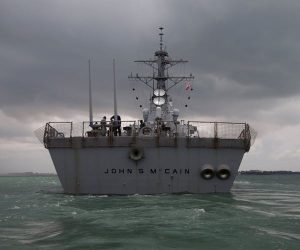 US Navy to Probe Pacific-Based 7th Fleet After McCain Incident 08/21/17  Is this because Obama weakened the military and left it like this? Can we fight North Korea with our navy in this condition? The US Navy now has become a laughing stock!
Four collisions by USN ships in 1 year, 2 days:
21 Aug: USS McCain
17 June: USS Fitzgerald
9 May: USS Lake Champlain
19 Aug 2016: USS Louisiana
"The U.S. Navy ordered a broad investigation Monday into the performance and readiness of the Pacific-based 7th Fleet after an early morning collision between the USS John S. McCain and an oil tanker in Southeast Asian waters left 10 U.S. sailors missing and others injured.
It was the second major collision in the last two months involving the Navy's 7th Fleet. Seven sailors died in June when the USS Fitzgerald and a container ship collided in waters off Japan.
Navy Adm. John Richardson, the chief of naval operations, will call for a pause in operations and seek a deeper look at how the Navy trains and certifies its forces that are operating around Japan, Defense Secretary Jim Mattis said."
History/ Islam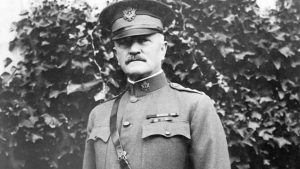 General Pershing, Pigs, Philippines and Islamic Terrorism 08/18/17  President Trump just mentioned that General Pershing used pigs against the Muslim terrorists in the Philippines. The Hard Left media immediately attacked him and said it was not true. But, the pigs were used with great effect against the Muslims. They believe that if they are buried with pigs, they are unclean before allah and can't get into heaven!
"These Juramentado attacks were materially reduced in number by a practice that the Mohamedans held in abhorrence. The bodies were publicly buried in the same grave with a dead pig. It was not pleasant to have to take such measures, but the prospect of going to hell instead of heaven sometimes deterred the would-be assassins."
These were the words of General Pershing in his autobiography. According to the New York Times (despite having reported on it at the time) it's a myth. The Washington Post agrees. They both cite fact checks by Politifact and Snopes. The problem with all the fact checks is… the facts.
The media has avoided the problem by consulting "experts" who tell them exactly what they want to hear. And what they want to hear is that it never happened. But not only was it written up in the New York Times, the Scientific American, a number of other publications, and mentioned by a number of other military officers, General Pershing had written about it."

Psalm 7:16  His mischief shall return upon his own head, and his violent dealing shall come down upon his own pate.