URGENT: Hamas, Islamic Jihad: 'We're close to open war with Israel
Verse of the Day
Jeremiah 51:20 Thou (Israel) art my battle axe and weapons of war: for with thee will I break in pieces the nations, and with thee will I destroy kingdoms; (21) And with thee will I break in pieces the horse and his rider; and with thee will I break in pieces the chariot and his rider;
Commentary
Hamas must have Iran's backing to attack Israel like this. If this is so, then Hezbollah also is ready to attack Israel. This could be the all-out war that I warned is coming. This situation is very serious because if Israel invades Gaza, it is a sign of how serious the war is.
Israels are dying from the missile attacks, so this is forcing Israel into a land invasion to stop the rockets. I will keep you posted with cutting edge information about what is happening.
I think that Jeremiah 51:20 is the verse for hour, and I'm going to use it as it show what is going to happen to Hamas and the other nations that want to destroy Israel.
May the Holy God of Israel bless and protect you.
Zechariah 12:6 In that day will I make the governors of Judah like an hearth of fire among the wood, and like a torch of fire in a sheaf; and they shall devour all the people round about, on the right hand and on the left: and Jerusalem shall be inhabited again in her own place, even in Jerusalem.
Israel vs Hamas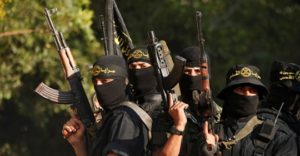 "Hamas, Islamic Jihad: 'We're close to open war with Israel':"
"Defiant Hamas and Islamic Jihad officials said on Sunday that they don't rule out the possibility that the current round of fighting in the Gaza Strip could lead to an all-out war with Israel.

The warning came as leaders of the two Palestinian groups continued their discussions in Cairo with senior Egyptian intelligence officials on ways of ending the current round of fighting with the Jewish state.
Unconfirmed reports on Sunday evening claimed that Hamas has indicated its readiness for a ceasefire with Israel. Hamas officials in the Gaza Strip did not comment on the reports.

Islamic Jihad spokesman Musab al-Braim said that the "resistance was on the threshold of a new phase in repelling the [Israeli] aggression that could lead to an open war." He said that in light of the continued "aggression on our people and the targeting of children, houses and the implementation of the policy of assassinations, we are on the threshold of this phase, and we will not have mercy on this enemy."
Israel vs Hamas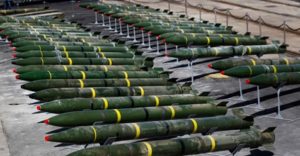 "Iran behind the Gaza escalation" Part of the coming all-out war in the Middle East is Israel destroying the military power of Iran. A war with Hamas easily could lead to war with Iran. Right now we are looking at a powder keg situation in Gaza.
Jeremiah 51:20 Thou art my battle axe and weapons of war: for with thee will I break in pieces the nations, and with thee will I destroy kingdoms;


"Iran, through Palestinian Islamic Jihad – its proxy in Gaza – is behind the current escalation in the South, former national security adviser Yaakov Amidror said on Sunday.

Amidror, in a conversation with The Israel Project, traced the current round of massive rocket fire on Israel to Friday, when an Islamic Jihad sniper fired on IDF soldiers patrolling the Gaza border, wounding two officers. Israel responded and killed two Hamas men, and then the rocket barrage began from Gaza.
What made Friday's shooting on the IDF patrol interesting, Amidror said, was that it took place precisely when Hamas and Islamic Jihad leaders were in Cairo putting the finishing touches on an agreement drawn up by Egypt that was designed to ease the tension in the South.

But while its leaders were in Cairo, Islamic Jihad fired on the soldiers. At first, the organization tried to deny responsibility for the attack. "Why did the Islamic Jihad do this?" Amidror asked. "The answer is again and again and again – Iran."
Israel vs Hamas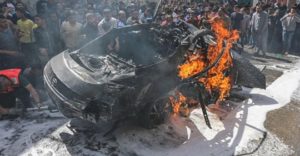 "4 Israelis Dead in Rocket Barrages, Israel Kills Key Hamas Operative" This is an update on what is happening in Israel with the the war over Gaza. This is very serious because Israelis have been killed. There have been many events like this in the past, but we never know which conflict like this could erupt into a full scale war!
I will keep you posted about what is happening. In the end, Hamas will be totally destroyed.
Jeremiah 51:20 Thou art my battle axe and weapons of war: for with thee will I break in pieces the nations, and with thee will I destroy kingdoms;

"With 600 rockets launched at Israel, onslaught of Gaza fire not letting up: Four Israelis wounded from shrapnel: Israel strikes hundreds of targets in Strip, 16 Palestinians reported dead: Killing of Gazan who funneled Iranian funds is first targeted hit since 2014

The conflict between Israel and Gaza factions entered its second day Sunday, after a night that saw the first Israeli fatality. More than 600 rockets have so far been launched at Israel, as the Israeli army struck hundreds of Hamas and Islamic Jihad targets in the Strip.

Four Israeli men and 16 Palestinians, including two pregnant woman and an infant, were killed so far since tensions ratcheted up along the border on Friday. Four Israelis were wounded as rockets fell on the Israeli south on Saturday.

Schools were canceled across the south, and the Israeli army on Sunday said it expects the flare-up to continue in the coming days. A Hamas political source has told Haaretz that the group decided to take serious steps against Israel due to the fact that the Israeli government has been slow in implementing understandings reached between the two parties."
Abba Father's International Fellowship
Dear pastor David
Greetings in the mighty name of our Lord Jesus Christ. Thank you for sending me your newsletters it have been of blessing to my family members and church It have brought revival in my church and community they have learned through your newsletters that we are living end time. I have distributed all the newsletters and we have those who want newsletters and i told them that i don't have another newsletters.
Kindly servant of God i request another newsletters .
I have attach few pictures
Yours in the Lord
Evangelist N N
Revelation 22:20 He which testifieth these things saith, Surely I come quickly. Amen. Even so, come, Lord Jesus.
If you like our ministry, please consider making a donation to keep us going. May the Holy God of Israel bless you!