US Frontline Doctors Hold Presser to Dispel Misinformation on COVID-19 – Including Attacks on Life-Saving HCQ
Verse of the Day
John 8:32 And ye shall know the truth, and the truth shall make you free.
Commentary
Make sure you watch the video. It is excellent. The cure for coronavirus is out there, but it is being suppressed for many reason both political and economic. The US medical institution is corrupt to the core. It appears the Hard Left is in charge, so this is why it can be used politically.
May the Holy God bless and protect you.
Proverbs 6:16-19 These six things doth the LORD hate: yea, seven are an abomination unto him: a proud look, a lying tongue, and hands that shed innocent blood, An heart that deviseth wicked imaginations, feet that be swift in running to mischief, A false witness that speaketh lies, and he that soweth discord among brethren.
CORONAVIRUS TRUTH
"Frontline doctors from across the US held a "White Coat Summit" on Monday in Washington DC to dispel the misinformation and myths surrounding the coronavirus.
The doctors are very concerned with the disinformation campaign being played out in the far left American media today.
From their website: "If Americans continue to let so-called experts and media personalities make their decisions, the great American experiment of a Constitutional Republic with Representative Democracy, will cease."
HEALTH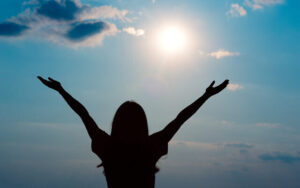 "Vitamin D helps the body fight coronavirus, major Israeli study claims" Yet, another study showing the health benefits of Vit D-3! The proofs are never ending.
3 John 1:2
Beloved, I wish above all things that thou mayest prosper and be in health, even as thy soul prospereth.
"She embarked on the joint study with Leumit Health Services to probe whether there is a basis to suggestions — heard throughout the pandemic — that vitamin D may prove helpful.
Her team studied a 7,807-strong sample of Israelis who were tested for the coronavirus. It found that the average vitamin D level for people who screened negative was in the internationally-accepted "adequate" range, while the average for those who tested positive fell in the "inadequate" category.Vitamin D levels of less than 20 nanograms per milliliter of blood are considered inadequate.
Frenkel-Morgenstern said that people in her sample who tested negative were, on average, within the adequate range, showing a mean vitamin D count of 21 nanograms per milliliter. Those who tested positive were, on average, under the adequate level, with a mean vitamin D count of 19 nanograms per milliliter."
URGENT: REAL HEALTH NEWS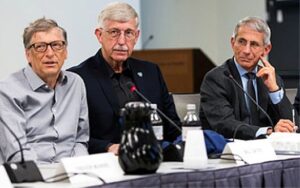 "B G Confronted About Widespread Vaccine Side Effects"
This is critical information about what is happening with BG and his vaccines and coronavirus testing. It is all one big scam. I hope this gets through to you because this topic is forbidden.
"Vaccine oligarch B… G…. expressed apathy in a CBS interview about the fact that his Modern Coronavirus vaccine, which National Institutes of Health (NIH) has a financial stake in, is testing horribly in vaccine trials, with at least 80 percent of trial subjects reportedly suffering side effects.
This news comes on the heels of a major protest in Africa against the vaccine being tested on black people on the continent.
Military insurer Tricare admitted that it wrongly told more than 600,000 U.S. military members that they had the virus. Hospitals in Florida are showing massive problems with testing accuracy, with Orlando Health admitting that its 98 percent positive rate was actually 9.4 percent."
HERE COMES THE VACCINES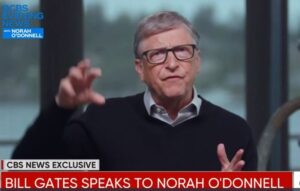 "Bill Gates Says "Multiple Vaccine Doses May Be Necessary" to Protect People from Coronavirus"
He is noting but an evil con artist. This all part of the plan to control the world, plus what is in these vaccines? He is one of the most dangerous and evil men in the world.
"Bill Gates told CBS News that "multiple doses may be necessary" to protect Americans from the coronavirus — A disease that has a lower mortality rate in children than the seasonal flu.
Gates said this could require over 7 billion vaccinations given worldwide. Microsoft co-founder Bill Gates said Wednesday that people could need multiple doses of a potential coronavirus vaccine to immunize themselves from the coronavirus. If necessary, the multiple doses could require more than 7 billion vaccinations to be administered worldwide."
HARD LEFT SUPPRESSING CURE FOR CORONAVIRUS
CNN anchor accused of 'ludicrous' claim about hydroxychloroquine by Yale epidemiology professor"
You can actually see the effect of the murdering spirit in these people. The cure is PROVEN for coronavirus, yet is suppressed for political reasons.
The death rate could have been cut in half if hydroxychloroquine had been used. It was suppressed by the CDC, NIH, FDA and media. These people are criminals, real murderers only in a "white collar" crime way. I would call it negligent homicide. I hope legally it would be full murder.
"Ingraham asked Risch, "Who is really doing a disservice to the American people, doctors with decades of experience like yourself, other treating physicians on COVID, or CNN hosts that think hydroxy is so dangerous that we shouldn't even talk about it?"
"That's a little funny that we shouldn't talk about anything," Risch said. "This is a drug that's been used for 65-plus years in billons of doses around the world that people take without even thinking about it. And suddenly it's become dangerous? That's ludicrous."

"It's just amazing we have CNN anchors out there proclaiming on this drug … it does such a disservice to people," Ingraham said.

NewsBusters reported when the Lancet results were retracted that CNN spent "90 minutes and 54 seconds heralding a now-debunked study" in a single day back on May 22.
Earlier this week, Risch told Ingraham that he thinks hydroxychloroquine could save 75,000 to 100,000 lives if the drug is widely used as a prophylactic against coronavirus, especially for frontline workers. Risch also said discussions about the drug became "political" as opposed to "medical."
CORONAVIRUS REALITY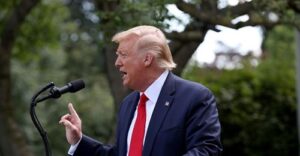 "Trump: 'No' National Mask Mandate — 'I Don't Believe in That'"
I'm so happy the President has set an example like this. It is unhealthy for people to wear a mask all day long inside and outside. There is cure for the Covid-19 virus which both the media and health institution have lied about and suppressed.
It is Hydroxychloroquine.
"In an interview set to air on this weekend's broadcast of "Fox News Sunday," President Donald Trump rejected the possibility of a national mask mandate. Trump told Fox News Channel's Chris Wallace he was against the mask mandate because he wanted people to have a "certain freedom."
"No, I want people to have a certain freedom, and I don't believe in that," Trump said. "No, and I don't agree with the statement that if everybody wear a mask, everything disappears. Hey, Dr. Fauci said, don't wear a mask."
HARD LEFT GUN VIOLENCE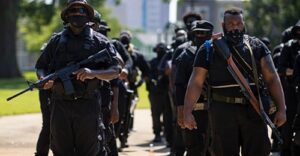 "Louisville protests descend into chaos when armed protester accidentally shoots members of his group, injuring 3"
I saw them before and this is not surprising. When they were marching, they looked like the "Keystone cops" if you remember them from the silent movies.
"Gunshots erupted during a planned protest in Louisville, Ky., Saturday and three members of the heavily armed militia group, the "Not F—ing Around Coalition" (NFAC), were injured by shots fired from one of their own member's guns, police told Fox News.
The shooting took place near Baxter Square Park around 1 p.m. and all of the victims were transported to the University of Louisville Hospital with non-life-threatening injuries, the Louisville Metro Police Department (LMPD) told Fox News."
HARD LEFT RIOT TURNS DEADLY
"BLM Protester Fatally Shot in Austin: 'People Who Hate Us' Are 'Too Big of P-ssies to Actually Do Anything About It'"
This wannabe terrorist was carrying an AK-47 when he and a group of other terrorists surrounded a vehicle on the street. The driver shot and killed the man carrying the AK-47.
"Garrett Foster, the Black Lives Matter protester fatally shot by a motorist in Austin on Saturday night, said on camera that the "people who hate us" are "too big of p-ssies to actually do anything about it" when asked why he was carrying a rifle.
The Austin Police said during a late night press conference that Foster was carrying a rifle and may have approached the vehicle prior to the shooting. The shooter was detained and is cooperating with police.
"One adult male victim was located with a gunshot wound," the press officer said, before confirming he passed away at the hospital shortly after. "Initial reports indicate that the victim may have been carrying a rifle and approached the suspect vehicle. Suspect was in the vehicle and shot at the victim. Suspect was detained and is cooperating with officers."
GOV CUOMO VS THE AMERICAN PEOPLE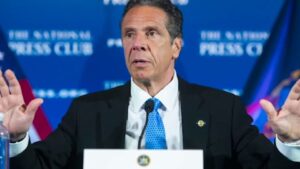 "Today, we lost America. We are pulling out of the biggest Back the Blue rally in America."
Gov Cuomo has to be one of the most evil men in America. He was overwhelmed with JOY when he signed into law the legislation that did away with all prolife laws and allowed killing babies right up to birth! Then he issued an order to have the sick coronavirus elderly sent back to the nursing homes. This killed about 7000. Now he joined the Hard Left in trying to destroy the police to bring New York under the control of "Brown shirts" just like Hitler did. This man is evil, and it manifesting right it before us.
"This morning, I woke up at 3am. I proudly announced on Fox and Friends First that Law Enforcement Today was proudly joining a number of other groups in taking part in the largest Back the Blue event in America.
Acclaimed keynote speaker Paul Butler and I were going to be the joint Masters of Ceremonies. We had rock and roll legend Ted Nugent flying in for the National Anthem – accompanied by Congressman Clay Higgins, the keynote speaker.

The first wave in the attack came from Facebook. After 6300 people RSVP'd to the event, the page was taken down by the social media giant.It didn't come as a surprise. I'm the same guy that just got a lifetime ban from LinkedIn last month for sharing an article about a guy who tried to kill two cops. We are sort of use to it.

But what happened today? Today it became evident just how legitimate the war on law enforcement is. Congressman Clay Higgins and Ted Nugent are not allowed to attend the event… and that apparently comes directly from Governor Cuomo's office."
If you like our ministry, please consider making a donation to keep us going. May the Holy God of Israel bless you!
Revelation 22:20 He which testifieth these things saith, Surely I come quickly. Amen. Even so, come, Lord Jesus.