VIDEO: Possible Constitutional Crisis Ahead: What Happens If Hillary Dies?
Verse of the Day
Proverbs 28:5 Evil men understand not judgment: but they that seek the LORD understand all things.
Commentary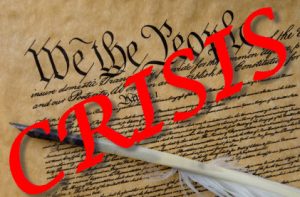 Some of the articles in this post have appeared before, but with the election looming and the first debate scheduled for tomorrow night, they're more important than ever. There also are more videos; this post focuses on Hillary, her health crisis and what the legal ramifications of that crisis may be.
There appears to be a huge storm brewing of which few in the public are aware, because the possibilities are so foreign to anything we've ever seen in the past. Apart from that, the legal complications are such that even scholars are divided over how it may play out because there are no clear constitutional guidelines or legal precedents for how to handle it.
We may be heading into the perfect political storm, where all the marbles literally are up for grabs, and the electorate potentially could have no say in what happens, or who is in charge of the country for the next few years. Did you ever imagine that your vote wouldn't count or might be discarded? Or that you wouldn't have the opportunity to vote at all?
But that's not impossible, and the article below (now with accompanying video) describes why. Although it covers the legal ramifications, it's written with the general public in mind so you'll know what's happening should things quickly go south. We'd urge you to read the entire thing, not just the synopsis because the stakes are so high  And then we'd urge you to pray that the Lord intervenes and prevents the coming chaos from occurring because he's still sovereign.
What is very important to keep in mind is that Hillary is an integral part of the New World Order (NWO) led by George Soros and others. They need her to complete the destruction of America and creation of their monstrous NWO.  The NWO can't let Trump win. It's easy to see that these ruthless people could use Hillary's failing health to create a Constitutional crisis and try to destabilize America. I even could see a coup attempt by Obama to stay in office. I've posted a few articles to show now deep Hillary is in the NWO and the destruction of America. The next few months are fraught with danger.
May the Holy God of Israel bless and protect you.
Psalm 37:28 For the Lord loveth judgment, and forsaketh not his saints; they are preserved for ever: but the seed of the wicked shall be cut off.
American Politics
VIDEO: Could Michelle Obama be our next president? 09/22/16  With Hillary's health failing rapidly and publicly, there is a storm ahead and the recent talk is that if she must be replaced, the one person mentioned is Michelle Obama! This video tracks the recent article on the coming Constitutional Crisis (immediately below & renamed for the video) and is the first produced for the new website, People Get Ready 
"There appears to be a huge storm brewing of which few in the public are aware. The legal complications are such that even scholars are divided over how it may play out because there are no clear constitutional guidelines or legal precedents for how to handle it.
We may be heading into the perfect political storm and the electorate could potentially have no say in what happens, or who is in charge of the country for the next few years. Did you ever imagine that your vote wouldn't count or might be discarded? Or that you wouldn't have the opportunity to vote at all?"
Please subscribe to the new People Get Ready YouTube channel which will have breaking news and interesting videos as they're developed! And be sure to go to your YouTube subscription page and check the box next to this channel that says you want to be notified of new uploads!

Constitutional Crisis Ahead: What Happens If Hillary Dies In The Next Two Months? By Georgann Ryan, Esq. 09/16/16  This article (which is the text to the video, above) covers a critical issue that most are missing in all of the uproar about Hillary's health, and it's something to watch closely and to pray about. This is a VERY important topic, and we're on the cutting edge with this information. The linked article is an analysis of the legal ramifications of Hillary's withdrawal or death, written with the general public in mind. It's information you NEED TO KNOW about. To read the full article, click on the link above, to go to the new website, People Get Ready.

This is the first post on a new website (with linked YouTube channel) and is a joint project by two of us working with John, and a third person from the Hagmann Report. We hope you'll check back and bookmark the site as it develops with a news feed and video reports. Thanks and blessings to John for his assistance and support in this new venture.
"Most people look at the crisis in Hillary's health and either want to downplay it, or are delighted that she finally seems to be exposed as karma kicks in. But there's a constitutional crisis looming and our country is heading toward the biggest morass of all time. With Trump pulling farther ahead daily, this situation is custom-made to fulfill plans of the Washington establishment and the global elites to keep the status quo alive, no matter how. Short of his death, it seems clear that given a fair election, he'll win.
And that means the level of trickery is about to go over the top, and our system isn't designed to handle what's ahead. Hillary's death or total inability to continue could constitute the greatest opportunity for a scam that the electorate ever has seen. A massive shell game appears ready to take place. At a minimum, a large part of the country is about to cry, "Foul!" Did party elites know that when they nominated her? Surely.
It appears that they thought they could keep her failing health under wraps until after the election, at least. But that isn't happening. Never fear though, say elites, we have a back-up that might be even better. Ever heard of a bait-and-switch scheme? That's about to become a very familiar term to Americans.
With all of the uproar over Hillary's health, especially after her very public collapse at the 9/11 memorial service, questions about what will happen should she withdraw or die now are being asked. Few in the public seem to understand what's really at stake, and what we could be in for should that possibility occur – though crisis seems almost certain should she win the election. While that goal seems to be disappearing rapidly for her and appears more unlikely with each passing day, talk of voter fraud and election theft is increasing dramatically, so the possible scenarios have to be considered.
The Washington establishment and the global elites who control them won't relinquish power easily so we must prepare, if only so we can be ready for them and head them off. Believe it or not, what follows is a very general and brief overview. If it gives you any indication of the complexity of this topic, you're getting the picture. And you probably should begin praying."
Hillary's Health
Did Hillary Clinton Have Another 'Medical Episode' at a Campaign Event? 09/22/16  There is no doubt that is something seriously physically wrong with Hillary. Will she make it to the election?
"Democratic presidential nominee Hillary Clinton surprisingly canceled a $2,700-a-plate fundraiser in North Carolina on Tuesday, just hours after a new video emerged that put her health in question once again.
The video, released by The American Mirror, shows that her eyes weren't tracking together—a sign of potential neurological distress—during her speech in Philadelphia on Monday night. This condition is one medical professionals look for as a sign of stroke or a possible brain tumor."
RED ALERT: See The Video of Hillary Collapsing That Is Being Censored 09/11/16  This is crucial information! Hillary collapsed during the 9/11 memorial service and hundreds of YouTube videos have been taken down showing the event, because of "Copyright Infringement" – even though the videos were from private citizens with their own phones and cameras.
This is total censorship, and an effort on the part of elites and mainstream media to hide the truth about her health until after the election. So far, the short Breitbart version of the collapse still is on YouTube and we'll post the article about that above. But this Inforwars video is critical because it addresses not only her failing health but the censorship taking place.
"Hillary Clinton fainted and suffered a medical emergency today, but the Clinton campaign and the media immediately launched a cover-up. Videos of the incident are being censored across the Internet, and are not being covered by the mainstream media.
Help us spread the word about the liberty movement, we're reaching millions help us reach millions more. Share the free live video feed link with your friends & family…"
Left-Wing Reporter: Democrats Considering Meeting to Discuss Replacing Hillary Clinton on Ticket 09/11/16  This article also contains the video mentioned in the post above, about Hillary collapsing, and has one of the few remaining copies still on YouTube at this moment. There is a mainstream media blackout on this information, as on so much else about Hillary's condition at the moment.
"Democrats are reportedly considering an emergency meeting to discuss the possibility of replacing Hillary Clinton on the ticket.
Left-wing journalist David Shuster reported the news based on conversations with Democratic operatives…
Shuster's tweets gave hope to some Bernie Sanders supporters, but it is not clear at this time what activists could do to challenge Clinton's nomination.
Hillary Clinton is seen as the last candidate standing who can keep the establishment in Washington D.C. from existential ruin, but she's having trouble standing.
Hillary Clinton's near fall at a 9/11 tribute ceremony, and her aides' struggle to get her into her vehicle, will live in infamy:"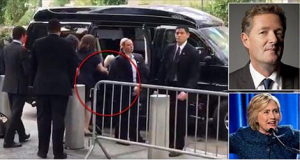 When Hillary collapsed this weekend so did her credibility. Her inability to just be straight with America is what's truly Deplorable 09/12/16  The way Clinton is going down both politically and physically, I see the hand of God on it. She is being destroyed publicly with no end to what is happening to her.
I can see the Lord also pulling down this corrupt federal government and breaking its choke-hold over America. It is very possible that she will not make it to the election because her health is rapidly falling

What a time this is, as the Lord is starting to turn this nation upside down!
Proverbs 8:16  By me princes rule, and nobles, even all the judges of the earth.

"That was a deliberate falsehood designed to downplay her condition.
Just as it was when they had blamed her coughing fit earlier in the week on 'allergies'.
Hours more later they finally admitted that Mrs Clinton was in fact suffering from pneumonia, which her aides had all known since Friday.
Why lie?
Why not just be honest?
Hillary's fork-tongued response to this medical episode is one of the main reasons she is not storming to inevitably victory in this race as many assumed she would.
She seems to find it impossible to just be straight with the American people.
Everything has to be spun, twisted, 'made better'.
Protection of Brand Hillary supersedes the truth time and again, whether it's Benghazi and her emails, or now her health.
If she'd just said she had pneumonia on Friday and gone to bed, it would have made a few headlines but everyone would have moved on from it pretty quickly. Politicians get sick like the rest of us.
Instead, she staggered onto a fund-raiser where she dropped her worst gaffe of the campaign. Who knows what effect her illness had her on thought process that night?"
The[re] was something hideous – the word is used advisedly – about the Hillary Show on Sunday 09/13/16  It really does appear that Hillary is being judged by the Lord for all of the world to see. On top of her health problem, there are several more massive document dumps coming which could further damage her. I would be surprised if she makes it to the election because her health is failing rapidly.
She has brought this on herself with Benghazi, the emails, and her Foundation, combined with all of the lying. She knew of her failing health condition, yet went forward. God is going to use all of this for his glory.
He is about to do something huge in American politics. I can feel it. His judgment is in the air!
"As the SUV arrives, Hillary tries to shuffle forward off the stanchion on which she has been leaning. She moves, attempting a stiff-legged shuffle, which she cannot do by herself. She is assisted by the man on her left, and then after one or two steps, collapses utterly, with the man on her right coming in to hold her up on that side. If you look closely at one of the zoomed-in videos, her feet as in a cartoon, with her toes pointing backwards and the top of her feet dragging along the ground.
Then, like a thunderclap, something doesn't happen. They don't go to the hospital; they don't go to the ER. Presumably, if Chelsea weren't living in New York, they would have gotten a hotel room.
And then, like a second thunderclap, Hillary reappears!! Now, she is perky, smiling, and waving to the crowd, practically like Julie Andrews in The Sound of Music. All that was missing was a dirndl.
This reappearance gave the episode something of the character of a horror movie, one that we are now living in along with Hillary, rather than watching as entertainment with the horror taking place somewhere else.
What is going on? Is Hillary essentially on death's door inside, but able to have the appearance of being alive on the outside by virtue of drugs that she must have continuously? There really is no other explanation. That is what makes it so disorienting. Hillary has dragged us into a horror movie with her.
Who believes that diagnosis of "pneumonia" "on Friday?"
The Truth About Hillary's Bizarre Behavior 08/04/16  
"Hillary's bizarre behavior and strange seizures: Is she having a breakdown or does she actually have brain damage?
I asked mental health experts about her strange outbursts that have been caught on camera."
Hillary One-Worlder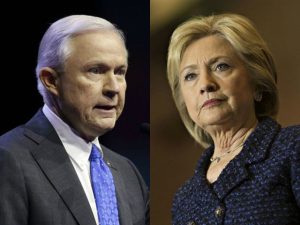 Jeff Sessions Pushes Back Against Hillary Clinton's 'Radical' Suggestion of a Global Right to Immigrate 09/25/16  Hillary is a one-worlder and needs to destroy the integrity of America to accomplish a one world government. It is easy to project into to her thinking, why not take huge bribes while destroying the integrity of the US!
The one world government is not far off and we can see it starting to form before our eyes!
Revelation 22:20  He which testifieth these things saith, Surely I come quickly. Amen. Even so, come, Lord Jesus.

"Alabama Senator Jeff Sessions pushed back against Hillary Clinton campaign's "radical" suggestion that foreign nationals living in foreign countries have a global right to immigrate to the United States.
As Byron York first reported, earlier this week, Clinton's campaign indicated that she believes the world has a global right to immigrate to the United States—a position that essentially dissolves the United States' status as a sovereign nation.
York explained that on Monday, Donald Trump delivered a speech in which he declared, "We want people to come into our country, but they have to come in legally, through a process. … No one has a right to immigrate to this country."
As John Hinderaker noted, such a statement should be understood as a truism. However, via Twitter, Clinton's campaign responded directly to Trump's statement and indicated that she "disagreed" with it:"
Matthew 6:22-23

  The light of the body is the eye: if therefore thine eye be single, thy whole body shall be full of light.

But if thine eye be evil, thy whole body shall be full of darkness. If therefore the light that is in thee be darkness, how great is that darkness!