We love God': President Trump Addresses National Prayer Breakfast
Verse of the Day
Psalm 33:12 Blessed is the nation whose God is the LORD; and the people whom he hath chosen for his own inheritance. 

Commentary
This was a tremendous speech by the President as he actually made reference to the name of Jesus Christ! I can't remember any other president doing this! There is no political gain for using the Lord's name, so this is genuine. Many have said Trump is a new believer in the Lord, and this shows there is truth to it!
May the Holy God of Israel bless and protect you.
Psalm 144:15 Happy is that people, that is in such a case: yea, happy is that people, whose God is the LORD.
Christianity/ American Politics
We love God': President Trump Addresses National Prayer Breakfast (Video, Transcript) 02/08/18  This was a tremendous speech by the President as he actually made reference to the name of Jesus Christ! I can't remember any other president doing this! There is no political gain for using the Lord's name, so this is genuine. Many have said Trump is a new believer in the Lord, and this shows there is truth to it!
1 Corinthians 12:3  Wherefore I give you to understand, that no man speaking by the Spirit of God calleth Jesus accursed: and that no man can say that Jesus is the Lord, but by the Holy Ghost.

"Each year, this event reminds us that faith is central to American life and to liberty. Our founders invoked our Creator four times in the Declaration of Independence. Our currency declares, "In God We Trust." (Applause.) And we place our hands on our hearts as we recite the Pledge of Allegiance and proclaim we are "One Nation Under God." (Applause.)
Our rights are not given to us by man; our rights come from our Creator. (Applause.) No matter what, no Earthly force can take those rights away. (Applause.) That is why the words "Praise be to God" are etched atop the Washington Monument, and those same words are etched into the hearts of our people.
So today, we praise God for how truly blessed we are to be American. (Applause.) Across our land, we see the splendor of God's creation. Throughout our history, we see the story of God's providence. And in every city and town, we see the Lord's grace all around us, through a million acts of kindness, courage and generosity. We love God.
We see the Lord's grace in the servicemembers who risk their lives for our freedom. We see it in the teachers who work tirelessly for their students, and the police who sacrifice for our communities — and sacrifice they do. (Applause.)
And we see the Lord's grace in the moms and dads who work two and three jobs to give their children the chance for a better and much more prosperous and happier life.
As the Bible tells us, for we are God's handiwork, created in Jesus Christ to do good works. America's heroes rise to this calling. In their selfless deeds, they reveal the beauty and goodness of the human soul."
American Politics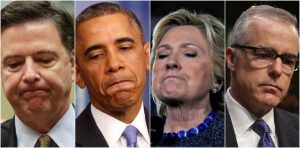 FBI Changed Hillary's Exoneration Letter – Switched "President" to "Senior Government Official" to Protect Obama 02/08/18  We need to be patient because the Deep State has deep roots that protects it. Each layer must be removed until we are finally at the core. They will fight every step.
Obama is now getting deeper into this corruption, and all we need is just one player to roll over on him and start singing! Remember, these crimes are very serious and come with long jail time. To save themselves, some will turn and cooperate. This is what we need to clean out this rats' nest that tried to take over America.
Revelation 22:20  He which testifieth these things saith, Surely I come quickly. Amen. Even so, come, Lord Jesus.

"New Strzok-Page text messages reveal the FBI lovebirds were talking about Comey's exoneration letter on June 30th 2016 which was one week before the fired FBI Director's press conference announcing no criminal charges will be pursued against Hillary Clinton.
In the text exchange dated 6-30-2016, Trump-hating FBI agent Peter Strzok reveals the FBI fiercely worked to distance Obama from Hillary's email scandal.
Strzok told his mistress Lisa Page, "He [Comey?] changed 'President' to "another senior government official""
FBI informant says Russians wired money in hopes of influencing Hillary Clinton in Uranium One ploy: Report 02/08/18  There is lots of smoke now surrounding Hillary. All we need is just one issue to explode into a fire to put her in jail. It would be real torture to put her in a jail cell with Bill!
"An FBI informant connected to the "Uranium One" scandal said that Russian nuclear executives sent money to the United States in hopes it would influence the Obama administration and then-Secretary of State Hillary Clinton, according to a report Wednesday.
In written testimony obtained by the Hill, the informant, Douglas Campbell, told Congress that Russian nuclear officials told him that Moscow hired American lobbying firm APCO Worldwide with a $3 million annual lobbying fee in hopes of influencing Clinton to "reset" U.S.-Russia relations while supporting former President Bill Clinton's charity efforts.
"The contract called for four payments of $750,000 over twelve months," Campbell explained. "APCO was expected to give assistance free of charge to the Clinton Global Initiative as part of their effort to create a favorable environment to ensure the Obama administration made affirmative decisions on everything from Uranium One to the U.S.-Russia Civilian Nuclear Cooperation agreement."
Hard Left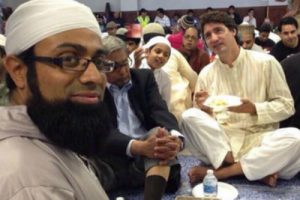 Canadian PM Trudeau: Sharia law is compatible with democracy 02/08/18  This is all part of God turning them over to delusions. These Hard Left people are like lambs to the slaughter when dealing with the Muslims! It is clear that God has turned them over to the Muslims for judgment. Would it not seem insane to say that Nazism is compatible with Judaism! Just look at what the Muslims do to non-Muslims throughout the Islamic world! When the Muslims gain power, they will do the same thing to the Hard Left.
Not too long ago, I posted an article about how Trudeau mocked pro-life people, but he loves the Muslims! Canada is in big trouble with the Lord.
Isaiah 66:4  I also will choose their delusions, and will bring their fears upon them; because when I called, none did answer; when I spake, they did not hear: but they did evil before mine eyes, and chose that in which I delighted not.

"The American Center for Democracy (ACD) quotes Imam Aasim Rashid of Vancouver, British Columbia, who spoke in October 2017 at Thompson Rivers University, explaining why the Canadian government wants to implement Sharia Law.
"I'll tell you who wants to bring Sharia Law," Thompson said then. "The Canadian government wants to bring Sharia Law and this is not a joke. Why? Because Sharia Law is simply the way Muslims are doing things."
"The Canadian government wanted the Muslims to be able to regulate their own issues….to solve their problems amongst themselves [according] to Sharia Law, so it is not a burden on the court system which is already so bogged down.
"The government told us – we would like you to have this system, and we would like to work on these initiatives with you."
Canadian Prime Minister Justin Trudeau told CBC in January 2016 that "Islam is not incompatible with Western secular democracy."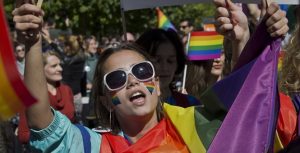 University: Drag Queens are Welcome, Creationists Are Not 02/08/18  This shows the hardening of the nation against God and for sin. This is right out of Romans 1 and shows that the rise of the homosexual agenda is proof America is under God's judgment. We need a spiritual revival or this sin will eat away at the core of the nation until it dies.
Romans 1:26-28  For this cause God gave them up unto vile affections: for even their women did change the natural use into that which is against nature: And likewise also the men, leaving the natural use of the woman, burned in their lust one toward another; men with men working that which is unseemly, and receiving in themselves that recompence of their error which was meet. (28) And even as they did not like to retain God in their knowledge, God gave them over to a reprobate mind, to do those things which are not convenient;

"The University of Central Oklahoma has opened its arms to drag queen shows and safe sex carnivals but they draw the line at Christians who believe God created the Heavens and the Earth in six days.
Ken Ham, the founder of the popular Creation Museum and Ark Encounter, was disinvited from speaking on the public university campus after an ugly campaign of bullying by LGBT activists.
The Todd Starnes Radio Show obtained exclusive emails between the UCO Student Association and Answers in Genesis explaining why they had to rescind the invitation and opt out of a signed and legally binding contract.
"We are currently getting bombarded with complaints from our LGBT community about Ken Ham speaking on our campus," student body president Stockton Duvall wrote on Jan 25. "I was going to request that Mr. Ham refrains from talking on this issue, even if asked his views during the Q&A."
Jerusalem
Erdogan, Pope Form Unholy, Anti-Trump Alliance to Control Jerusalem 02/08/18  This is a good article showing how the question of Jerusalem might unite Islamic nations with the Catholic church.
What I found very interesting in this article is Jewish prophecy about the coming of the Messiah. Instead of saying the Messiah is coming twice, they come up with the coming of two Messiahs at the same time!
Zechariah 9:9-10  Rejoice greatly, O daughter of Zion; shout, O daughter of Jerusalem: behold, thy King cometh unto thee: he is just, and having salvation; lowly, and riding upon an ass, and upon a colt the foal of an ass. (10) And I will cut off the chariot from Ephraim, and the horse from Jerusalem, and the battle bow shall be cut off: and he shall speak peace unto the heathen: and his dominion shall be from sea even to sea, and from the river even to the ends of the earth.

"Erdogan, who spoke by phone with the pope at the time expressing his concerns over Jerusalem, called upon the Vatican in Monday's meeting to help Turkey and the Muslim world "preserve Jerusalem's status."
"We need to work together to preserve Jerusalem's status," he said to Pope Francis. "The messages you will convey to the Catholic world on this are important," Erdogan said, emphasizing that both leaders had agreed to continue joint efforts.
Turkey currently holds the presidency of the Organization of Islamic Cooperation (OIC), a coalition of 57 Muslim states. Islam is currently the second largest religion in the world with 1.6 billion followers, and an alliance between Catholicism, which has 1.2 billion adherents worldwide could very well make a formidable force for advancing an anti-Israel agenda concerning Jerusalem. Moreover, Though the Vatican has enormous influence internationally, it has no military. This deficiency could be offset by an alliance with Turkey which has the largest military in the region."
Days of Noah/ Mad Scientists
Japan to drop restriction on human-animal embryos 02/08/18  There is no stopping these mad scientists. They are determined to tamper with the human DNA, and create human chimeras.These beings are not made in the image of God because their DNA has been altered. Adam and Eve were created in God's image and likeness and we are directly connected back to Adam. Any tampering with the DNA breaks this connection. This is exactly what happened during the time of Noah. God wiped out all these creatures during the flood. This modern system will be totally destroyed at the Second Coming of Jesus Christ.
Genesis 5:1-2  This is the book of the generations of Adam. In the day that God created man, in the likeness of God made he him; Male and female created he them;

"Japan's science ministry is set to give researchers the green light to implant fertilized eggs containing both human and animal cells into the uteruses of animals. The goal is to grow human organs for transplantation.
Reversing a previous ban, a panel of experts on Monday basically approved a draft report opening the door to studies of human-animal chimeric embryos. Such embryos are created by injecting human cells into fertilized animal eggs.
Researchers in other countries, including the United States, have been trying to grow human pancreases and other organs in pigs to use for transplantation. But Japan bans the implantation of such embryos into animal uteruses. Although the draft report allows chimeric embryos to be implanted, it forbids studies into growing human brain tissue inside animals."
Science: 666 Surveillance System
How NSA Tracks You (Video) 02/08/18
Revelation 13:16-18  And he causeth all, both small and great, rich and poor, free and bond, to receive a mark in their right hand, or in their foreheads: And that no man might buy or sell, save he that had the mark, or the name of the beast, or the number of his name. (18) Here is wisdom. Let him that hath understanding count the number of the beast: for it is the number of a man; and his number is Six hundred threescore and six.

This is a great video showing the magnitude of the 666 System and how vast it is. This system is over the entire world and it is growing every year. Everything is falling into place to bring the entire world under the 666 system.
1 Timothy 1:11-12  According to the glorious gospel of the blessed God, which was committed to my trust. And I thank Christ Jesus our Lord, who hath enabled me, for that he counted me faithful, putting me into the ministry;