Donald Trump's Easter and Passover Message: 'God's Love Redeems the World
Verse of the Day
1 Corinthians 1:18 For the preaching of the cross is to them that perish foolishness; but unto us which are saved it is the power of God.
Commentary
This is a special weekend where we commemorate the death and resurrection of Jesus Christ. This was a historical event and foundation of Christianity. I hope that you are blessed.
May the Holy God of Israel bless and protect you.
Hebrews 12:2 Looking unto Jesus the author and finisher of our faith; who for the joy that was set before him endured the cross, despising the shame, and is set down at the right hand of the throne of God.
Christian America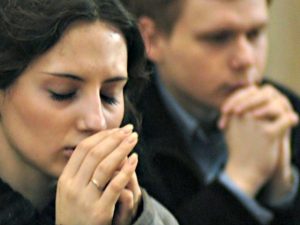 "Donald Trump's Easter and Passover Message: 'God's Love Redeems the World'" (Video) What a breath of fresh air President Trump is compared to B. Hussein.
Psalm 144:15 Happy is that people, that is in such a case: yea, happy is that people, whose God is the LORD.
"President Donald Trump delivered a greeting to the American people celebrating Easter and Passover, addressing both Christians and Jews. "Both of these sacred celebrations remind us that God's love redeems the world," Trump said. He cited Isaiah 60:2-3 to recall God's blessings on the world. "Darkness covers the earth, but the LORD rises upon you, and his glory appears over you. For the Lord will be your everlasting light,"

Trump reminded Americans of the country's religious heritage, thanking God for His gifts. "In America, we look to the light of God to guide our steps, we trust in the power of the Almighty for wisdom and strength, and we praise our Heavenly Father for the blessings of freedom and the gift of eternal life," he said.
Earthquakes and Volcanoes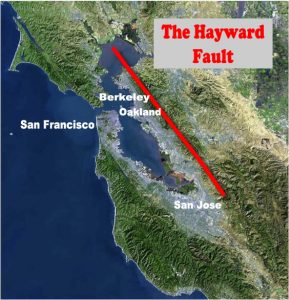 "The Hayward Fault in California is the most dangerous earthquake fault in the USA and the single most urbanized earthquake fault in the United States" This is not the San Andreas Fault, but a fault that runs parallel to it on the east side of the San Francisco Bay. This article is loaded with great information.
 "California's Hayward Fault is considered one of the most dangerous seismological zones in the United States. It runs through the densely populated hills of the East Bay, sketching a diagonal line between San Jose and Richmond and can be thought of as a branch of the main trunk of the San Andreas. Technically speaking, the Hayward is a right-lateral strike-slip fault. This means that it shows its everyday action in the form of aseismic creep, the slow, steady sliding of land along the fault's margin.

The symptoms of this tectonic origami are visible across the region in cracked asphalt, off-kilter curbstones, and leaning walls. Every day, people drive on roads and hike on trails that crisscross the Hayward. Children attend a school and play soccer on fields that straddle it. All of which is to say that the Hayward cuts an uncanny transect through the lives of hundreds of thousands of Bay Area residents."
FBI: Failing at Every Turn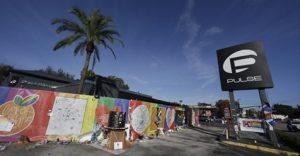 "Widow of Orlando nightclub gunman is acquitted in the attack" This is yet another disaster for the FBI. Can the FBI do anything right? What a disgrace.
"The widow of the gunman who slaughtered 49 people at a gay Orlando nightclub was acquitted Friday of helping to plot the attack and lying to the FBI afterward — a rare and stinging defeat for the U.S. government in a terrorism case.

Noor Salman, 31, sobbed upon hearing the jury's verdict of not guilty of obstruction and providing material support to a terrorist organization, charges that could have brought life in prison. Her family gasped each time the words "not guilty" were pronounced. On the other side of the courtroom, the families of the victims of the June 2016 Pulse nightclub shooting sat stone-faced and silent."
FBI : Draining the DC Swamp
"McCabe Lied FOUR TIMES To DOJ/FBI — Twice To IG Horowitz UNDER OATH!" (VIDEO)"There is now a legal noose around the neck of McCabe. He faces lots of time in the big house. He can bring down both Hillary and B.Hussein and many others. In the real world, McCabe would be invaluable in cleaning out the DC swamp, but with Sessions in the DOJ, I don't know what to think. Right now the DC swamp is loaded with sin.
Proverbs 14:34 Righteousness exalteth a nation: but sin is a reproach to any people.
"Ex-FBI deputy director Andrew McCabe admitted Saturday he was "confused and distracted" when he talked to investigators about alleged misconduct during a 2016 investigation of the Trump campaign," reported the New York Post. Earlier this month, Attorney General Jeff Sessions fired McCabe on the recommendation of FBI disciplinary officials.

"Both the OIG and FBI OPR reports concluded that Mr. McCabe had made an unauthorized disclosure to the news media and lacked candor − including under oath − on multiple occasions," Sessions said in a statement. According to The New York Times and Washington Post, Inspector General Michael Horowitz is set to accuse McCabe of not only leaking to the media, but then misleading the Justice Department about it."
Middle East War: Gaza
"12 Gazans said killed, 1,100 hurt in clashes at massive border protest" This might be the start of war between Israel and the Palestinians. Iran is supporting the Palestinians, so this could be Iran's plan to start a war with Israel. Whatever happens it is not going to go well for Iran and the Palestinians.
Obadiah 1:18 And the house of Jacob shall be a fire, and the house of Joseph a flame, and the house of Esau for stubble, and they shall kindle in them, and devour them; and there shall not be any remaining of the house of Esau; for the LORD hath spoken it.
"Twelve Palestinians were killed and some 1,100 were wounded by Israeli tear gas, rubber bullets and live fire in the Gaza Strip on Friday, the Hamas-run Health Ministry said, as a series of massive protests along the security fence around the Hamas-controlled enclave intensified and turned violent. Some Palestinian sources put the death toll at 10-12.

The Israel Defense Forces estimated that over 30,000 Palestinians were taking part in Hamas-encouraged "March of Return" demonstrations along the Gaza border, focused at six main protest sites where rioters threw firebombs and stones at troops, tried to bomb and breach the security fence, and burned tires."
Middle East War : Israel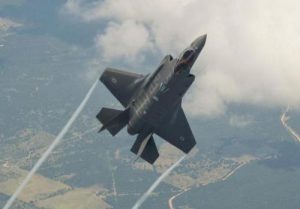 "Israeli Stealth Fighters Fly Over Iran Amid Speculation Of Imminent War"I already posted on this information, but this article adds a lot more.
"Meanwhile, if Israel is looking for a military conflict spark, whether legitimate or "false flag", it may get this opportunity as soon as tomorrow, when the Palestinian terrorist group Hamas is reportedly planning a mass demonstration along Israel's border on Friday, prompting fears of a new war with the Jewish state ahead of the Passover holiday, according to regional experts and U.S. officials who say they are closely monitoring the situation.

According to the Washington Free Beacon, following a recent military exercise described by observers as "unprecedented," Hamas leaders called for some 100,000 Gaza Strip resident to engage in six weeks of mass demonstrations along the Israeli border as Jewish families gear up for the Passover holiday, which begins Friday evening.

Regional experts closely tracking the situation say the demonstrations are meant as cover for a mass military campaign to swarm Israel's border and stoke violence against the Jewish state. "Israeli Stealth Fighters Fly Over Iran Amid Speculation Of Imminent WarThe Kuwaiti newspaper Al-Jarida reported late on Thursday that 2 Israeli F-35 stealth fighters had entered Iranian airspace over the past month, amid reports that Hamas…
World War 3: Russia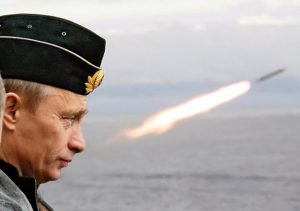 "Russia just tested its 'Satan' nuclear missile amid Putin and Trump taunting an arms race"War drums are now beating. Putin must feel cornered and this is his way of striking back. I don't see a cause for him starting WW3 right now.
"Russia says it has tested a new nuclear-capable intercontinental ballistic missile; Russian President Vladimir Putin has said the missile can defeat any US missile defenses.

Putin and President Donald Trump have been squaring off over who has the better nuclear arsenal, with Trump reportedly telling Putin he would beat him in an arms race. Putin and Trump seem on the path toward escalating an arms race that has already produced horrific nuclear devices."
Space
Chinese Space Station Crashing To Earth: What They're Not Telling You (video)
This video is loaded with great information.
"China's first space station, Tiangong-1, is careening towards the Earth, and when it hits, 8.5 metric tons of burning metal and toxic chemicals will cover an area a thousand miles long. But that's not the worst of it."
Revelation 22:20 He which testifieth these things saith, Surely I come quickly. Amen. Even so, come, Lord Jesus.