A Star Is Born! Speech On Guns By VA Lawmaker Causes Democrat Walk-Out, Goes Viral
Verse of the Day
Titus 2:13 Looking for that blessed hope, and the glorious appearing of the great God and our Saviour Jesus Christ;

Commentary
Finally, a Republican tells the truth about the horrors of the Democratic Party cult! All the evil they accuse America of was committed by their political grandfathers! This is absolutely wonderful to watch. Please make sure to watch this video.
May the Holy God of Israel bless and protect you.
Hebrews 11:9,10 By faith he sojourned in the land of promise, as in a strange country, dwelling in tabernacles with Isaac and Jacob, the heirs with him of the same promise: For he looked for a city which hath foundations, whose builder and maker is God.
Hard Left/ American Politics
A Star Is Born! Speech On Guns By VA Lawmaker Causes Democrat Walk-Out, Goes Viral 03/07/18
Proverbs 12:19  The lip of truth shall be established for ever: but a lying tongue is but for a moment.

"It's really difficult to have an open and honest debate about this […] because members of this body are comparing members of [the Republican] side of the aisle to Nazis," he said, adding that it was particularly offensive that GOP members were also compared to "segregationists."
Freitas unleashed: "It was not our party that supported slavery, that fought women's suffrage, that rounded up tens of thousands of Asian Americans and put them in concentrations camps, that supported Jim Crow, that supported segregation, or supported mass resistance — that wasn't our party, that was the Democrat Party," he said.
"I'd be really appreciative that every time you want to make a powerful point, you don't project the sins, the atrocities, and the injustices the Democratic Party perpetrated on others onto us," slammed the Republican.
He also noted the lame talking point that Republicans representatives are "paid off" by the National Rifle Association (NRA). "Why don't you look at how much Planned Parenthood pays compared ot the NRA?" he said.
A true conversation, he said, "starts with a certain degree of mutual respect."
Democrats were ticked off by the Republican's remarks. It was apparently the acknowledgment of the disturbing history of the Democratic Party that made them so uneasy. So they cried racism. As reported by the Richmond Times-Dispatch, Delegate Lamont Bagby said he viewed Freitas' remarks as racial "dog-whistling."
Hard Left
Jerry Brown: Trump 'Going to War Against the State of California' 03/07/18  Now that AG Sessions finally has acted against the insane government of California, run by Hard Left lunatics, it is going to be extremely interesting to follow how this plays out. It is possible they are so deranged in their delusions that Gov Brown may try to block federal action in California.
He is so delusional that it is possible California will resist the feds no matter what the courts say. California is in the process of seceding from the Union, so how far will Brown take this?
Philippians 1:6  Being confident of this very thing, that he which hath begun a good work in you will perform it until the day of Jesus Christ:

"In response, Brown was enraged. "This is really unprecedented for the chief law enforcement officer of the United States to come out to California and act more like Fox News than a law enforcement officer. This is a political stunt," he told reporters, as quoted by The Hill.
Ironically, the Obama administration, through Attorney General Eric Holder, challenged an Arizona immigration law on similar grounds to those that Sessions is using to confront California — and prevailed at the Supreme Court.
Nevertheless, Brown warned: "This is basically going to war against the state of California, the engine of the American economy. It's not wise, it's not right, and it will not stand."
In an additional swipe, the governor declared: "We know the Trump administration is full of liars. They've pled guilty already to the special counsel."
And, echoing California Insurance Commissioner Dave Jones, Brown attacked Sessions's own Southern origins, saying that the Golden State did not need "a fellow from AL coming to talk to us about secession and protecting human and civil rights."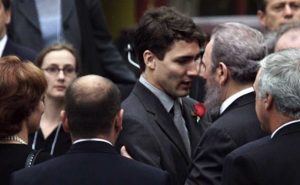 Justin Trudeau hangs out with terrorists and dictators, but demonizes pro-lifers 03/08/18  Trudeau runs to defend Muslim terrorists and likes Castro, but despises pro-life people. This is all a manifestation of a reprobate mind.
Isaiah 5:20  Woe unto them that call evil good, and good evil; that put darkness for light, and light for darkness; that put bitter for sweet, and sweet for bitter!

"Strange, is it not? Trudeau doesn't mind hanging out with someone who actually fired bullets into a visiting politician—at least until the media discovered the relationship. And he has nothing but warm words to say about a man who murdered tens of thousands of people. But Canadian social conservatives—from Syrian refugees who hold traditionalist views about life and marriage to prairie farming couples to the tireless volunteers in crisis pregnancy centres helping women get the help they need—that goes too far. Those people, because they do not agree with Justin on our current abortion regime, which permits feticide throughout all nine months of pregnancy, are beyond the pale.
Think about that for a moment. Trudeau's Liberals can pal around wit and praise all sorts of unsavory characters, including a man responsible for murder and cruelty on a mass scale. And then, they can turn around and call the Conservatives 'extremist' simply because those Conservatives believe all Canadians to be worthy of a political voice, and because they recognize that valuing human life in every form does not disqualify someone from participation in Canadian democracy."
Hard Left in the Military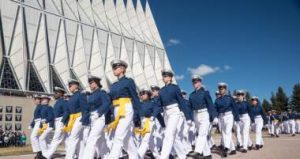 U.S. Air Force Academy Symposium Presents Transgender Couple, Marxist, and Sex Guru As Models 03/08/18  The military, and it appears especially the Air Force, is loaded with Obamaite holdovers that still are working to destroy it. If this is the future of the military then there is no hope. Obama was a judgment on America. Remember, the reprobate mind only can destroy and not build, and right now it is destroying the military.
Hebrews 4:14  Seeing then that we have a great high priest, that is passed into the heavens, Jesus the Son of God, let us hold fast our profession.

"At a U.S. military academy conference on "character and leadership," one might expect to hear from individuals imparting wisdom and inspiration from their heroic military actions in the face of battle or its aftermath: Medal of Honor recipients, POW survivors, amputees who continue to serve with dignity and valor. Nah, that's so "old school."
Heroism now, according to the canons of political correctness, is defined by Bruce "Caitlyn" Jenner, Ellen DeGeneres, and homosexual activist/figure skater Adam Rippon. They have the "courage" to "be themselves" and defiantly proclaim their valorous individuality.
Despite the fact that the American people spoke in November 2016 and elected Donald Trump, much of the federal bureaucracy still acts as though Barack Obama or Hillary Clinton sits in the Oval Office. Thus, the United States Air Force Academy is continuing the Obama transgender transformation agenda.
The headliners at the Academy's recent 25th National Character and Leadership Symposium were: Air Force Staff Sgt. Logan Ireland and his "wife," Laila, who had served as a male soldier in the U.S. Army before his/her transgender transition; Cornel West, a celebrity Marxist philosopher, LGBT activist, propagandist for Communist China's genocidal dictator Mao Zedong, and Harvard professor of African-American Studies; and Dr. Ruth Westheimer, the aging sexologist and media darling who endorses virtually every form of sexual deviancy, as long as it's done "lovingly."
Islam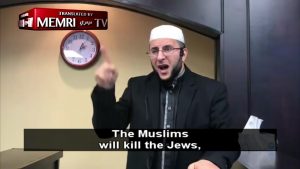 US: Muslim Calls for Murder Increasing 03/08/18  A really good article showing Imams in America calling for violence, but nothing is being done about it. If the Muslim population continues to increase, soon America will look like Sweden or Germany.
"Far from being "isolated" events, calls for jihad against all non-Muslims began in the US several decades ago.
It would be a mistake to view the hate preached against Jews differently from the hate preached against other non-Muslims. Both are sanctioned by the Quran and the hadiths. It is this hate against anyone "other" — and that is still taken to heart by many Muslims — that drives Islamic terrorism against the West.
Muslim supremacists are apparently acceptable; white supremacists are not.
Yes, other religious books are also filled with hate verses, but as the author Bruce Bawer points out, many "Muslims still live by them."
The Coming Middle East War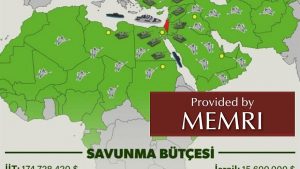 Turkish newspaper with close ties to Erdogan calls for joint Islamic army to fight Israel 03/08/17  Turkey really wants a war with Israel and then to dominate Islam with a caliphate centered in Jerusalem! I believe this war is coming, but it will bring about a crushing defeat of the Muslims armies and the end of Islam.
Psalm 83:2  For, lo, thine enemies make a tumult: and they that hate thee have lifted up the head. (3) They have taken crafty counsel against thy people, and consulted against thy hidden ones. (4) They have said, Come, and let us cut them off from being a nation; that the name of Israel may be no more in remembrance. (5) For they have consulted together with one consent: they are confederate against thee:

"What If An Army Of Islam Was Formed Against Israel?
"If the OIC member states unite and form a joint military force, it will be the largest army in the world. These countries' total population is 1,674,526,931. The number of soldiers in active service in these countries is at least 5,206,100. Their [overall] military defense budget, of $174,728,420, is also worthy of emphasis.
"Half Of Istanbul: "As for Israel, it is significantly inferior. The population of this country, which attempted to occupy Jerusalem while surrounded by Muslim states, is 8,049,314. Note that the population of Istanbul alone exceeds 14 million."
North Korea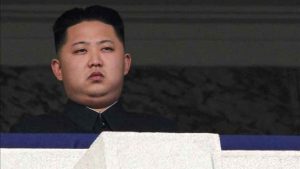 Kim Jong-un's Peace Gambit 03/07/18  This is really difficult to figure out. In the past, the North Korean government lied and used negotiations to advance its agenda, so why would this time be any different? They would use the time during the negotiations to complete perfecting their missile program and finalizing their nuclear weapons. Because of this reason, it seems this is just another ploy.
There are credible sources that feel this time it is different because President Trump stood up to Kim Jung-Un and threatened war while applying powerful sanctions. They feel the reality of war with America and the crushing sanctions have brought him to the table. If this is the case, then WW3 starting over NK was avoided. What Kim has done perhaps has been postponed by any imminent attack by the US, and thus bought some time.
It is my hope the war was avoided, but I feel it is a ploy to gain time to complete both the NK nuclear weapon and missile programs.
Luke 21:28  And when these things begin to come to pass, then look up, and lift up your heads; for your redemption draweth nigh.

"The South Koreans also indicated that North Korea would agree to halt tests of its nuclear weapons and missiles in conjunction with opening talks with the United States on the denuclearization issue. According to Chung Eui-yong, the North Koreans are looking for a credible security guarantee and the end to military threats against it, in which case they believed they would not need to keep their nuclear arsenal.
He claimed that North Korea was interested "in an open-ended dialogue to discuss the issue of denuclearization and to normalize relations with North Korea." Notably, Kim Jong-un is said to have withdrawn, at least for now, his insistence that the United States and South Korea suspend their joint military exercises as a precondition to any negotiations. "Kim Jong-un simply said he could understand why the joint exercises must resume in April on the same scale as before," Mr. Chung declared. "But he said he expected them to be readjusted if the situation on the Korean Peninsula stabilizes in the future."
World War 3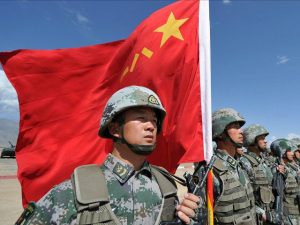 Top General: India Must Prepare to Fight Two-Front War with China, Pakistan 03/07/18  This is all part of China's massive military buildup. It is now able to project power across Asia along with many parts of the world. India is starting to feel China's power in a real way and realizes that China would join with Pakistan to defeat India. China's power is now a real threat across Asia and into the Pacific Ocean.
"The chief of the Army staff in India reportedly urged his country to prepare for military conflict, indicating that it is within the realm of possibilities for New Delhi to fight a "two front" war with its fellow nuclear-armed neighbors China and its ally Pakistan.
Gen. Bilpin Rawat's comments come amid tensions between India and China along their mutual border as well as clashes between New Delhi-Islamabad in Muslim-majority Kashmir. India, Pakistan, and China all claim parts of Kashmir as their own.
Although China has largely stayed in the shadows of the conflict in the Himalayan Muslim-majority region, it is known to back Pakistan's claim.
Pakistan and its ally China have long considered India to be their economic and military rival."
John Zmirak: China Is 'Arming Faster than Hitler Was Arming in the Thirties' 03/08/18  A nation like China with such a rapid military buildup does not produce these weapons just to look at. China has a plan for Asian conquest which will end up with a 200,000,000 man army at Armageddon!
Revelation 9:14  Saying to the sixth angel which had the trumpet, Loose the four angels which are bound in the great river Euphrates. (15) And the four angels were loosed, which were prepared for an hour, and a day, and a month, and a year, for to slay the third part of men. (16) And the number of the army of the horsemen were two hundred thousand thousand: and I heard the number of them.

"Decades of American foreign policy toward China have facilitated the one-party state's ascendance as a rival power, said Zmirak.
"We have allowed China to become an economic powerhouse in one generation, effectively by destroying America's industrial heartland; letting them cheat on trade deals; manipulate their currency; [and] steal hundreds of millions of dollars of our intellectual property," said Zmirak. "Every weapons system that we build at the cost of billions of dollars in research and development, they just pick up and copy it because we let them."
China's military expansions are directed towards America, said Zmirak.
"The United States is the R & D department for the Chinese People's Army, which is being built to counter no one but us," said Zmirak. "There is no threat to China but us. Japan is pacifist and demilitarized. Russia has a gross national product equal to the state of New York. India is not going to attack China. China has no enemy but the United States, and yet, it continues to increase its military budget by double digits every year. It's arming faster than Hitler was arming in the thirties."
Funny Parody
BIG BAD DON  The ballad of Big Bad Don. A song written about the President of the United States Donald J. Trump. Take off on the Jimmy Dean song Big John, 1963, a hero that saved coal miners during a cave-in.
John 3:30   He must increase, but I must decrease.