Actor Mandy Patinkin: Maybe 'White Men in Military and Government' Are the 'Bad Guys,' Not Muslims
Verse of the Day
John 3:19-20  And this is the condemnation, that light is come into the world, and men loved darkness rather than light, because their deeds were evil. For every one that doeth evil hateth the light, neither cometh to the light, lest his deeds should be reproved.
Commentary
I've posted this because you may think that Patinkin is just a kook, but the problem is that there are millions like him. I've let a few articles like this go by, but it appears that right now it is in vogue to attack the white males as the source of all evil in the world.
I am very serious about this. If these kooks try and act on their delusion, it will get real ugly real fast. We are not going to let them act on their delusions. They seem to think there are no consequences for what they are saying. This is not a game.
Remember, no matter how crazy this world becomes to always stay focused on the coming of the Lord Jesus for us. In the end , this is all that matters.
May the Holy God of Israel bless and protect you.
John 3:18  He that believeth on him is not condemned: but he that believeth not is condemned already, because he hath not believed in the name of the only begotten Son of God.
Hard Left/ Islam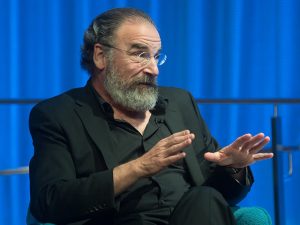 Actor Mandy Patinkin: Maybe 'White Men in Military and Government' Are the 'Bad Guys,' Not Muslims 04/18/17
Isaiah 66:4 I also will choose their delusions, and will bring their fears upon them; because when I called, none did answer; when I spake, they did not hear: but they did evil before mine eyes, and chose that in which I delighted not.

"Homeland star Mandy Patinkin says this season of the acclaimed Showtime television drama shows that it is perhaps "the white men in government and the military establishment that are the bad guys," rather than the Muslim community.
In an interview with MSNBC's Chuck Todd this week, Patinkin said that society had "chosen the Muslim community" as a threat, despite the community making "contributions to the world of a monumental nature."
Patinkin also said the show, which has been criticized by the left as "Islamophobic" for linking Islam with terrorism, has taken responsibility for this portrayal and has changed its content so they become "part of the cure rather than part of the problem."
"[Homeland has introduced] a storyline that shows in this case, in this era, in this season, that maybe it is the white men in government and the military establishment that are the bad guys, not the Muslim community," he continued."
World War 3/ North Korea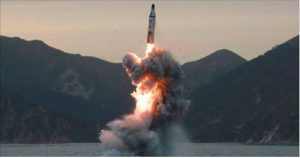 North Korea 'will test missiles weekly', senior official tells BBC 04/17/17  NK continues to talk about all-out war with US. Will Kim Jong Un back down?
"North Korea will continue to test missiles, a senior official has told the BBC in Pyongyang, despite international condemnation and growing military tensions with the US.
"We'll be conducting more missile tests on a weekly, monthly and yearly basis," Vice Foreign Minister Han Song-Ryol told the BBC's John Sudworth. He said that an "all-out war" would result if the US took military action.
Earlier, US Vice-President Mike Pence warned North Korea not to test the US. He said his country's "era of strategic patience" with North Korea was over. Mr Pence arrived in Seoul on Sunday hours after North Korea carried out a failed missile launch.
Tensions have been escalating on the peninsula, with heated rhetoric from both North Korea and the US."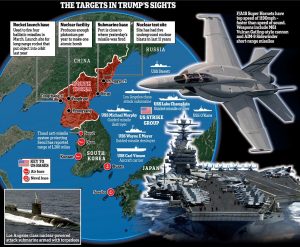 'The era of strategic patience is over': VP Mike Pence sends warning to Kim Jong-un as he pays visit to perilous Demilitarized Zone amid claims America sabotaged North Korea's missile launch with a cyber-hack 04/17/17  This article is just an update to the events unfolding in North Korea.
"Vice President Mike Pence has warned the 'era of patience' with Kim Jong-un is over as he insisted America's commitment to South Korea is 'iron-clad'.
Pence, speaking in the perilous Demilitarized Zone separating North and South Korea, reiterated that 'all options are on the table' to deal with the threat posed by Pyongyang.
After travelling to the region with his family, Pence said President Donald Trump is hopeful that China will now use its 'extraordinary levers' to pressure the North to abandon its nuclear and ballistic program.
This morning he warned Kim Jong-un not to 'test the resolve' of the President Trump and insisted any use of nuclear weapons by the secretive state would be met with 'an overwhelming and effective response'. The visit came shortly after a failed North Korean missile launch that some claim may have been 'thwarted by cyber attacks from the US.'
President Trump has ordered a naval strike group, led by the USS Carl Vinson aircraft carrier, to the region, though the vessels remain a long way from the peninsula.
But this morning, Japanese media claimed both China and Russia had dispatched intelligence-gathering vessels from their navies to chase the 'armada' amid mounting concern over the US deployment. The claims were made by multiple sources of the Japanese government, according to The Yomiuri Shimbun.
Russia today warned Washington against launching a unilateral strike on North Korea claiming the US was on a 'risky path'."
Islam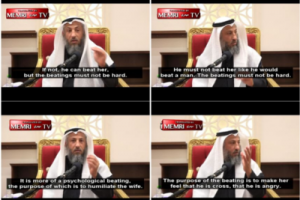 Another Muslim Cleric on How to Beat Your Wife 04/17/17  The word for beat your wife in the Koran means scourge! These soft "nice" beatings are all Muslim propaganda for West to make the beatings look humane!
Ephesians 5:25  Husbands, love your wives, even as Christ also loved the church, and gave himself for it;

"Add this to the scores of videos, sermons and Islamic exhortations published here at GR from imams, Islamic preachers, sheikhs, et al, explaining the Islamic way, the proper way, to beat your wife.
The mandate to beat one's wife is in the Qur'an:

"Men have authority over women because Allah has made the one superior to the other, and because they spend their wealth to maintain them. Good women are obedient. They guard their unseen parts because Allah has guarded them. As for those from whom you fear disobedience, admonish them and send them to beds apart and beat them." — Qur'an 4:34

Muhammad "struck me on the chest which caused me pain, and then said: Did you think that Allah and His Apostle would deal unjustly with you?" — Aisha (Sahih Muslim 2127)"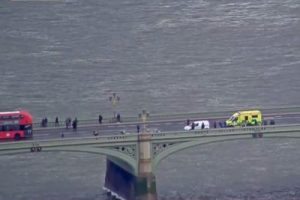 The West is losing the war with Muslim supremacists 04/18/17  The picture is very clear that Islam is at war with the West. There is the violent part of Islam and the cultural part, but both are working to destroy the West.
Because the West for the most part rejects its Christian foundation and history, it is easy for Islam to fill the vacuum! There is no power in so many preachers and politicians because they reject the authority of the Bible and their Christian roots. Yes, I said preachers, because so many are hirelings in the pulpits and not true shepherds.
Psalm 9:17  The wicked shall be turned into hell, and all the nations that forget God.

"March 22. An Islamic terrorist, armed with a knife, murdered three people on the London Bridge and at the entrance of the British Parliament. April 14. An Islamic terrorist killed an English girl in Jerusalem.
Same matrix (Islamic), same weapon used (the knife), same victims' identity (English), but very different locations.
And the latter is Israel, as if this provides a cover for terrorists, as if the terrorism striking Israel were not real terrorism, but a natural reaction to an "occupation." Since the "knife intifada" began, 43 Israeli citizens, mostly civilians, were murdered in such attacks. Yet the "civil society" considers attacks against Israel as morally justified, while the one in London was "barbarous." Is the hate that takes the life of a girl in Jerusalem different from that which takes the life of a Jewish woman in the Paris area of Belleville, as happened to a woman named Sarah Halimi, who was murdered by a Muslim shouting "Allahu akbar"?
England, in particular, foments this double standard, in its glorious universities, in its ancient newspapers, in its literary élite. A large part of the West considers Israel as sacrificeable and the blood of its citizens as less red than that of Europeans hit by terrorism in these two years.
But Muslim supremacists make no distinction between the pacifist Sweden and the more interventionist France, or between a Catholic priest in Normandy and an Israeli Jew in Jerusalem. They are at war against Judeo-Christian-Liberal West."
Health and Nutrition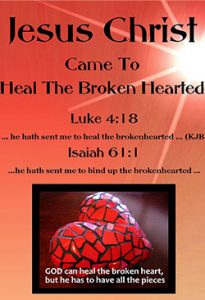 Depression Is Now No. 1 Cause of Illness and Disability Worldwide 04/17/17  I believe that at the root of this depression epidemic are broken hearts. One of the leading causes for a broken heart is a broken family. As the family breaks down, the children's hearts are broken, which leads to all sorts of issues including depression.
The Lord has given me a wonderful ministry for healing the brokenhearted. If you would like prayer of more information, please email me at [email protected]  See: Jesus Christ Came to Heal the Brokenhearted
God sent Jesus Christ to heal the brokenhearted. This was one of his ministries, and God does not want us to live with a broken heart.
Luke 4:18  The Spirit of the Lord is upon me, because he hath anointed me to preach the gospel to the poor; he hath sent me to heal the brokenhearted, to preach deliverance to the captives, and recovering of sight to the blind, to set at liberty them that are bruised,

"According to the World Health Organization (WHO), depression is now the leading cause of ill health and disability worldwide,1,2 affecting an estimated 322 million people worldwide, including more than 16 million Americans. Globally, rates of depression increased by 18 percent between 2005 and 2015.3
According to the U.S. National Institute of Mental Health, 11 percent of Americans over the age of 12 are on antidepressant drugs. Among women in their 40 and 50s, 1 in 4 is on antidepressants.
In addition to the human suffering, the financial impact of depression is also severe. WHO estimates the global economic loss by households, employers and governments is at least $1 trillion annually.
Depression is also strongly linked to an increased risk for substance abuse, diseases such as diabetes and heart disease, and suicide.
Suicide Rates in US Hit 30-Year High. In the U.S., suicide rates have steadily risen since 2000, primarily in more rural areas — a trend blamed on the effects of social isolation, economic pressures, opioid addiction and limited access to mental health care. The suicide rate among men is four times that of women, with the highest rates among 35- to 64-year-olds, and those over 75.
Sadly, suicide has also risen sharply among young teens, and antidepressants may play a role in some of these cases. Many antidepressants are known to increase the risk of suicide in children, teens and young adults, yet despite such warnings, these drugs are still often prescribed for younger people."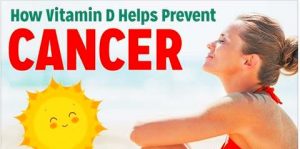 Higher Vitamin D Levels Lower Cancer Risk 04/17/17  By simply making sure that you have high levels of Vitamin D3, you can add great quality to your health. This is not hard to do, nor is it expensive. See our posts on Vitamin D at: "Vitamin D3 vs Vitamin D2: Are You Getting the Right One?"  and "An Old Time Food For a Healthy New Body"

3 John 1:2  Beloved, I wish above all things that thou mayest prosper and be in health, even as thy soul prospereth.

"A large number of studies have shown raising your vitamin D level can significantly reduce your risk of cancer.
Most recently, a randomized clinical trial5 by researchers at Creighton University, funded by the National Institutes of Health (NIH), found vitamin D and calcium supplementation lowered participants' overall cancer risk by 30 percent.6,7,8
The study, which included more than 2,300 postmenopausal women from Nebraska who were followed for four years, looked at the effects of vitamin D supplementation on all types of cancer.
Participants were randomly assigned to receive either 2,000 IUs of vitamin D3 in combination with 1,500 mg of calcium, or a placebo for the duration of the study. Blood testing revealed that 25-hydroxyvitamin D (25(OH)D) levels were significantly lower in those who did develop cancer."
Christianity/ Hard Left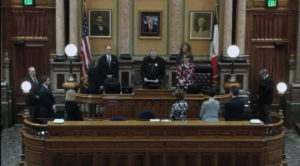 Atheist Mocks Bible, Praises 'Trinity of Science' in Invocation Before Iowa Legislature 04/17/17  Right away when this atheist gets a chance for public prayer, he attacks Christianity with a mocking diatribe. Only darkness is in their hearts and that is what comes out of his heart. This was not a prayer but a diatribe. Why did they let him speak?
Psalm 53:1 The fool hath said in his heart, There is no God. Corrupt are they, and have done abominable iniquity: there is none that doeth good.

"The trinity I invoke today isn't rooted in any kind of doctrine or dogma," he stated. "In its pursuit of truth, it doesn't care what our feelings are or what our deeply held beliefs are on a particular issue. Truth can sometimes be uncomfortable, but it plays a large part in the ongoing evolution of our species."
"There's only one catch with this kind of trinity, though," Scott said. "It only works if you're willing to change your opinions on issues if it delivers an outcome that doesn't align with your deeply held beliefs. This is especially worth remembering as all of you are entrusted to uphold and maintain the dignity and bodily autonomy of all Iowans, regardless of their worldview, sexual orientation, gender identity, or even political ideology."
He then urged the legislators to embrace the secular trinity.
"Refusing to accept what the evidence says has real world implications for all Iowans," he said. "Incorporating this trinity today, tomorrow, and every day, you do the work of the people, which will allow you to do the most good for the most Iowans."
At the end of his invocation, Scott mimicked the prayer God gave to Moses in Numbers 6, replacing biblical terms with secular ones.
"In closing, let this trinity guide you and protect you," he said. "May this trinity inspire you and be honest to you. May this trinity lift up the truth upon you and give you peace. Thank you."
Christian Apostasy/ Homosexuality
UMC to Decide if LGBT Members Can Stay Pastors 04/19/17   It appears that there is nothing left of this denomination. Sometime in the past the UMC fell asleep and "tares" (false teachers) entered in and spread sin until we see the state of this denomination. Sin has taken over. It appears that the authority of the Bible means nothing, but not hurting people's feeling is what matters. There is no fear of God
Matthew 13:24-25  Another parable put he forth unto them, saying, The kingdom of heaven is likened unto a man which sowed good seed in his field: But while men slept, his enemy came and sowed tares among the wheat, and went his way.

"The UMC's Book of Discipline maintains homosexuality is a sin, and people who identify as LGBT cannot serve in clergy roles.
LGBT members even sent a letter to the Council, claiming the debate over homosexuality is "hurtful."
"We, your LGBTQI clergy, write to you before their session begins to respond in love to this harm," the letter says. "We, as the community of queer clergy … stand together: we are all one body and one church. Together we affirm and are proud of our denomination's core beliefs and mission. … (But) questions, briefs and complaints … are hurtful to us, and they are hurtful to the whole church."
Christian Apostasy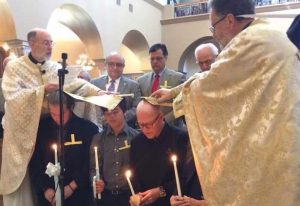 'Bible Answer Man' Hank Hanegraaff Chrismated Into Eastern Orthodoxy 04/17/17  I am sure that within this orthodox church there are some believers, but this church has idols and does not recognize Israel. In fact, in the Middle East it is openly anti-Israel and stands with the Palestinians!
This is a perfect fit for Hanegraaff. God has placed him in a church with a perfect fit for his errors. I only listened to him once and that was enough. I was groaning in my spirit as he railed against Israel and the rapture of the church. I see this as a perfect fit because the Lord, most likely, sealed him into his false beliefs. What happened to him is a warning to all of us about fighting against the truths of the word.
Isaiah 66:4  I also will choose their delusions, and will bring their fears upon them; because when I called, none did answer; when I spake, they did not hear: but they did evil before mine eyes, and chose that in which I delighted not.
"Hank Hanegraaff, also known as the "Bible Answer Man," was chrismated into the Orthodox Church on Sunday, the well-known radio host and author has confirmed.
A photo had been circulating since Sunday of the 67-year-old Hanegraaff being received into Eastern Orthodoxy at Saint Nektarios Greek Orthodox Church in Charlotte, along with his wife and two of his children, prompting questions and online chatter.
On Monday, a listener to Hanegraaff's radio broadcast called in to inquire if he had indeed converted to Orthodoxy. He advised that he has been attending Saint Nektarios for more than two years, but is just now becoming a member.
"I am now a member of an Orthodox church, but nothing has changed in my faith," Hanegraaff said. "I have been attending an Orthodox church for a long time—for over two years, really, as a result of what happened when I went to China many years ago."
Deuteronomy 20:4  For the Lord your God is he that goeth with you, to fight for you against your enemies, to save you.