AG Sessions orders examination of Bundy case after mistrial over prosecution bungling
Verse of the Day
 Psalm 94:22  But the LORD is my defence; and my God is the rock of my refuge. (23) And he shall bring upon them their own iniquity, and shall cut them off in their own wickedness; yea, the LORD our God shall cut them off.

Commentary
What a week this was with Washington because the tide definitely has turned in our favor. We have to thank the Lord for this because the Hard Left was too deeply entrenched to humanly destroy it.
There is too much detail go into this trial right now, but part of it involves former Senator Harry Reid's son and Hillary's attempt to steal this land from the people, because there is a tremendous amount of uranium in the area. The feds through the Bureau of Land Management were driving the local ranchers off the land. One rancher refused and fought back.
The feds did everything possible to convict them in a rigged trial, but the jury acquitted them of most charges. The feds keep retrying until this! The judge finally exposed the criminal activities of the BLM and the Justice Department! What a day this is! This might have a connection to Uranium One and Attorney General Sessions opening an investigation to Hillary's bribery from the Russians. Maybe Sessions is finally beginning to act like a real Attorney General!
Hard Left/ American Politics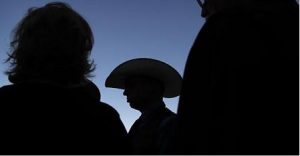 AG Sessions orders examination of Bundy case after mistrial over prosecution bungling 12/21/17
"Attorney General Jeff Sessions stepped into the Bundy prosecution after Wednesday's mistrial, ordering a third-party examination of the case in light of the latest government snafu. "The attorney general takes this issue very seriously and has personally directed that an expert in the [Justice Department's] discovery obligations be deployed to examine the case and advise as to the next steps," said Ian D. Prior, the department's principal deputy director of public affairs, in a late Wednesday statement.
The decision to intervene came after Chief U.S. District Court Judge Gloria Navarro declared a mistrial over the government's "willful failure to disclose information" to the defense, saying it would have been "impossible" for the four co-defendants to receive a fair trial.
"Failure to turn over such evidence violates due process," Judge Navarro said in the courtroom, the Arizona Republic reported. "A fair trial at this point is impossible."
Nevada rancher Cliven Bundy, his sons Ammon and Ryan Bundy, and Ryan Payne of Montana have been charged with 15 felony counts stemming from the 2014 armed standoff with the Bureau of Land Management at the Bundy ranch near Bunkerville."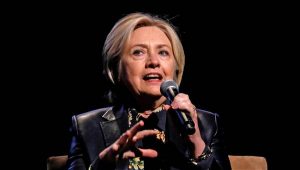 Prosecutors ask FBI agents for info on Uranium One deal 12/21/17  We are living in the season of God's judgment. I believe that the Lord is going to clean house of the political corruption. Hillary has committed so many crimes that we watched on TV, not to mention those of which we have no idea, that a legitimate investigation will send her to jail for a long, long time. (There are numerous videos included in this article.)

"On the orders of Attorney General Jeff Sessions, Justice Department prosecutors have begun asking FBI agents to explain the evidence they found in a now dormant criminal investigation into a controversial uranium deal that critics have linked to Bill and Hillary Clinton, multiple law enforcement officials told NBC News.
The interviews with FBI agents are part of the Justice Department's effort to fulfill a promise an assistant attorney general made to Congress last month to examine whether a special counsel was warranted to look into what has become known as the Uranium One deal, a senior Justice Department official said.
At issue is a 2010 transaction in which the Obama Administration allowed the sale of U.S. uranium mining facilities to Russia's state atomic energy company. Hillary Clinton was secretary of state at the time, and the State Department was one of nine agencies that agreed to approve the deal after finding no threat to U.S. national security."
Ex-FBI Assistant Director: Patriots Within The FBI Will Soon Step Forward And Expose The "Cabal" 12/21/17  This is a very good article about the former FBI Assistant Director. There is too much truth now coming out and the Republicans have the power to crush the FBI and Justice Department, from stop blocking justice. What is happening right now with the investigation of both the FBI and Justice Department has a lot of steam behind it. The truth will come out!
I want to keep you on the cutting edge because we are living through an attempted coup of an elected president. This is historic, and we are seeing the Lord in the midst of this bringing down this Hard Left monster that wanted to destroy America. In a true sense of the word this Clinton cabal was a "5th Column" operating within America to bring it under this crime cartel.
Fifth Column is defined as a group of secret sympathizers or supporters of an enemy that engage in espionage or sabotage within defense lines or national borders
"Kallstrom also said he thinks there are people in the Justice department who may face obstruction charges:
"Now we come to this focus on the fifth estate that I've talked about, that includes multiplicities of people. But now we know it also includes a bunch of sycophants in the FBI – they were part of the Comey team, apparently. And people in Justice also that I believe have exposure now for obstruction of justice."
Regarding Peter Strzok's infamous "insurance" text to his mistress, FBI Attorney Lisa Page, he said "People tweet each other and they send text messages, but they don't plan. The FBI is not in the business of planning to destroy a President of the United States," adding "I think they were way above their capability. This guy thinks he's the lone ranger, this Peter Strzok."
If that's his thinking, and they were obviously in Andy's office plotting some kind of thing. And I think that some kind of thing is what we're seeing right now. And we've seen for the last, what, ever since he's been elected we've seen this facade and this phony challenge to Trump about collusion and Russia, which nothing could be further from the truth. All the collusion is with the Democrats, and it's very very depressing to be FBI agents. 99 percent are hard working patriotic guys and girls that come to work for the good of the country.
And you've got this cabal of people. You've got this deputy director (McCabe) who should have been out a long time ago for his actions. And then you've got Peter Strzok and who knows how many others. -James Kallstrom"
McCabe draws blank on Democrats' funding of Trump dossier, new subpoenas planned 12/21/17  It appears very clear that the investigation is now turning on the FBI, Justice Department and Mueller! They are the criminals and not President Trump. The charges this crime cartel faces are horrendous! They can go away for many years.
Wow, what a time we live in. The Lord is literally moving to drain the DC swamp and drag these monster out. This was a very dangerous cabal which had taken over, but the Lord has blessed us and protected us from them.
Isaiah 5:15-16  And the mean man shall be brought down, and the mighty man shall be humbled, and the eyes of the lofty shall be humbled: But the LORD of hosts shall be exalted in judgment, and God that is holy shall be sanctified in righteousness.

"Congressional investigators tell Fox News that Tuesday's seven-hour interrogation of Deputy FBI Director Andrew McCabe contained numerous conflicts with the testimony of previous witnesses, prompting the Republican majority staff of the House Intelligence Committee to decide to issue fresh subpoenas next week on Justice Department and FBI personnel.
While HPSCI staff would not confirm who will be summoned for testimony, all indications point to demoted DOJ official Bruce G. Ohr and FBI General Counsel James A. Baker, who accompanied McCabe, along with other lawyers, to Tuesday's HPSCI session.
The issuance of a subpoena against the Justice Department's top lawyer could provoke a new constitutional clash between the two branches, even worse than the months-long tug of war over documents and witnesses that has already led House Speaker Paul Ryan to accuse DOJ and FBI of "stonewalling" and HPSCI Chairman Devin Nunes, R-Calif., to threaten contempt-of-Congress citations against Deputy Attorney General Rod Rosenstein and FBI Director Christopher Wray.
"It's hard to know who's telling us the truth," said one House investigator after McCabe's questioning."
Judicial Watch's Tom Fitton: 'The FBI's Turned into a KGB-Type Operation' 12/15/17  What happened to the FBI is very serious because it has been compromised. It is now nothing more than an arm of the Hard Left to help advance their agenda. It appears that same happened to the Justice Department and the State Department. President Trump is the line between freedom and the collapse of the Republic. The Hard Left is serious about destroying America and taking it over. God interceded and protected us from the Hard Left takeover.
"Look — Fusion GPS was a Hillary Clinton Campaign vendor," Fitton replied. He argued that the DOJ "was working hand and glove" with the shady oppo research firm and perhaps paying them money while a DOJ official's wife was working with them. "The suspicion is they were paying them money," he said.
"There was no distinction between the Hillary Clinton campaign and the Department of Justice and the FBI and the goal was unified — which was to get Donald Trump," he added.
"And the text messages that have come out show that they had some kind of insurance policy in case Mr. Trump won the presidency?!" Fitton exclaimed. "This is our FBI! Forget about the FBI investigations into Clinton and Trump being compromised by these conflicts. I think the FBI's been compromised. Forget about shutting down Mr. Mueller — do we need to shut down the FBI because it was turned into a KGB-type operation by the Obama administration?" he asked.
"The FBI can not be trusted to investigate high-level government corruption at this time," Fitton argued when Bream gently admonished him for making such a radical statement. "Right now," he continued, "you see Mr. Rosenstein being blase about the corruption that's going on on his watch. He says 'we'll get to it when the IG report comes out.' In the meantime, Mueller's operation, which has been compromised, has been indicting and prosecuting people! They need protection! And I'm tired of the blase attitude of this Justice Department and FBI towards the outrageous corruption that's been recovered," Fitton complained."
Judge Gives Partial Victory to Fired Atlanta Fire Chief Kelvin Cochran 12/21/17  This is really wonderful because when Obama was president it seemed that every decision went against Christiams, but now we are seeing victories. It seems Trump's election has changed the spiritual atmosphere of the country!
Psalm 144:15  Happy is that people, that is in such a case: yea, happy is that people, whose God is the LORD.

"A judge has ruled that an Atlanta city policy that led to the firing of former Fire Chief Kelvin Cochran in 2015, for distributing a book to coworkers that said homosexuality was sinful, is unconstitutional.
U.S. District Court Judge Leith Martin May issued the ruling Wednesday labeling Atlanta's policy that says public employees must get permission to do other work was unconstitutional.
"This policy would prevent an employee from writing and selling a book on golf or badminton on his own time and, without prior approval, would subject him to firing. It is unclear to the Court how such an outside employment would ever affect the city's ability to function, and the city provides no evidence to justify it,"
As France Has Done to Israel
Exodus: Jews Flee Paris Suburbs over Rising Tide of Anti-Semitism 12/15/17  I hope that the Jews flee France and Europe. The effect of the enormous influx of Muslims is only going to make things worse for them. Now is the time for them to get out and go back to Israel.
The Right is rising in Europe which is not the same as the Right in America. The vast majority of the Right in America support Israel and the Jews. This has been the history of America, but it is not the same in Europe. The Right in Europe sees the Jews the same way as the Muslims do, so there is a pincer movement against the Jews with the Muslims on one side and the Right on the other. The Jews must get back to Israel because the hunters are loose.
Jeremiah 16:15-16  But, The LORD liveth, that brought up the children of Israel from the land of the north, and from all the lands whither he had driven them: and I will bring them again into their land that I gave unto their fathers. (16) Behold, I will send for many fishers, saith the LORD, and they shall fish them; and after will I send for many hunters, and they shall hunt them from every mountain, and from every hill, and out of the holes of the rocks.

"French-Jewish families are being forced from their homes in Paris suburbs as Europe continues to be convulsed by levels of anti-Semitism not seen since the end of the Second World War.
The Paris commuter newspaper 20 Minutes documents an "internal exodus" during 2017 of Jews from the Seine-Saint-Denis department, saying it is emblematic of broader concerns that French Jews, like their brothers and sisters across Europe, are finding it increasingly difficult to reconcile their faith with the changing demographics of the continent.
The paper reports that Jews are leaving their homes on the northeastern fringe of Paris to escape the open hostility that French Prime Minister Edouard Philippe on Sunday condemned as "well-rooted."
As the World Has Done to Israel/ American Politics
UN approves resolution condemning US recognition of Jerusalem as Israeli capital 12/21/17  Right now there is a world diplomatic war over Jerusalem, but in the future it will be a world war. The world loses this war because it triggers the Second Coming of Jesus Christ.
Zechariah 12:9  And it shall come to pass in that day, that I will seek to destroy all the nations that come against Jerusalem.

"The United Nations General Assembly overwhelmingly voted on Thursday to condemn President Trump's decision to recognize Jerusalem as Israel's capital. The 128 member states of the UNGA voted to condemn Trump's move, with just seven other states joining the U.S. and Israel in voting against the resolution. There were 35 abstentions. The vote was taken shortly after the U.S. ambassador to the UN, Nikki Haley, issued a strong warning to states who support the resolution — reminding the General Assembly of the financial aid Washington provides to both the UN and many member states.
"We will remember it when we are called upon once again to make the world's largest contribution to the United Nations," she said. "And we will remember when so many countries come calling on us, as they so often do, to pay even more and to use our influence for their benefit."
World War 3/ North Korea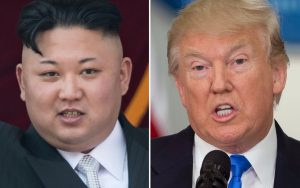 Exclusive: US making plans for 'bloody nose' military attack on North Korea 12/21/17  More war talk from the White House; the President is not bluffing, so this talk of war is real.
"America is drawing up plans for a "bloody nose" military attack on North Korea to stop its nuclear weapons programme, The Telegraph understands.
The White House has "dramatically" stepped up preparation for a military solution in recent months amid fears diplomacy is not working, well-placed sources said.
One option is destroying a launch site before it is used by the regime for a new missile test. Stockpiles of weapons could also be targeted.
The hope is that military force would show Kim Jong-un that America is "serious" about stopping further nuclear development and trigger negotiations.
Three sources – two former US officials familiar with current thinking and a third figure in the administration – confirmed military options were being worked up."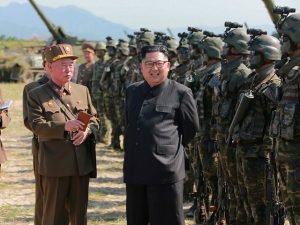 Severe' Economic Difficulty Predicted for North Korea Next Year 12/21/17  This is exactly what I've been writing about. There are two races ongoing. One is the collapse of the NK economy so it is unable to fight a war, while the second is NK's ability to produce a nuclear ICBM that can reach the US. It appears that March 2018 is when the sanctions should start crushing the NK economy. If the sanctions crush the economy, then war could be very close.
Revelation 1:7  Behold, he cometh with clouds; and every eye shall see him, and they also which pierced him: and all kindreds of the earth shall wail because of him. Even so, Amen.

"In essence, then, we have a multi-way race between the delayed catastrophic effects of tough sanctions predicted by South Korean analysts, the Kim regime's mad dash for the nuclear missile finish line, and North Korea developing financial techniques and international relationships that will make sanctions permanently ineffective.
One other factor to consider is that if sanctions do wallop North Korea hard in 2018, the situation will likely become a contest of wills between Western governments determined to prevent nuclear proliferation and humanitarian agencies. Kim will not hesitate to use his own people as hostages, which will expose the great weakness of international sanctions: they aren't really the bloodless instrument of international pressure that politicians see them as.
Indeed, concerns have already been voiced by humanitarian agencies about the toll sanctions are taking on North Korean civilians. Those objections will be raised even more loudly if the Institute for National Security Strategy is correct, and 2018 sees a delayed-reaction meltdown in the North Korean economy."

1 Peter 3:8-9  Finally, be ye all of one mind, having compassion one of another, love as brethren, be pitiful, be courteous: Not rendering evil for evil, or railing for railing: but contrariwise blessing; knowing that ye are thereunto called, that ye should inherit a blessing.