Antifa Has A New Cell In Philly, And They're Calling For Property Seizures, Violence On Police, And All-Out Revolution
Verse of the Day
Psalm 140:4  Keep me, O Lord, from the hands of the wicked; preserve me from the violent man; who have purposed to overthrow my goings.
 Commentary
The revolution is forming right before your eyes. The Democrats support this group, while the Republicans are cowards and refuse to stand up against them.
Speaker Ryan seems to have endorsed them and has rebuked the President who exposed Antifa. What do we make of this mess in Washington? It is full of fools and cowards. They are bringing the fight to us. We must pray, and then stand as wise and fearless servants of the living God. Whether or not we wish this to come, we soon will have no choice but to stand against them. May God grant us wisdom, and help us to avoid the violence they are trying to create.
As we've written in previous blogs, this is very serious because they are planning riots across America in November, to try and disrupt the social order and incite war across the country, since by electing Donald Trump, middle America has chosen a course which is different from the leftist, globalist agenda of the last few presidents. We'll follow this closely and keep you informed of what is occurring. This isn't going to disappear quickly. We need to repent for the sins of the nation and then to stand strong in faith, praying for it. Please join us. Times and places are listed both here and on Facebook at John McTernan's Insights.
May the Holy God of Israel bless and protect you.
Proverbs 11:11  By the blessing of the upright the city is exalted: but it is overthrown by the mouth of the wicked.
Hard Left/ Anarchy – Civil War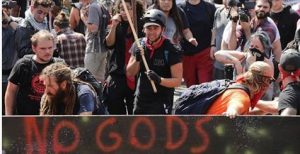 Antifa Has A New Cell In Philly, And They're Calling For Property Seizures, Violence On Police, And All-Out Revolution 08/27/17
"An armed Antifa group is launching a new cell in Philadelphia, with support from the "alt-left" alternative media.
The group currently hosts anti-police workshops called "Our Enemies in Blue." The group draws inspiration from convicted murderers and calls for violence against the police, theft of goods, and armed insurrection.
The press release the group published in far-left media is filled with hyperbolic claims about how "mosques are being ruthlessly bombed" and how "LGBTQ are being battered."
"The destruction of black life continues unabated as millions languish in the plantations of the modern day slave system," the group states.
Completing this poll entitles you to Daily Caller news updates free of charge. You may opt out at anytime. You also agree to our Privacy Policy and Terms of Use.
Taking pride in the "legacy" of "Philadelphia's rich revolutionary tradition," RAM cites Mumia Abu Jamal, the Black Panther activist who shot and killed Philadelphia police officer Daniel Faulkner in 1981.
It also cites Russell Shoats, who shot a police officer in the back five times in 1970. Similar to Antifa, the actions of the Black Panthers have been described as having a "very undefined purpose of assaulting police officers."
Berkeley Police Allowed Antifa to Jump Barricades, Assault Demonstrators 08/28/17  I am chronicling Antifa because it is now the new KKK of the Democratic Party! They have been given a free reign by the Hard Left mayors and governors to destroy the opposition!
They are the new Brown Shirts of the Nazis to destroy all opposition. This is leading to massive bloodshed. The war is happening right now.
Revelation 22:20  He which testifieth these things saith, Surely I come quickly. Amen. Even so, come, Lord Jesus.

"Berkeley police deliberately allowed masked "Antifa" anarchists to jump a barricade and attack a demonstration by a peaceful right-wing group on Sunday, leading to five assaults, including on Patriot Prayer group leader Joey Gibson. The counter-demonstration had reportedly been "largely peaceful" until that point.
The police later defended their decision by arguing that keeping the anarchists out would have led to greater violence. There was "no need for a confrontation over a grass patch," Berkeley police chief Andrew Greenwood said, according to the San Jose Mercury News.
The original "No to Marxism" protest had been denied a permit by the city, but a small group of protesters showed up anyway, as did 2,000 "largely peaceful" counter-demonstrators, the Mercury News reported. SFGate.com reported that there were 400 police on hand to prevent violence. But they stepped aside, the Mercury News reported, when over 100 masked anarchists "busted through police lines, avoiding security checks by officers to take away possible weapons."
The result was several severe beatings of those who had gathered to protest against Marxism. Thirteen of the anarchists were arrested, the Chronicle reported."
God's Final Warning/ Floods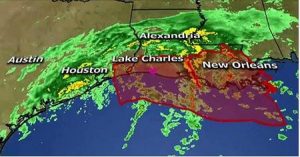 Harvey flood fears expand to Louisiana as Texas braces for more feet of rain 08/28/17  I have been watching to see if Harvey would hit Louisiana. Starting Wednesday and running until the end of Monday in New Orleans is a homosexual event called Southern Decadence! Hurricane Katrina also hit during this event. I will follow this very closely to see if Harvey again does severe damage during Southern Decadence! This storm is so powerful that they warned residents to write their names and social security numbers on their arms with a Sharpie marker so they can be identified if they are washed away!

Leviticus 18:24-25  Defile not ye yourselves in any of these things: for in all these the nations are defiled which I cast out before you: And the land is defiled: therefore I do visit the iniquity thereof upon it, and the land itself vomiteth out her inhabitants.

"Rescue crews raced to rush people and families to safety Monday night in the Houston area — as Louisiana braced for flooding of its own from the megastorm known as Harvey.
Louisiana Gov. John Bel Edwards warned people in his state that "the worst is likely to come for us here."
Harvey "does remain a tropical storm and it's going to drop an awful lot of rain" on Louisiana, Edwards said at a news conference Monday. "We do have a long way to go with this particular storm."
"Harvey's circulation is crawling eastward and the center of the storm is forecast to track through the state of Louisiana later this week," said Fox News Meteorologist Janice Dean. "The steady flow of winds over the Gulf will put Louisiana in line for a steady stream of heavy rain, including cities like Baton Rouge, Lake Charles and New Orleans."
As America Has Done to Israel
Report: Kushner Asks Abbas to Hold off on Anti-Israel Diplomatic Initiatives to Give Trump Administration Time to Formulate Peace Plan 08/28/17  There is an amazing correlation in this article. It is about Kushner's meeting with Abbas, and associated with the article is the flooding in Houston!!! You will see it as you read the article.
"At their meeting in Ramallah this week, senior Trump administration official Jared Kushner asked Palestinian Authority President Mahmoud Abbas to hold off on any diplomatic initiatives against Israel for four months to give the US time to formulate a "comprehensive diplomatic plan" to revive the long-dormant peace process, Israel Hayom reported on Sunday.
A senior Palestinian official cited by Israel Hayom said the plan was supposed to "include a set timetable for the parties to discuss most of the conflict's core issues."
Abbas, according to the report, "agreed in principle to Kushner's request, but asked for [President Donald] Trump's personal guarantee and commitment to the plan and the two-state vision."
The two agreed that Trump would meet with Abbas at the UN General Assembly gathering in New York City next month, the report went on to say.
Texas Jewish Communities Hit by Epic Flooding From Harvey, Relief Efforts Underway. JNS.org – Relief efforts are underway in the Jewish communities of southeastern Texas following the deadly Hurricane Harvey that slammed into…
Kushner was accompanied at Thursday's sit-down with Abbas by Deputy National Security Adviser Dina Powell and the Trump administration's international negotiations representative Jason Greenblatt."
Hard Left/ Christianity
Righting A Terrible Wrong': Christian Group Files Defamation Suit Against Southern Poverty Law Center 08/28/17  The Hard Left needs to be challenged at every level. The SPLC is the leader in attacking Christian family ministries. This fight was long overdue.
"This is most welcome and encouraging. The Southern Poverty Law Center has been defaming perfectly good organizations for years, with no pushback at all and blanket acceptance from an enemedia that never even once asks what makes this sinister group a valid arbiter of what constitutes a hate group and what doesn't. It is great to see that free people are beginning to fight back. I wish the D. James Kennedy Ministries all success.
The lawsuit alleges, among other things, that the SPLC illegally trafficked in false and misleading descriptions of the services offered by DJKM and committed defamation against DJKM arising from the publication and distribution of false information that libels the ministry's reputation and subjects the ministry to disgrace, ridicule, odium, and contempt in the estimation of the public."
Hard Left/ Christianity Apostasy
Muslim and Christian clerics say that Temple Mount "belongs only to Muslims" 08/28/17  In the end, it is going to boil down to Jerusalem and the Temple Mount. This issue just won't go away. Notice how the apostate Christians flock to defend the Muslims against Israel!
Zechariah 12:6  In that day will I make the governors of Judah like an hearth of fire among the wood, and like a torch of fire in a sheaf; and they shall devour all the people round about, on the right hand and on the left: and Jerusalem shall be inhabited again in her own place, even in Jerusalem.

"Senior Muslim and Christian clerics in Jerusalem issued a statement attacking the "extreme right" Israeli government for its decision to allow Knesset members to "break into" the Temple Mount compound.
In their announcement, the entry of MKs to the Temple Mount was called an "illegal and inhuman step of provocation" which was put into effect by an "irresponsible governmental authority," as "the Al-Aqsa Mosque [sic] belongs only to Muslims."
The clerics also noted that the actions taken by Israel would not buy the Jews any rights on the Temple Mount.
They called upon the Arab residents of Jerusalem and the "Palestinian people" to adhere to the "right" granted them by Allah to "Palestine, from the Jordan River to the Mediterranean Sea," and to make efforts to always hold onto the Temple Mount, "especially in two days" on Tuesday, when MKs are expected to be permitted, for this first time in nearly two years, to ascend the Mount during a temporary removal of the government ban prohibiting them from ascending."
World War 3/ North Korea
China says North Korea tensions reached 'tipping point' 08/29/17  Remember, China is behind North Korea. NK does nothing unless China approves. Is China stating the time for war has arrived?
"China warned that tensions on the Korean peninsula have reached "tipping point" after North Korea Tuesday (Aug 29) fired a ballistic missile over Japan, but said the United States and South Korea are partly to blame.
Foreign ministry spokeswoman Hua Chunying urged all sides to avoid provocations and repeated Beijing's call for the North to suspend missile tests in return for a halt to US-South Korean military exercises.
The situation is "now at a tipping point approaching a crisis. At the same time there is an opportunity to reopen peace talks," Hua told a regular news briefing. "We hope relevant parties can consider how we can de-escalate the situation on the peninsula and realise peace and stability on the peninsula," she added."

Psalm 86:13-15  For great is thy mercy toward me: and thou hast delivered my soul from the lowest hell.
O God, the proud are risen against me, and the assemblies of violent men have sought after my soul; and have not set thee before them.
But thou, O Lord, art a God full of compassion, and gracious, long suffering, and plenteous in mercy and truth.