Babies may have been born alive for body parts harvesting: Congressional report
Verse of the Day
Psalm 103:17-18  But the mercy of the Lord is from everlasting to everlasting upon them that fear him, and his righteousness unto children's children;
To such as keep his covenant, and to those that remember his commandments to do them.

Commentary
More news on Planned Parenthood, the scandal that's never resolved. It's even worse than before, though it seemed that couldn't be possible when the original videos were released last year. America keeps falling deeper and deeper into sin and not only is the blood of the unborn on our collective hands, but now we're learning that babies who are born alive also are sacrificial victims of the greed behind  all of this. It's apparent that the culture as a whole values wealth more than life itself. Money and power have become the gods that too many now worship.
This is a symptom of the sickness and perversion that's overtaking the nation and it surely will be a severe judgment upon us when it finally comes. We have the blood of the innocents on our hands. Yet for the most part, Planned Parenthood still is being funded, and the only person to be indicted is the filmmaker who broke the story. Despite the reports coming out of Congress on the horrors, politicians still routinely speak about how even limiting abortion will somehow diminish the"rights" of women. Who are they kidding with such talk? What will be diminished is profits.
May the Holy God of Israel bless and protect you.
Deuteronomy 27:25  Cursed be he that taketh reward to slay an innocent person. And all the people shall say, Amen.
Pro-Life
Babies may have been born alive for body parts harvesting: Congressional report 07/14/16  More horrifying and disgusting news is surfacing in the Planned Parenthood scandal over aborted babies' organs being harvested and sold for profit.
Proverbs 6:16-18 These six things doth the LORD hate: yea, seven are an abomination unto him:
A proud look, a lying tongue, and hands that shed innocent blood,
An heart that deviseth wicked imaginations, feet that be swift in running to mischief,

"Abortion workers might have delivered babies alive and then killed them in order to harvest their body parts, the House Select Panel on Infant Lives revealed in an interim report on the one-year anniversary of the release of the Center for Medical Progress videos.
The interim report outlined the progress the Panel has made in its investigations into the abortion and fetal tissue procurement industry despite internal obstructions the Panel has faced from its Democratic members, who have "even urged noncompliance with congressional subpoenas."
"The Panel is concerned with a history of babies being born alive and the sale of baby body parts at some late-term abortion clinics. The Panel's investigation has revealed that whole baby cadavers of a viable age are transferred from some abortion clinics to researchers," the report said. "The induction abortion procedure has increased the likelihood that infants will be born alive during abortions, even while the gestational age of viability has lowered due to medical advancements. This intersection, coupled with a profit motive, will be part of the Panel's focus during the coming months."
Islam – Jihad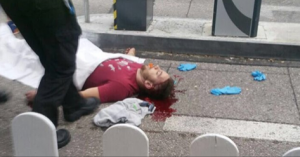 Munich Terror Attack: 18-Year-Old German-Iranian Dual Citizen Kills 9 at McDonald's, Mall 07/22/16  Once again, the both the media and Western governments are reluctant to confirm that this was a Muslim terrorist attack. However, witnesses at the scene report hearing the gunman shout, "Allahu Akbar" during the attack. Because this still is breaking news, reports are somewhat sketchy.
"An eyewitness identifying herself as a Muslim tells CNN she heard shouts of "Allahu Akbar" as shots rang out, confirmed that she heard correctly because "I am a Muslim."
Witness Says Gunmen Appeared to Target Children, 8 Dead
In a tweet, Munich police say they are investigating whether a ninth person killed is one of the gunmen; police previously stated they believed up to three attackers were on the loose.
Peter Altmaier, Chief of Staff to Chancellor Angela Merkel, said in a German television interview that police have yet to be able to confirm a link between the gunmen and any terrorist groups, though the investigation is active, according to DeutscheWelle.
President Obama says "we don't yet know exactly what's happening" in Munich, noting it is an "active situation," but pledges support to Germany. Obama also jokes about concern over his daughter leaving to college soon.
BREAKING: Munich police spokesman says ninth body found about one kilometer from scene of shooting attack."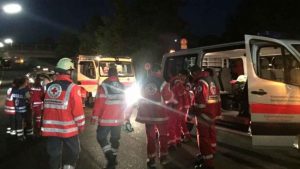 Germany: Muslim Migrant Screaming 'Allahu Akbar' Injures 21 with Axe: What else did Angela Merkel expect? 07/19/16  This is a great article about how it should've been impossible not to know what the results of allowing a flood of Muslim refugees into Europe would be. The obsession with political correctness has blinded many in Europe, and the elites are using this blindness, along with the masses fear of being politically incorrect to advance an agenda.
"The latest jihad attack in Germany reveals how difficult it is becoming for the political and media elites to maintain their fantasy-based narrative in the face of reality. An axe-wielding Muslim refugee from Afghanistan stormed a train, screamed "Allahu akbar" and began attacking passengers. This happened, of course, as a result of policies that Angela Merkel aggressively pursued. And as she did so, she must have known that this kind of thing would start happening. What else could she possibly have expected?
Those who called for Europe to take in as many Muslim migrants as possible may have foreseen this: after all, they insisted that the refugees were not a danger, but were in danger. Only racist bigoted Islamophobes would dare express any skepticism about the wisdom of admitting these refugees, we were told. To oppose the Muslim migrant influx into Europe was evidence of a moral defect, we were told.
And so, with 21 injured in this jihadi migrant's axe attack, we will likely soon hear that he was mentally ill, traumatized by the war in his native Afghanistan, or enraged over some slight (or even over "Islamophobia"), and that the one thing we all must understand above everything else is that Islam had nothing, nothing whatsoever, to do with this attack, and that the one thing we must not do in the wake of this attack is question or resist the ongoing Muslim migrant influx. Everyone will say so. They always do.
But when they tell us this, they're leaving out a few important details. Such as the fact that Ahmad al-Mohammed and one other of the jihadis who murdered 130 people in Paris in November 2015 had just entered Europe as refugees."
Islam- Jihad/ Hard Left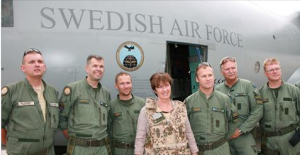 How Serious Is Sweden's Fight against Islamic Terrorism and Extremism? 07/17/16  This article discusses how the safety and security of Swedish citizens are being sidetracked by political discussions of "gender perspective" and other hard left concepts. Rather than focus on the growing terror concern and the real reasons for it, they are spending time on mere pretexts and distractions.
"Jihadists who come to Sweden know that there are many liberal politicians looking for invisible "right-wing extremists", and feminists who think what is really important is using "gender perspective" in the fight against extremism and terrorism.
Perhaps the Swedish government has a secret plan to convince jihadists to become feminists? As usual, Swedish politicians have chosen to politicize the fight against extremism and terrorism, and address the issue as if it were about parental leave instead of Sweden's security.
"As soon as these people… say 'Asylum', the gates of heaven open." — Inspector Leif Fransson, Swedish border police.
Experts in Sweden's security apparatus have clearly expressed that violent Islamism is a clear and present danger to the security of Sweden, but the politicized debate about Islamic terrorism and extremism does not seem capable of absorbing this warning."
Islam – Jihad/ Hard Left/ Anarchy – Civil War
France: The Coming Civil War 07/16/16  This article discusses how the elites in France have a globalist agenda and have determined that their own people are the ones who are "unreasonable" because they want to fight Islam in their midst rather than abroad.
"For French President François Hollande, the enemy is an abstraction: "terrorism" or "fanatics".
Instead, the French president reaffirms his determination to military actions abroad: "We are going to reinforce our actions in Syria and Iraq," the president said after the Nice attack.
So confronted with this failure of our elite who were elected to guide the country across nationals and internationals dangers, how astonishing is it if paramilitary groups are organizing themselves to retaliate?
In France, the global elites made a choice. They decided that the "bad" voters in France were unreasonable people too stupid to see the beauties of a society open to people who often who do not want to assimilate, who want you to assimilate to them, and who threaten to kill you if you do not. The elite took the side against their own old and poor because those people did not want to vote for them any longer. They also made a choice not to fight Islamism because Muslims vote collectively for this global elite."
As France Has Done to Israel
How fear of terrorism has come to dominate life in France" 07/19/16  This short article focuses on how fear of terrorism has become the new normal and has dramatically changed life in France. They have been leading the charge against Israel and been one of the leaders in the move to divide Jerusalem, and now, what they've helped to cause in Israel is occurring in their country.

"Normally, after the parties of Bastille Day, the French begin drifting off on holiday. People disappear to country homes, beaches or resorts where they spend weeks eating, drinking and lazing. Meanwhile foreign tourists – one of France's few growing income streams – flood the world's most visited country. But after a jihadist in a truck killed 84 people in Nice on Bastille Day, the French are trying to comprehend their new normal: terror attacks. As prime minister Manuel Valls said: "France must live with terrorism."
In 18 months, the country has changed fundamentally.
Since then, the surface layer of life has been fear of terrorism. This fear is the parents' meeting to discuss whether terrorists could break into your children's school. It's the university seminar you can only attend if you register in advance, with full passport details. It's the security guard who searches you before you enter your post office. The French now live with the constant worry that the sky could fall on their heads."
High Technology

EU Eyes Israeli Technologies for Spotting Militants Online 07/19/16  This article focuses on the means Israeli security are using to detect terrorists before they strike. European governments are starting to look to Israel for ideas in stopping terrorism.
"European powers are looking to Israeli-developed technology to develop better means for spotting "lone-wolf" militants based on their online activity, a senior EU security official said on Tuesday.
Last week's truck rampage in France and Monday's axe attack aboard a train in Germany have raised concern about self-radicalised assailants who have little or no communication with militant groups that could be intercepted by spy agencies.
"How do you capture some signs of someone who has no contact with any organisation, is just inspired and started expressing some kind of allegiance? I don't know. It's a challenge," EU Counter-Terrorism Coordinator Gilles de Kerchove told Reuters on the sidelines of a intelligence conference in Tel Aviv.
Internet companies have begged off when asked to monitor their own platforms' content for material that might flag militants, De Kerchove said.
He said they had argued that the information was too massive to sift through and put into context, unlike child pornography, for which there were automatic detectors…
Israeli security agencies once focussed on "meta data", or information regarding suspects' communications patterns. Now, beset by Palestinian street attacks, often by young assailants using rudimentary weapons and without links to armed factions, they have refocused on social media as a complementary means of gaining advance warnings from private posts."

 2 Kings 24:3-4  Surely at the commandment of the Lord came this upon Judah, to remove them out of his sight, for the sins of Manasseh, according to all that he did;
And also for the innocent blood that he shed: for he filled Jerusalem with innocent blood; which the Lord would not pardon.