Bachmann: Islam has transformed my state, Minnesota
Verse of the Day
Isaiah 1:4,7  Ah sinful nation, a people laden with iniquity, a seed of evildoers, children that are corrupters: they have forsaken the LORD, they have provoked the Holy One of Israel unto anger, they are gone away backward. (7) Your country is desolate, your cities are burned with fire: your land, strangers devour it in your presence, and it is desolate, as overthrown by strangers.
Commentary
This is all part of God's judgment on America. We killed our babies, promoted homosexuality and tried to divide Israel and Jerusalem, so God allowed the Muslims into America for judgment. America is following Europe into the judgment that we deserve.
The State of Minnesota is being radically changed by the design of the Hard Left reprobate minds. They want America destroyed and a sure way to do it is to bring in millions of Muslims. They know exactly what they are doing. The reprobate mind being placed in power is judgment on America.
Where is the Church in repentance crying out to the Lord to heal the nation? When the Muslims and reprobates are in complete power, they are going to hunt down real Christians. It is happening now to Christians who don't want to take part in "homosexual marriages". It is happening to pro-life people who stand for the babies. California already is given over to wickedness and is dangerous if you are an outspoken Christian.
Deuteronomy 11:26-28  Behold, I set before you this day a blessing and a curse;
A blessing, if ye obey the commandments of the Lord your God, which I command you this day:
And a curse, if ye will not obey the commandments of the Lord your God, but turn aside out of the way which I command you this day, to go after other gods, which ye have not known.
Hard Left/ Islam
Bachmann: Islam has transformed my state, Minnesota 07/28/17
"Minnesota was a cozy, quiet environment before the introduction of massive Third World immigration, but that has changed with the arrival Somali refugees, according to former U.S. Rep. Michele Bachmann.
"Minnesota is no longer the state I moved to in the mid 1960s," Bachmann told WND in an exclusive interview. "Then, we were a well-ordered society with a high-functioning population."
Now Minnesota has the largest Somali [mostly Muslim] community in the United States, with Census numbers putting the population around 40,000.
"It's the biggest Somali community in North America, possibly in the world outside of East Africa," Arthur Nazaryan, a freelance photojournalist told CNN. "It's like the cultural hub of the Somali diaspora, you could say."
"Minnesota is a super liberal state. … They have that whole history of accepting refugees from I think initially Vietnam and then the Hmong and then the Bosnian crisis. So they have this whole infrastructure set up already, in terms of nonprofit agencies and NGOs, where their primary purpose is resettling refugees," Nazaryan continued."
Hard Left/ Homosexuality/ Islam
Muslims React to Gay Muslim Marriage 07/27/17  This video by Paul Joseph Watson of Infowars has some objectionable language, but the outcry by Muslims after the first same-sex Muslim wedding in Britain demonstrates his point – one we've been making all along – that those on the Hard Left must make a choice between supporting Islam or homosexuality. They can't have  both.

Hard Left/ American Politics/ History

Expert Reveals Tampering in JFK Assassination Photos 07/28/17  Listening to this video from Infowars and examining the evidence presented, it is absolutely clear that Oswald could not have been even one of the shooters of President Kennedy since he was photographed standing in front of the book depository at the moment of the shooting. He was, as he claimed, a patsy, and a victim of the Deep State.
"Dr. Jerome Corsi and researcher Ralph C. Cinque examine evidence at photographic manipulation related to the CIA and FBI's investigation of the assassination of President John F. Kennedy."
State Department defends controversial terrorism report 07/27/17  It is taking President Trump a long time to clean the critters out of the State Department swamp. I hope that it is cleaned out of the last Israeli-hating Hard Left ideologue!
Isaiah 34:8  For it is the day of the LORD'S vengeance, and the year of recompences for the controversy of Zion.

"Spokeswoman says document claiming various Israeli policies spur Palestinian extremism 'consistently' highlights terror attacks against Israelis
"In that report we consistently highlight terror attacks perpetuated against Israelis – and I'm just talking about the Israel portion – because this is a worldwide report," Heather Nauert, the State Department spokeswoman, said Tuesday in a briefing when asked about a call earlier in the week from the Zionist Organization of America for Secretary of State Rex Tillerson's resignation because of the report.
"Those terror attacks that are perpetuated against Israelis by Hamas and others, there is no justification – and we will say that time and time again – there is no justification for any acts of terrorism," she said, adding that Tillerson had no plans to resign."
Israel/ History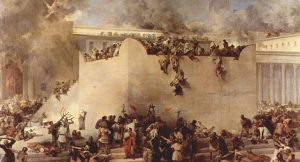 The Most Calamitous Date of the Jewish Year 07/31/17  Today is the 9th of Av (Tisha b'Av) on the Jewish calendar. It is a day of mourning for Jews over the centuries because so many calamities have come upon them on this specific date, including the destruction of both the First and Second Temples. The linked article lists some of the events, along with the years in which they happened. The first of these calamities was the bad report by the spies sent into the Promised Land, leading to 40 years of wandering in the desert.
Numbers 13:32  And they brought up an evil report of the land which they had searched unto the children of Israel, saying, The land, through which we have gone to search it, is a land that eateth up the inhabitants thereof; and all the people that we saw in it are men of a great stature.

"In some respects, the most solemn period of the Jewish year is upon us. The fast, which is called simply by its date in the Hebrew calendar, Tish'a bë'va or the 9th of Av, comes as the culmination of a series of fasts, beginning with 'Asara bëTeveth (the 10th of Teventh) and continuing with Shiv'a 'Asar bëThammuz (the 17th of Tammuz), in the winter and early summer, respectively.
The fundamental reason for the three fasts is the progress which was made by the forces of the Babylonians and, in their wake, the Romans, in destroying Jerusalem and the holy Temple. On 'Asara bëTeveth the siege around the city was closed; on Shiv'a'Asar bëThammuz, the city wall was breached; and three weeks later, on Tish'a bë'Av, resistance effectively ceased and the Temple went up in flames.
But this does not begin to describe the significance of the 9th of Av as a calamitous date in Jewish and, indeed, general history…"
Whose History is it, Anyway? 07/31/17
"Why is Tisha B'Av so necessary to be observed by modern Jews? The answer may be more simple than one would surmise. We pay heed to this holiday because not only was the symbol of Jewish hegemony in ancient times destroyed by invading Greeks and Romans centuries apart; but these civilizations knew what modern Jews are quickly forgetting: namely, that we are in danger of losing our heritage due to misappropriation of our holy places by others who seek to wipe out our very history. It is a newer form of anti-Semitism and it must be purged…
Misappropriation of one group's holy places happens almost daily in Turkey. Ancient churches are being turned into mosques. Mosques are built upon the shells of destroyed synagogues. It is intentional. It is done as if to say we Jews and Christians were never here and do not exist, which is an absurdity. We do exist. We survived the millennia and we number in the millions…
If we are to continue to survive as a people, we must do a better job of protecting our holy places from abuse or destruction. I believe this is the true message of Tisha B'Av."
Jerusalem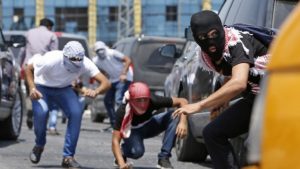 Mobilizing militia, Abbas approves mass protests Friday over Temple Mount 07/27/17  We soon will find out if this incident is the spark to ignite the all-out war between Israel and the Muslims.
Joel 3:16  The LORD also shall roar out of Zion, and utter his voice from Jerusalem; and the heavens and the earth shall shake: but the LORD will be the hope of his people, and the strength of the children of Israel.

"Palestinian Authority President Mahmoud Abbas on Wednesday approved plans by the leaders of the Fatah Tanzim militia to organize mass demonstrations on Friday as tensions escalated over Jerusalem's contested Temple Mount.
The move came hours after both Fatah and its Hamas rival called for a second week for demonstrations throughout the West Bank and Jerusalem on Friday to protest Israeli security measures at the flashpoint holy site, significantly raising fears of renewed violence even after Israel removed metal detectors at the Mount.
Meetings on Wednesday took place between representatives of various Palestinian factions at the office of Fatah deputy chairman Mahmoud al-Aloul. Jabal al-Mheissen, responsible for the Tanzim on the Fatah central committee, and former Palestinian intelligence chief Tawfik Tirawi were at the meetings, along with the heads of Fatah's regional branches in the West Bank."
World War 3/ North Korea
North Korea launches ballistic missile, Pentagon confirms 07/28/17  Just an update about the NK missile program with the goal of reaching the US with a nuclear weapon.
Revelation 22:20  He which testifieth these things saith, Surely I come quickly. Amen. Even so, come, Lord Jesus.

"North Korea launched a ballistic missile on Friday, the Pentagon confirmed.
It was not immediately known if the missile, which was expected to land in the Sea of Japan, was an intercontinental ballistic missile or another type of rocket.
"I can confirm that we detected a launch of a ballistic missile from North Korea," Pentagon spokesman Capt. Jeff Davis said. "We are assessing and will have more information soon."
World War 3/ Iran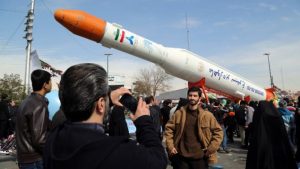 Iran successfully launches satellite-carrying rocket — report 07/27/17  This ties in with what North Korea is doing.
"Iran successfully launched a satellite-carrying rocket into space on Thursday, the country's state media reported without elaborating.
Iranian state television described the launch as involving a "Simorgh" rocket that is capable of carrying a satellite weighing 250 kilograms (550 pounds). The state media report did not elaborate on the rocket's payload. "Simorgh" means "phoenix" in Persian.
The website YJC.ir, which is affiliated with Iranian state television, as well as the semi-official Fars news agency, also reported the launch on Thursday, saying it was successful.
The launch comes as the United States has criticized Iran's ballistic missile tests.
1 Samuel 23:27  But there came a messenger unto Saul, saying, Haste thee, and come; for the Philistines have invaded the land.