Battle of Gettysburg – Great Prayer by Abraham Lincoln
Verse of the Day
 Psalm 144:15  Happy is that people, that is in such a case: yea, happy is that people, whose God is the LORD.
Commentary
This is the 153rd anniversary of the Battle of Gettysburg. I've found great information about Abraham Lincoln turning to the Lord after this battle. He declared July 15, 1863 as a day of national prayer and invoked the Holy Spirit to subdue the anger of the nation. What a contrast today with Obama who seems to love Islam and allah, and is working day and night to divide us and destroy the nation.
May the Holy God of Israel bless and protect you.
Zechariah 14:9 And the LORD shall be king over all the earth: in that day shall there be one LORD, and his name one.
History – Battle of Gettysburg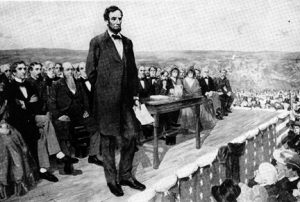 The 153 anniversary 07/03/16  When I read this article about Lincoln and then I looked at present-day America with Obama, I want to cry.
"On July 5, 1863, President Lincoln and his son visited General Daniel E. Sickles, who had his leg blown off at Gettysburg.
General James F. Rusling recorded that when General Sickles asked Lincoln if he was anxious before the Battle, Lincoln answered: "No, I was not; some of my Cabinet and many others in Washington were, but I had no fears… In the pinch of your campaign up there, when everybody seemed panic-stricken, and nobody could tell what was going to happen, oppressed by the gravity of our affairs, I went to my room one day, and I locked the door, and got down on my knees before Almighty God, and prayed to Him mightily for victory at Gettysburg.
I told Him that this was His war, and our cause His cause, but we couldn't stand another Fredericksburg or Chancellorsville.
And I then and there made a solemn vow to Almighty God, that if He would stand by our boys at Gettysburg, I would stand by Him…"
Lincoln added:
"And He did stand by you boys, and I will stand by Him.
And after that (I don't know how it was, and I can't explain it), soon a sweet comfort crept into my soul that God Almighty had taken the whole business into his own hands and that things would go all right at Gettysburg."
Twelve days after the Battle of Gettysburg, July 15, 1863, Lincoln proclaimed a Day of Prayer:
"It is meet and right to recognize and confess the presence of the Almighty Father and the power of His hand equally in these triumphs and in these sorrows… I invite the people of the United States to…render the homage due to the Divine Majesty for the wonderful things He has done in the nation's behalf and invoke the influence of His Holy Spirit to subdue the anger which has produced and so long sustained a needless and cruel rebellion."
In his Gettysburg Address, November 19, 1863, Abraham Lincoln ended: "We here highly resolve that these dead shall not have died in vain – that this nation, under God, shall have a new birth of freedom – and that government of the people, by the people, for the people, shall not perish from the earth."
Hard Left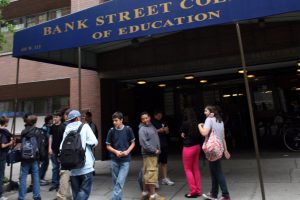 Elite K-8 school teaches white students they're born racist 07/02/16  How far is the Hard Left going to push their delusions upon us? Are they trying to divide the races so deeply that there is no coming back? Do they want a race war to help destroy America? These are extremely dangerous people that only know how to destroy and not build up.
When reading this article notice that the event in Ferguson is what triggered this attack on being white. The problem with this delusion is that it was proven with evidence that the black youth was high on drugs, attacked the police officer and tried to take his weapon, he did not obey the officer and charged to attack him. The problem was not with the white officer but with the black youth and rioters, who used this as an excuse to loot and promote their racist lies.
The people in this school are living in a Hard Left delusion that now is masticating into society to divide the races in a very dangerous way. I really do think that they want a race war because there is violence in their hearts for America, and especially for the Middle Class. This is now becoming very clear.
These verses fit the Hard Left perfectly:
Proverbs 6:16  These six things doth the LORD hate: yea, seven are an abomination unto him: A proud look, a lying tongue, and hands that shed innocent blood, An heart that deviseth wicked imaginations, feet that be swift in running to mischief, A false witness that speaketh lies, and he that soweth discord among brethren.

"An elite Manhattan school is teaching white students as young as 6 that they're born racist and should feel guilty benefiting from "white privilege," while heaping praise and cupcakes on their black peers.
They complain the K-8 school of 430 kids is separating whites in classes where they're made to feel awful about their "whiteness," and all the "kids of color" in other rooms where they're taught to feel proud about their race and are rewarded with treats and other privileges.
"Ever since Ferguson, the school has been increasing anti-white propaganda in its curriculum," said a parent who requested anonymity because he has children currently enrolled in the school."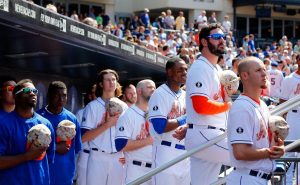 Major League Baseball must permanently retire 'God Bless America,' a song that offends everyone 07/02/16  Like I often have said, the Hard Left is the most destructive force on earth and at their core simply hate God and ANYTHING connected with Him. Their hearts are darkened because they hate God and therefore, they think and act in darkness. They are a curse on the earth.
Romans 1:21-22  Because that, when they knew God, they glorified him not as God, neither were thankful; but became vain in their imaginations, and their foolish heart was darkened. Professing themselves to be wise, they became fools,

"And more than 88% of atheists dislike the song, Kaskowitz found. (Quick aside: We atheists also hate having "In God we Trust" on the currency and in the courtrooms of a country whose Constitution bars the "establishment of religion" — but that's a fight for another day.)
The song also offends:
* Believers!: Charlie Pillsbury once ran for Congress as a Green Party candidate and one of his issues was his objection to "God Bless America." "God shows no partiality towards nations," he said. "God blesses the whole world."
* Foreigners!: I once went to a Brooklyn Cyclones game with a British guy named James Silver, who smiled when "God Bless America" was being played. "It's exactly what I expect from Americans," he said. "The self-righteousness, the patriotism. It's always nice to see my opinions confirmed."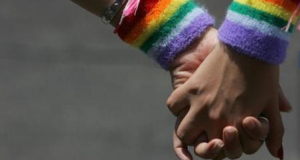 ChristianMingle Must Include Gays, Judge Rules 07/03/16  It does appear that real Christianity is now outlawed in much of the US. At the present rate of decline, it will not be long before real Christianity is the enemy of the state and believers are going to have all of their rights stripped away and then jailed.
I even can see the state taking our children from us. This is all because pastors have refused to follow God's Word and lead the nation in repentance and seek an outpouring of the Holy Spirit.
"ChristianMingle.com, an online platform for single Christians seeking relationships, must accommodate gay users, a California judge ruled.
Two gay men in California brought a lawsuit against ChristianMingle's parent company Spark Network, which also administers CatholicMingle.com, AdventistSinglesConnection.com, BlackSingles.com, and a mobile application CROSSPATHS. They alleged the site's failure to accommodate gay users violated the Unruh Civil Rights Act, a state anti-discrimination law."
Islam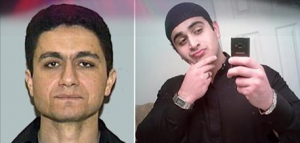 Loving Luxury West Surrenders to Islamists 07/02/16  This is a very good article showing that the West has no foundation because it has rejected God. The only thing that drives the West is pleasure, so it is now easy prey for the Muslims who have goals, including destroying the West and achieving world conquest for allah.
The void in the West now is being filled by Islam which wants to destroy it, thus, it is committing suicide by Islam.
Psalm 14:1  The fool hath said in his heart, There is no God. They are corrupt, they have done abominable works, there is none that doeth good.

"The West should be proud of what the Islamists call "decadence." For the West, "decadence" is synonymous with freedom. The problem is that we, postmodern Westerners, have sacrificed the very values that ensure our survival, and have exchanged them for "decadence."
The problem is that the West does not desire life. The West is ready to surrender its love of life to those who want to take it away from them.
"Islam manifests what Nietzsche called 'great health': there are young soldiers ready to die for it. What are the values of our civilization? Supermarket and e-commerce, trivial consumerism and egotistical narcissism, vulgar hedonism or scooters for adults?" — Michel Onfray, French philosopher,
In the Netherlands, the minister of education decided to impose the teaching of LGBT courses in migrant centers. Germany has published guidelines, leaflets and cartoons to communicate to immigrants the new sexual norms to follow. Is that all we have to offer to these people?"
Christianity
Fiery Pentecostal Keeps Preaching Bible Truth Even as Churchgoers Walk Out 07/02/16 
Proverbs 29:25  The fear of man bringeth a snare: but whoso putteth his trust in the LORD shall be safe.
Pastor Bates is a real man of God and he preaches the truth. This caused the lukewarm and the tares to leave the church, which is exactly what was needed. Now that the worldly are out, God can build a powerful ministry.
This is what is needed in nearly every church in America. This pastor does not fear man but he fears God!
Matthew 10:28  And fear not them which kill the body, but are not able to kill the soul: but rather fear him which is able to destroy both soul and body in hell.

"The Assemblies of God Pastor was preaching on "Fire Starters," according to TRUNews, and addressing one of the most hot-button issues facing the Church community today: Homosexuality.
"I used Elijah as the example of a 'Fire Starter,' and our need to raise up a new generation of 'Fire Starters' who would not be afraid to confront false religions (like Islam) and corrupt culture," Bates tells Charisma News. "Anyone (comedians, LGBT community, media) can say anything negative about Christianity and there are no repercussions for their actions or their words. But as soon as a Christian preaches or speaks against the false religion of Islam or against the agenda of the LGBT community and the transgender movement and their demands for us to make accommodations for and accept their lifestyle and agenda—then we face persecution. We are called intolerant and told that we are not being politically correct.
"I went on to say, 'We need 'Fire Starters,' like Elijah, who will call fire down from heaven to confront the culture and false religions with undeniable, uncompromising truth and without political correctness. It was at this point that I began to see people getting up, walking out, shaking their heads."
The pastor of OKC Faith Church says about 50-75 people of all ages and races walked out."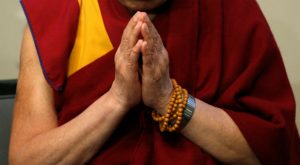 200,000 Buddhists Just Turned From False Gods to Jesus Christ 07/02/16  It is wonderful to see God moving like this. This is all part of the great end-time harvest before Jesus comes for his church. The outpouring of the Holy Spirit is right up to the great and dreadful Day of the LORD.
Acts 2:17  And it shall come to pass in the last days, saith God, I will pour out of my Spirit upon all flesh: and your sons and your daughters shall prophesy, and your young men shall see visions, and your old men shall dream dreams: And on my servants and on my handmaidens I will pour out in those days of my Spirit; and they shall prophesy: And I will shew wonders in heaven above, and signs in the earth beneath; blood, and fire, and vapour of smoke: The sun shall be turned into darkness, and the moon into blood, before that great and notable day of the Lord come: And it shall come to pass, that whosoever shall call on the name of the Lord shall be saved.

"All the revival needed was the first spark of a Tibetan monk. When he converted to Christianity last year, the revival fire exploded. Now, more than 200,000 Tibetans have accepted Jesus into their lives, according to multiple reports.
Asian Access' Joel Handley says he believes much of the faith sweeping the region stems from Christian response to the devastating Nepalese earthquake more than a year ago.
"They haven't seen Buddhists, Hindus or other religious groups helping in the midst of the rubble. Rather, week after week, it is the followers of Jesus who have proved the test of time, sacrificed their own lives to serve and been the hands and feet of Jesus," Handley says."
Deuteronomy 33:27  The eternal God is thy refuge, and underneath are the everlasting arms: and he shall thrust out the enemy from before thee; and shall say, Destroy them.