Black Nazis Terrorizes Jews In New York
Verse of the Day
Acts 2:17 And it shall come to pass in the last days, saith God, I will pour out of my Spirit upon all flesh: and your sons and your daughters shall prophesy, and your young men shall see visions, and your old men shall dream dreams: (18) And on my servants and on my handmaidens I will pour out in those days of my Spirit; and they shall prophesy:
Commentary
The hatred against the Jews by the likes of Farrakhan and the Muslims pouring into America is taking hold with these attacks. Farrakhan and company are loved by many in the Dem Party, and very soon the Jews are going to become Republicans. They are trying to blame the attacks on Trump supporters, but it turns out they are black Hard Left!
This is happening very fast, and America needs a revival for survival.
Looking for the Blessed Hope.
Hebrews 10:25 Not forsaking the assembling of ourselves together, as the manner of some is; but exhorting one another: and so much the more, as ye see the day approaching.
Hard Left Focusing on Jews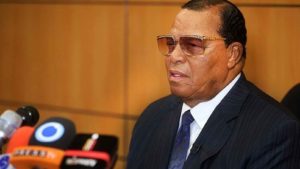 "Black Nazis Terrorizes Jews In New York"
"Last November, Jews For Racial & Economic Justice (JFREJ) released Understanding Antisemitism. The bizarre tract had as much in common with the reality of anti-Semitism as Marxism does with economics.

JFREJ, a radical leftist group, claimed that "white Christians" in Europe had "invented anti-Semitism". That would have come as news to Pharaoh, Haman and Mohammed: in JFREJ's parlance, "people of color" who had innovated and spread anti-Semitic ideas, while seeking to exterminate the Jews.

"Antisemitism was something European Christians created and brought to the Middle East within the last 150 years," JFREJ insisted. There was no such thing as Muslim anti-Semitism, the leftist group, which collaborates with Linda Sarsour, a Farrakhan supporter who had urged dehumanizing Jews, insisted.

Black and Muslim anti-Semitism are occasionally justified as a response to white Jewish oppression. But mostly their existence is denied. Racial anti-Semitism, JFREJ insisted, only existed as white supremacy. JFREJ's tract whitewashing black and Muslim anti-Semitism was partly funded by Jenny Levison."
Urgent:The Burning of California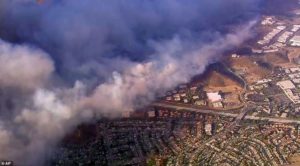 Paradise lost: Raging rapid wildfire reduces California city to ashes as inferno sparks evacuation of 27,000 residents burning down a hospital, a gas station, hundreds of homes and leaving 'multiple people dead'" More devastating fires in California. It now seems these fires are year round.
California is dying because of sin, and it seems these intense and never ending fires are warnings from the Lord about the end coming for this state.
It would be nice if a huge revival hit the state and staves off the judgment.
Exodus 9:24 So there was hail, and fire mingled with the hail, very grievous, such as there was none like it in all the land of Egypt since it became a nation.

"A town of 27,000 people has been 'pretty much destroyed' by a raging wildfire that forced terrified residents to flee their homes clutching pets and babies and collapsing pillions fell across roads.

The northern California town of Paradise and the surrounding area of around 15 square miles has been hit by devastating blaze which was swept through the area by a dry wind. Thousands of people fled the fast-moving wildfire which quickly spread out-of-control as mountain winds swept the flames through the community, engulfing homes and destroying businesses.

Some were clutching babies and pets as they abandoned vehicles and struck out on foot ahead of the flames that forced the evacuation of an entire town and destroyed hundreds of buildings.

Portions of southern California have also remained under siege by two large brush fires as some 75,000 homes have been placed under evacuation orders along the border of Ventura and Los Angeles counties.

Los Angeles Fire Department Public Information Officer Erik Scott says the blaze has destroyed or damaged many buildings.

A second fire has been burning in the Santa Rosa Valley east of Camarillo, west of Simi Valley near Newbury Park and Thousand Oaks. By last night it had scorched up to 7,000 acres and sent residents of more than 1,200 homes fleeing, the Los Angeles Times reports."
Hard Left Destruction of America as we Know It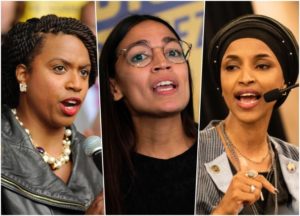 "Districts with Large Foreign-Born Populations Sent Far-Left Democrats to Congress" Notice how the districts that have huge foreign born populations are voting Communists and Muslims! These people hate America and want to destroy it. This is the future of the Dem Party which means in the very near future a real civil war in America. It is politically forming right in front of your eyes.
We need revival for survival.
"Congressional Districts with booming foreign-born populations sent some of the most far-left, socialist Democrats to Congress in the midterm elections this week.

On Tuesday night, congressional districts that have been dramatically changed by mass immigration elected Democrats like Alexandria Ocasio-Cortez in New York, Ilhan Omar in Minnesota, and Ayanna Pressley in Massachusettes.

The congressional districts sending some of the most liberal, far-left Democrats to Congress have large foreign-born populations that do not seem to be leveling off anytime soon as the U.S. continues admitting more than 1.5 million foreign nationals every year. Ocasio-Cortez's district, New York's 14th, has a foreign-born population that is now nearing almost 50 percent. About 45.8 percent of the district is foreign-born."
France vs USA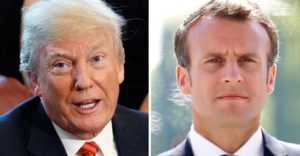 "Trump rips Macron after landing in France over 'insulting' call for European army" With French unable to defend themselves and also continual defeat, how would they stand up against the Russians! What a joke this is.
What is this world coming to when the mean President Trump makes the French pay their fair share for defense!
Right now the bulk of the French army is tied up defended France from Muslim terrorists they let in, so how could the French be part of any army defending Europe against the Russians!
"President Trump touched down in France on Friday and immediately took a shot at President Emmanuel Macron for his recent call for a "European army," calling the idea "very insulting" and renewing pressure on the country to contribute more to NATO.

"President Macron of France has just suggested that Europe build its own military in order to protect itself from the U.S., China and Russia," Trump tweeted. "Very insulting, but perhaps Europe should first pay its fair share of NATO, which the U.S. subsidizes greatly!"

Trump was reacting to remarks Macron made earlier this week when he said Europe was "the main victim" of Trump's decision to withdraw from the 1987 Intermediate-Range Nuclear Forces Treaty with Russia.

"We will not protect the Europeans unless we decide to have a true European army," Macron said, according to The Wall Street Journal. He also grouped in the U.S. with the countries from which France needed protecting."
Obama's Mission to Destroy America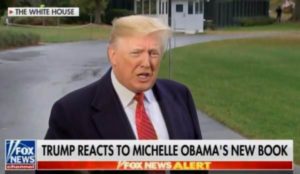 "BOOM! TRUMP UNLOADS ON OBAMA: I Will Not Forgive Him for What He Did to Military – He Made Our Country Unsafe (VIDEO)" I love when he stands up the Hard Left and strikes back with the truth!
"President Donald Trump unloaded on his predecessor, former President Barack Obama, on Friday morning. This came hours after it was reported that the former First Lady Michelle Obama slammed President Trump in her upcoming memoir.

President Trump was asked about the former First Lady's attacks. He hit back twice as hard.

President Trump: "She got paid a lot of money to write a book. And they always insist you come up with controversial. Well, I'll give you a little controversy back. I'll never forgive him for what he did to our United States military. By not funding properly, it was depleted. Everything was old and tired. And I came in and I had to fix it… He made America very unsafe."