Clinton ally reportedly helped fund campaign of key FBI official's wife
Verse of the Day
Psalm 2:7-8 I will declare the decree: the LORD hath said unto me, Thou art my Son; this day have I begotten thee. Ask of me, and I shall give thee the heathen for thine inheritance, and the uttermost parts of the earth for thy possession.
Commentary
I've posted some really good articles about the corruption in Washington which is connected with Hillary Clinton. God is being very merciful to Americans because he is showing the depth of corruption in the US. I knew there was corruption but not to the depth that we are seeing. Every institution is corrupt from the president on down. It will only get worse if she is elected.
On November 9, we will know the fate of America.
May the Holy God of Israel bless and protect you.
Psalm 2:9-12 Thou shalt break them with a rod of iron; thou shalt dash them in pieces like a potter's vessel. Be wise now therefore, O ye kings: be instructed, ye judges of the earth. Serve the LORD with fear, and rejoice with trembling. Kiss the Son, lest he be angry, and ye perish from the way, when his wrath is kindled but a little. Blessed are all they that put their trust in him.
American Politics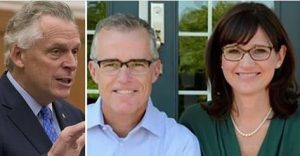 Clinton ally reportedly helped fund campaign of key FBI official's wife 10/24/16  God continues to uncover the corruption in Washington. God is so good to us to show how bankrupt Washington is. It is now an open cesspool for all to see.
God has given the American people one last chance to stand against this evil or face final judgment. On November 9, we will know if God gave America over to Hillary for his final judgment on the nation. If she is elected, America as we know it will not last long.
"A top Clinton ally's political organization reportedly gave nearly a half-million dollars to the campaign of the wife of an FBI official who would go on to help oversee the probe into Hillary Clinton's email practices – a tangled web likely to fuel Republican complaints about the investigation.

The Wall Street Journal reported Sunday night on the connection. According to the Journal, finance records show Virginia Gov. Terry McAuliffe's PAC gave $467,500 to Dr. Jill McCabe's 2015 state Senate campaign. The Virginia Democratic Party spent an additional $207,788 on the campaign, the Journal reported.

McCabe, who ended up losing to Republican incumbent Dick Black, is married to Andrew McCabe – the FBI's deputy director."
This is a great video by Trump laying out what the One World Government is doing to America.
It is best and clearest presentation that I have ever seen.
Please pass this on.
Love One Another' Hillary Clinton Preaches at Baptist Church in North Carolina 10/23/16  This is hard to stomach. Clinton preaching in a church about love or anything! How could she be allowed in the pulpit! She mocks God and protects the killing of babies in the womb. I guess this church is just like her.
"On Sunday, Hillary Clinton went to church and delivered a sermon about the upcoming election and the problems with racism in America.
"We are asked to love one another. We are not just urged, we are commanded," she said. "Jesus said it was the greatest of his commandments."
Clinton said that she once taught Sunday school, teaching students to love their neighbor as themselves.
"It's a hard commandment to obey. Some days it's really hard for me," she said as the crowd laughed and applauded.
Clinton made her remarks at the Union Baptist Church in Durham, NC, where they gave her a standing ovation to welcome her.
She was joined by five women who were part of the "Mothers of the Movement" — mothers of black men who were killed by gun violence or police shootings."
Shocking Footage: Media Caught Covering Up Clinton's Ongoing Looting Of Haiti 10/23/16  This is an eyewitness report of Hillary and Bill stealing from the impoverished Haitian people. This video made me angry to think what a lowlife she is, and the thought of her being president is sickening. I think there is one verse fitting for her:
1 Timothy 6:10  For the love of money is the root of all evil: which while some coveted after, they have erred from the faith, and pierced themselves through with many sorrows.
World War 3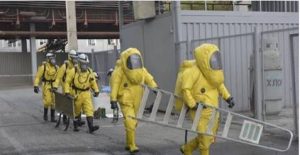 Russians Conduct Nuclear-Bomb Survival Drills as Cold War Heats Up 10/24/16  This is an excellent article about how Russia is preparing its population for nuclear war with America. Remember that Putin operates in reality, while Obama and Clinton are under a delusion.
"Russian authorities have stepped up nuclear-war survival measures amid a showdown with Washington, dusting off Soviet-era civil-defense plans and upgrading bomb shelters in the biggest cities.
At the Kremlin's Ministry of Emergency Situations, the Cold War is back. The country recently held its biggest civil defense drills since the collapse of the U.S.S.R., with what officials said were 40 million people rehearsing a response to chemical and nuclear threats.
Videos of emergency workers deployed in hazmat suits or checking the ventilation in bomb shelters were prominently aired on television when the four days of drills were held across the country. Students tried on gas masks and placed dummies on stretchers in school auditoriums.
The capital's civil-defense plans are also being upgraded, said Andrey Mishchenko, deputy head of the ministry.
"An inventory was taken in Moscow of the city's underground spaces, in order to allow us to plan for sheltering 100% of the city's population," he said"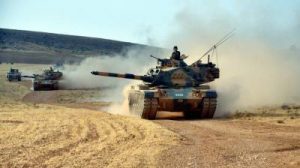 Will He Halt? Erdogan Is Now Just 15 KM From Syrian Army in Aleppo (And Pounding the Kurds Who Stand in the Way) 10/24/16  Since the Turks invaded Syria, I've found nothing in the news about what is going on. This is an interesting article showing what is happening. The Turkish army is only 15 miles from the Syrian army which could mean a direct confrontation. The tension for a major war in Syria keeps growing every day.
"However, should the Turkish-rebel coalition threaten to displace the SDF from those positions it becomes increasingly difficult to see how Russia can continue to allow Turkish military operations in Syria. Even if Turks themselves are not interested in coming to blows with the Russian-backed Syrian forces the rebels they have tagging along have nothing to lose and everything to gain by provoking a Turkish-Russian clash and dragging Ankara deeper into the war.

The only real guarantee that Ankara's 'Euphrates Shield' won't lead to a hot Turkish-Russian conflict in Syria is if Turks don't put the rebels in contact with the Russian-backed Syrian army. Hopefuly Erdogan understands this and won't risk the Russian reset he has worked so hard to achieve over the past six months."
Hard Left/ Islam
Liberal Submission: Protect Islam, Defame Christianity 10/23/16  The Left just loves Islam. Whatever is against God, the Left flocks to protect it or promote it! This is happening all over the world with the Left. They are the same in America as in Europe or Australia. All reprobate minds thinks alike.
Romans 12:2 And be not conformed to this world: but be ye transformed by the renewing of your mind, that ye may prove what is that good, and acceptable, and perfect, will of God.

"If an imam violently protests something, the liberal elite always supports the false charge of "Islamophobia." If a peaceful protest is led by a Catholic bishop, the same elite always rejects it under the name of "freedom of expression."
The "Caliph" of the Islamic State, Abu Bakr al-Baghdadi, ridiculed by Charlie Hebdo, triggered self-censorship because of "hate speech," while the work of Chris Ofili "The Holy Virgin Mary," in which the mother of Jesus is covered with feces and images of genitalia, was defended by the New York Times as "free speech." Does this now mean that some religions are more equal than others?
On Halloween night, only the "Sexy Nun" is available, while "Caliph" Baghdadi can rape his Yazidi and Christian sex slaves with impunity."
Islam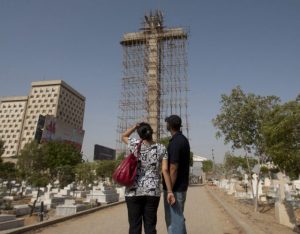 Pakistan Orders House Churches Closed as Calls for Lynching Christians Grow Louder 10/24/16  Notice this violence is not being done by ISIS but by the regular people of Pakistan! This is real Islam as preached by Muhammad in action.
"Some house churches are being ordered to be shut down in Pakistan while mobs are calling for the lynching of two blasphemy law victims, including a 16-year-old, as tensions against the Christian minority in the predominantly Muslim country has intensified in recent weeks.
Muslims extremists are calling for the death sentence to be imposed against Christians Asia Bibi, 46, and Nabeel Masih, 16.
Pakistan Christian Post notes: Communities of Christians up and down the country have been warned that if Nabeel and and Asia are not hanged for their crimes, then Muslims will attack Christian communities to kill as many as they can for retribution. Extra security teams are being posted at churches and despite the threats church attendances seem to have grown, as Christians seek hope for their situation through God."
Hard Left/ Homosexuality
13 Attorneys General Join Brief in Support of Florist Found Guilty of Discrimination for Declining 'Gay Wedding' 10/01/16  It was heartwarming to read that 13 state attorneys general stood with this woman and her religious freedom. May the Lord bless them and their states!
Psalm 94:3-5  LORD, how long shall the wicked, how long shall the wicked triumph? How long shall they utter and speak hard things? and all the workers of iniquity boast themselves? They break in pieces thy people, O LORD, and afflict thine heritage.

"Attorneys general from 13 states joined in an amicus brief this week in support of a Washington florist who was found guilty last year of discrimination for providing a referral for a regular customer's request for the creation of floral arrangements for his same-sex ceremony rather than fulfilling the order herself.
Lead by Arkansas Attorney General Leslie Rutledge, Attorneys General Luther Strange of Alabama, Ken Paxton of Texas, Patrick Morrisey of West Virginia, Mark Brnovich of Arizona, Doug Peterson of Nebraska and Jeff Landry of Louisiana were among those who joined in the briefing to the Washington State Supreme Court.
Govs. Sam Brownback of Kansas and Matt Bevin of Kentucky also added their names to the filing.
"[O]ur country's history has been one of increasing protections for religious liberty, which include the practice of granting reasonable exemptions from laws that would otherwise force religious adherents to violate the tenets of their religion and thus act in a way they believe contravenes God's law," it reads, providing an account of religious freedom in early America and the conflicts that necessitated the protections.
"The right to free exercise of religion—as recognized in both the First Amendment and in Article 1, Section 11 of Washington's constitution—is not restricted to one's home or place of worship," the brief states. "Yet Respondents claim that religious persons forfeit their right to live out their beliefs when they open a business."
Health and Nutrition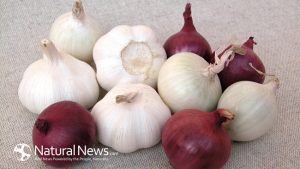 14 Natural Antibiotics And Antibacterials That Should Be In Every Home 10/24/16 
3 John 1:2  Beloved, I wish above all things that thou mayest prosper and be in health, even as thy soul prospereth.
I plan on continuing to post great health related information, so you don't have to rely on the Babylonian medical system for your health.
"There is no doubt that antibiotics are truly a wonder of modern medicine but over the last several decades, over-use of antibiotics has reached an all-time high. As a result, super-bugs have developed that are resistant to all but the most powerful drugs, whose side effects are often dangerous. Most people are unaware, but virtually all pharmaceutical medications originally came from the plants of the Earth.
Instead of waiting until you get sick or discover that drugs don't work on whatever strain of virus or disease you have, you can start building up your immune system in advance. You need foods, natural foods that will help foster a healthy immune system while annihilating bacterial invaders."

Exodus 23:8  And thou shalt take no gift: for the gift blindeth the wise, and perverteth the words of the righteous.