#CNNBlackmail Story Goes Mega Nova Viral During The MEME Reckoning
                               Verse of the Day
Galatians 6:7  Be not deceived; God is not mocked: for whatsoever a man soweth, that shall he also reap. (8) For he that soweth to his flesh shall of the flesh reap corruption; but he that soweth to the Spirit shall of the Spirit reap life everlasting.
Commentary
It does look like the entire social media world is now at war with CNN! I really hope they pull it down as a warning to the rest of the Fake News Outlets! This ought to be fun to watch. Check out the "WeAreChange" YouTube channel, while you're at it – there's some good stuff there.
May the Holy God of Israel bless and protect you.
Revelation 22:20 He which testifieth these things saith, Surely I come quickly. Amen. Even so, come, Lord Jesus.
Media
#CNNBlackmail Story Goes Mega Nova Viral During The MEME Reckoning 07/05/17  It does look like the entire social media world is now at war with CNN! I really hope they pull it down as a warning to the rest of the Fake News Outlets! This ought to be fun to watch. Check out the "WeAreChange" YouTube channel, while you're at it – there's some good stuff there.

About the video: "In this video, Luke Rudkowski of WeAreChange gives you the latest breaking news on the #CNNBlackmail story as the many people on the left and right are outraged at the CNN "news network" for using coercion in order to stop a Reddit user from making memes of Donald Trump slamming CNN. The journalist Andrew Kaczynski of CNN is facing a massive backlash as /pol, 4 chan has just now declared vengeance on the news network and the entire situation is leading many to speculate the actual end of CNN."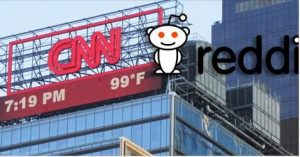 CNN Tailspin: Network Bungles Response to Blackmail Firestorm 07/06/17  I am really enjoying watching the meltdown of CNN. CNN is part of the heart of the Hard Left machine, and now it is being torn apart by its own lies and arrogance! It certainly does appear that the Lord is issuing judgments in all directions. This is an amazing time we live in. CNN has been sowing corruption for a long time and now it is reaping a huge harvest!
'Others noted CNN had violated its own principles. "It's bizarre that CNN, which loves using anonymous sources against Trump, would boast on the Internet that 'CNN reserves the right' to publish someone's identity, presumably their name and address," said Tim Graham, research director of the Media Research Center. "Anonymity is only granted if it helps their agenda. Some principle."
Pedophilia/ Homosexuality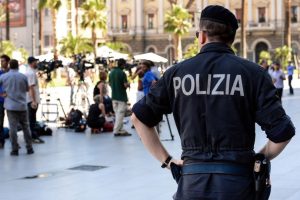 Vatican police 'break up gay orgy' at home of one of Pope Francis' advisors 07/05/17  For the last decade, the Vatican was rocked by one sex scandal after another. Most of them are about abusing young males, as we see homosexuality at the highest levels of Rome. This goes along with abusing the young boys. The homosexuality and pedophilia are institutionalized in the institution.
The pope is a real Hard Leftist like Obama. He loves Islam and is playing a major part in the destruction of Europe. This is a great time for anyone claiming to be a Catholic to look to Jesus Christ and only him as your Savoir and NOT to any man-made institution. This church is loaded with sin up to its eyeballs.
1 Timothy 2:5  For there is one God, and one mediator between God and men, the man Christ Jesus;

"Vatican police have broken up a gay orgy at the home of the secretary to one of Pope Francis's key advisers, it has been claimed.
The flat belonged to the Vatican's Congregation for the Doctrine of the Faith, or Holy Office, which is in charge of tackling sexual abuse amongst the clergy.
Reports in Italy claim the occupant of the apartment is the secretary to Cardinal Francesco Coccopalmerio – a key aide to the 80-year-old Pope.
Coccopalmerio heads the Pontifical Council for Legislative texts and was said to have once recommended his secretary for a promotion to bishop. The claims about the police raid last month were made in the Italian newspaper Il Fatto Quotidiano.
The flat involved is a short distance from the Vatican itself. According to the paper, neighbours became suspicious before complaining about irregular behaviour of those coming and going at the flat. When police showed up, they reportedly found drugs and a group of men engaged in sexual activity.
It is the latest scandal to hit the Vatican and comes after its finance chief Cardinal George Pell was charged with historical sexual offences."
World War 3/ North Korea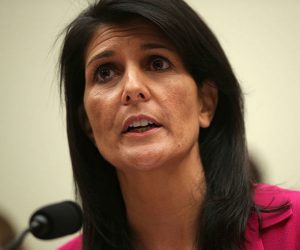 Haley: US Will Use Military Force 'If We Must' 07/05/17  The feeling of war is in the "air." NK is not backing down because I believe they know that China is backing them. A war with NK, will bring China into it. China has a lot to gain with a war between the USA and NK.
This war will trigger WW3, with maybe Russia joining NK and China. Because NK is so close with Iran, this also could trigger war in the Middle East with Iran leading the attack against Israel. Look for war this fall.
If you believe in prayer, now is the time to call on the Lord. You are welcome to join my prayer shows which I announce on my Insights Facebook page.
Isaiah 9:6 -7 For unto us a child is born, unto us a son is given: and the government shall be upon his shoulder: and his name shall be called Wonderful, Counsellor, The mighty God, The everlasting Father, The Prince of Peace. (7) Of the increase of his government and peace there shall be no end, upon the throne of David, and upon his kingdom, to order it, and to establish it with judgment and with justice from henceforth even for ever. The zeal of the LORD of hosts will perform this.

"United Nations Ambassador Nikki Haley on Wednesday said North Korea's intercontinental ballistic missile launch was "quickly closing off the possibility of a diplomatic solution" and vowed that the U.S. would use "our considerable military forces … if we must."
"The United States does not seek conflict," Haley, the former South Carolina Republican governor, said at the start of an emergency session of the U.N. Security Council in New York. "In fact, we seek to avoid it. "We seek only the peaceful denuclearization of the Korean peninsula and an end to the threatening actions by North Korea. "Regrettably, we're witnessing just the opposite."
Haley called Pyongyang's missile launch on Tuesday "a clear and sharp military escalation. "Their actions are quickly closing off the possibility of a diplomatic solution," she said. "The United States is prepared to use the full range of our capabilities to defend ourselves and our allies. "One of our capabilities lies with our considerable military forces. "We will use them if we must," she said. "But we prefer not to have to go in that direction."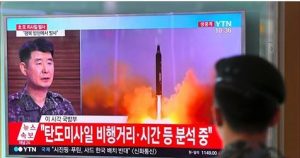 Experts: North Korea's missile was a 'real ICBM' — and a grave milestone 07/05/17  It seems that every day the war tensions are getting greater as WW3 war draws near. I have warned for several years that China was not our friend and would use NK as its surrogate for this war. China will back NK in this war.
So what's coming is war between China and NK on one side, and USA, South Korea, Japan and maybe others opposing them.
Luke 21:9-10  But when ye shall hear of wars and commotions, be not terrified: for these things must first come to pass; but the end is not by and by. Then said he unto them, Nation shall rise against nation, and kingdom against kingdom:

"The North Korean missile that soared high above the Sea of Japan on Tuesday was hailed by state-run television as a "shining success." But to U.S. officials, it was a most unwelcome surprise: a weapon with intercontinental range, delivered years before most Western experts believed such a feat possible.
Hours after the apparently successful test, intelligence agencies continued to run calculations to determine precisely how the missile, dubbed the Hwasong-14, performed in its maiden flight. But the consensus among missile experts was that North Korea had achieved a long-sought milestone, demonstrating a capability of striking targets thousands of miles from its coast.
Initial Pentagon assessments said North Korea had tested a "land-based, intermediate-range" missile that landed in the Sea of Japan just under 600 linear miles from its launch point, Panghyon Airfield, near the Chinese border. The State Department and the Pentagon later confirmed North Korea had launched an intercontinental ballistic missile, or ICBM. Government and independent analyses showed the missile traveling in a steep arc that topped out at more than 1,740 vertical miles above the Earth's surface.
If flown in a more typical trajectory, the missile would have easily traveled 4,000 miles, potentially putting all of Alaska within its range, according to former government officials and independent analysts. A missile that exceeds a range of 3,400 miles is classified as an ICBM."
Jerusalem/ As the World Has Done to Israel
Israel fumes over 'sad, pathetic' UNESCO decision on Jerusalem 07/05/17  Again, Jerusalem is the focus of the world through the UN! Exactly as the prophets wrote, Jerusalem is a burdensome stone for the nations!
Zechariah 12:3  And in that day will I make Jerusalem a burdensome stone for all people: all that burden themselves with it shall be cut in pieces, though all the people of the earth be gathered together against it.

"Israeli officials angrily rejected a resolution by a UN body condemning its activity in East Jerusalem and the Old City, with the Foreign Ministry saying the move was irrelevant.
After the United Nations Educational, Scientific, Cultural Organization's World Heritage Council on Tuesday evening passed a resolution denouncing Israeli activity in the Old City of Jerusalem, the Foreign Ministry responded by saying the decision cannot change the reality that Jerusalem is the capital of the Jewish people.
The Jordanian-sponsored resolution in the United Nations Educational, Scientific, Cultural Organization's World Heritage Council called Israel "the occupying power" in the Old City of Jerusalem and reaffirmed previous UN resolutions denying the country's claims to East Jerusalem. Israel's annexation of East Jerusalem has never been recognized by the international community.
"Another bizarre and irrelevant decision by UNESCO, that is acting on behalf of the enemies of history and the truth," the Foreign Ministry said in statement. "Jerusalem is the eternal capital of the Jewish people, and no decision by UNESCO can change that reality. It is sad, unnecessary and pathetic. It is worth noting that the decision didn't even get a majority of votes."
Hard Left/ Islam – Sharia
Ontario's 'Human Rights Commission' Fines Man $12,000 for Wearing Shoes in Muslim Prayer Room 07/06/17  This article show the continued slide of Canada into Sharia law. The government is now the enforcer of Sharia law against the people. If the Hard Left had their way, America would be going down the same road as Canada. The Hard Left just loves Islam and Sharia Law!
James 2:8  If ye fulfil the royal law according to the scripture, Thou shalt love thy neighbour as thyself, ye do well:

"An Ontario man was just rined $12,000 by Canada's Human Rights Commission for failing to take off his shoes in a room being used by Muslims for prayer.
Let's just call this what it is: a sharia fine. The man, John Alabi, 52, was issued a sharia ticket by his province's Human Rights Tribunal.
Unbelievable. Why should Alabi, a Christian who came from Canada from Nigeria about 22 years ago, be forced by local governing authorities to kowtow to the religious demands of another faith — or Islam? The Rebel started a fundraiser to help him pay his fine."
Hard Left/ Homosexuality
Teachers Union Seeks to Remove Ex-Gay Group's Booth, Calling It Discriminatory 07/05/17  The Hard Left will never admit that homosexuals can be set free from this sin. They believe homosexuals are born this way and can't help it. To them, there is no such thing as sin. This booth is a direct assault at one of foundations of the Hard Left ideology. According to them, homosexuality is a Constitutional right protected by the government. They love this sin and will protect it at all cost!
1 Corinthians 6:9-10  Know ye not that the unrighteous shall not inherit the kingdom of God? Be not deceived: neither fornicators, nor idolaters, nor adulterers, nor effeminate, nor abusers of themselves with mankind, Nor thieves, nor covetous, nor drunkards, nor revilers, nor extortioners, shall inherit the kingdom of God. (11) And such were some of you: but ye are washed, but ye are sanctified, but ye are justified in the name of the Lord Jesus, and by the Spirit of our God.

"The nation's largest teachers' union introduced a resolution to remove an ex-gay group's booth from the exhibit hall at their annual meeting this week in Boston.
The NEA (National Education Association) is seeking to "immediately remove" the NEA Ex-Gay Educators Caucus exhibit "on the grounds that this exhibit violates existing NEA exhibitor standards." Those standards state that "exhibitors may not distribute materials that are offensive, distracting, or discriminatory."
The resolution is currently "awaiting debate" at the NEA meeting.
Meanwhile, the NEA has adopted a resolution to "continue to advance the rights of lesbian, gay, bisexual, transgender, or questioning (LGBTQ) students and educators by taking the following actions to counter the continuing backlash against LGBTQ individuals" such as advocating for increased LGBTQ protections and considering not holding future NEA meetings in a city or state that has adopted a law the union deems discriminatory."
Health and Nutrition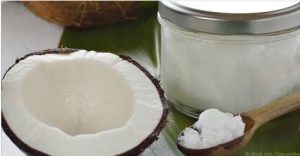 American Heart Association Renders Itself Obsolete With 1960s Dietary Advice on Coconut Oil 07/06/17  There are untold studies showing the benefits of coconut oil. This is not even debatable, but now the Babylonians are attacking coconut oil! They can't be this stupid. It has to be a ploy to make the people sick from vegetable oils! This is why I call it the Babylonian system. Please see the articles on the benefits of Coconut Oil in the God's Health System blog.

"Since the 1950s, when vegetable oils began being promoted over saturated fats like butter, Americans have dutifully followed this advice, dramatically increasing consumption of vegetable oil. Soy oil, for example, has risen by 600 percent (10,000 percent from 1900) while butter, tallow and lard consumption has been halved. We've also dramatically increased sugar consumption.14
Alas, rather than becoming healthier than ever, Americans have only gotten fatter and sicker. Heart disease rates have not improved even though people have been eating what the AHA suggests is a heart-healthy diet. Common sense tells us if the AHA's advice hasn't worked in the last 65 years, it's not likely to start working now.
As noted by Shanahan, technology that allows us to study molecular reactions is relatively recent, and certainly was not available back in the 60s and 70s. Modern research is just now starting to reveal what actually happens at the molecular level when you consume vegetable oil and margarine, and it's not good. For example, Dr. Sanjoy Ghosh,15 a biologist at the University of British Columbia, has shown your mitochondria cannot easily use polyunsaturated fats for fuel due to the fats' unique molecular structure.
Other researchers have shown the PUFA linoleic acid can cause cell death in addition to hindering mitochondrial function.16 PUFAs are also not readily stored in subcutaneous fat. Instead, the tends to get deposited in your liver, where they contribute to fatty liver disease, and in your arteries, where they contribute to atherosclerosis."
Chemotherapy may spread cancer and trigger more aggressive tumours, warn scientists 07/06/17  For many years, real doctors warned of the dangers of chemo, but the Babylonians paid no attention. This finding is not new. The sad thing is that people trust doctors with their lives because what else can they do?
The modern medical profession, the Babylonians, are like a closed-minded cult. They refuse to look outside of their schooling and are even hostile to others with fresh ideas that work! This article is really sad because of the trust the people put into these doctors.
"Chemotherapy could allow cancer to spread, and trigger more aggressive tumours, a new study suggests.
Researchers in the US studied the impact of drugs on patients with breast cancer and found medication increases the chance of cancer cells migrating to other parts of the body, where they are almost always lethal.
Around 55,000 women are diagnosed with breast cancer in Britain every year and 11,000 will die from their illness.
Many are given chemotherapy before surgery, but the new research suggests that, although it shrinks tumours in the short term, it could trigger the spread of cancer cells around the body.
It is thought the toxic medication switches on a repair mechanism in the body which ultimately allows tumours to grow back stronger. It also increases the number of 'doorways' on blood vessels which allow cancer to spread throughout the body."

Proverbs 17:24  A wicked doer giveth heed to false lips; and a liar giveth ear to a naughty tongue.