Communist Tactics to Takeover America: Also WW3 Update
1 John 5:19 And we know that we are of God, and the whole world lieth in wickedness.
Commentary
This is a fantastic article that proves the Communists which are now in leadership are psychopaths. They are exactly like the psychopaths who lead the Nazis and Communist Russia and modern Communist China. They now are trying to take down America. They are ruthless and will murder to advance or keep power. Americans now are in great danger because, in the end, they will move to exterminate us and think they are doing the world a favor!
COMMUNIST TACTICS TO TAKEOVER AMERICA
"Psychopaths are not very complicated people nor are they all that intelligent, but they often succeed because they are relentless in their pursuits. The common signs of psychopathy include a complete lack of empathy, the obsessive desire for dominance, the use of physical or psychological violence to gain control over others, a narcissistic need to feel superior to everyone else and a habit of playing the victim while victimizing others.
A common assumption about psychopaths is that they are incapable of working in a group or organizing for mutual gain. This is simply nonsense. In reality, numerous studies have shown that psychopaths are adept at finding their own kind in a crowd and even working together as a pack of predators. Some modern examples would be organized crime, cartels, sex traffickers, online scamming groups and religious cults."
RUSSIA UKRAINE: WORLD WAR 3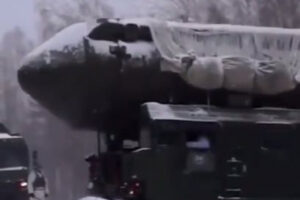 "Russia Deploys Additional Truck-Launched NUCLEAR MISSILES; U.S. Sends B-1 Lancers on "Virtual" Bombing Mission of Russia!
This is an update of the situation in the Ukraine in which it is reported the Russians are bringing nuclear weapons online! This is as serious as in can get!
"The situation in Ukraine is growing so bad, so fast, that Russia has now released video showing even MORE truck-launched NUCLEAR MISSILES being put into the field. The video, released by the Russian Ministry of Defense, makes very clear the intercontinental ballistic missiles inside their country, are now on the move: Russia would be forced to defend itself if Western nations go through with plans to station short- and long-range missiles in Europe, a Moscow diplomat has warned, insisting they could be used to target the country's air defenses.
In a statement released on Monday, Foreign Ministry spokeswoman Maria Zakharova said that Washington was increasingly discussing proposals to deploy rocket launchers to the continent. Previously banned by the INF Treaty, research and development has reportedly resumed since the pact was torn up in 2019 by then-US President Donald Trump."
WORLD WAR 3: UKRAINE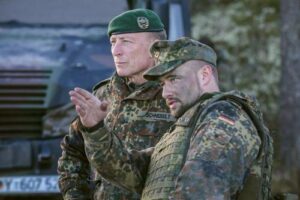 "Russia Warns NATO Against Sending Any Troops To Ukraine As "Frightening" Escalation Looms"
This article is an update on what is happening with Russia and the Ukraine.
"The Kremlin's latest statements out Friday amid the potential new Ukraine crisis which has seen a serious flare-up in fighting in the Donbass region, along with what appears to be far bigger-than-usual troop movements on Russia's side of the border, has raised the stakes further.
Russia has vowed it will take "extra measures to ensure its own security" should it observe any deployment of NATO troops inside Ukraine, the Kremlin statement said Friday according to Reuters. It firmly warned against any potential looming NATO troop movements following Brussels voicing concern the day prior over the widespread reports and videos purporting to show a significant Russian build-up of forces along Ukraine's eastern border."
WORLD WAR 3: UKRAINE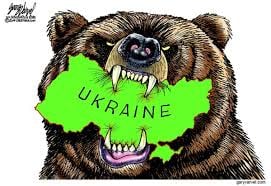 "Russia Official: "If Ukraine Launches Offensive, it will suicide the whole country"
The latest update on what is happening in the Ukraine. Putin does not bluff, so this is very serious. I hope the Ukraine backs down.
"A Senior Russian official stated on Thursday (This morning) that Russia might be forced to engage in combat in Eastern Ukraine to defend its citizens in the region, stating that military action on Russia's part would "end the Ukraine as a country."
Dmitry Kozak, deputy head of the Russian presidential administration said "I support the assessment that the start of military action, this would be the beginning of the end of Ukraine" When Kozak was asked if Russia would come to the aid of its citizens in Ukraine, he replied "It all depends on the scale of the fire. If there is, as our president says, Srebrenica, apparently we will have to step in to defend [them]."
He went on to say, explicitly, "The beginning of any military actions in the Donbass will be the beginning of the end of Ukraine. This will be a suicide. They will shoot themselves not in the leg but in the side of the head."
WORLD WAR 3: NATO VS RUSSIA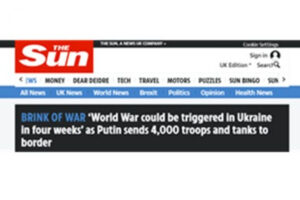 "British Newspaper Headline ". . . World War . . . in Four Weeks" — Diplomat too: "A war with Russia is being worked out"
Please, please take time to read this article. What an education you'll get about the USA/Nato dealings with the Ukraine and Russia. Russia and the Ukraine are preparing for war, but when or if it starts is unknown.
"The April 3 issue of The Sun reports: WORLD War could be triggered in just four weeks in Ukraine as Vladimir Putin sends thousands of troops to the Russian border, experts have warned.
The bombshell claims come as convoys of tanks and armoured vehicles were filmed being mass transported in regions close to rebel-held eastern Ukraine and annexed Crimea. With tension sharply rising, Russian military analyst Pavel Felgenhauer said it now requires a "psychoanalyst" to determine Moscow's intentions but warned events could see "war in a month."
WORLD WAR 3: CHINA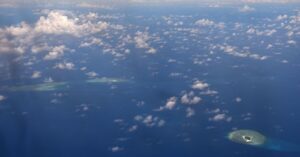 "China Grabbing Whitsun Reef: 'Sudetenland' in Slow Motion"
With the Chinese Communists militarization, persecuting minorities,
illegally expanding its territory and threatening nations around it, the regime is very similar to Nazi Germany in the 1930s. With the course China is on, it is not going to end well for the world.
"About 220 Chinese fishing vessels, almost certainly part of China's maritime militia, are now crowding around Whitsun Reef in the Spratly chain in the South China Sea in another attempt to break apart the Philippines.
Whitsun is where the United States and the region should confront an increasingly expansionist China. The failure of the Obama administration to defend the Philippines in early 2012, in a confrontation similar to today's, emboldened China's regime to adopt an even more aggressive posture in its peripheral waters.
Whitsun Reef is inside China's infamous nine-dash line. The line on official maps defines an area informally known as the "cow's tongue," which includes about 85 percent of the South China Sea. Beijing maintains it has sovereignty over every feature there, including Whitsun, which Beijing has named Niue Jiao. China claims all the waters inside the dashes are sovereign as well, terming them "blue national soil." There is no legal basis for an assertion of sovereignty of this sort."
WORLD WAR 3: CHINA VS USA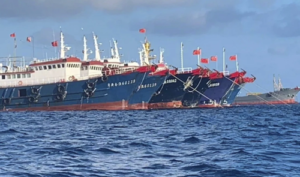 "US Sails Carrier Into South China Sea As Philippines Enraged Over China 'Territory Grab'"
It is frightening to think of war with China with Usurper Biden at the helm and how sin laden this nation is!
"In the latest dispute over territory in the South China Sea, the Philippine government is denouncing Beijing for sending a "maritime militia" near the contested Whitsun Reef (alternately spelled Whitson Reef).
China has responded by saying the ships are merely civilian fishing vessels, but the bellicose rhetoric has only grown between the two sides in the past days. And now amid the ratcheting tensions American warships led by the USS Theodore Roosevelt carrier have entered the waters."
"LGBTQ activists are suing the Department of Education over the "religious exemption" in Title IX that allows Christian schools to follow their beliefs regarding sexuality.
The class-action complaint filed in federal court in Oregon by students asks the court to "declare that the religious exemption to Title IX, as applied to sexual and gender minority students, is unconstitutional." It calls for the department to "enforce the protections of Title IX at all taxpayer-funded educational institutions, including at those institutions that discriminate and cause harm on the basis of sincerely held religious beliefs."
THE DEATH OF PRO SPORTS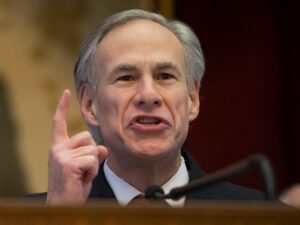 "Texas Gov Abbott Boycotts MLB: Declines to Throw First Pitch After League Pulls All-Star Game from Atlanta"
I use to be a diehard NY Yankee fan, but when I saw the the entire team take a knee for BLM, instantly, I turned my back and want nothing to with a team which despises America and will support a Communist organization that wants to destroy America.
I really want to the entirety pro sports to crash, especially basketball with its direct ties to Communist China.
"Texas Gov. Greg Abbott (R) has declined to throw the first pitch at the Texas Ranger's home opener and declined to participate in any Major League Baseball (MLB) events after the league announced plans to relocate their All-Star Game from Atlanta in response to Georgia's newly passed election integrity law.
"Major League Baseball adopted what has turned out to be a false narrative about the election law reforms in Georgia, and, based on that false narrative, moved the MLB All-Star game from Atlanta," Abbott said in a statement."
THE END OF PROFESSIONAL BASEBALL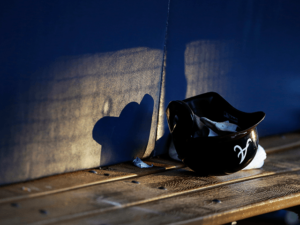 "MLB Caves to Biden, Moves All-Star Game in Response to GA Voting Law"
I really hope this action by MLB will to finish it off. It is now a vicious political animal that wants to help the demon-dems stay in power by voting fraud. MLB now needs to die because it is not a sport but a political tool to help destroy America.
"There had been reports that MLB might choose to use the Atlanta-based All-Star Game as a platform for social justice in response to the voter reform bill. However, apparently, those plans changed.
Notably, MLB's decision to move the game flies in the face of the advice given by 2018 failed Democratic gubernatorial candidate Stacey Abrams, who advised against relocating the game due to the economic damage it could do to "voters of color."MLB has not yet said where this year's All-Star Game will take place."
THE IMAGE OF THE BEAST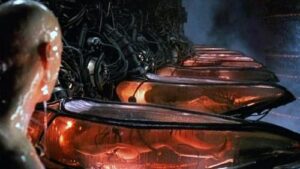 "Microsoft Files Patent To Mine Cryptos Using Human Brain Activity"
This is in the realm in the bizarre, but this is science we see tampering with the brain!
"Microsoft is reportedly proposing a method to generate cryptocurrency by "monitoring people's brain activity and other personal biometric data," according to a new report in The Independent.
The company has reportedly filed for a patent called "Cryptocurrency System Using Body Activity Data" which details how a person could attach sensors to their body to "earn" cryptocurrency through mining. Microsoft is apparently not just satisfied with computers doing the crypto mining, they are pushing for mining via a "human body activity associated with a task".
Such a system would require "hooking up" a device to sensors on the body that "detect the activity required of the user to generate the cryptocurrency." The report says that "body fluid flow" and "organ activity and movement" are two such body functions, along with brain waves and body heat, that could be monitored."
HARD LEFT VS REAL CHRISTIANS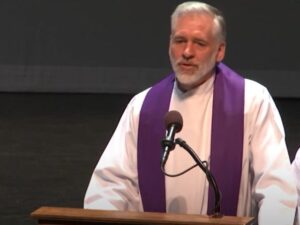 "Seminary Prof: Post Calling Evangelical Christianity 'Greatest Threat to Human Existence' Was 'Taken Out of Context'"
This is the Hard Left hiding in a religious spirit. The hatred for us is surfacing now and is palatable! No doubt, he is for all the special sins along with killing babies in the womb. I really expect as time goes on and we stand our ground, we will droves of people with his mind. God is flushing them and exposing their Hard Left minds which is a danger to all. He thinks we are the danger to humanity, the real danger is with him.
"A professor of Theology and Baptist Studies at Duke University Divinity School says that a social media post in which he called evangelical Christianity "the greatest threat to human existence" was "taken out of context." "Worse. Evangelical Christianity is the greatest threat to human existence today. It must be laid waste," wrote Duke Divinity professor Curtis Freeman in a now-deleted tweet."
If you like our ministry, please consider making a donation to keep us going. May the Holy God of Israel bless you!
Revelation 22:20 He which testifieth these things saith, Surely I come quickly. Amen. Even so, come, Lord Jesus.