Could The Coming Eclipse of 08/21 be a Warning From the Lord?
Verse of the Day
Luke 21:25 And there shall be signs in the sun, and in the moon, and in the stars; and upon the earth distress of nations, with perplexity; the sea and the waves roaring;
Commentary
Genesis 1:14  And God said, Let there be lights in the firmament of the heaven to divide the day from the night; and let them be for signs, and for seasons, and for days, and years: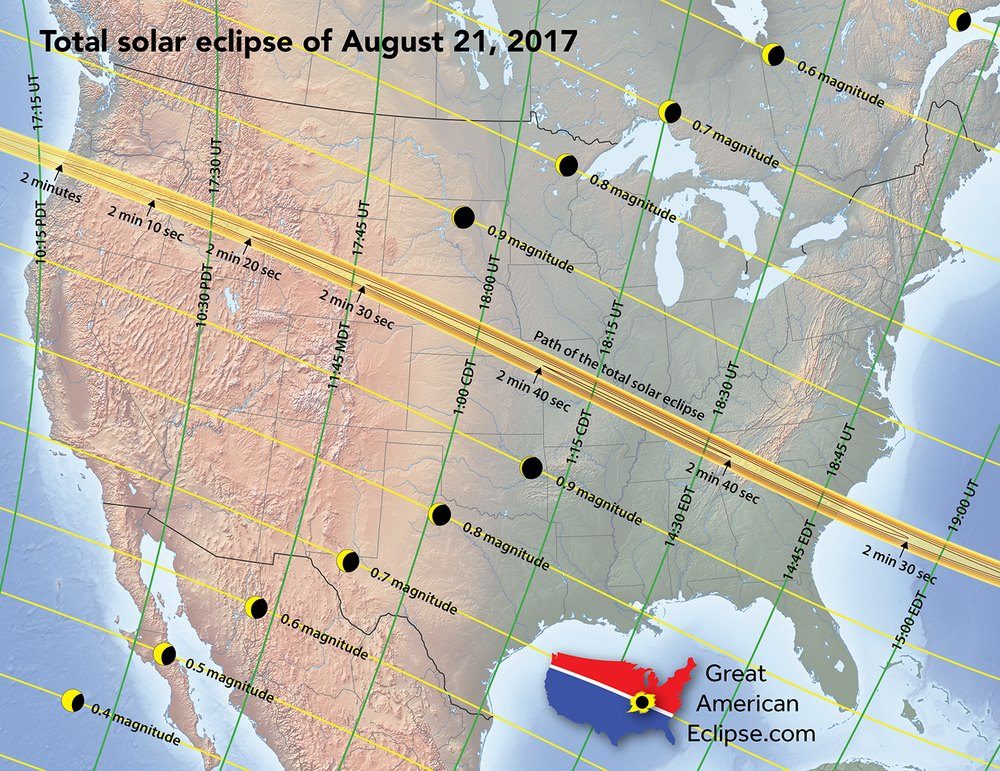 COULD THE COMING ECLIPSE OF 08/21 BE A WARNING FROM THE LORD?
For the first time in exactly 100 years, a full solar eclipse will travel across the entire United States. It will start off the coast of Oregon and then exit out through South Carolina. I have posted some about this, but not much. But, because of the timing of events, I believe that this eclipse could be a direct warning from the Lord.
What has happened is that Oregon just passed a law requiring the state to pay for all abortions, including those for illegal aliens! This state now is directly involved in the abortion business, and thus it becomes the direct focus of God's judgment. This is as serious as it can get with the Lord. He must judge this state.
What will happen just four days later is that the eclipse first will hit Oregon, which just passed this law, and it will pass directly over the state capital! To me this is astonishing, that these events are only four days apart. If this is God's omen of judgment, he most likely will give this state a brief time to repent before the judgment falls.
What you need to be aware of is the massive Juan de Fuca fault that sits just off the coast of Oregon. This fault extends from Vancouver down to Northern, CA. This area is called the Cascadia Subduction Zone that last broke in 1700. This one of the most massive and dangerous earthquake zones in the world. Scientists claim that this area is long overdue for another massive earthquake, and I have posted numerous articles reporting this!
The eclipse then travels east directly over the Yellowstone Caldera which is one of the largest volcanic areas in the world! Of late, this caldera has experienced over 1000 earthquakes, which also has scientists' attention.
The eclipse then goes directly over the New Madrid Fault Zone, centered in and spreading southwest from Missouri, which in 1811-1812 produced some of the most powerful earthquakes in US history.
The eclipse ends up going over Charleston, SC, which also has produced powerful earthquakes. This is not well known but in 1886, Charleston was hit by a 7.0 quake which destroyed the city and surrounding areas.
This eclipse is going directly over many of the most powerful earthquakes zones in America! In 2024 there is another full solar eclipse over America and the two will intersect directly, creating an X over the New Madrid Fault! See the map below.
I am looking at the timing of these events, along with the Cascadia Subduction Zone being ready to break, and feel this eclipse might be a warning.
I don't know if this will amount to judgment, but I'm giving you all the facts of which I am aware. Judgment seems to be hovering over America and this eclipse very well might be a warning, and I am taking it this way.
Leviticus 18:24-25  Defile not ye yourselves in any of these things: for in all these the nations are defiled which I cast out before you: And the land is defiled: therefore I do visit the iniquity thereof upon it, and the land itself vomiteth out her inhabitants.
God's Final Warning/ Prolife
Oregon becomes first state to offer free abortions for all, including illegal aliens 08/17/17
"Oregon Gov. Kate Brown has signed a landmark bill to provide free abortions for all, including illegal immigrants, by requiring insurance companies to cover the procedures and putting taxpayers on the hook for the tab.
"Thank Kate Brown for signing the nation's most progressive reproductive health bill into law today!" NARAL Pro-Choice Oregon said in a statement.
Under the first-of-its-kind law, most of which goes into effect immediately, Oregon insurers must provide 100 percent coverage for abortions without co-pays or deductibles."
Hard Left/ Anarchy – Civil War
Videos: MSNBC & CNN Promote Antifa Violence 08/17/17  URGENT! This is a MUST read.
I have said over and over again that the Hard Left hates us as much as the Nazis hated the Jews, and if they get the chance, they will act on this hatred. Right before our eyes, the Hard Left is preparing for war with us.
What we MUST understand is that the Hard Left lumps us together with Nazis and white racists. They see no difference between people holding Nazi signs in Charlottesville and us. The proof of this is how all conservatives are being blocked from colleges and why Antifa attacks at Berkeley and other colleges. We are pure evil to the Hard Left and America is evil at its core in their eyes.
When you read this article, you must realize that if you are a true American you are a Fascist to them; therefore, you are evil and to be destroyed. They are taking the fight to us, and it is going to get really ugly, really soon. This is total garbage that they are spouting, and that's obvious when you watch the videos, below.

Proverbs 29:10  The bloodthirsty hate the upright: but the just seek his soul.

"MSNBC and CNN aired programming Wednesday night that openly promoted violence by the alt-left Antifa agitators, claiming that the group's actions are justified in the face of neo-nazism.
MSNBC anchor Chuck Todd hosted lecturer Mark Bray, author of an upcoming book titled Antifa: The Anti-Fascist Handbook.
After essentially saying President Trump is enabling the KKK and white supremacists, their discussion quickly turned to the tactics of Antifa, with Todd asking Bray if he advocates Antifa's tactic of "confronting" 'fascists' – ie punching anyone they disagree with in the face.
Bray said he does advocate the tactics, and argued that Antifa operates out of "self-defense," adding that violence is necessary to prevent the "normalizing" and "mainstreaming" of the "far right."
Hard Left/ Islam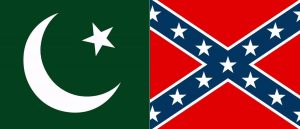 Council on American-Islamic Relations: Tear Down Every Confederate Memorial 08/16/17  Muhammad was a perfect Muslim and he owned 33 slaves, according to the Hadiths and other writings. The Muslims were the largest African slave traders for centuries. Look at these hypocrites getting involved in American history!
I called CAIR National Communications Director Ibrahim Hooper, 202-744-7726 and confronted him with Muhammad owning slaves and Islam's slave history. Please call also.
'The Council on American-Islamic Relations (CAIR), America's largest Muslim civil rights group, is calling on state and local governments all over the United States to tear down all monuments and memorials commemorating Confederate leaders and the short-lived Confederate States of America.
CAIR joined several groups asking for the removal of Confederate memorials in the wake of a "Unite the Right" white supremacist rally that turned violent over the weekend…"
Forced to Resign for Calling Out Muslim Rape Gangs 08/17/17  This article shows you depth the Hard Left mind will go to protect Islam. It really does appear that the Muslims have captured the minds of the British people, and now they are just mopping up. Great Britain has fallen to Islam. The people have no will to stand against it, but step by step are succumbing to it.
Psalm 9:17  The wicked shall be turned into hell, and all the nations that forget God.

"Britain has a problem with British Pakistani men raping and exploiting white girls."
For making this statement of fact, Sarah Champion, a Labour MP and tireless campaigner for the victims of these gangs, has been forced to resign (at least it would appear forced) from her position as shadow secretary for women and equalities (in the opposition).
Frustrated that years after recommendations were made to endless government commissions that measures haven't been taken to support victims and prevent such abuse in the future, Champion wrote an article in The Sun to further this cause. "There. I said it. Does that make me a racist? Or am I just prepared to call out this horrifying problem for what it is?"
Most pointedly, Champion made the point, "The irony of all of this is that, by not dealing with the ethnicity of the abusers as a fact, political correctness has actually made the situation about race. "The perpetrators are criminals and we need to deal with them as such, not shy away from doing the right thing by fearing being called a racist."
The Rotherham gang as well as other Muslim child sex grooming gangs in the UK that have recently come to light were known to police and social workers. However, for fear of being called racists, authorities took no steps to prevent their horrific abuse of young, white British children."
Hard Left/ Christianity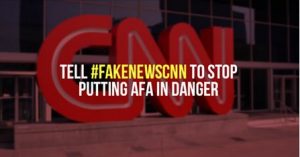 CNN Publishes Fake Hate List – Targeting Well-Known Christian Groups 08/18/17  The attack on believers is coming from every angle. If we cry out to the Lord and stand our ground, the Lord will have our back. If we don't, America will end up like Nazi Germany with the Hard Left free to unleash its murdering spirit against us. The radio show embedded on the linked page is well worth hearing.
This is coming so fast. You must act now in prayer and crying out to the Lord for protection. They have a murdering spirit in their heart toward us because we follow the Lord. THEY HATE US AND ARE NOW IN THE PROCESS OF ACTING ON IT. They must get President Trump out of the way first. Please pray for him!

2 Timothy 3:13  But evil men and seducers shall wax worse and worse, deceiving, and being deceived.

"Many Christian organizations are fearful for their safety after CNN published a bogus "hate map" concocted by the Southern Poverty Law Center.
"Here are all the active hate groups where you live," CNN's headline declared.
The list included among others American Family Association, Family Research Council, Alliance Defending Freedom, Liberty Counsel and Pacific Justice Institute.
American Family Association blasted the CNN story calling it a "sham news article that could easily incite violence and place AFA employees and supporters in harm's way."
Liberty Counsel President Mat Staver demanded an immediate retraction – calling CNN's report "false, defamatory and dangerous."
"Liberty Counsel is not a hate group," he said. "The false 'hate' label is very damaging to our reputation and is a safety risk to our staff. Liberty Counsel is a Christian ministry, and hates no one."
Conservatives and Christians have good reason to be worried."
Hard Left/ History/ American Fascism
D'Souza Traces Roots of Democratic Party to Hitler's Nazi Party 08/16/17  This is a great article showing how the Demoncratic Party is once again the source of evil, just as it was in the 1850s. They created the first Civil War, and it looks like they will create the second one also. The video is very good and informative also.

Proverbs 28:5  Evil men understand not judgment: but they that seek the LORD understand all things.

"Dinesh D'Souza's most recent book, The Big Lie, Exposing the Nazi Roots of the American Left is truly an extension of his previous book published during the 2016 election campaign, Hillary's America: The Secret History of the Democratic Party.
Now, in The Big Lie, D'Souza sets out to prove the hard-left of Saul Alinsky socialists, from which both Hillary Clinton and Barack Obama derive, trace back to the National Socialist movement on the left in Weimar Republic Germany of the 1930s that gave rise to Adolph Hitler and the Nazis.
Once again, D'Souza succeeds, proving now that the Democratic Party is the ideological descendant not only of slavery, the Reconstruction Era, and racial segregation, but also of fascism, understood properly as a movement on the political left."
Hard Left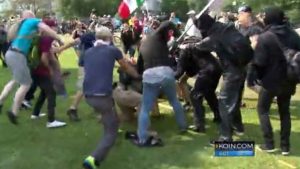 WHEN LIBERALS CLUB PEOPLE, IT'S WITH LOVE IN THEIR HEARTS 08/18/17  I've warned of this coming, and how violent the Hard Left is. I've warned over and over that the Hard Left hates us as much as the Nazis hated the Jews, and when they had the chance they will act on it. It appears their the time to act is drawing very close. Antifa is leading the way and will be protected. If you live in Hard Left states, I highly suggest that you get ready to leave.
I have warned through the years, and now it seems the time these warning are coming to pass. If you live in parts of California, you have no protection from the government.
This is not going to get better, unless God directly intervenes on our behalf. I don't see the Church crying out to the Lord for what is happening. The vast amount of American Christians have to cry out to the Lord about this, or they will face what the Jews faced in Nazi Germany.
2 Timothy 3:1  This know also, that in the last days perilous times shall come. For men shall be lovers of their own selves, covetous, boasters, proud, blasphemers, disobedient to parents, unthankful, unholy, Without natural affection, trucebreakers, false accusers, incontinent, fierce, despisers of those that are good, traitors, heady, highminded, lovers of pleasures more than lovers of God;

"Apparently, as long as violent leftists label their victims "fascists," they are free to set fires, smash windows and beat civilians bloody. No police officer will stop them. They have carte blanche to physically assault anyone they disapprove of, including Charles Murray, Heather Mac Donald, Ben Shapiro, me and Milo Yiannopoulos, as well as anyone who wanted to hear us speak.
Even far-left liberals like Evergreen State professor Bret Weinstein will be stripped of police protection solely because the mob called him a "racist."
CNN Fails To Mention Antifa Violence In Explainer Piece 08/16/17  Antifa is the SA of the Hard Left. They going to protect this organization and encourage it to use violence to crush us.
The war is on and I hope that you see it. I don't see this getting any better. The Hard Left tastes the blood. Remember, what I've told you over and over for years. The Hard Left hates us with the same hatred the Nazis had for the Jews. When they get the chance, they will act on it. It appears that their chance might be manifesting before our eyes.
Genesis 3:15  And I will put enmity between thee and the woman, and between thy seed and her seed; it shall bruise thy head, and thou shalt bruise his heel.

"CNN wrote a piece Tuesday explaining who the radical group Antifa is without mentioning the constant violence the organization commits.
Antifa Website Encourages 'All Manner of Physical Violence' Against Trump SupportersIn the wake of Charlottesville violence, where white nationalists, neo-Nazis and other ilk clashed with Antifa and counter-protest groups, many news outlets began to ask, "What is Antifa?"
When explaining the organization — what it is, what it does and why — CNN failed to discuss the violence perpetrated by Antifa, only elaborating on some of the "property damage" the group has carried out.
In the section, "Why are they controversial?" CNN states that "the group is known for causing damage to property during protests." This, in fact, is only one key reason why Antifa is "controversial" — the other is violence."
Days of Noah
CRISPR star Jennifer Doudna calls for public debate on embryo editing 08/18/17  This is one of the sure signs that we are in the last days because God is NOT going to allow man to alter our DNA. We are created in God's image by our DNA, and that is traced all the way back to ADAM. Tampering with the DNA breaks this link and makes that being no longer human. Any foreign DNA that is not human breaks this link, and this is exactly were the mad scientists are heading.
God will have to intervene to stop man's insanity of destroying himself. This is exactly what happened in the day of Noah when fallen spiritual beings corrupted human DNA and the Lord sent the Flood. Once again, we are in the same situation, only this time it is the mad scientists who are corrupting the DNA. They are playing God, the Creator!
Matthew 24:37  But as the days of Noah were, so shall also the coming of the Son of man be.

"After Jennifer Doudna and other scientists improved the technology known as CRISPR to edit human genomes, a long-awaited, and sometimes feared, milestone arrived.
For the first time in human existence, it became practical to change genes throughout the entire human genome with high precision and accuracy. And today, a decade after the introduction of CRISPR, it's newly apparent that such manipulations have been made to human embryos — a feat achieved by scientists at the Salk Institute in La Jolla and elsewhere.
Tinkering with genetics, a system that has been produced through billions of years of evolution, takes humanity into unknown territory. This powerful technology can be used for many purposes, not just stopping disease. Alterations in an embryo's edited genome would be passed along to generations of descendants — for good or ill.
Doudna, a UC Berkeley molecular biologist, said during a visit to San Diego this week that society needs to catch up to this potentially world-transforming field of science. She has co-authored a book, "A Crack in Creation," on the benefits, perils and ethics of what scientists call germline editing."