Devastating new Hillary info causing internal struggle at FBI
Verse of the Day
Numbers 32:23 But if ye will not do so, behold, ye have sinned against the LORD: and be sure your sin will find you out.
Commentary
I will be posting many articles about the election and what is happening with Hillary. I believe that the Lord is judging her, and he is exposing the incredible corruption with her, and within the federal government.
God is giving America one last chance before he brings the final judgment. If the nation votes for Hillary, there is no time left the Lord. His judgment will be swift and devastating. If the vote goes for Trump we still have some time left. God might want to use America to help Israel in the coming massive war in the Middle East.
Wow, events now are happening fast and furiously.
May the Holy God of Israel bless and protect you.
1 John 3:2-3 Beloved, now are we the sons of God, and it doth not yet appear what we shall be: but we know that, when he shall appear, we shall be like him; for we shall see him as he is. And every man that hath this hope in him purifieth himself, even as he is pure.
American Politics
Devastating new info causing internal struggle at FBI 10/29/16  If good information is released, I will get it right out to you. Events are moving really fast now and something huge is about to break. God is so good to bring down this corrupt government right before our eyes.
"Upcoming leaks pertaining to Hillary Clinton have forced the hand of the FBI into re-opening their investigation into the crooked candidate.

Sources speaking with Infowars say an internal struggle at the FBI has reached a boiling point following FBI Director James Comey's original decision not to pursue criminal charges.

Comey cited "recent developments" for the bureau's decision Friday in a letter to lawmakers.

"In previous congressional testimony, I referred to the fact that the Federal Bureau of Investigation (FBI) had completed its investigation of former Secretary Clinton's personal email server. Due to recent developments, I am writing to supplement my previous testimony," Comey wrote.

"In connection with an unrelated case, the FBI has learned of the existence of emails that appear to be pertinent to the investigation. I am writing to inform you that the investigative team briefed me on this yesterday, and I agreed that the FBI should take appropriate investigative steps designed to allow investigators to review these emails to determine whether they contain classified information, as well as to assess their importance to our investigation."
BREAKING WIKILEAKS: 'Hacked Hillary Emails' The 33K Deleted Revealed by Nov 1 10/30/16  This is really interesting. The claim is that Wikileaks has all of Hillary's deleted emails, and they are going to be releasing all 33,000 before the election. There is supposed to be enough information to force her to resign. Wikileaks held back until now to prevent another candidate from taking her place!
Assange also wants to take destroy the Democrat Party. In the end, Assange might turn out to be a hero.
DOJ's Lynch Objected to FBI Disclosure on Hillary Email Probe 10/29/16  There is something huge going on here. Director Comey knows something big is happening and had to move. The first time he submitted to Lynch and now went directly against her.
There are a few options on why he went public. He might have moved because he thinks that Trump is going to win and then he would be the target of an investigation. The information might involve treason. I have no doubt that Hillary would sellout out America for money. If it is treason, I think it would involve the Muslims. This is all so amazing to watch it unfold.
"Attorney General Loretta Lynch and Deputy Attorney General Sally Yates objected to FBI Director James Comey's decision to announce Friday there was new evidence that could raise more questions about Hillary Clinton's private email server, according to sources close to the Obama administration and Justice Department.
According to CNN, both Lynch and Yates objected, but Comey disregarded their wishes and sent the letter Friday anyway, shaking the presidential race 11 days before the election and nearly four months after the FBI chief said he wouldn't recommend criminal charges over the Democratic nominee's use of the server.
"You don't do this, a former senior Justice Department official, who was not named, told The New Yorker, which reported the development overnight."It's aberrational. It violates decades of practice."
And Lynch said she did not want Comey to break the department's practice of refusing comment on ongoing investigations, another administration official told the publication, or to take action that could influence the November election, but Comey reported he felt compelled to report the discovery specifically because of the impending election."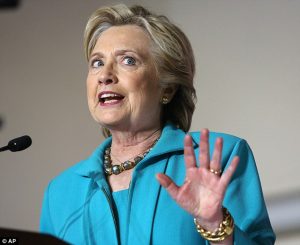 EXCLUSIVE: Resignation letters piling up from disaffected FBI agents, his wife urging him to admit he was wrong: Why Director Comey jumped at the chance to reopen Hillary investigation 10/30/16  I am a retired federal agent, and in this position I investigated the type of crimes that Hilary committed.
It is easy to see how the honest FBI agents would rebel against Comey for what he did with Hillary. If the honest agents are part of pulling down the Clinton crime cartel, I will be so happy. It would bring tears to my eyes.
Romans 13:3-4  For rulers are not a terror to good works, but to the evil. Wilt thou then not be afraid of the power? do that which is good, and thou shalt have praise of the same: For he is the minister of God to thee for good. But if thou do that which is evil, be afraid; for he beareth not the sword in vain: for he is the minister of God, a revenger to execute wrath upon him that doeth evil.

"James Comey revived the investigation of Clinton's email server as he could no longer resist mounting pressure by mutinous agents, sources say
The atmosphere at the FBI has been toxic ever since Jim announced last July that he wouldn't recommend an indictment against Hillary
He told his wife that he was depressed by the stack of resignation letters piling up on his desk from disaffected agents
Comes was also worried that Republicans would accuse him of granting Hillary political favoritism after the presidential election
When new emails allegedly linked to Hillary's personal server turned up in Abedin and Anthony Weiner's computer, Comey jumped at the excuse"
World War 3
Russia fires its radical hypersonic 'super nuke' warhead: Prototype of mysterious 'object 4202' blasted off on top of a ballistic missile 10/26/16 
"Russia has tested a prototype of a radical new hypersonic nuclear warhead, it has been claimed.
Troops launched an RS-18 ballistic missile on Tuesday which is believed to have been a test of the advanced hypersonic glider warhead, according to RT.com.
It is eventually expected to be used by the Satan 2 'super-nuke' that is capable of wiping out England and Wales and is 2,000 times as powerful as the Hiroshima bomb."

 War In Europe: Lithuania Prepares For Russian Invasion As NATO Sends Troops To Eastern European States 10/30/16 
"More than two years after Russia annexed Crimea from Ukraine, Lithuania is warning its citizens of a possible similar fate in the former Soviet Union republic. Lithuanian government officials have published tens of thousands of copies of a 75-page guide on how to survive a Russian invasion, BBC News reported Saturday.
The civil defense booklet stresses that Russia is capable of using military force against its neighbors to get its way and warns civilians to call a government hotline to report anyone suspected of being a spy. It also informs Lithuanians on how to spot Russian tanks and mines.
The manual states: "It is most important that the civilians are aware and have a will to resist – when these elements are strong, an aggressor has difficulties in creating an environment for military invasion." The guide is the latest sign that Russia's Baltic neighbors are worried that they could be next amid a two-year struggle between pro-Russian rebels in Ukraine and Kiev. Western leaders have accused Moscow of fueling the war, but the Kremlin has denied any direct involvement."
Israel/ Jerusalem
UNESCO adopts another resolution ignoring Jewish link to Temple Mount 10/30/16  This is the modern thinking that you can deny reality, truth and history and make up what you want, and try and make the rest of the world go along with it!
John 8:32  And ye shall know the truth, and the truth shall make you free.

"The resolution, which accuses Israel of various violations, echoed last week's decision in referring to the Temple Mount compound solely by its Muslim names, "Al-Aqsa Mosque/Al-Haram Al-Sharif," and defined it only as "a Muslim holy site of worship." As the site of the two Biblical temples, the mount is the holiest place in Judaism. But unlike last week's resolution, the draft did not mention the importance of Jerusalem's Old City for "the three monotheistic religions."
"This is yet another absurd resolution against the State of Israel, the Jewish people and historical truth," Israel's ambassador to UNESCO, Carmel Shama-Hacohen, said after the vote."
Earthquakes/ Volcanoes
Large devastating M6.6 earthquake strikes Central Italy — EQ Forecast area direct hit 10/30/16  I have followed Dutch Sinse for years, and it is amazing how accurate he is about earthquakes. He warned Italy about week ago of the coming powerful earthquakes and yesterday he warned about a 6.8 hitting. The earthquake hit in the exact location that he warned about! When he gives warnings about major quakes, I am going to post it, so you can warn others.
Job 15:34  For the congregation of hypocrites shall be desolate, and fire shall consume the tabernacles of bribery.