DROPPING THE HAMMER ON COMEY–THE INSIDE STORY OF JAMES B. COMEY
                      Verse of the Day
Proverbs 20:26  A wise king scattereth the wicked,
Commentary
Please stop what you are doing and read the first article. I soaked it in like a dry sponge! All I can say is wow, and now I have even a greater appreciation for President Trump. The way he fired Comey was planned and timed. It was a brilliant move that turned the tide against the Swamp. This truly is an amazing article with incredible insight into the corruption of James Comey, and the brilliance of President Trump and Attorney General Sessions.
May the Holy God of Israel bless and protect you.
Philippians 3:20 For our conversation is in heaven; from whence also we look for the Saviour, the Lord Jesus Christ: Who shall change our vile body, that it may be fashioned like unto his glorious body, according to the working whereby he is able even to subdue all things unto himself.
American Politics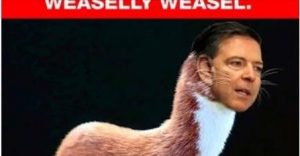 DROPPING THE HAMMER ON COMEY–THE INSIDE STORY OF JAMES B. COMEY 05/24/17
Proverbs 20:26  A wise king scattereth the wicked, and bringeth the wheel over them.

"James Comey is a poisonous snake of the highest order… a deep-water Swamp Denizen who has been highly paid to deliberately provide cover for high-level corruption by the Clintons and Obama. He is has been central to trying to destroy the Trump campaign and then the Trump administration from the start. He is as dirty as they come in DC. He had highest-level cover (the FBI no less) and was deep into an effort to eliminate Trump. Trump had to move hard, fast, and at exactly the right time to cut the head off the snake without getting bitten by the snake or being finished by the other swamp denizens.
Begin by noticing how the President fired Comey when Comey was 3,000 miles away from his office, that Comey had no inkling he was being cut, that all his files, computers, and everything in his office were seized by his boss Sessions and the justice department. This was not a violation of protocol, it was tactical. Notice how Prez Trump compartmentalized the strike and did not inform any of his White House "staff" to prevent leaks.
Notice how he emasculated Comey and the swamp denizens by letting them know in a tweet that the Attorney General got information (surveillance "tapes" from the seizure of Comey's office) to let Comey and his handlers know that Trump's DOJ has the goods on them. This was a brilliant, strategic and totally imperative move at exactly the right time against horrible, evil and corrupt powers infesting our government.
The swamp is on notice that the President is on to them, they are sweating bullets because their criminal games of corruption are being pursued and they know it. They are screaming and ranting because they are desperate denizens of the swamp who are beginning to realize they are roadkill."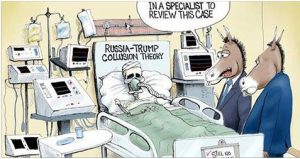 Does it matter? No evidence of Trump 'collusion' with Russia as media shift focus 05/24/17  It looks like the media and the Demoncrats have given up on the meme that Russians helped elect Trump, and now it is off to he tried to stop and a FBI investigation!
I really think what the Hard Left is doing is going to break their minds. They are all going to end up in deep depression.
Isaiah 59:3  For your hands are defiled with blood, and your fingers with iniquity; your lips have spoken lies, your tongue hath muttered perverseness.

"As York puts it: "The problem, for the confederation of Democrats, pundits, Obama holdovers, and NeverTrumpers who hoped to see that result, has been that so far, after a lot of investigating, no evidence has emerged that collusion actually occurred."
If you stop and think about it, the flood of leaks to the press over the last 10 days have mainly involved allegations and suggestions of the president trying to derail the investigation. That's pretty much been the narrative since he fired Jim Comey.
As York writes, "More and more, day after day, Trump's adversaries believe that, when it comes to bringing down the president, it might not matter if collusion occurred or not. A cover-up would be enough to do the job."
American Politics/ Islam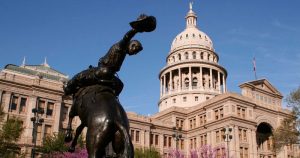 Texas Moves to Block Child Marriages Common in Sharia Law 05/24/17  I enjoyed reading every word of this article. What a great victory to make Sharia law illegal in Texas. Look how fast Muslims are trying to get Sharia law into the mainstream of America. The main targets of Sharia law are women and unbelievers.
We don't want America turned into Saudi Arabia or Iran. This is what the end of Sharia law looks like. These nations are real Islam and not the sugar-coated nonsense passed off as Islam in America. Islam in America is set up to deceive Americans and allow Muslims to gain acceptance.
Psalm 119:105  Thy word is a lamp unto my feet, and a light unto my path.

"In a stunning victory in the war against radical Islam, state legislators in the Lone Star State passed a version of the much debated "American Law for American Courts" (ALAC) bill, banning Muslim Sharia law within Texas.
Sharia is the Islamic religious code governing all aspects life. It mandates death for nonbelievers, death for adulterers, death for homosexuals, crucifixion for highway robbers, amputation for petty theft, and more.
Muslim "honor killings" of women and young girls — also a Sharia practice — are occurring regularly in Texas. Read here, and here.
Both houses of the Texas legislature voted in favor of HB 45, the Texas Foreign Law Procedural Protection Act Monday, May 22, and the bill now heads to the governor's desk for signature."
Israel/ Islam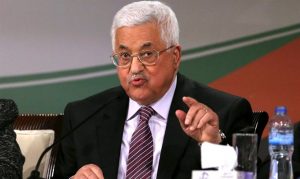 Abbas: Terrorist prisoners are 'heroes' 05/26/17
How can Israel ever make peace with the Palestinians, which includes Hamas? How can President Trump pressure Israel to have "peace" talks with the Palestinians. There is no peace in the future but only war.
Joel 3:19  Egypt shall be a desolation, and Edom shall be a desolate wilderness, for the violence against the children of Judah, because they have shed innocent blood in their land.

"At a meeting of the Fatah Revolutionary Council in Ramallah, Palestinian Authority chairman Mahmoud Abbas told the Fatah leadership that the PA supports the demands of the terrorists engaged in a hunger strike in Israeli prisons, stands by them, and will not allow them to 'surrender until their demands are met.
Abbas called the terrorists, many of whom are serving time for the murder or attempted murder of Israelis, "heroes," ignoring US President Trump's remarks to him last week in Bethlehem. He noted that their demands were presented to the Israel Prison Service one month before the start of the hunger strike. But he said that Israel did not respond to the demands at all.
The prisoners' demands include greater access to television channels, free education at Hebrew University, and the introduction of books, magazines and newspapers into the prison without proscribed limits, and a later hour for lights out in the prisons."
Islam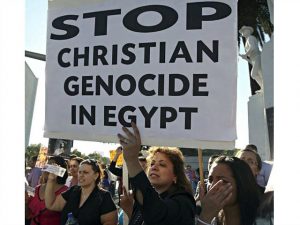 Gunmen Massacre Coptic Christians in Egypt, Killing at Least 26 05/26/17  This is about more killing of Christians in Egypt. The killing has been going on for decades. Islam has no future because it faces the judgment of God for killing his people. The judgment day for Islam/Muslims can't be far off.
Revelation 16:5  And I heard the angel of the waters say, Thou art righteous, O Lord, which art, and wast, and shalt be, because thou hast judged thus. (6) For they have shed the blood of saints and prophets, and thou hast given them blood to drink; for they are worthy.

"Masked militants riding in three SUVs opened fire Friday on a bus packed with Coptic Christians, including many children, south of the Egyptian capital, killing at least 26 and wounding 25, the Interior Ministry said.
No group immediately claimed responsibility for the attack, the fourth to target Christians since December, but it bore the hallmarks of the Islamic State group.
Islamic militants have for years been waging an insurgency mostly centered in the restive northern part of Egypt's Sinai Peninsula, although a growing number of attacks have recently also taken place on the mainland.
The assault happened while the bus was traveling on a side road in the desert leading to the remote monastery of Saint Samuel the Confessor in Maghagha, in Minya governorate, about 220 kilometers (140 miles) south of Cairo.
Security officials quoted witnesses as saying they saw between eight and 10 attackers, dressed in military uniforms and wearing masks. The victims were en route from the nearby province of Beni Suef to visit the monastery."
Jerusalem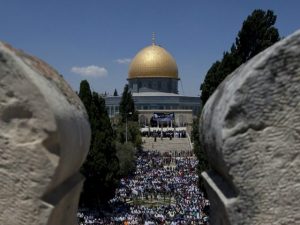 Netanyahu: Temple Mount Will 'Forever' Remain Under Israeli Control 05/24/17  You are looking directly at the final battle that leads to the Second Coming of Jesus Christ: Jerusalem and the Temple Mount! It is right before our eyes. What exciting times we live in as end time Bible prophecy is starting unfold before our eyes.
Zechariah 12:2  Behold, I will make Jerusalem a cup of trembling unto all the people round about, when they shall be in the siege both against Judah and against Jerusalem. (3) And in that day will I make Jerusalem a burdensome stone for all people: all that burden themselves with it shall be cut in pieces, though all the people of the earth be gathered together against it.

"Prime Minister Benjamin Netanyahu and opposition leader Isaac Herzog went head-to-head in the Knesset on Wednesday over Jerusalem, with the premier saying Palestinian refusal to recognize the Jewish state and its capital in any borders is the root of the conflict, and pledging that the city, including the Temple Mount and Western Wall, will forever remain under Israeli sovereignty.
A day after US President Donald Trump concluded a 28-hour visit to Jerusalem, the prime minister vowed the city would not be divided again.
During a plenum session marking the passage of 50 years since the Six Day War and the reunification of the city's western and eastern halves, Netanyahu pointed to the US president's visit to the Western Wall as having "destroyed UNESCO's propaganda and lies," referring to a series of resolutions by the UN cultural body that ignored Jewish ties to the city and Israeli sovereignty."
Jordan: 'Settlers defile Al-Aqsa, Israel responsible' 05/25/17  I believe that Jerusalem and the Temple Mount will be the focus of an all-out war between the Israelis and the surrounding Arab nations. Jerusalem will be the rallying cry of the jihad, but God is not going to let Jerusalem be taken. This coming battle will break the back of Islam and set the stage for all the end time Bible prophecies. There is no turning back after this coming war.
Zechariah 12:9  And it shall come to pass in that day, that I will seek to destroy all the nations that come against Jerusalem.

"The Jordanian government yesterday (Wednesday) strongly condemned the presence of Jews in the Al-Aqsa Mosque compound and Jewish activities there. It referred to Jerusalem Day events, during which 15 Jews who had bowed in prayer down were detained, while others sang Hatikvah.
According to the Jordanian government's announcement, this is a blatant Israeli attack by allowing extremists to "storm" the Al-Aqsa Mosque in what is termed "a desecration of the sanctity of the place and an insult to the feelings of Muslims all over the world, reported Ynet.
"The Jordanian government places on the government of Israel, as the occupying power, responsibility for harming the Al-Aqsa Mosque and encouraging the settlers to defile the mosque's chambers, and the responsibility for not stopping the calls of incitement by some members of the Israeli government and Knesset members," he said.
Jordanian government spokesman Muhammad al-Mumini warned of the consequences of Israel's disregard of the holy sites of Islam, international laws, and the peace treaty signed with Jordan. He stressed Jordan's firm stance on the preservation of the Al-Aqsa Mosque and opposition to any attempt to change its historical status: "The Al-Aqsa Mosque is a place of absolute worship for Muslims alone, and no other interpretation will be accepted."
Hard Left/ Paganism
Too Far? L.A. Times Publishes Op-Ed About Putting a 'Binding Curse' on President Trump 05/26/17  This shows the depth of how the Hard Left mind is melting down. They are desperate to stop the President from destroying their Hard Left empire. It is hard to imagine what their minds will be like four years from now.
Proverbs 26:2  As the bird by wandering, as the swallow by flying, so the curse causeless shall not come.

"Diane Wagman is an author who frequently writes op-eds for The Los Angeles Times newspaper.

In her latest, however, she brags about doing something particularly vile against President Donald Trump. The column's title: "I Put a Spell on You, Mr. President."

Wagman says she's not a Wiccan or a devil worshipper. She just simply believes in the power of positive thinking. And, she positively loathes the thought of our nation's president and the people he has working for him in the administration.

She wrote:

I cast a spell on the president. I was not alone. Thousands of witches, believers and people like me all over the world performed "A Spell to Bind Donald Trump and All Those Who Abet Him" under the waning crescent moon last month. It was not meant to physically hurt him, only to keep him from succeeding at his tasks. Now he's complaining he's the object of a "witch hunt." Maybe the spell is working …

The binding-spell movement started with an article on Medium posted by Michael M. Hughes, a writer and magician. I don't believe in the devil, but I do believe our country has gone to hell, and I am willing to try anything to save us.

But before I lighted my candles, I researched binding spells. I didn't want to send bad vibes into the universe. There is enough evil in Washington already: Stephen K. Bannon, Stephen Miller, Jeff Sessions. The dark and terrifying have risen."
Earthquakes
Earthquake denial gets a lot harder when you stand on top of the San Andreas fault 05/26/17  In my opinion this state is doomed. The state now protects and promotes sin and rebellion against God. Californians kill massive amounts of babies and it is leading the way in destroying marriage. At its political core are ugly mockers of God and his word. It will be destroyed like Sodom. The "Big One" is waiting. I think it will hit on a day of a sinful event, so we clearly can see the link between sin and judgment.
Jude 1:7  Even as Sodom and Gomorrha, and the cities about them in like manner, giving themselves over to fornication, and going after strange flesh, are set forth for an example, suffering the vengeance of eternal fire.

"I had never stood directly on top of the San Andreas fault. Not to my knowledge, anyway, but as a California native, I've probably stumbled over it a time or two.
So I jumped at the chance to tour the fault with geophysicist Lucy Jones, the queen of quakes and go-to authority on why the ground keeps shaking.
It's human nature to live in denial, especially in California, where natural beauty is a sedative. We know the state is cracked and creviced from head to toe, San Francisco once burned to the ground, and we're overdue for another massive shaker that could take lives, cripple the economy and leave millions of people without water and power for months.
But the mind steers us around horrors we'd rather not contemplate. And then along comes Jones, who isn't timid about waking people up and scaring the hell out of them."
Health and Nutrition
Facts About Vitamin D and Rheumatoid Arthritis 05/24/17  This is simple but gives great information about Vitamin D. It is not limited to RA.
3 John 1:2  Beloved, I wish above all things that thou mayest prosper and be in health, even as thy soul prospereth.