Europe: Suicide by Islam
Verse of the Day
Proverbs 8:36 But he that sinneth against me wrongeth his own soul: all they that hate me love death.
Commentary
Look at how aggressive the Muslims are in Britain! They are having a mass meeting declaring a caliphate! This is real Islam in action. The Muslims are the same in the USA, only they are weak and do not have the numbers like they do in Europe. Watch Britain with the Muslims because they are about 10 years ahead of us. When the Muslims reach this level of aggressiveness, there is no way to stop them except through bloodshed. Britain is committing suicide by Islam.
This is what happens to nations that reject and mock God. He sends them Muslims for judgment!
I've posted lots of really good information to keep you on the cutting edge of what is happening in America and throughout the world.
May the Holy God of Israel bless and protect you.
Psalm 144:15 Happy is that people, that is in such a case: yea, happy is that people, whose God is the LORD.
Islam – Europe/ Jihad/ Caliphate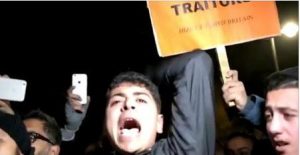 WATCH: British Muslims Gather in Show of Strength to Demand Caliphate 12/14/16
"Over a thousand British Muslims took to the streets of London on Tuesday in a show of force, blocking off a central London square to call for a caliphate while the crowd chanted 'Allahu Akbar'.
We need a Caliph who will clean up these streets / Who will smack up armies and who will back beef [fighting]. / Backhand your missiles back to your land, that's the plan. / World domination at hand. We can expand and take out these fools.
Those were the words of a poet invited to address the raucous crowd outside the Syrian Embassy in central London who cheered and yelled Allahu Akbar (Allah is the greatest) in support of his calls for war."
Iran/ The Coming Middle East War
Iran Stages Massive War Drills In Show of 'Supremacy' 12/14/16  Iran wants to bring the war to Israel and take Jerusalem. According to the Bible, Iran never will take Jerusalem. In fact, its armies will be annihilated when it attempts to attack Israel. Ezekiel 38-39 is all about Iran/Persia being destroyed.
"Iran has been conducting a series of massive war-drills meant to demonstrate the Islamic Republic's "supremacy" and show Western forces that the country is prepared to attack forces stationed in the Persian Gulf region, according to Iranian military leaders and reports in the country's state-run media.
The war drills, which began on Sunday in southeastern Iran and continued into Monday, include ground and air forces as well as unmanned drones.
The war games coincided with the public release by Iran of a new unmanned drone, the latest in a series of such aircraft publicly flown by Tehran in recent months."
Israel/ The Coming Middle East War
The Palestinian Jihads against Israel 12/14/16  This is a great article showing the real mindset of the PLO when dealing with Israel. This is going to lead to the all-out war that the Prophet Obadiah writes will happen immediately prior to the second coming of Jesus Christ.
Obadiah 1:18  And the house of Jacob shall be a fire, and the house of Joseph a flame, and the house of Esau for stubble, and they shall kindle in them, and devour them; and there shall not be any remaining of the house of Esau; for the LORD hath spoken it.

"We will not recognize Israel because it will inevitably go away. And we will not backtrack on the option of armed struggle until the liberation of all Palestine." — Khalil Al-Haya, Hamas senior official.
The abandonment of Gaza by Israel in 2005 drove the Palestinian vote for Hamas the next year. It also explains why many Palestinians continue to support Hamas — because they still believe that violence is the way to defeat Israel.
Hamas believes that Israel does not have the right to defend itself against rockets and terror attacks. It even considers Israel's self-defense as an "act of terror."
In yet another sign that exposes Hamas's ongoing preparations to attack Israel, the movement last week held a drill with live ammunition in the northern Gaza Strip.
"What has been achieved so far is a small jihad, and the big jihad is still awaiting us." — Palestinian Authority President Mahmoud Abbas. Abbas is convinced that his "diplomatic jihad" against Israel is no less effective than Hamas's jihad of terrorism.
Yet even if Abbas manages to achieve reconciliation with Hamas, this move should not be seen as sign of pragmatism on the part of the Islamist movement. Under no circumstances will Hamas relinquish its policy of the destruction of Israel and its replacement with an Islamist state.
From Abbas's point of view, Hamas's terrorism will only increase the pressure on Israel to capitulate. Here Abbas has an ally in Hamas: to multiply jihads to force Israel to its knees."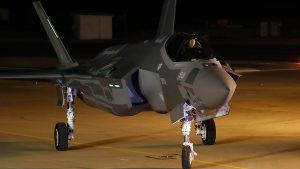 Israel receives F-35s, first country after USA 12/14/16  These planes change the balance of power in the Middle East. They are designed to defeat any air defense system in the world, including both the Russian's and Iranian's systems.
Israel soon will have 50 of these.
"After the stealth fighter jets, costing around $100m each, were delayed by fog in Italy, the much-anticipated and delayed celebration takes place at Nevatim Air Force Base; US Defense Secretary Ashton Carter attends event; hundreds of would-be attendees left earlier when delays were announced; event overshadowed by Trump criticism of F-35 project cost."
American Politics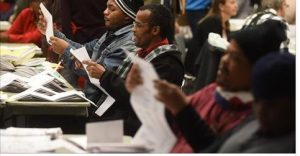 Records: Too many votes in 37% of Detroit's precincts 12/12/16  Notice how this fraud was found in high Hillary support areas! The voter fraud always seems to be in Democratic controlled areas. There is no doubt that Trump won Michigan with thousands of more votes!
"Voting machines in more than one-third of all Detroit precincts registered more votes than they should have during last month's presidential election, according to Wayne County records prepared at the request of The Detroit News.
Detailed reports from the office of Wayne County Clerk Cathy Garrett show optical scanners at 248 of the city's 662 precincts, or 37 percent, tabulated more ballots than the number of voters tallied by workers in the poll books.
Voting irregularities in Detroit have spurred plans for an audit by Michigan Secretary of State Ruth Johnson's office, Elections Director Chris Thomas said Monday."
American Politics/ Hard Left
Comey to Trump: The Russians Didn't Influence the Election 12/14/16  The Hard Left will do anything to stop Trump or discredit him. Look how even the CIA is corrupted, just like the Justice Department and the State Department. Everything that Obama touches is destroyed!
"What's more, Comey told Trump that James Clapper, the director of National Intelligence, agreed with this FBI assessment.
The only member of the U.S. intelligence community who was ready to assert that the Russians sanctioned the hacking was John Brennan, the director of the CIA, according to sources who were briefed on Comey's conversations with Trump.
"And Brennan takes his marching orders from President Obama," the sources quoted Comey as saying.
In Comey's view, the leaks to The New York Times and The Washington Post alleging that the Russians tried—and perhaps even succeeded—in tilting the election to Trump were a Democratic Party effort to delegitimize Trump's victory."
Hard Left/ Homosexuality

LGBT Studies Fabricated for Politically Correct Outcomes 12/12/16  The Hard Left will doing anything to protect this sin. What is interesting is that they admit that the homosexuals have a 12 year shorter lifespan. The lying they do in the political realm is the same in the social and scientific realms. They will say and do anything to advance their godless agenda.
Romans 1:18  For the wrath of God is revealed from heaven against all ungodliness and unrighteousness of men, who hold the truth in unrighteousness;

"The National Review highlights a study that claims that "minority stress" is reducing the life expectancy of homosexuals by twelve years.
It was widely reported by parts of the press under headlines such as: "Can Prejudice Kill You? Lesbian, Gay, Bisexual Life Expectancy Drops 12 Years in Anti-Gay Communities."
In mid-November, academic journal Social Science and Medicine published a well-evidenced refutation.
Researchers attempted to replicate the author's data using 10 different approaches but were unable to do so. They concluded that no approach could obtain findings "that supported the original study's conclusions."
Economic Armageddon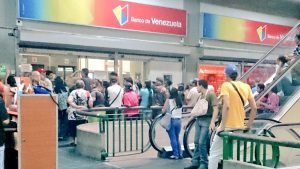 Venezuelans fight to protect their savings as government pulls bills from circulation 12/14/16  It seems that the Venezuelan government is actually trying to destroy and kill their people! Is this what socialism really is like?
One day the US government also will try and do this because they want the entire world brought under the control of one economic system.
Right now it seems the brakes have been placed on it in the US.
Look at the pain they are causing while doing this! The world is heading towards the 666 Surveillance System!
Revelation 13:16  And he causeth all, both small and great, rich and poor, free and bond, to receive a mark in their right hand, or in their foreheads: 17 And that no man might buy or sell, save he that had the mark, or the name of the beast, or the number of his name. 18 Here is wisdom. Let him that hath understanding count the number of the beast: for it is the number of a man; and his number is Six hundred threescore and six.

"Venezuelans are rushing to the banks this week in a desperate attempt to protect their savings from the government's latest spasm of reckless financial policymaking.
On Tuesday morning thousands of people across Venezuela played hooky from work to line-up outside banks and deposit bundles of cash into their savings accounts after the government gave everyone a 72-hour countdown to turn in all their 100 bolivar notes before they're removed from circulation.
"I've been saving for so long, withdrawing money every week and for what? Nothing!" complained José Orozco, who was holding a backpack full of money as he stood in line."
World War 3 – China
U.S. ready to confront Beijing on South China Sea: admiral 12/14/16  This confrontation is really dangerous and could lead to WW3. I don't think that China is going to back down.
The only good thing is that Obama soon will be out, and Trump will be the new Commander-in-Chief. He will appoint great military leaders, and I hope they soon purge all of the Obamaites out of the military. I think there is time before we have a really serious confrontation with the Chinese.
"The United States is ready to confront China should it continue its overreaching maritime claims in the South China Sea, the head of the U.S. Pacific fleet said on Wednesday, comments that threaten to escalate tensions between the two global rivals.

China claims most of the resource-rich South China Sea through which about $5 trillion in ship-borne trade passes every year. Neighbors Brunei, Malaysia, the Philippines, Taiwan and Vietnam also have claims.

The United States has called on China to respect the findings of the arbitration court in The Hague earlier this year which invalidated its vast territorial claims in the strategic waterway.

But Beijing continues to act in an "aggressive" manner, to which the United States stands ready to respond, Admiral Harry Harris, head of the U.S. Pacific Command, said in a speech in Sydney.

"We will not allow a shared domain to be closed down unilaterally no matter how many bases are built on artificial features in the South China Sea," he said. "We will cooperate when we can but we will be ready to confront when we must."
Health and Nutrition
One in 6 American Adults Say They Have Taken Psychiatric Drugs, Report Says 12/12/16
Luke 4:18  The Spirit of the Lord is upon me, because he hath anointed me to preach the gospel to the poor; he hath sent me to heal the brokenhearted, to preach deliverance to the captives, and recovering of sight to the blind, to set at liberty them that are bruised,
I believe that the root of drug use is a broken heart, which only Jesus Christ can heal. I have prayed with thousands of people and watched God perform miracles in their hearts, healing them from depression and fear.
If you would like prayer, you can email me at [email protected]
My website is USAProphecy.com
"About one in six American adults reported taking at least one psychiatric drug, usually an antidepressant or an anti-anxiety medication, and most had been doing so for a year or more, according to a new analysis. The report is based on 2013 government survey data on some 242 million adults and provides the most fine-grained snapshot of prescription drug use for psychological and sleep problems to date.
"I follow this area, so I knew the numbers would be high," said Thomas J. Moore, a researcher at the Institute for Safe Medication Practices, a nonprofit in Alexandria, Va., and the lead author of the analysis, which was published Monday in JAMA Internal Medicine. "But in some populations, the rates are extraordinary."

2 Samuel 22:3  The God of my rock; in him will I trust: he is my shield, and the horn of my salvation, my high tower, and my refuge, my saviour; thou savest me from violence.